M15 Signals claims to offer beneficial Forex and gold intraday signals on the 15-minutes chart. So, they have created a comprehensive solution that seeks to make your trading time exciting, lucrative, and smoother than ever. Don't be fooled by this statement. We have established that you will only be frustrated by the many losses you will make by subscribing to their services.
M15 Signals conducts its activities from one of the financial hubs in the world, Singapore. The team is said to comprise experienced traders and stock market experts who have been in the field for more than 9 years. Even so, a detailed background of the professionals is not included. As a result, their qualifications and credentials cannot be verified.
The company offers several pricing options for traders interested in their services. The cheapest package is $60 and expires within a month. The other option supplies the services to traders for 3 consecutive months at a fee of $120. Lastly, subscribers who want to get signals for 6 months are asked to pay $190. There is no money-back guarantee.

Key features
Gives signals through the free and premium Telegram channels.
Provides 2-5 signals weekly to free subscribers and 2-8 signals daily to its Premium clients.
The minimum balance that is required to trade the signals is $100, but the vendor recommends $400 for improved outcomes.
The signal quotes are without spread and, therefore, the Buy signals don't need adjustments.
Offers signals for 29 Forex pairs including Gold.
Focuses on Asia, London, and USA times.
Risk management advice is offered.
No manual close.
M15 Signals trading approach
The strategy used is undisclosed. We are interested in knowing how the analysts maneuver the market to identify the alleged highly accurate signals. Surely, they should be eager to share with us some tips on how to identify profitable signals with such precision. However, they are not. So, they are basically lying to us. Chances are that they are oblivious to what they are doing and are just picking signals randomly.
Backtesting results
The vendor does not post the backtesting records. This kind of testing is vital as it ascertains the quality and robustness of a strategy. As aforementioned, the vendor may not be applying any particular strategy. If that's really the case, then they had nothing to test, and this is why they do not present any results.
M15 Signals live trading results
Verified live trading results are also not available. There is a screenshot displaying the performance of the signals from December 2018 to January 2021. Apparently, the signals have not reported any losses yet. This is an outright lie. The results also indicate that the signals obtained thousands of pips monthly. These figures are unrealistic. In essence, we believe that the data is cooked and, therefore, it doesn't reflect the true performance of the services. For this reason, we need credible results from a site like Myfxbook.com.

What are the risks with M15 Signals?
M15 Signals is not a reliable service provider. Trading with the company is risky because:
It lacks a clear strategy.
The live trading data provided is not verified.
The qualifications of the people who run it are not indicated.
Worth noting!
The company offers support to its clients. So, in case you need their help on anything, you can fill up the "contact us" form. Unfortunately, the professionals do not provide the email address that clients can use to reach them. You can also contact the team on their pages on Facebook, Twitter, Instagram, or Telegram channel.
Clients are not happy with M15 Signals. They have given the company a 2.095 rating on FPA. One of the customers reports that the signals provided by this vendor are not profitable and that the strategy used is similar to martingale. Also, another one complains that M15 Signals trades are pure guesses, and he has lost 20% of his account by just using their services.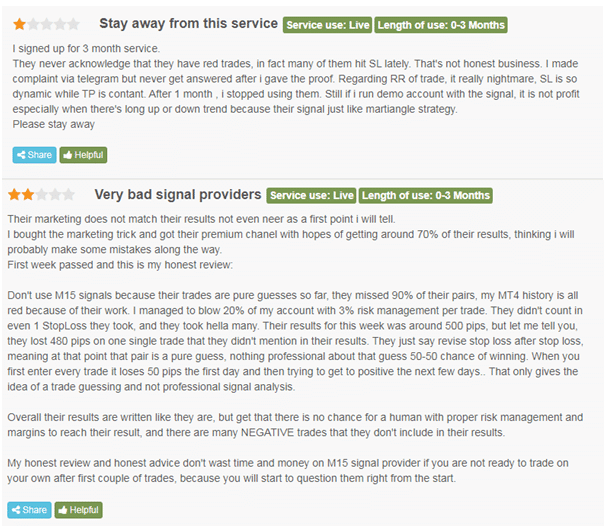 What are the pros and cons of investing with M15 Signals?
| | |
| --- | --- |
| Pros | Cons |
| Customer support is available | Negative customer reviews |
| Risk management advice is offered | Vendor transparency is wanting |
| | No backtest results |
| | The strategy used is unclear |
Obviously, the vendor is very secretive and should not be trusted.
M15 Signals Conclusion
M15 Signals is not a reliable service. The vendor has not explained to us what approach they use to generate signals. Luckily, through customer feedback, we have established that they choose signals randomly, and this is why they are unprofitable. Therefore, the lack of vendor transparency, verifiable data, and backtest data are meant to hide the company's incompetence.