Managed Forex With Us is a managed accounts service that offers a manual and robotic combo of trading methods. It uses a team of programmers and traders for its various services that include copy trades, signal alerts, and managed FX accounts.
Norbert Zoltan Nagy is the founder of this company. He is a programmer and is assisted by his team of traders that includes Tibor Kun-Szabo, Csaba Istvan Bilinovics, Korozsi, and Fredrick D'Rocha. Images of the members with their email addresses are posted on the official site. The vendor provides a WhatsApp/Telegram number for contact besides an online contact form.
For subscribing to the service, you need to pay $50 per month for the signals. For the managed accounts and copy trading, the vendor does not divulge the charges claiming they are negotiable. There is no money-back assurance present.
Key features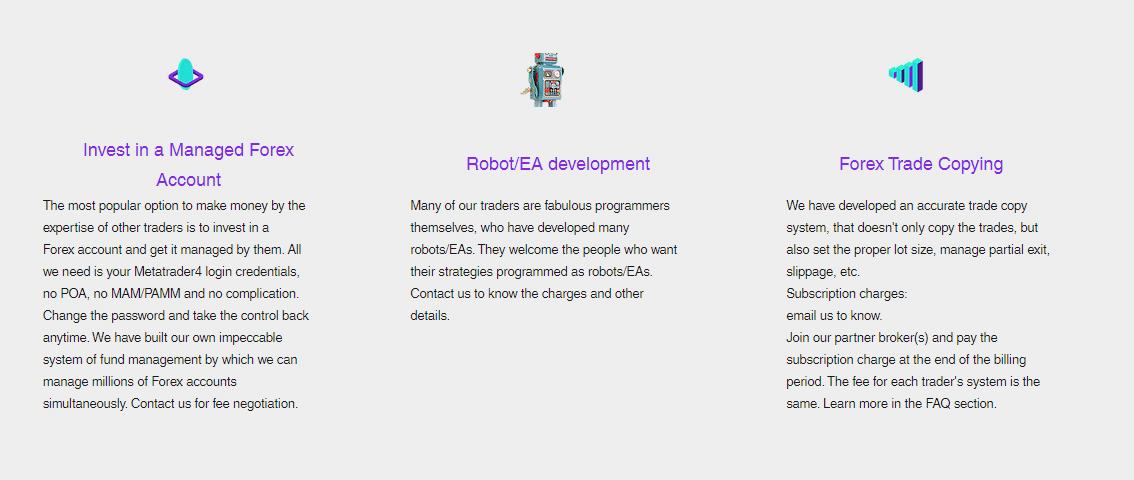 As the key features, the company provides the following services:
A managed FX account service by expert traders using an impeccable fund management system which the company claims can help it manage millions of accounts at the same time
Development of FX robots or EAs
Trade copying feature that also includes management of partial exits, setting of suitable lot size, and more
Signals that are sent directly to your mobile for immediate trade execution
An affiliate program where you can join directly as a business participant or become a partner by referring 5 or more clients.
Besides the above trading facilities, the company also offers FX trading services to brokers.
MFWU trading approach
As per the vendor, the company uses different strategies that are developed by a collaboration of manual traders and programmers. The programmers assist the manual traders by converting their trading methods into expert advisors or robots. Manual traders in turn assist the programmers in optimizing the trading software to ensure effective working of the robots. The lack of explanation of the applied strategies raises a red flag for this service.
Backtesting results
No backtesting reports are present for this vendor. Since backtesting results are based on historical data, it is difficult to expect the same results in real trading. However, traders look for backtests to know about the strategy and its effectiveness. The lack of backtesting reports raises a red flag for this service.
MFWU live trading results
We can find links to the live trading results of the accounts of the team members posted on the Forexpeacearmy site. Here is a screenshot of the trading statement of Norbert's account.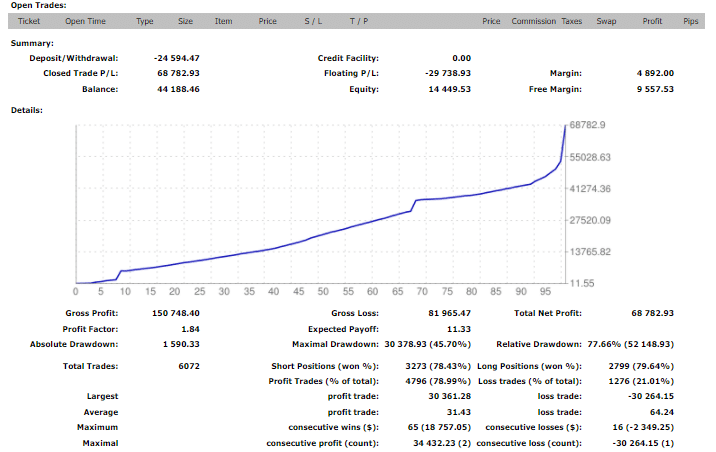 From the above statement, we can see a total of 6072 trades have been executed with a profit factor of 1.84 and profitability of 78.99%. A total net profit of 68,782.93 has been generated with a maximum drawdown of 45.70%. The high drawdown indicates the service uses a risky approach. Further, we prefer real trading results verified by sites like myfxbook, FXBlue, and FXStat as they provide more in-depth details. The lack of verified proof of performance raises a red flag for this EA.
What are the risks with MFWU?
Our evaluation of the features, performance, support and other aspects of this company reveals that this is an unreliable trading service. Here are the main risks you face if you choose this service:
Lack of transparency in the strategy explanation and backtesting reveals an unreliable system.
No verified track record is present which makes this service untrustworthy.
The high drawdown shown in the trading statement reveals a high-risk approach.
Worth noting!
We found three reviews for this service on the Forexpeacearmy site with a rating of 3.703/5. Here is recent feedback for this company.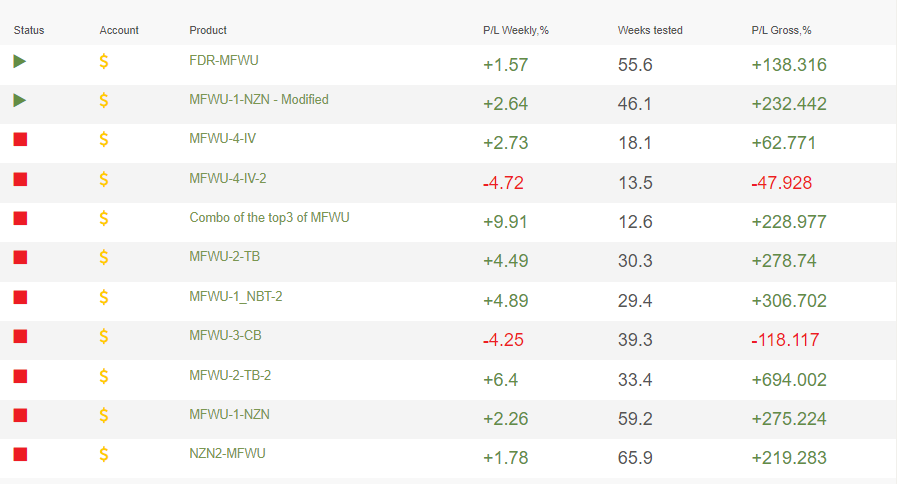 From the above review, we can see that the user's account has suffered a huge loss and the company has refused a refund. The user warns people to stay away from this company. Most of the accounts of the company featured on the Forexpeacearmy site have been closed due to a big loss. Only a couple of the accounts remain active indicating the system is not effective.
What are the pros & cons of investing in MFWU?
| | |
| --- | --- |
| Pros | Cons |
| Multiple FX services | Strategies used are not disclosed |
| | No verified trading performance |
| | Negative user feedback |
Our assessment of the company reveals a lack of verified trading results and backtests indicating this is not a reliable system.
MFWU Conclusion
MFWU claims to provide diversified risk management with its robotic and manual trading combo. But our assessment shows the system is lacking in many key aspects making it an untrustworthy trading system.