Naragot Portfolio is promoted as a safe trading tool. It does not utilize toxic methods of money management like martingale, grid, curve fitting, SL>TP, and an artificially high win-rate. We review the system to ascertain the veracity of this assertion and help you to decide whether the product is worth buying.
Alexander Mordashov is the developer behind this EA. He discloses that he is a trader who has been trading profitably for 4.5 years. There is no tangible evidence that proves this allegation. His other qualifications and competencies are unknown. It is also unclear if he works alone or is part of a larger team or company that develops Forex robots.
Naragot Portfolio is available at a one-time price of $449. The vendor asserts that only 4 out of 10 copies are remaining at this price. The next quotation is $499, after which the cost will return to $599. There is no money-back guarantee.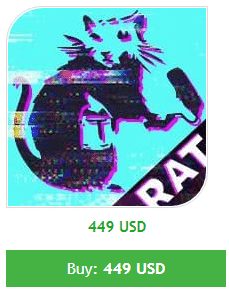 Key features
Naragot Portfolio has the following characteristics:
It runs on the MT4 and MT5 trading terminals.
The EA trades 4 main currency pairs: GBPUSD, EURUSD, USDJPY, and XAUUSD.
It is easy to use.
It comes with customization of risk inside the strategy.
The robot applies different TP and SL levels on each trading position.
The EA ensures that the TP level is always higher than or equal to SL so as to enhance the robustness of the system.
Naragot Portfolio trading approach
From the presentation, we can tell that the robot applies a variety of trading methods. Alexander particularly admits that the EA comprises 7 approaches chosen from a pool of many others which he has been trading on real accounts for a long time. However, he only mentions a few of them —trend following, volatility breakout, and breakouts of support/resistance levels. We would like to be introduced to the other strategies and understand how each plays out to make the system as lucrative as alleged.
Backtesting results
The vendor has shared several backtest results, and they are said to be tested using real tick data. We have picked one for our assessment purposes. As you can see below, a large deposit of $10,000 was placed, and the EA underwent testing between 2000 and 2021. Consequently, a net profit of $184,551.06 was made.
Even though the system conducted thousands of trades — 7366, many of them failed. Only 56.94% of the short trades and 54.02% of the long ones were fruitful. The profit factor was 2.15, whereas the drawdown was 14.91%.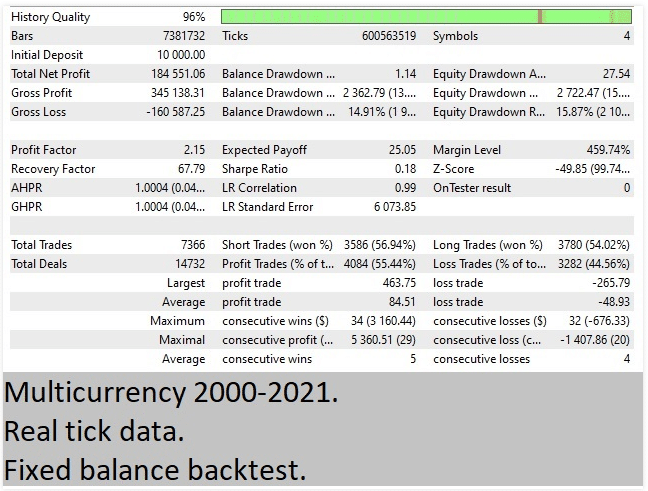 Naragot Portfolio live trading results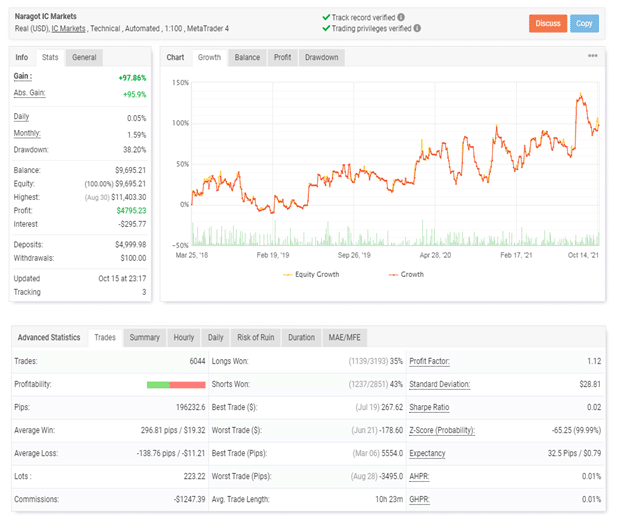 Since March 25, 2018 the bot has implemented 6044 trades with 223.22 lots. However, the profit factor of 1.12 is small and lower than the one showcased in the backtest report. This means that the system doesn't generate many returns on investment. This fact is further highlighted by the pitiful monthly profit of 1.59%. So, the deposit of $4,999.98 has not grown significantly.
The drawdown (38.20%) is high, indicating that the strategy used is dangerous. The poor performance of the long — 35% and short trades — 43% also illustrate the ineffectiveness of the approach.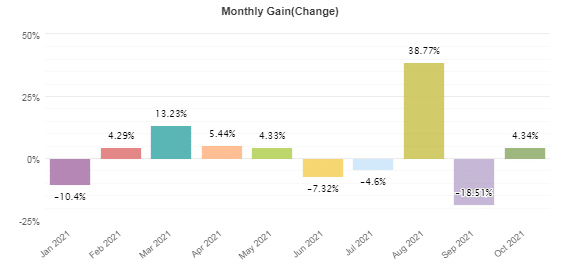 From the statistics above, it is clear that the robot struggled to bring in profits. Many of the trades either ended up generating tiny profits or losses.

Currently, the account is not in danger of being obliterated.

The vendor hides the trading history data. This is suspicious.
What are the risks with Naragot Portfolio?
Naragot Portfolio is neither a safe nor a reliable trading system. This is because it has several trading risks, including high drawdown, large lot sizes, and high losing streak.
Worth noting!
We are surprised that traders have found this EA to be useful. According to some customer reviews on mql5, the Naragot Portfolio is very good and performs well by generating realistic profits. The trading results show us the contrary.

What are the pros and cons of investing in Naragot Portfolio?
| | |
| --- | --- |
| Pros | Cons |
| Verified live trading data is available | High drawdown |
| Ease of use | Low rate of profitability |
| | Vendor transparency is not sufficient |
Clearly, the robot will not profit you.
Naragot Portfolio Conclusion
Naragot Portfolio is not a worthwhile trading system. You will only waste your money by purchasing it because it does not generate substantial returns. The trading strategies on board will also reduce the value of your capital. You may end up with a negative balance with time. So, investing in this EA would not make any sense.