Night Hunter Pro uses a news filter and auto GMT detection to trade the markets. The algorithm comes with multiple settings that allow traders to turn off specific trade directions, i.e., buy/sell. Here we will analyze and review the pricing, backtesting and live records, features, and much more about this robot.  
Pricing
Night Hunter Pro offers a free demo and can be bought for $1199. Traders can only buy the product after signing up on the platform. The developer states that the current price is only available for the last five copies, and it will be increased to $1499 in the future. The author does not provide a refund policy.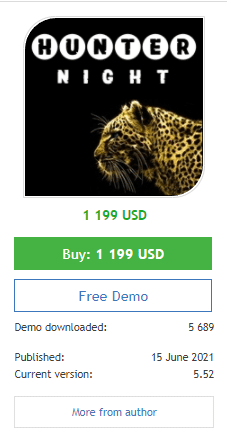 Vendor transparency
Night Hunter Pro is developed by Valeriia Mishchenko from Russia. She offers six more products and 18 signals on the MQL 5 marketplace. She has a total of 220 subscribers recorded for her services.
Key features
Some of the most notable features of Night Hunter Pro can be listed as:
Traders only need one chart setup for trading all symbols.

The robot supports several currency pairs like

GBPUSD, EURUSD, EURCHF, etc. 

It is a self-diagnostic system. 

The robot uses a stop-loss for each trade.
Night Hunter Pro EA trading approach
Night Hunter Pro uses a scalping system with smart entry and exit algorithms for identifying safe entry points in the market. This FX EA is focused on long-term growth and is based on a strict rule approach to trading. It supports several currency pairs, including GBPUSD, EURUSD, EURCHF, USDCAD, USDCHF, CHFJPY, AUDCAD, EURCAD, and EURAUD.
The history on Myfxbook shows that the EA trades at the close of NewYork open. It has an average trade length of 8 hours and 28 minutes, referring to a day trading approach.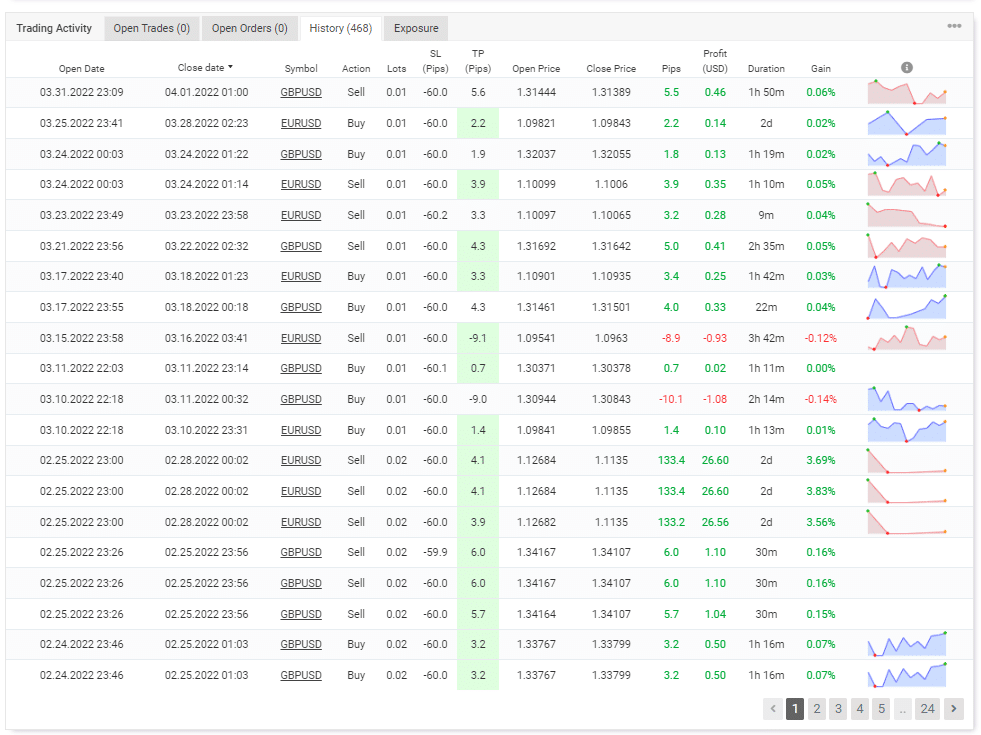 Backtesting results
The backtesting records are available for an unknown duration, where the robot had a total drawdown of 8.64%. It participated in 3335 trades with an initial deposit of $100. The gross profit and loss values were $1228.38 and -$523.29.
The average profitable trade was $0.47, while the loss was -$0.73. The Z-score value stood at -7.81.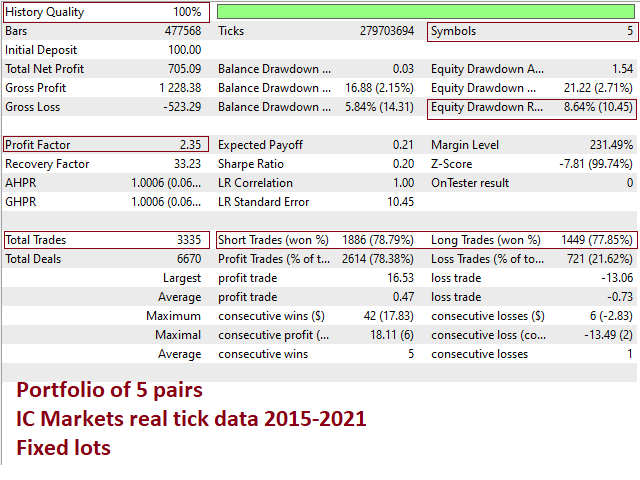 Night Hunter Pro EA live trading results
Trading performance is available from June 2021 to March 2022, where the robot had a profit factor of 1.77. The initial deposit was $600, and the current balance is $774.10. The drawdown was 5.83%, with a monthly gain percentage of 2.60%. There were 473 trades made with a profitability of 74% and a loss ratio of 26%. The average win was $1.07 and an average loss of -$1.75.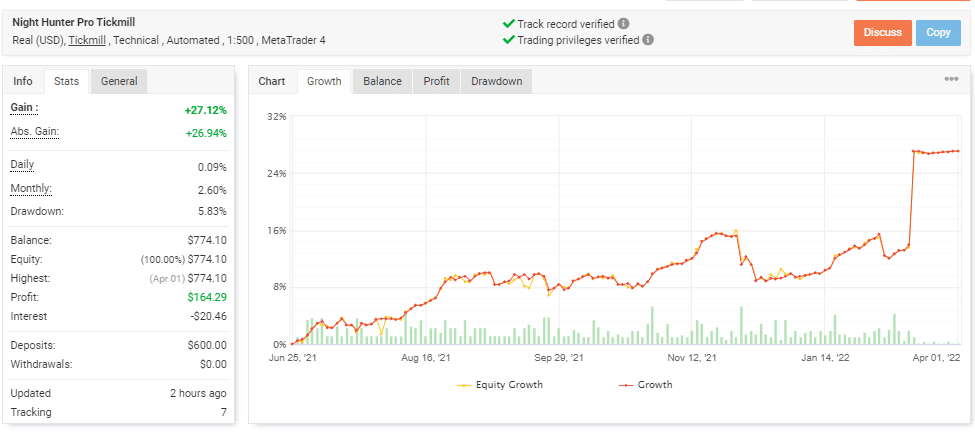 What are the risks with Night Hunter Pro EA?
Trading with FX EAs is always risky, and investors should be aware of the market volatility. We can identify the following risks associated with using Night Hunter Pro:
There are no user reviews on trusted third-party platforms like Trustpilot and forex peace army. The reviews are only available on the MQL 5 forum giving it a rating of 4.85 for 34 comments.

The robot is only maintained by a single individual and lacks a team of professionals, which gives rise to bugs or stability of the EA. 
Worth noting!
The vendor recommends not to trade on weekends with Night Hunter Pro because the markets are volatile. Another aspect worth noting is that this bot does not use martingale or grid but only stop/loss for each trade. The default currency pair is EURUSD, and a timeframe of 5 minutes is recommended. 
What are the pros & cons of investing in Night Hunter Pro EA?
| | |
| --- | --- |
| Pros | Cons |
| Trades in multiple currency pairs | Lack of customer reviews on Trusted websites.  |
| | A low-profit factor.  |
| | The pricing is costly.  |
Night Hunter Pro EA Conclusion
Night Hunter Pro is an automated FX EA supporting multiple currency pairs. There is no detailed statement with the backtesting records. The pricing is expensive, and the lack of user reviews makes it unreliable for traders.