Odin Forex Robot features some really bold claims. According to the vendor, the EA has a truly elite performance and is currently ruling the market. This has, in turn, made it the most preferred choice for professional traders using EAs in 2021. We find this hard to believe. The grid strategy on board makes the EA a dangerous tool, and consequently, an unreliable trading choice.
This robot is the creation of Don Steinitz. According to the autobiography featured in the presentation, Don has a background in accounting, playing casino games, Forex trading, and programming. Currently, he works with a team that is composed of excellent programmers who are very gifted and experienced in mql, a code that is used to write Forex robots.
Odin is being offered at a 35% discount. This is after the vendor decreased its price from $199 to $129. There's no mention of any money-back guarantee. For this reason, we are forced to assume that it is absent. This doesn't sit well with us. In most cases, products that lack a refund policy are not reliable.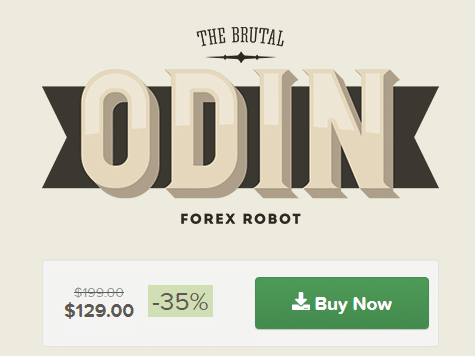 Key features
The features of the system as described by the vendor are listed below:
It has a real time broker shield to keep your trade and terminal data hidden from curious brokers.
Is simple to set up and use.
Comes loaded with optimized settings for more than 20 common Forex pairs.
Works with big or small accounts.
It has a clean and informative visual interface.
It monitors the market 24/5.
Customer support is available.
Safe money management.
Free lifetime updates.
Odin Forex Robot trading approach
This robot is alleged to use an advanced grid trading strategy to identify beautiful Forex trades automatically. So, it scouts the market to identify the best points of entry and exit. This is achieved by plotting a price chart against a grid. As a consequence, predictable patterns are identified. The robot then capitalizes on them to place highly precise trades. Tight SLs and TPs are utilized to safeguard your capital and lock profits while reducing risk on every trade.
We cannot, however, downplay the risky nature of the grid approach. It has a history of blowing up accounts. Therefore, we don't think that this is a strategy you would want to run your trading account.
Backtesting results
Backtesting results are conspicuously missing. We are not surprised. If the EA was tested, then there are minimal chances that it generated good results, given how risky its trading style is. This may be the reason behind the team's reluctance to share these statistics.
Odin Forex Robot live trading results
The vendor has posted several trading results that show the supposed monthly performance of the robot. Unfortunately, the data might be fake since it has not been verified by a third party. We, therefore, visited Myfxbook.com with the hope of finding an account run by this robot. The screenshot below proves that the devs opened multiple accounts, but sadly, most of them are no longer active. They were probably closed after demonstrating the poor performance of the EA. As you can see, more than half of the portfolios recorded high drawdowns. So, we can confidently conclude that the results on the robot's official site are bogus and a desperate move by the team to save face.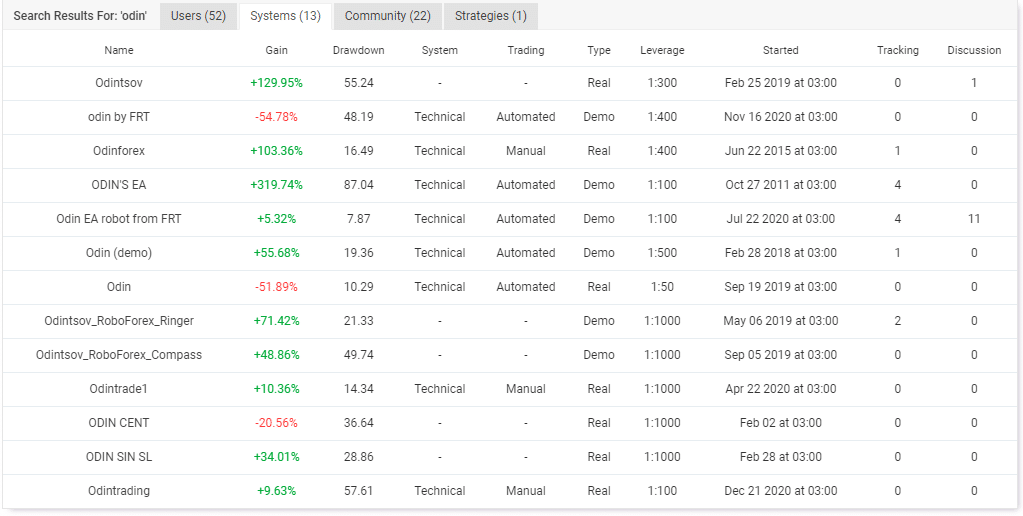 What are the risks with Odin Forex Robot?
Odin is not a safe trading system. We arrived at this conclusion after discovering the following:
It uses the grid approach.
High drawdowns are produced.
It puts the trader's account at high risk of ruin.
Worth noting!
Nearly all traders on FPA are complaining about Odin and its vendor. It has come to our attention that the robot is ineffective and doesn't produce the promised results. From the customer reviews, we can tell that the EA has a high losing streak and consequently generates high drawdowns. So, it can burn accounts quickly.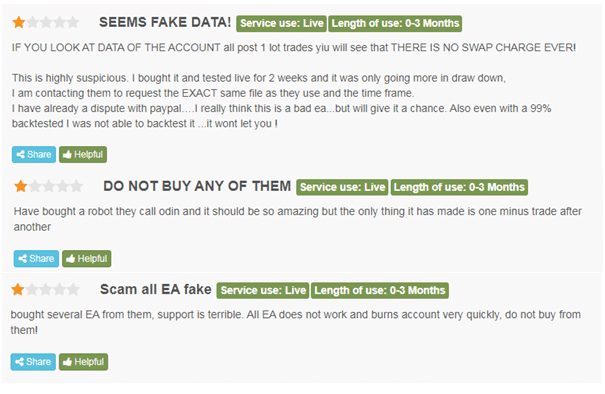 What are the pros and cons of investing in Odin Forex Robot?
| | |
| --- | --- |
| Pros | Cons |
| Fully automated | Uses the grid approach |
| Average pricing | No backtest results |
| | Negative customer feedback |
Evidently, the robot is not worth it.
Odin Forex Robot Conclusion
Based on what we now know about Odin, we can boldly say that it is not a good trading choice. We highly suspect that Don and his team of programmers are scammers who are only after your money. They care less if you lose your capital in Forex. That's why they have incorporated a very dangerous trading system in the robot. You better run away from this product because it will bring you nothing but grief.