OHLSEN TRADING has a variety of packages with different monthly gains and associated sets of drawdowns. To avoid getting their expert cracked, they have decided to opt for a copy trading procedure for providing trades directly from the algorithm to the investors' portfolio.
Pricing
Telegram group signals are available for free that can be copied manually. Copy trading services through the VPS for a monthly gain of 4% costs 60 Euros a month. At the same time, the one offering 13% gains is at hand for 65 Euros a month. Refunds are not available under any circumstances. A 30-day trial is given at 2.5 Euros.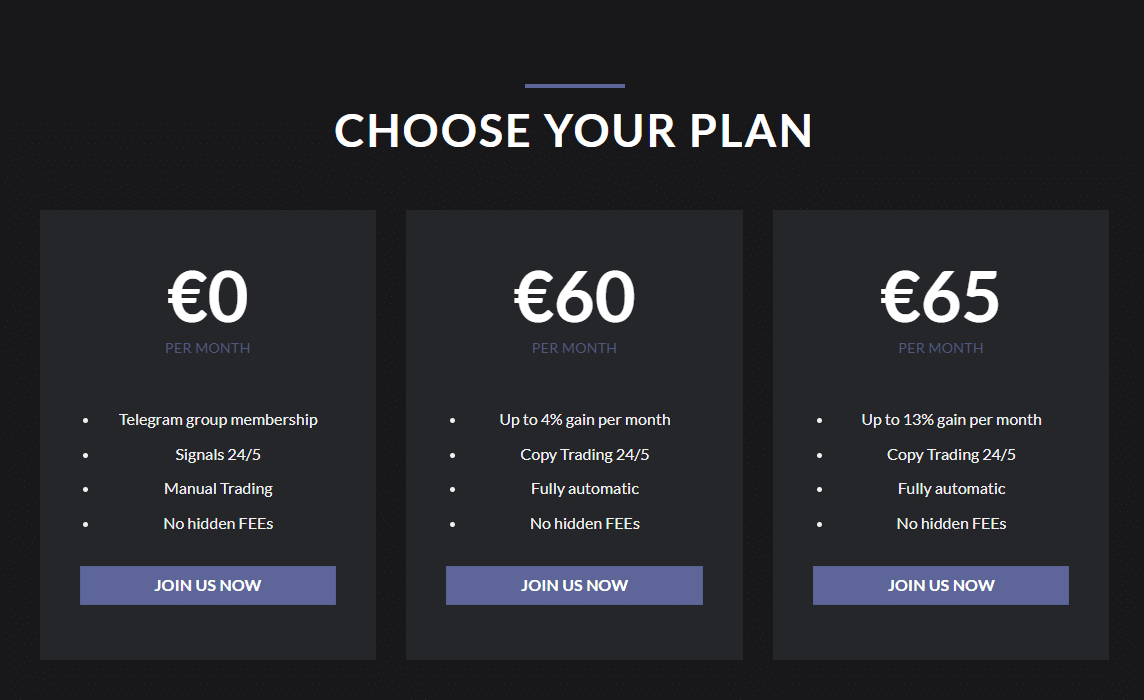 Vendor Transparency
Other than the brand name OHLSEN TRADING there is no information present on the developers and their whereabouts. Therefore, while signing up, you are providing a sum of money to some unknown person that is extremely risky.
Key Features
OHLSEN TRADING has the following key features:
Fully automated trading
No hidden fees
Gians of up to 13% a month
Copy trading service that works 24/5 without a pause
There is no information available on the website on the working of the trading system. We can, however, deduce some conclusions from backtesting and the live results. The trading tool works on the hourly chart at EUR/USD with a balance of $1000.
OHLSEN TRADING Trading Approach
For a service that asks for more than 50 Euros a month, there is no information about the strategy behind the system. They mention on Forex Peace Army that the algorithm works with a small take profit and a large stop-loss which is evident from the statement.

Using the trading history, we can see that the algorithm doesn't use martingale or grid strategies. It does not trade often and can hold positions for several hours or days, proportional to when it hits the take profit or the huge stop loss.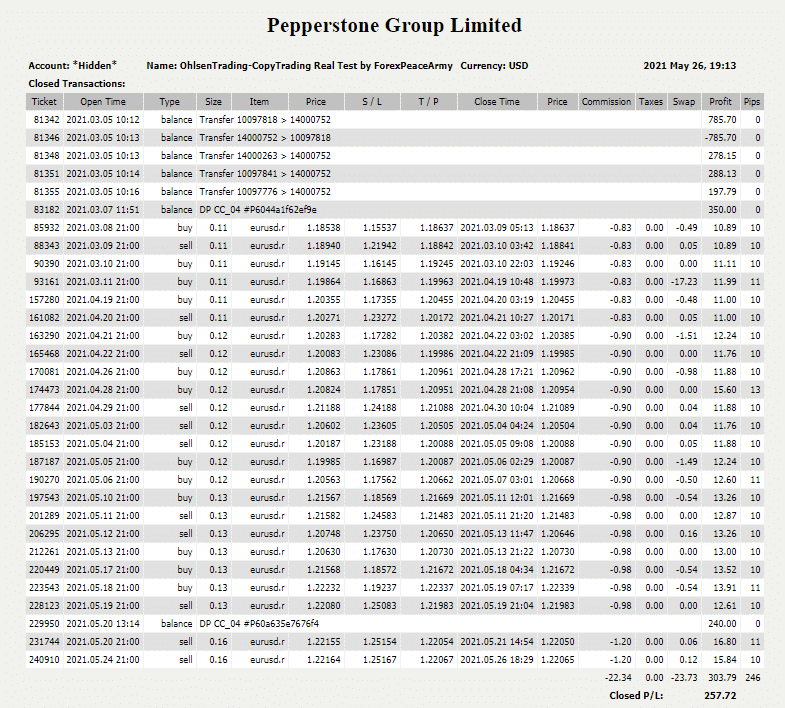 Backtesting Results
The strategy tester report on the webpage shows the analysis on the hourly chart at EUR/USD. The system has a profit factor of 4.63 with a win rate of nearly 100%. The high win rate comes from the fact that it has a broad stop loss and a small take profit. The modeling quality of the backtest was 90%, the input settings for the spread was 4, and the EA had a relative and maximal drawdown of 25.90%.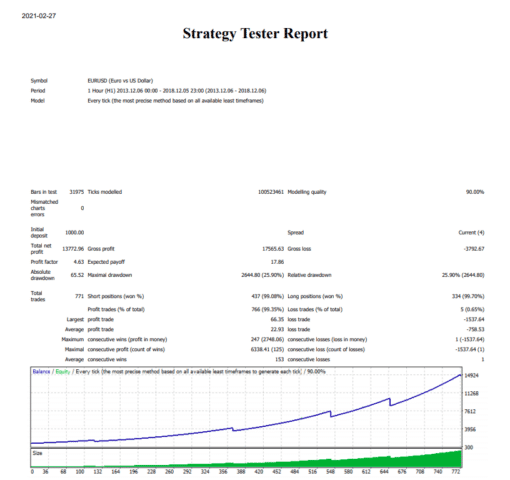 OHLSEN TRADING Live Trading Results
Live trading results do look promising at first glance. However, after observing them deeply, we know that the system is yet to hit the 300 pip stop loss. As soon as it does, the values for relative drawdown will substantially increase, and there will be a huge loss in equity. It is a little bit evident from the records on Myfxbook which depict a monthly gain of 8.02% for a drawdown value of 26%. The robot had an average winning rate of 96% for a massive profit factor of 46.02. This good win percentage is because the stop losses are wide and take profits are small. As the profit target is small the price will certainly hit it more often. The developer hides most of the statistics including best/worst trade, lots, commissions, and trading history which seems fishy.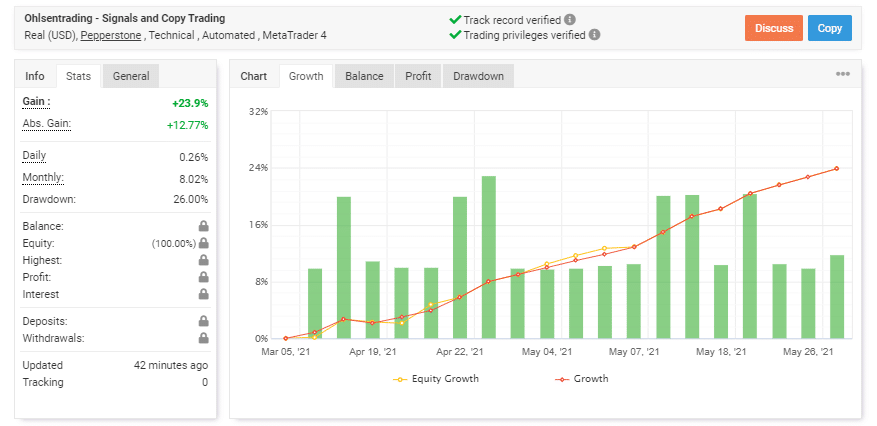 The performance is also tracked via Forex Peace Army, where the algorithm showed a total win rate of 95.83%. The system had made a total net profit of 257.72 with a deposit of $1353.07. The average profitable trade was $11.47, and the loss was $6.07.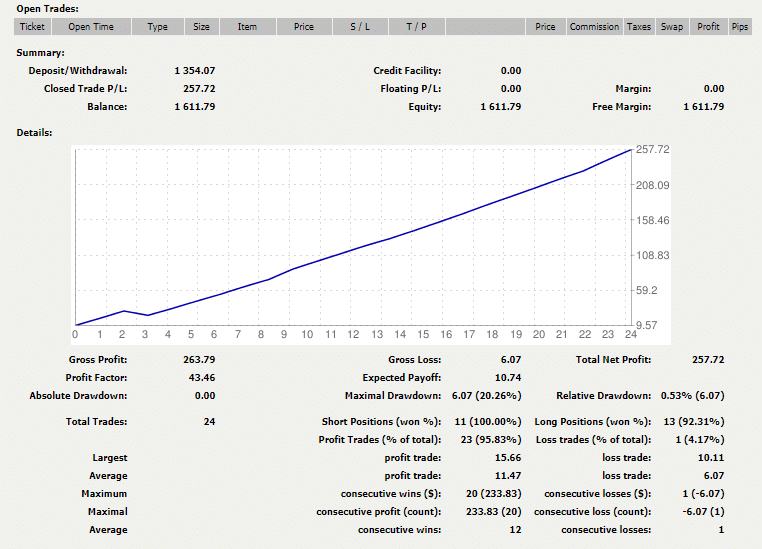 What are the Risks with OHLSEN TRADING?
We can observe the following risks while trading with OHLSEN TRADING:
A single stop loss can wipe out a huge chunk of your profits and equity.
The performance is only tracked from March. Therefore, we cannot deduce how the system will perform over an extended period.
Worth Noting!
Where live results and backtesting fails, customer reviews can help us make the final decisions. In the case of OHLSEN TRADING, there is no significant feedback from customers. The website does provide a link to TrustPilot; however, there are only two reviews at the moment.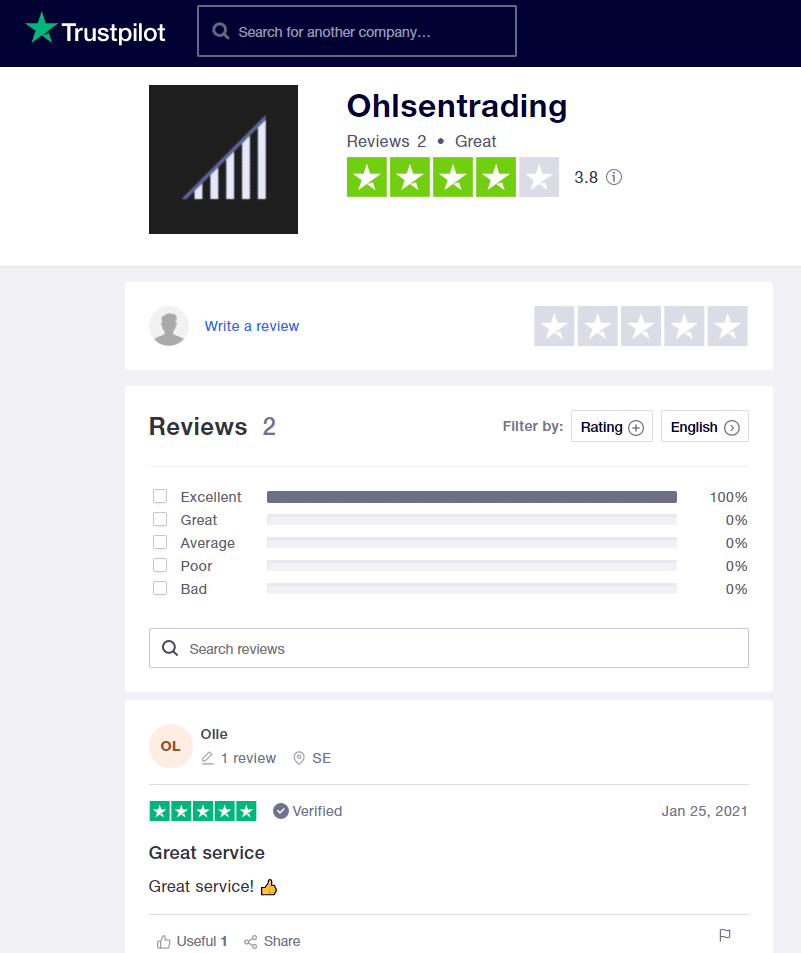 What are the pros and cons of investing in OHLSEN TRADING?
Pros
A steady equity curve shows balanced growth.
Cons
It can be risky.
Performance tracking is not available for an extended period.
No transparency.
Final Thoughts
The systems that work with a huge stop loss and small take profit can have a high winning rate. This is evident from OHLSEN TRADING, which shows a win rate of nearly 100%. However, as mentioned before, it can only take a few wrong turns for your account to be wiped out. OHLSEN TRADING has yet to see that moment.
| | |
| --- | --- |
| Strategy | 4/10 |
| Performance | 6/10 |
| Reliability | 4/10 |
| Pricing | 2/10 |