Pips Alert provides trading signals. The company sends signals in a Forex standard format. This means that you don't need to re-learn new terminology or complicated ways to utilize the signals as tools. The signals can trade currencies and commodities, including gold, EURUSD, etc., and every month, over 4,500 pips are sent out.
The two traders who founded this company are based in the United Kingdom and the US. With time, the team has grown to include other traders in Canada, Tokyo, the US, the UK, and other parts of the world. The traders supposedly go through a thorough 9 months evaluation prior to being certified to supply signals. But the names of these professionals are not mentioned. Neither are we told what qualifications they possess.
Any trader interested in using this service has three pricing packages to choose from. We have Jaguar signals, the cheapest plan that goes for $49.99/m. If you subscribe to it, you will receive 10-15 signals weekly and earn about 1k-2.5k pips monthly. Both Venture X and Investor X Signals have an asking price of $59.99 and send you 15-20 signals weekly. The vendor also assures us that the signals generate 1.5-3k pips/month.
Rather than providing a money-back guarantee, this company offers a 30- day pip protection. It says that if its team fails to deliver a minimum of 500 pips in a month, your subscription will be extended until you reach your goal. A free trial period is present as well.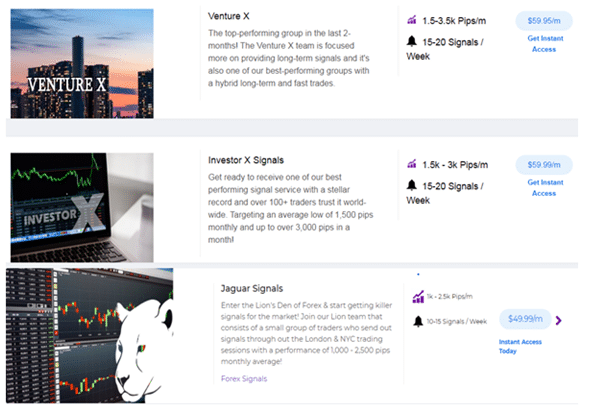 Key features
The service is featured by the following:
A free course training
Professional customer support
Signals are sent mostly during the NYC and London sessions
You can get the signals through SMS or email alerts, or desktop/browser notifications
You can trade the signals on any account size
Users are not limited to using a specific broker
About 3-7 signals are sent daily
On average, signals are held for 24 or even 48 hours
Pips Alert trading approach
The Pips Alert professionals fail to disclose their trading plan. They don't tell us what approach guides them on how they will enter and exit trades in a way that improves profitability and decreases exposure to risk.
Backtesting results
The company doesn't highlight the backtesting results of the service, though it reiterates that it tests the signals using 3rd-party backtesting weekly. Several videos illustrating the performance of different signal packages are available on the official site. Unfortunately, you won't get details on certain parameters such as the drawdown, long-term profitability rate, trading frequency, losses, etc.
Pips Alert live trading results
Pips Alert does not have a page on Myfxbook. The official website has a "performance" page that we believe is supposed to showcase how the signals perform in the live market. But there is a problem. When you click on the page, it loads for a prolonged period without opening. So, we are not sure if the company really posted trading stats on it.
What are the risks with Pips Alert?
Some of the major concerns about this service provider that make the service risky are:
Lack of strategy insight
Missing backtest results
Absence of live trading stats
Worth noting!
You can find the customer reviews that relate to this service provider on Trustpilot. Both positive and negative testimonials are present. We analyze a few of them. When you look at the screenshot below, there's a client who's happy about the Investor X package. So far, he has had a good experience with it. But there's a trader who intimates that the team members are amateurs. This is because they gave him the wrong advice that cost him money. Another one also accuses the team of being unprofessional because he incurred huge losses.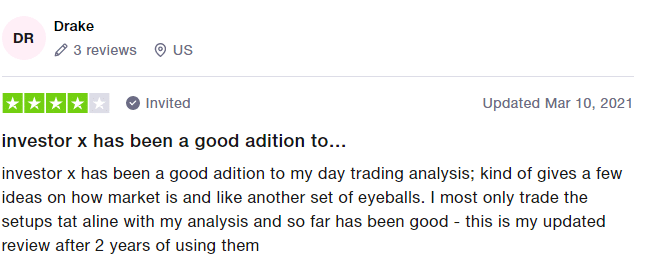 What are the pros and cons of investing in Pips Alert?
| | |
| --- | --- |
| Pros | Cons |
| The signals can trade many currency pairs | Vendor transparency is inefficient |
| Any account size can be used | Complaints from customers |
| | No strategy is revealed |
| | There are no live trading results |
Pips Alert Conclusion
Pips Alert doesn't tell what account size you should use. Also, you can use the service on the currency pair of your choice. Sadly, working with the service is a gamble since there is no strategy insight, so you can't assess the efficiency of the approach. If worse comes to worse, you might experience huge losses as some of the clients have.