Profit Forex Signals claims to be the best-rated signals provider on the market. According to the vendor, this provider has been serving customers for more than a decade and has provided more than 1000K pips. 
On the official website, there are several sections that tell us about how the system works, the background of the parent company, as well as the live performance. The vendor has highlighted some of the main benefits of the signals service. We can also check the pricing details for all the plans. Moreover, there is an FAQ section where you can find the answer to some common queries.  
The team comprises CEO Nino and trader Anna. This company has multiple companies, banks, brokers, and money managers as their partners. We don't know when exactly the company was founded, but its headquarters is located in New York. You can get in touch with support via phone, email, and live chat.
There are four pricing plans known as Standard, Professional, Ultimate, and Pearl. These plans carry monthly charges of $49, $99, $249, and $499, respectively. With the costlier plans, you get higher average pips and more return on your investment. You can file for a refund only within 7 days of signing up. 
Key features 
Profit Forex Signals trade in pairs like EUR/USD, USD/JPY, EUR/JPY, USD/CHF, GBP/USD, AUD/USD, USD/CAD, NZD/USD, EUR/AUD, AUD/JPY, GBP/CHF, GBP/JPY, CAD/JPY, AUD/CAD, EUR/GBP, EUR/CHF, NZD/JPY, and CHF/JPY. Since you can trade micro-lots, it is possible to get started with a minimum of $250. The vendor states you can sign up with any broker. However, in the live trading account, we can see that the system conducts trades through the IC Markets broker with 1:500 leverage.
Profit Forex Signals trading approach 
The vendor has not clearly explained the trading strategies used for generating the signals. As such, we don't know whether they are suitable for a particular trading style. 
Backtesting results 
It is a common practice for EA vendors to test their systems using historical data. Since this is a signals provider and not an expert advisor, the developer has not shared the backtesting data.
Profit Forex Signals live trading results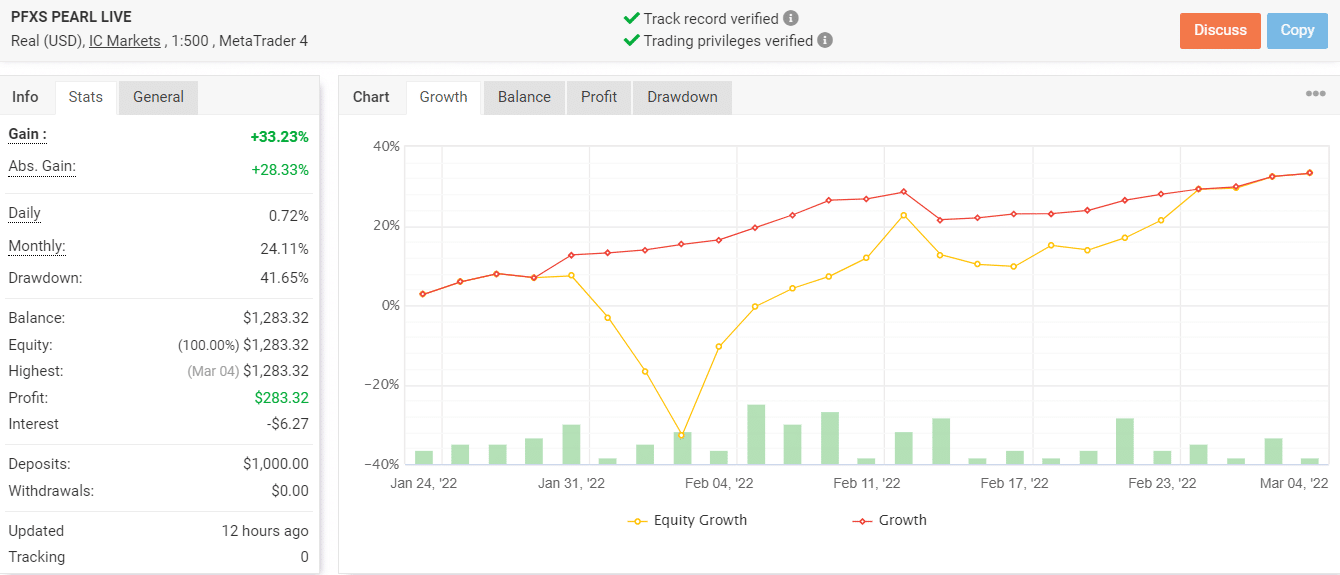 Here we have a live trading account on Myfxbook that has been active since January 24, 2022. It has a very short trading history, which makes it difficult for us to accurately analyze the profitability. After conducting 89 trades, the profitability of the account currently stands at 93%. It has experienced a growth of 33.23% while maintaining a high profit factor of 4.75. 
At this moment, the total profit for this account is $283.32. The daily and monthly gains are 0.72% and 24.11%, respectively. We can see that the account has a very high drawdown of 41.65%. This indicates a very risky trading strategy that can lead to heavy losses.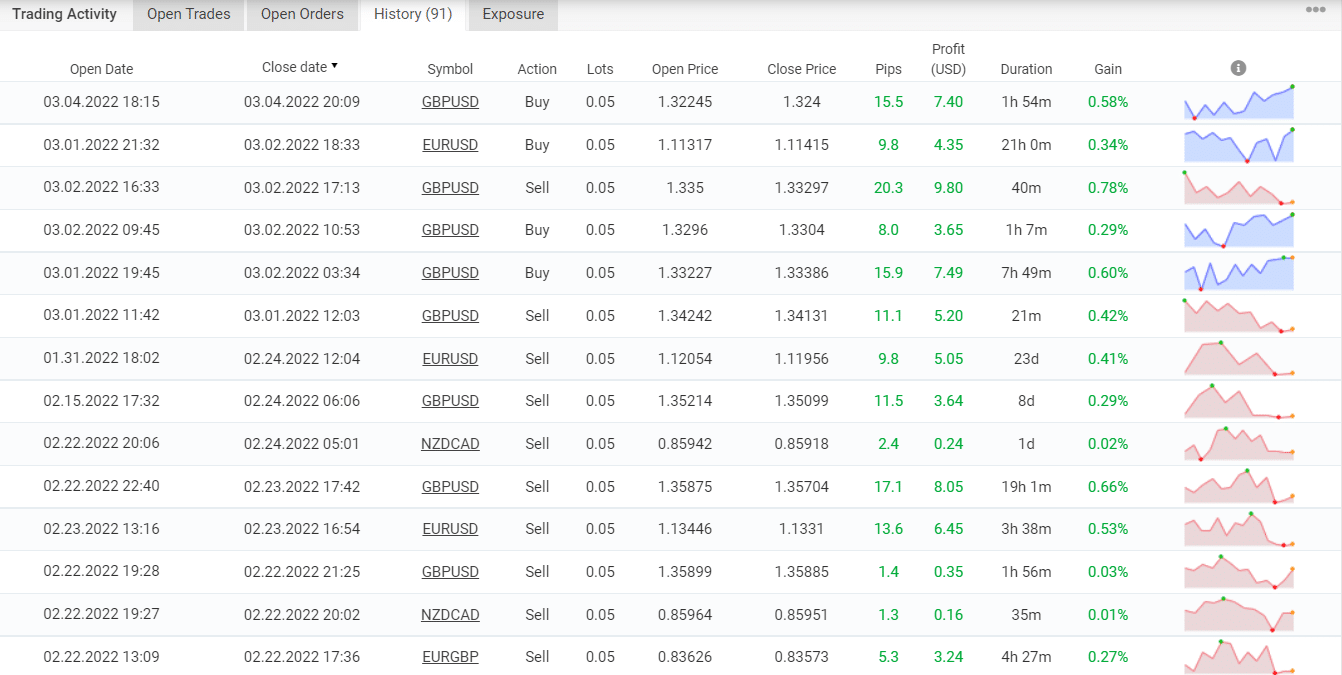 From the account's trading history, we can see that the EA trades with a fixed lot size of 0.05. The EA generates profit at a steady rate, holding each trade for an average of 23 hours and 47 minutes. On average, the EA makes gains of 9.70 pips/$4.32 and loses -23.70 pips/-$12.58.
What are the risks with Profit Forex Signals?
Profit Forex Signals has not spent a lot of time trading on the live market. Therefore, it hasn't been exposed to various market conditions. The pricing plans are not exactly cheap, and you only have 7 days to test the performance of the signals before you can no longer get a refund. Also, there is very little background information on the parent company.
Worth noting!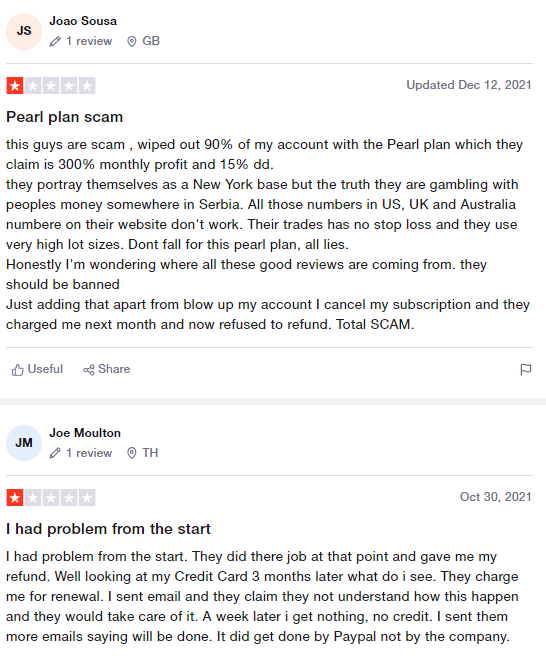 On Trustpilot, several customers have complained about the signals wiping out their accounts. One customer has claimed that the phone numbers don't work and that the company has falsified its address information. 
What are the pros & cons of investing in Profit Forex Signals?
| | |
| --- | --- |
| Pros  | Cons  |
| Verified trading results  | Lack of strategy insight |
| | Short trading history |
| | Small refund window |
It is obvious that the robot suffers from a lack of transparency and it hasn't proven itself capable of generating long-term profits. 
Profit Forex Signals Conclusion
Profit Forex Signals is a service that makes some tall claims but doesn't have the evidence to back them up. Its trading history is too short and there is not enough information on the developer company. Several customers have complained about the service not being profitable.