Promax Gold EA is a robot that uses a smart filter for analyzing fundamental and technical news. According to the vendor, it is capable of generating a monthly profit of 20-48%. It is a 100% automated trading system that requires no manual intervention on your part.
On the official website, the vendor makes a comprehensive presentation, talking about all the relevant aspects of the system under separate headings. We have a list of the main features, a couple of live trading accounts, a video showing live trades, and more. The vendor also explains how the EA functions and what are the requirements for using it. Finally, we have the broker recommendation, as well as a video showing the installation steps.
This EA has been developed by My EA Academy, which is a trade name of the company Sinry Advice Worldwide. The company is known for providing trading educational tools, but we don't know much about its history or where it is located. It is also unknown whether the team members have the required qualification and experience to work with a system like this.
Key Features
This EA trades in the XAU/USD pair on the MT4 trading platform. By purchasing it, you get access to 1 live and 1 demo account where you can place trades using the default settings. Opening and closing of trades are done automatically and all future updates are provided for free.
This robot is designed in such a way that it trades only for an accuracy exceeding 88%. In case there is a drawdown period, it uses a smart grid system to close the orders without incurring any losses. It requires only 5 minutes setting this software up on a Standard or ECN account on Metatrader 4.
The vendor recommends using a minimum deposit of $1000 for this account. It trades on the 5 min timeframe, and you just need to add the EA file to the gold chart. After this, you need to email your MT4 account number to the support team. The EA costs $198 and comes with a 14-day money-back guarantee.
Promax Gold EA Trading Approach
There is little or no information about the trading strategy used by this robot. But it seems like it uses some kind of grid strategy. The majority of traders look for some kind of strategy insight since it allows them to determine whether the system is profitable or not. The lack of information about the strategy may serve as a deterrent for many investors.
Backtesting Results
The vendor has not provided the backtesting results on the official website. Backtests are carried out using historical data, and by studying them, you can determine how well a system can deal with different market conditions. We hope the vendor decides to include backtesting results in the future.
Promax Gold EA Live Trading Results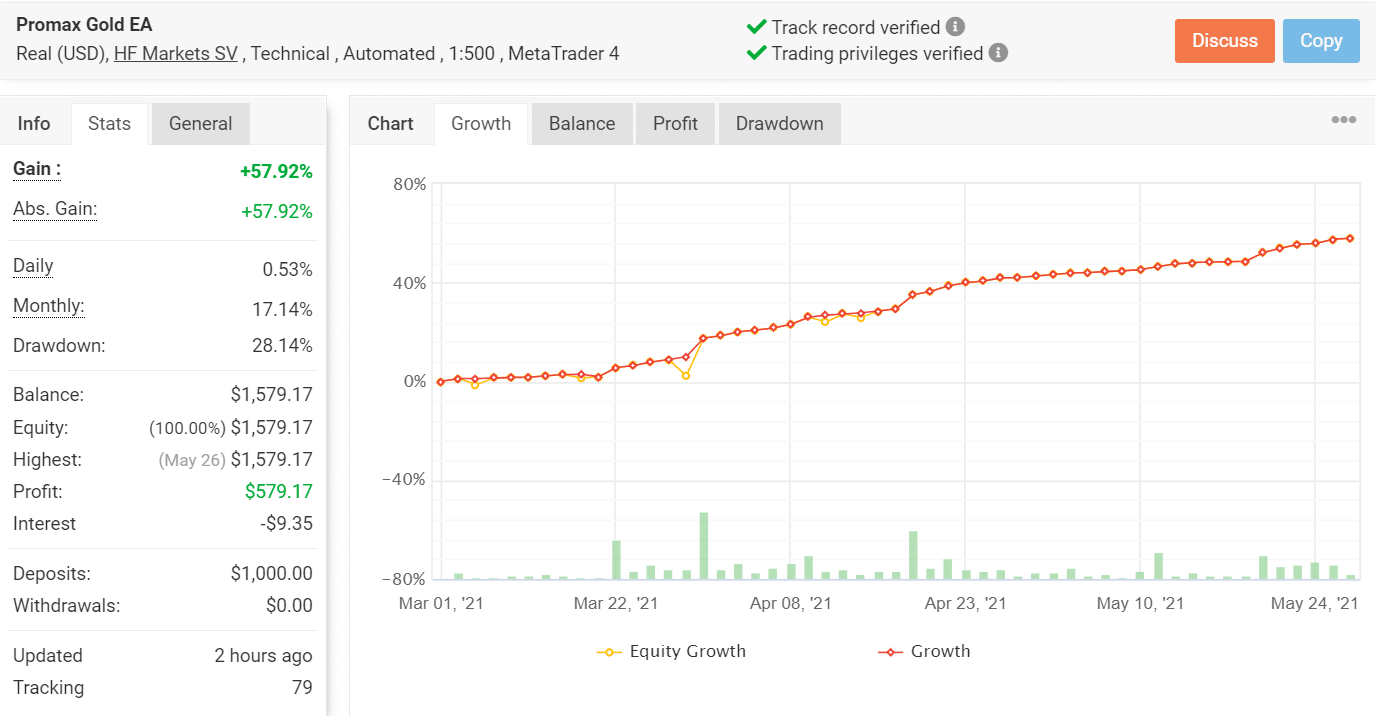 This live trading account has only been active since 1st March 2021, so it has a very short trading history. After placing 282 trades and winning 224 out of them, it has managed to generate a profit of $579.17. The daily and monthly profits are 0.53% and 17.14% respectively, so we can see that the claim made by the vendor about the monthly profit is false. It has a profit factor of 2.25, which would otherwise be quite impressive, had the trading history not been so short.
What Are The Risks With Promax Gold EA?
The primary risk with Promax Gold EA is that there is no proper explanation for the trading strategy. We don't know if it uses the normal grid strategy or some variation of it. Secondly, it has an extremely short trading history, and it is difficult to gauge its profitability using such a small sample size of trades.
Worth Noting!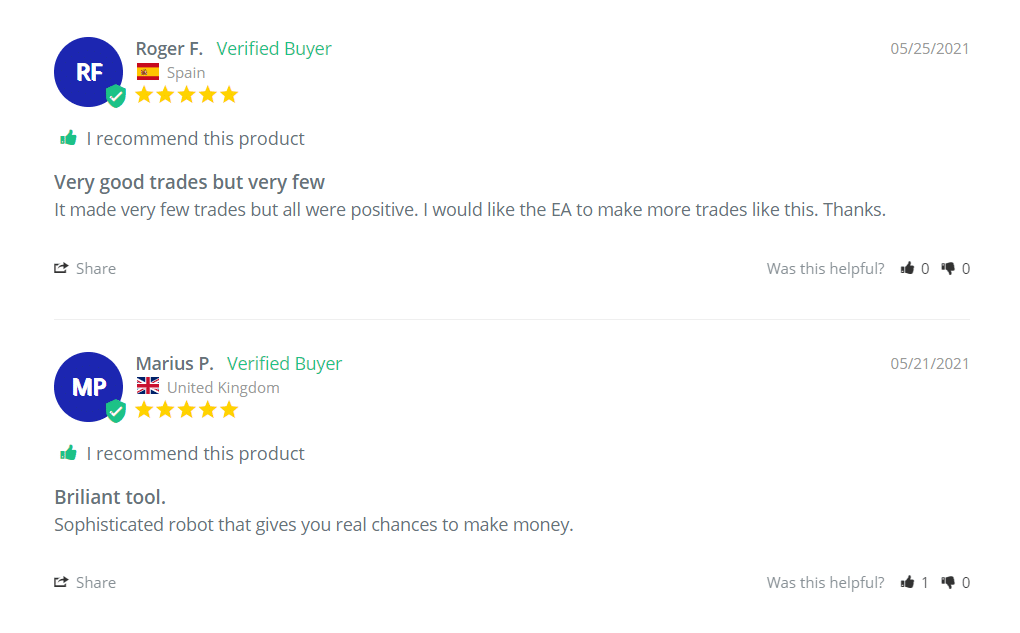 There are a few user reviews on the official website, but these don't seem to be genuine and there are no reviews available on third-party websites. It is hardly surprising since not many people would place their trust in a robot that has only been trading live for a few months.
What Are The Pros & Cons of Investing in Promax Gold EA?
| | |
| --- | --- |
| Pros | Cons |
| Live trading results verified by Myfxbook | Short trading history |
| | Lack of strategy insight |
| | Backtesting data not available |
Although the vendor shares the live trading results, we cannot put too much weight on it, since the number of trades is relatively small. Seeing as the cons outweigh the pros, we don't think it would be wise to invest in this system.
Final Thoughts
Due to the above-mentioned factors, we cannot recommend you to invest in Promax Gold EA. You'd be better off looking for a more reliable system with a longer trading history.
Features: 4/10
Pricing: 4/10
Strategy: 2/10
Performance: 3/10
Reliability: 3/10