PZ Divergence is an indicator sold on the PZ Trading website as well as the MQL5 marketplace. The person selling this product claims that the indicator uses divergences to find the most lucrative trading occasions. They also claim that it has an average win rate of 90%.
On the official website, the vendor has highlighted the main features of the indicator and shared a list of oscillators used by it. We have several screenshots of trading setups, but oddly enough there are no links to verified trading accounts.
PZ Divergence is a product from Arturo Lopez Perez, a developer based in Andorra who owns the PZ Trading website. According to his MQL5 profile, he has more than 8 years of experience in developing trading systems for the Forex market. Unfortunately, there is no contact information provided on the website, but you have the option of opening a support ticket or sending a message to the vendor.
Key features
This indicator finds hidden as well as regular divergences. It is compatible with various oscillators like RSI, CCI, OSMA, MACD, Momentum, Stochastic, Accelerator Oscillator, Williams Percent Range, Relative Vigor Index, Money Flow Index, Rate of change, and On Balance Volume.
It generates trading signals on the basis of price breakouts in the market. Every trade has proper take-profit and stop-loss levels. The oscillator parameters are configurable and you can filter divergences by bar sizes. PZ Divergence has a multi-timeframe and multi-symbol scanner and can locate divergences for several pairs and pairs using just one chart.
According to the vendor, leverage of 1:20 is adequate for this indicator. Also, they recommend avoiding smaller time frames like M1, M5, and M15. Where the indicator detects a trading opportunity, it sends you a notification via email. PZ Divergence is available at the price of $299, which makes it quite expensive for an indicator. Also, the vendor does not offer any refunds for this product.
PZ Divergence trading approach
Prior to generating a trading signal, PZ Divergence waits for a Donchian breakout. This event confirms the divergence. It uses the blue, red, light blue, and pink colors for displaying Regular bullish divergence, regular bearish divergence, hidden bullish divergence, and hidden bearish divergence, respectively. We feel like the strategy insight is a bit vague and the vendor should have shared further technical details.
Backtesting results
Backtesting results are something that every trader looks for before purchasing a Forex robot. Vendors test their strategies using archival data to see whether they can endure long periods of market drawdown. However, this is a Forex indicator and not an EA and hence there are no backtesting results for it.
PZ Divergence live trading results
We found this trading account after conducting our own research. It was launched on June 27, 2021, and since it has been on the live market for roughly two months, we cannot accurately gauge the system's profitability from these results. After conducting 38 trades, the system has generated a small profit of $56.36.
The win rate for this account is 68% while the profit factor is 2.55. It has a high drawdown of 24.78%, which means the indicator trades with high risk. At this moment, the daily and monthly profits are 0.77% and 25.92%, respectively.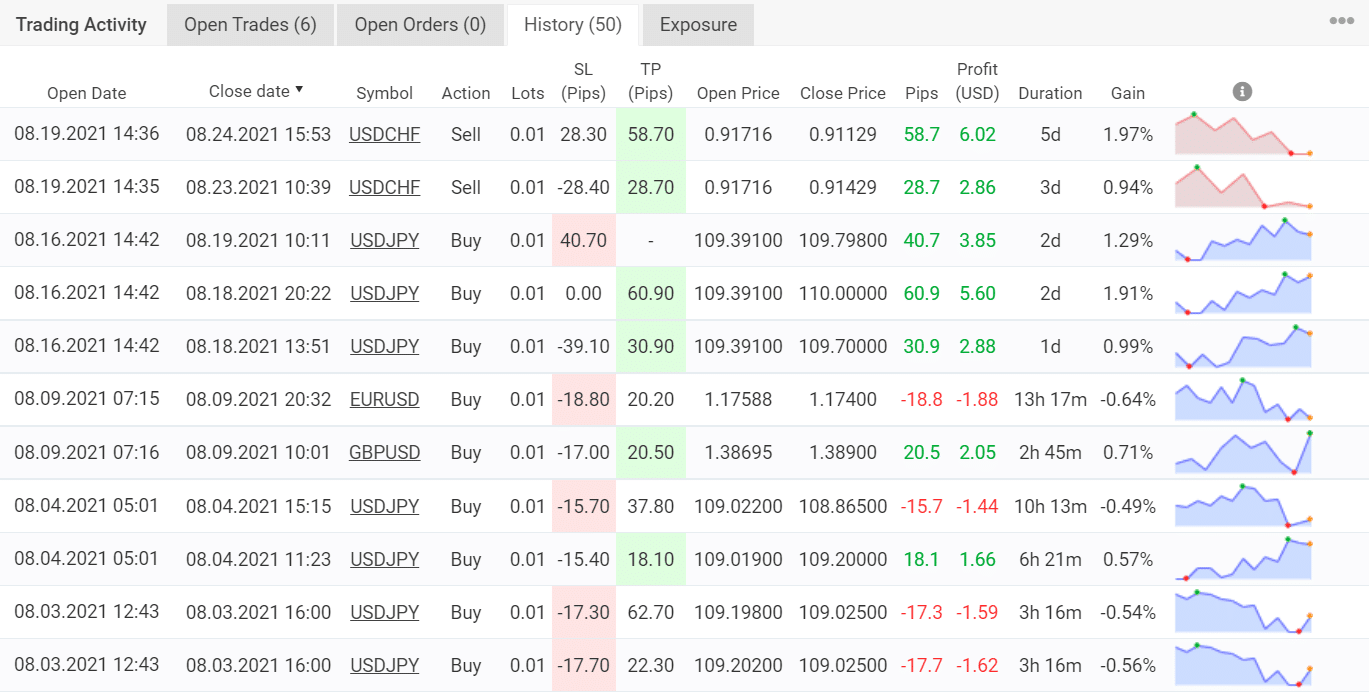 Looking at the trading results, we can see that the system only generates small profits from each trade. This is not a reliable long-term trading approach. We can also see several consecutive losses suffered while trading.
What are the risks with PZ Divergence?
We cannot consider PZ Divergence a reliable indicator. It does not have a long track record of winning profits in the live market. The vendor sells it at a high price and does not offer a money-back guarantee.
Worth nothing!

There are no verified user reviews for this indicator, indicating a lack of reputation. The user reviews on MQL5 cannot be considered authentic.
What are the pros and cons of investing in PZ Divergence?
| | |
| --- | --- |
| Pros | Cons |
| Supports multiple oscillators | No money-back guarantee |
| | Expensive product |
| | Short trading history |
There are too many shortcomings for this indicator that we cannot ignore. The vendor promises a high win rate of 90%, but the trading results tell a different story.
PZ Divergence Conclusion
PZ Divergence is an indicator that is largely unproven in the live market. It makes no sense to spend so much money on a product for which there is no refund policy. Therefore, we think you should consider other options.