The developers claim that they have specifically created Robinhood FX EA to cut losses early and permit good trades to run to optimize gains. They also emphasize that the martingale strategy is not applied. This is aimed at convincing traders that the approach on board is safe. But are these allegations true? Read this review to learn what we found out.
We could not determine the vendor of this system. The info on the "About Us" page integrates several marketing statements and fails to reveal the real identity of the team. In short, we are dealing with anonymous people whose level of expertise and experience in Forex are a mystery. We are also unaware of their reputation in the market.
When it comes to pricing, 3 different packages are available. We have the basic plan which costs $127 and it comes with 1 real account and 1 demo account. Then there is the regular offer that is $147 and it includes 2 real and 2 demo accounts. The business package is the most costly as it is going for $167. It incorporates 3 real and 3 demo accounts.
All packages provide a lifelong license and 24/5 support. A 30-day money-back guarantee is also present. So, you can ask for a refund in case you experience problems with the system or if the trading is ineffective.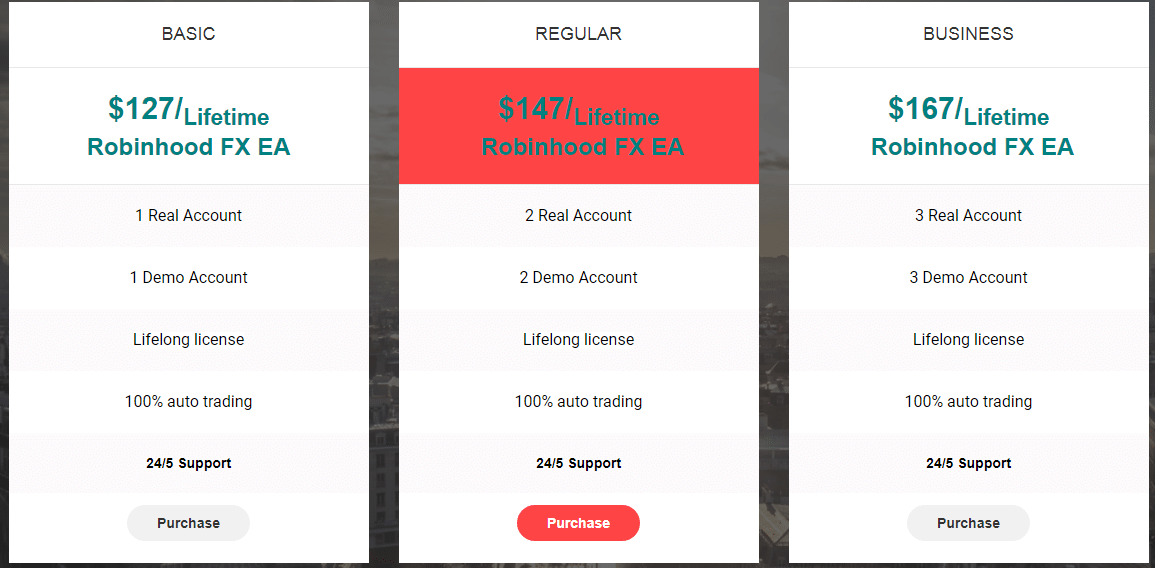 Key features
Works with all brokers, ECN, Micro, STP, or Cent account
Easy to set up
Supports the EURUSD currency pair
Easy parameter, built in magic number
Uses the 1 hour time frame
Lot sizes are proportional to the size of the account. Notably, the traded lot should not be more than $200/0.01
When it begins trading, stop loss is hidden from the broker
Trades in all market conditions even during bad news
Doesn't require the trader to utilize a VPS, although it is suggested
The stop losses and take profits used are dynamic
Robinhood FX EA trading approach
The vendor gives us a generalized description of the robot's trading logic. They just say that it targets specific market conditions. We would like to know what these conditions are. A detailed description of the inner workings of the EA would also be great. Does it use scalping, grid, trend following, swing trading or other approaches? The lack of such info is enough to dissuade traders from buying this product since they wouldn't know what to expect.
Backtesting results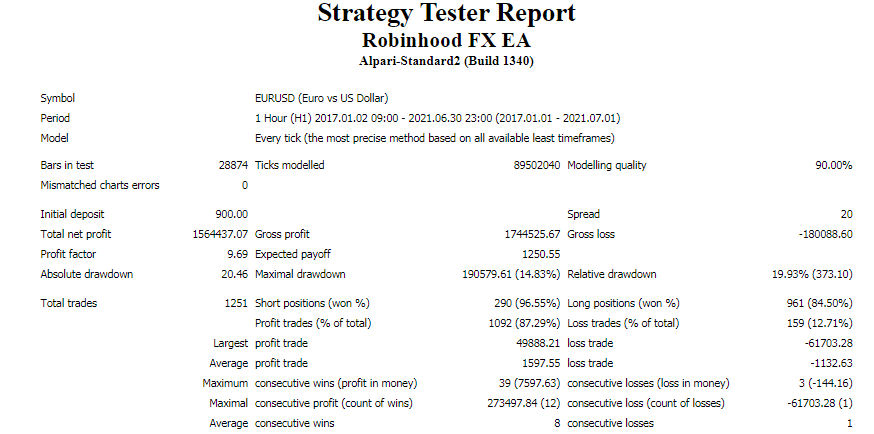 This backtest report indicates that the EA operated between January 2017 and June 2021 on the 1 hour time frame using the EURUSD currency pair. The modeling quality was 90%. A deposit of $900 was placed and, in the end, the robot made a total net profit of $1,564,437.07. The profit value was quite unrealistic. The profit factor was 9.69. The relative drawdown (19.93%) was high and presented significant risks to the capital.
The system executed a total of 1251 trades during this period. The short positions and long positions were 96.55% and 84.50% respectively. The average profit trade which was $1597.55 was higher than the loss trade of -$1132.63.
Robinhood FX EA live trading results

This robot went live on July 10, 2021 and it has grown the deposit from $752.94 to $1,021.43 after making a profit of $268.49. Unfortunately, the loss made is not indicated. This is strange.

So far, the EA has traded for 47 days, and the total return is 95.2%. It has been bringing in 11.4% returns on a weekly basis and 57.3% returns on a monthly basis. The profit factor is 8.89 and a bit lower than the one showcased in the backtest statement. The pips made are 444.3. The drawdown value is not shown.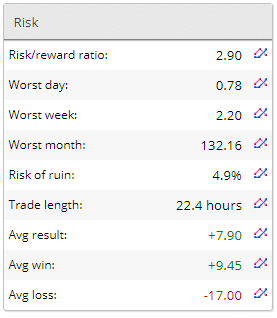 The risk/reward ratio is 2.90 while the risk of ruin is 4.9%. On its worst day and worst week, the system made $0.78 and $2.20 respectively. The average loss is -$17. The average win of $9.45 is nearly two times lower. It appears that the EA attracts more losses than wins.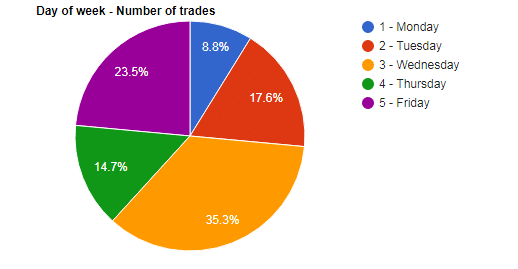 Wednesday recorded the highest percentage of trades (35.3%).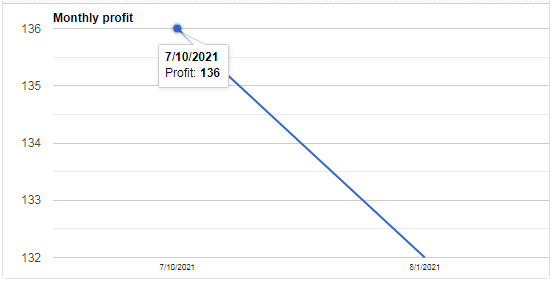 The robot made a profit of $136 in July. August was the least profitable month with $132.
What are the risks with Robinhood FX EA?
Robinhood FX EA is not a safe trading system. It is associated with the following trading risks:
High loss rate
High drawdown rate (as shown in the backtest report)
Worth noting!
We found one customer review for this robot on FPA. He is praising the robot because, according to him, it has held profits in volatile markets. Therefore, he thinks that it is good and unique. However, we cannot rely on this review alone. We will have to wait longer to know what other traders really feel about the EA.

What are the pros and cons of investing in Robinhood FX EA?
| | |
| --- | --- |
| Pros | Cons |
| Live trading results are provided | Lack of vendor transparency |
| Backtest data is available | Vague strategy explanation |
| | Inadequate customer feedback |
Robinhood FX EA Conclusion
We advise you not to buy this robot. Some of the vendors' actions are highly suspicious. They do not tell us who they are and so, it is likely they lack the necessary qualifications to develop effective bots for Forex. They also do not seem to know how exactly their product works. Furthermore, they hide important performance data, i.e., losses and drawdown. Your investment wouldn't be safe with them.