Rombus Capital provides a variety of services including copy trading, managing Forex accounts for investors, and trading signals. The company indicates that it has been conducting trades for private and institutional investors for over 20 years. It also promises to assist inexperienced FX traders and investors to multiply their riches.
Rombus Capital's presentation is beyond disappointing. The team puts much of its focus on advertising its services. They leave out pertinent details that investors look out for when making investment decisions. Moving on, the official website is divided into various sections which describe services offered, partnerships available, programs, support info, and FAQs.
Vendor transparency is lacking. The only thing we know is that the company is located in Hong Kong, China. So, we do not have intel on the kinds of professionals it works with to effectively manage traders' accounts. It is very risky to entrust your money to people who hide their credentials.
In order to get in touch with support, you can email them at [email protected], [email protected], or [email protected]. There is also a live chat window which allows you to communicate with the support team directly through WhatsApp and Telegram channels.
There are 3 separate investment packages for Rombus. The first program which is called managed retail needs a minimum investment of €10,000. The second program, managed conservative, requires you to part with at least €50,000. The last option is known as managed prime and is the most expensive as you will have to invest €250,000. Anyone can see that these programs are very pricey. Low net-worth traders cannot access such services. Furthermore, Rombus does not have a money back guarantee and is not that lucrative. In view of this, it is not worth your money.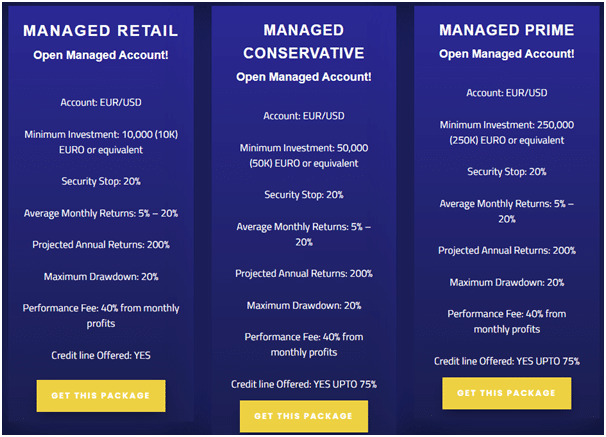 Key features
The following features are highlighted by the vendor:
A minimum of $1000 is needed to open a managed account
Offers free and prompt assistance to investors
Works with various brokers including IG Bank, Hogg Capital and TradeView
Provides investors with the option of becoming its partners
Trades with many currency pairs
Rombus Capital trading approach
Rombus Capital uses intraday strategy. This means it trades on the markets during regular business hours. Rombus particularly targets ranging and trending markets and applies neural network models with broad ranges of technical inputs. The strategy seeks to minimize drawdowns and attain profits in all market conditions.
Backtesting results
Backtesting data for Rombus Capital is unavailable. This is an indication of the vendor's lack of confidence in their past performance. If they were sure their services really benefit investors, then they would have proudly showcased this data for public scrutiny.
Rombus Capital live trading results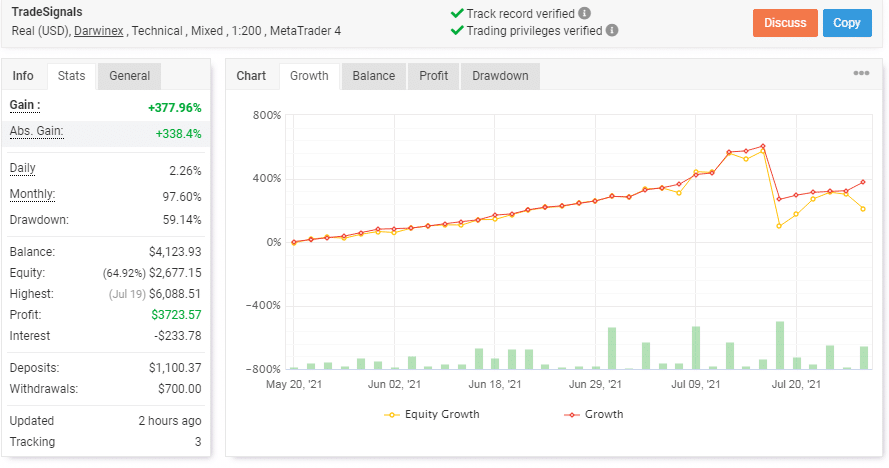 The account was activated on March 20, 2021, and up to now, it has grown by 377.96% increasing the balance from $1,100.37 to $4,123.93. It has been making a daily profit rate of 2.26% and a monthly profit rate of 97.60%. The stats look too good to be true. The drawdown rate of 59.14% is extremely high, and therefore, a lot of money may be lost. 

The account has made 276 trades with 27.02 lots. The lots are many and heighten the account's loss rate. The win-rates for longs and shorts are 74% each. The profit factor (1.85) is rather average and hence unimpressive. The account has made 9676.6 pips. The average win is 69.83 pips when the average loss is -65.33 pips.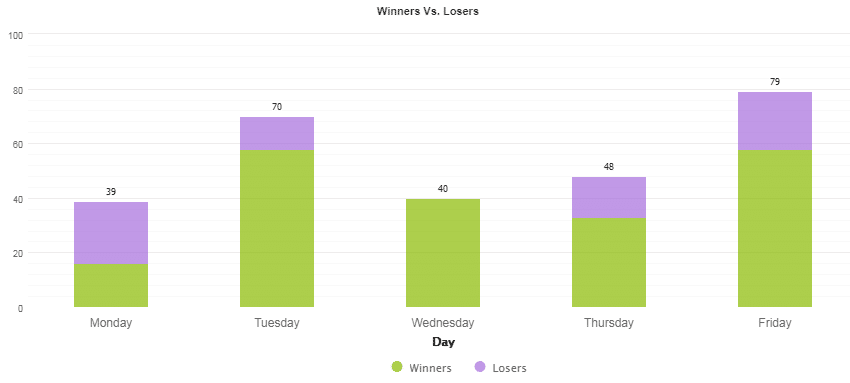 The account executed many trades on Friday as it made 79 deals.

The account can easily be ruined. Only 4 consecutive losses are needed to lose 10% of the account.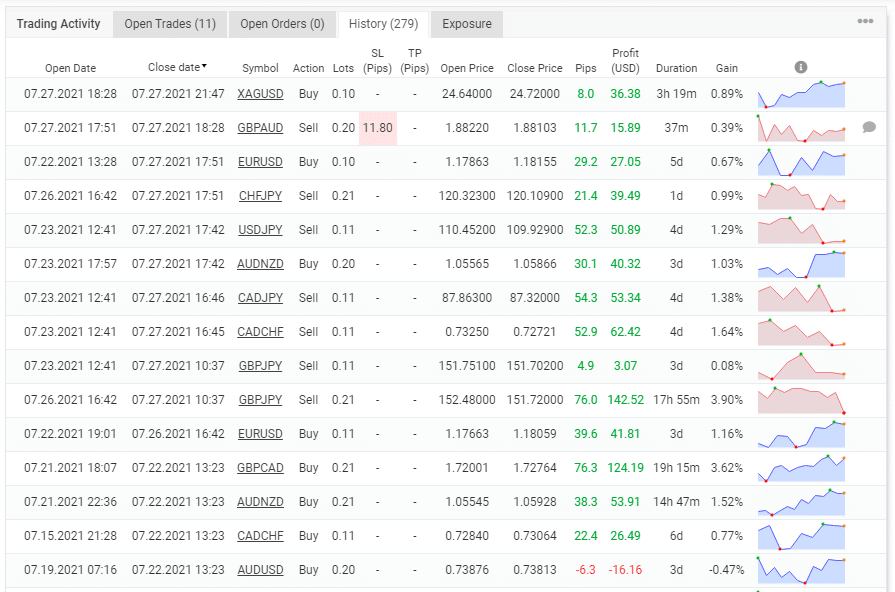 As per the trading history, the account traded with different lot sizes. It also applied a trailing stop loss on one occasion.
What are the risks with Rombus Capital?
The risk of ruin is high
Trades with large lot sizes
Is very expensive and does not provide any refunds
Worth noting!
Rombus Capital may not be popular with investors. If investors were aware of its services, then we would have found more than one customer review on Forex Peace Army. The customer has given Rombus a 5 star rating. He praises it for having a low drawdown and an excellent customer service among other things. Here is a screenshot of the feedback:

However, one review is not enough to gauge how customers (if they are there) generally feel about Rombus.
What are the pros and cons of Investing in Rombus Capital?
Pros
Cons
Backtest results are missing
High drawdown
Insufficient customer feedback
The team is not revealed
Evidently, it is risky to trade with Rombus Capital as you can easily lose a significant portion of your account if you decide to invest with them.
Rombus Capital Conclusion
Rombus Capital is not a good investment option. The team uses a high-risk trading approach and this may cause your account to blow up any time. It is also difficult to trust professionals behind this company because we do not know how skilled they are in trading. The vendor's failure to provide their backtest report is another red flag we cannot ignore. Therefore, we advise you to stay as far away as you can from their services if you want to avoid losing your money.