SIEA Zen is a Forex robot that was launched on 6th June 2021. As per vendor claims, the expert advisor has a balanced risk-reward ratio and is able to deal with different market conditions. However, we need to analyze the system at our end before we can form an opinion about its profitability.
There is no official website for this expert advisor. On the MQL5 product page, the vendor has provided a short introduction to the system and explained the various features. We also have a list of technical requirements, pricing details, a tutorial video, and a screenshot showing the backtesting results.
This is a product from Daniel Stein, a German developer we have no information on. On his MQL5 page, it is mentioned that he is the founder of Stein Investments. However, we know nothing about this company. He maintains an official Telegram channel where you can access Forex-related news for free. It doesn't seem like there is a dedicated support team for this robot and to seek assistance, you need to contact the vendor directly through MQL5.
Key features
SIEA Zen trades in 28 currency pairs based on 8 major currencies, namely JPY, NZD, AUD, GBP, CHF, EUR, CAD, and USD. It has an in-built news filter that causes the system to close all positions when there is a major news event. Priced at $999, it is a highly expensive system for which the vendor does not offer a money-back guarantee.
SIEA Zen also has a swap management module that monitors the different swap charges for brokers. Instead of using individual stop losses for each trade, it applies a single risk/drawdown limit. As a trader, you have to specify the maximum amount of risk you are prepared to take.
The vendor has shared the links for volume data and news sources. You need to run the EA on one chart only. It can trade in multiple pairs simultaneously using a single-chart setup. According to the vendor, you need a VPS software program to efficiently run this robot. This tells us that the EA follows a high-frequency trading style.
SIEA Zen trading approach
SIEA Zen determines market imbalance and measures its intensity via volume analysis. It looks for reverse entry opportunities and closes all its positions at month-end. At the beginning of the next month, it starts a new cycle. On average, it keeps a position open for 4 days.
Backtesting results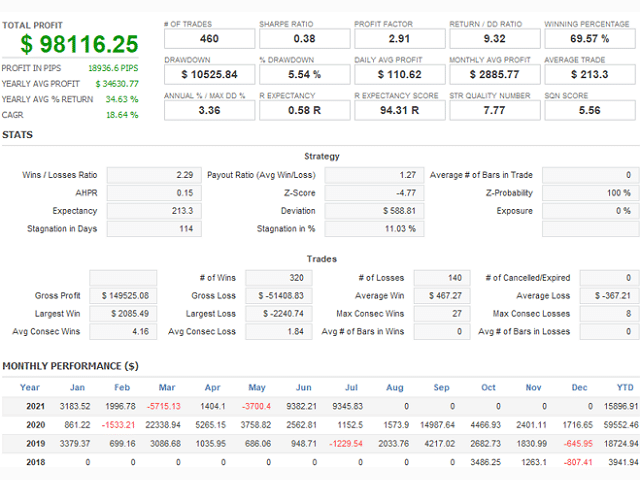 On the MQL5 product page, we have this screenshot of a backtest conducted from 2018 to 2021. However, we don't know on which pair this test was carried out. During the testing period, the EA placed a total of 460 trades, winning 320 out of them. This means it had a win rate of 69.57%.
The daily and monthly average profits for this backtest are $110.62 and $2885.77 respectively. There were 27 maximum consecutive wins and 8 maximum consecutive losses. The drawdown and profit factor were 5.54% and 2.91 respectively.
SIEA Zen live trading results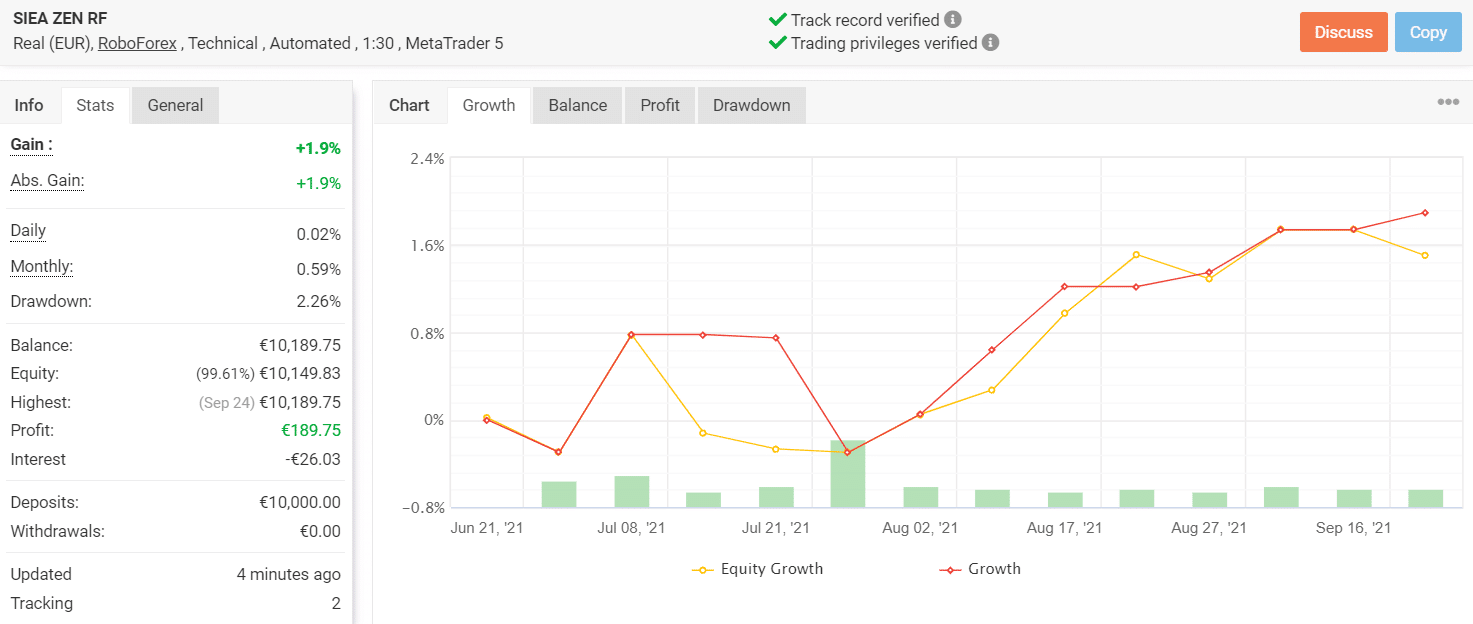 This trading account on Myfxbook was launched on June 21, 2021. During its short trading history, SIEA Zen has placed only 18 trades through this account. It currently has a win rate of 67%, which is slightly less compared to the backtesting data.
To date, the EA has generated a profit of 189.75 Euros. The daily and monthly gains are 0.02% and 0.59% respectively, while the drawdown is 2.26%.
What are the risks with SIEA Zen?
SIEA Zen is not a safe trading system. It has not spent enough time in the live market, so we cannot consider it profitable. Also, it is an overpriced system without a refund policy.
Worth noting!

There are no verified user reviews for this robot on third-party websites. The lack of reputation is, therefore, quite apparent. We found a few reviews on the MQL5 website, but they cannot be considered genuine.
What are the pros & cons of investing in SIEA Zen?
| | |
| --- | --- |
| Pros | Cons |
| Verified trading results | Short trading history |
| | Overpriced EA |
| | No money-back guarantee |
As you can see, SIEA Zen has too many downfalls. It makes little sense to spend so much money on this system without the security of a refund policy.
SIEA Zen Conclusion
You should avoid SIEA Zen at all costs. This robot does not have a long track record of winning profits in the live market. The vendor has no reputation whatsoever and they are clearly trying to dupe traders by selling the EA at a high price.