Since its inception, Ethereum has been the most popular decentralized open-source platform for blockchain applications. You can consider it a worldwide platform for financial services, apps, and games. Based on the market cap, the native token of this platform, ETH, is only next to the most popular cryptocurrency, Bitcoin. 
However, the success of BTH and ETH led to many other new cryptocurrencies protocols and coins that put the dominance of ETH at risk. These "Ethereum killers" are becoming rapidly popular with crypto investors. This article will introduce you to the top five ETH killers besides describing the potential to make investments in 2022.
Top five Ethereum killers to invest in 2022
1600+ crypto tokens are available in the collective market with a market cap of about $2 trillion. Some crypto coins and platforms may soon obtain ETH's dominant throne between all these. This part will list and describe the top five Ethereum killers.
Cardano

(ADA: 43.6B)

Polkadot

(DOT: 17.8B)

Solana

(SOL: 41.7B)

Avalanche (AVAX: 22B)

Tezos (XTZ: 2.3B)
Cardano (ADA)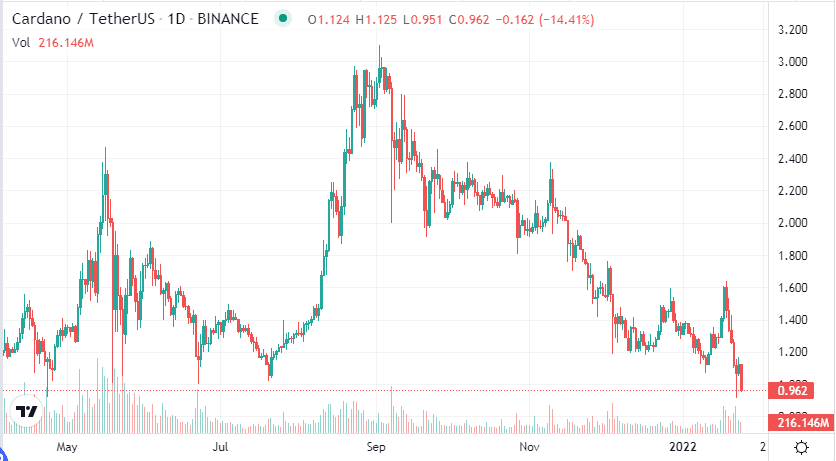 What is Cardano?
Charles Hoskinson, one of the co-founders of Etherum, launches Cardano. A proof-of-stake blockchain platform declares goals to allow "visionaries, innovators, and changemakers" to bring about positive global change. 
The name "Cardano" came from an Italian polymath of the 16th century, Gerolamo Cardano. The foundation year of this crypto asset is 2017, and many consider this as a more scalable third-generation cryptocurrency than Ethereum. The price of ADA is floating near $0.962 at the time of writing with a 24-H trading volume of $2,512,420,627. The live market cap is $32,400,765,382, and the circulating supply is 33.54B ADA. Meanwhile, the total supply is 34,007,996,390 ADA, and the max supply is 45,000,000,000 ADA. 
How does ADA work?
Cardano successfully uses a proof-of-stake consensus mechanism that is less energy-intensive than the proof-of-work algorithm of Bitcoin. It held a Shelley upgrade in 2020 that aims to make its blockchain "50 to 100 times more decentralized" than many other largest blockchains. 
Polkadot (DOT)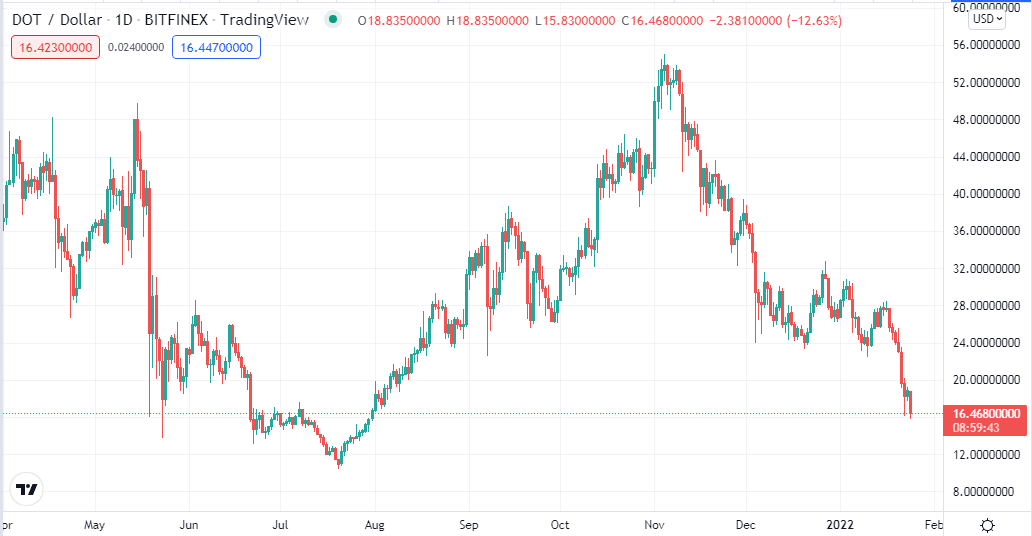 What is Polkadot? 
It is another Ethereum killer that aims to solve the cost and scalability issues of Ethereum. The main unique feature that makes it more attractive is the interoperability capability that enables its blockchain to communicate more effectively. 
The four components of Polkadot are Bridges, Relay Chain, Parathreads, and Parachains. The founders of Polkadot are Peter Czaban, Robert Habermeier, and Dr. Gavin Wood. The initial coin offering (ICO) of Polkadot was in October 2017. Now the native coin of Polkadot is, DOT, is floating near $16.46 with a 24-H trading volume of $1,936,317,051. The circulating supply is 987,579,314.96 DOT, and the total supply is 1,103,303,471 DOT. Meanwhile, the max supply is not available.   
How does DOT work?
It is a protocol that connects a secure network of blockchains, facilitating the cross-chain transfer of any data or asset types and allowing blockchains to be interoperable with each other. The designing purpose is to provide a foundation for a decentralized internet or WEB 3. 
Solana (SOL)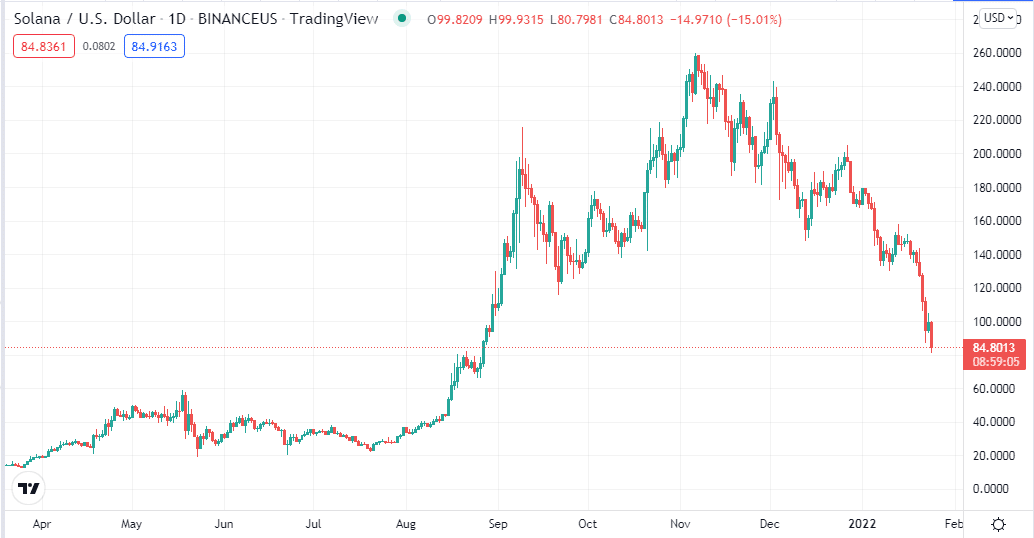 What is Solana?
Solana is another fast-growing cryptocurrency that you can consider an Ethereum killer. It is much faster than Ethereum as developers claim the Solana network can process 50,000 transactions per second (TPS). Whereas Ethereum currently processes transactions between 15-45 TPS. 
The most important person behind Solana is Anatoly Yakovenko. The price of its native token SOL has increased over 700% between Sep-Dec 2021. The price of SOL is now floating near $84.80 at the time of writing, with a 24-H trading volume of $3,518,418,673.
How does SOL work?
Solana is an open-source, decentralized protocol, and the designing purpose is to facilitate DApp creation. It introduces the proof-of-history (PoH) consensus and then combines it with the proof-of-stake (PoS) of the blockchain with an aim to improve scalability. This Protocol aims to serve enterprise customers and small-time users as the same.
Avalanche (AVAX)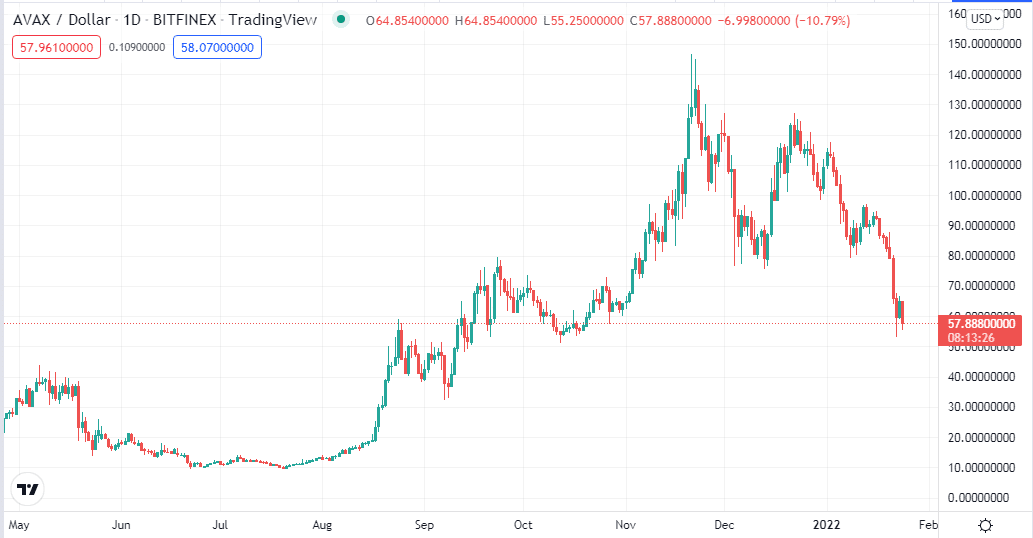 What is Avalanche?
Avalanche is the following top Protocol that belongs to the list of Ethereum killers. It is the fastest smart contacts platform in the blockchain industry when you measure it by time-to-finality. It is an eco-friendly, blazingly fast, and low-cost platform. The launching date on the main net of Avalanche is September 21, 2020. The price of its native coin AVAX is floating near $57.88 with a 24-H trading volume of $1,018,440,162.
How does AVAX work?
The key feature of the AVAX is that instead of the usual one chain, each of its blockchains has three chains. This design choice focuses on each blockchain when executing any particular task. It has a P-Chain (Platform Chain), X-Chain (Exchange Chain), and C-Chain (Contract Chain). 
Tezos (XTZ)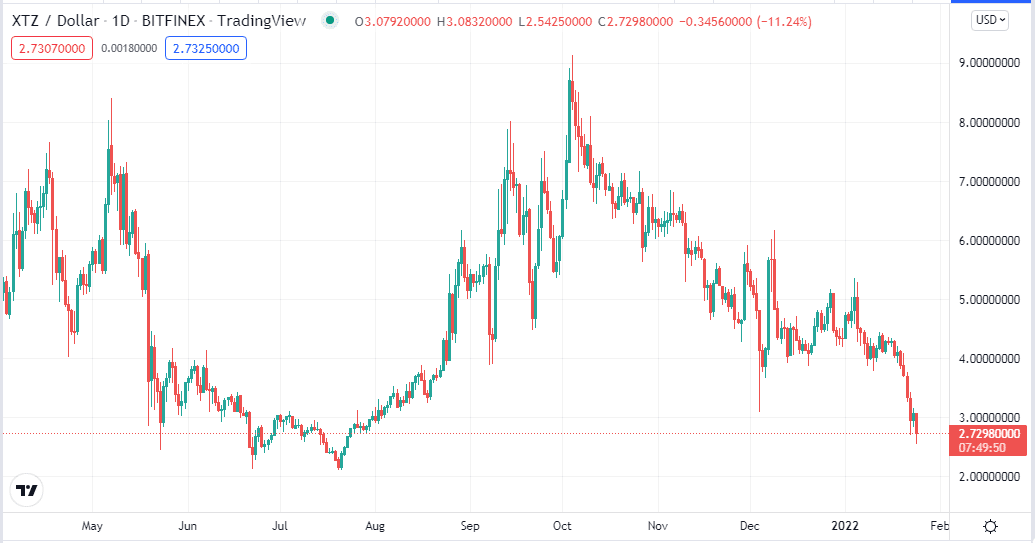 What is Tezos?
The fifth Ethereum killer on our top five list is Tezos. It is a user-focused, open-source project. Tezors allow users to weigh on the direction of the blockchain and project governance. It provides well-regarded modularity and security. Although the launching on the main net was four years later, the first white paper writing proposal from Arthur Breitman's release month is Sep 2014. Many view it as more scalable than others. The price of XTZ is floating near $2.72 with a 24-H trading volume of $154,361,409. 
How does XTZ work?
Tezos has a unique twist on the staking process. Through "baking," this platform allows participants to be involved in network governance. The participants can effectively stake 8,000 XTZ by this procedure. You can break the Tezos blockchain into two parts: Shell and Protocol, where Shell is responsible for administrative operations and interpreting transactions. Meanwhile, Protocol sends proposals to Shell for review.
Pros and cons
| | |
| --- | --- |
| Pros | Cons |
| Some of these are much faster than the ETH. | These are volatile assets. |
| Some of these are much more scalable than the ETH. | There is no guarantee that any of these will succeed as ETH. |
| Some of these are cheaper and offer low-cost transactions than the ETH. | These assets involve risks as any other crypto asset. |
Final thought
Finally, any of these Ethereum killers can gain the throne of Ethereum in the future as they offer more scalability and faster transactions than ETH. The introduction period for these assets is after the ETH, so you cannot ignore the fact that these platforms have the advantages to learn from the lacks or issues of the Ethereum platform.