Trade Explorer is a Forex expert advisor that promises to generate a maximum of 377% profit on a monthly basis. It trades in multiple currency pairs and is supported by multiple verified trading accounts. This is a 100% automated system that, according to the developer, lets you win profits without any trading experience.
The presentation on the official website is very long and detailed. We can see that the vendor has put a lot of effort into convincing potential buyers that the system is better than others. They have shared unverified testimonials from customers and multiple live trading accounts. We have a story behind how this system was built, along with a list of features, and pricing details. 
This is a product from the LeapFX team. While this team has been around for quite some time, we don't have enough information on it. The vendor has not shared the identities of the team members and we don't know where the headquarters of this country is located. Other EAs from this team include Funnel Trader 2.0, Automic Trader, DynaScalp, AX Trader, The Fund Trader, Easy Money X-Ray Robot, etc. There is an email address on the website where you can drop a message to the service team.
Key features 
This robot supports 27 pairs, including AUD/CAD, AUD/NZD, CAD/CHF, AUD/JPY, EUR/NZD, EUR/AUD, USD/JPY, AUD/USD, GBP/CAD, EUR/JPY, CHF/JPY, EUR/GBP, NZD/USD, USD/SEK, and others. Users get full access to the trading software along with detailed guides on how to set it up. You can get started with the loaded settings since they are already optimized.
Each user is eligible for free updates for life. The robot monitors the market 24/7, looking for profitable opportunities. As such, you don't need to spend too much time trying to determine which pairs offer the best trading opportunities. You can run this robot on both MT4 and MT5 trading platforms. 
Trade Explorer trading approach 
Unfortunately, we don't have a proper explanation of the trading strategy behind this Forex EA. All we know is that it monitors the major trend and the price action, while not putting too much emphasis on market noise and sharp movements. It also has a dynamic trade management system, although we are not entirely sure how it works.
Backtesting results 
It seems the vendor has not tested the system with historical data. There are no backtesting results on the official website. As such, we have no idea about the long-term performance of the expert advisor. Also, it is not possible for us to compare the backtesting results with the live statistics to get a clearer idea about the robot's performance.
Trade Explorer live trading results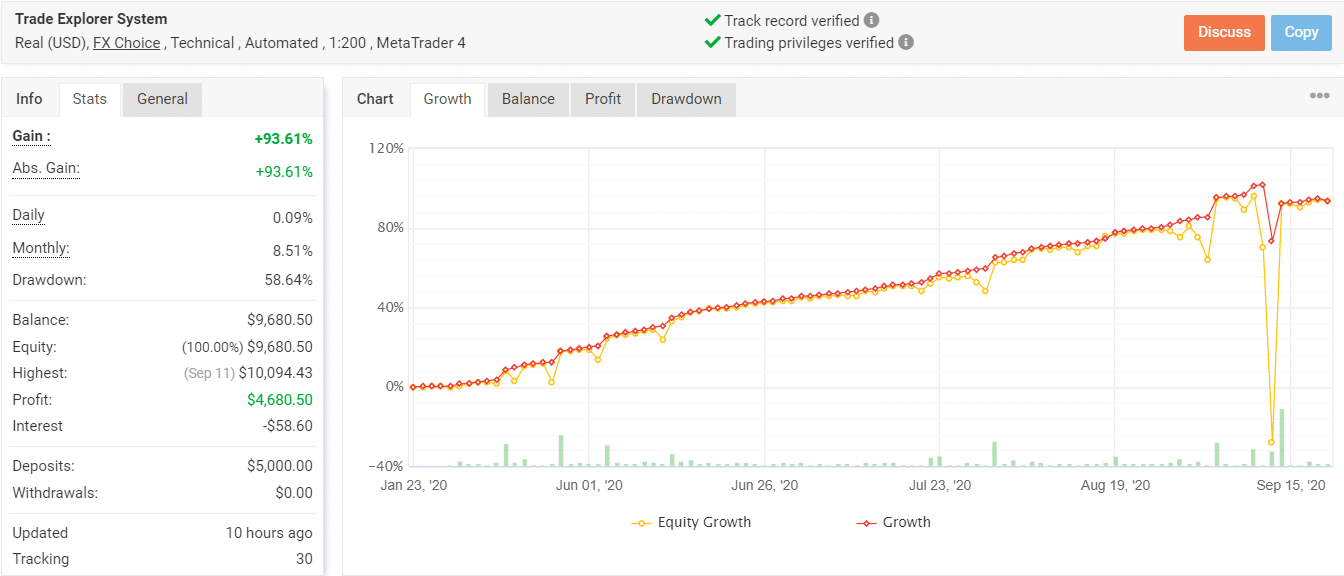 Here we have a live trading account on Myfxbook that has been active since January 23, 2020. After conducting a total of 3581 trades, the win rate for this account currently stands at 76%, which is quite impressive. The EA has generated a profit of $4680.50, and the profit factor of 1.60 can be considered satisfactory.
At this moment, the daily and monthly gains are 0.09% and 8.51%, respectively. The drawdown is quite high at 58.64%, and this indicates a high risk of ruin. This account has experienced a growth of 93.61%.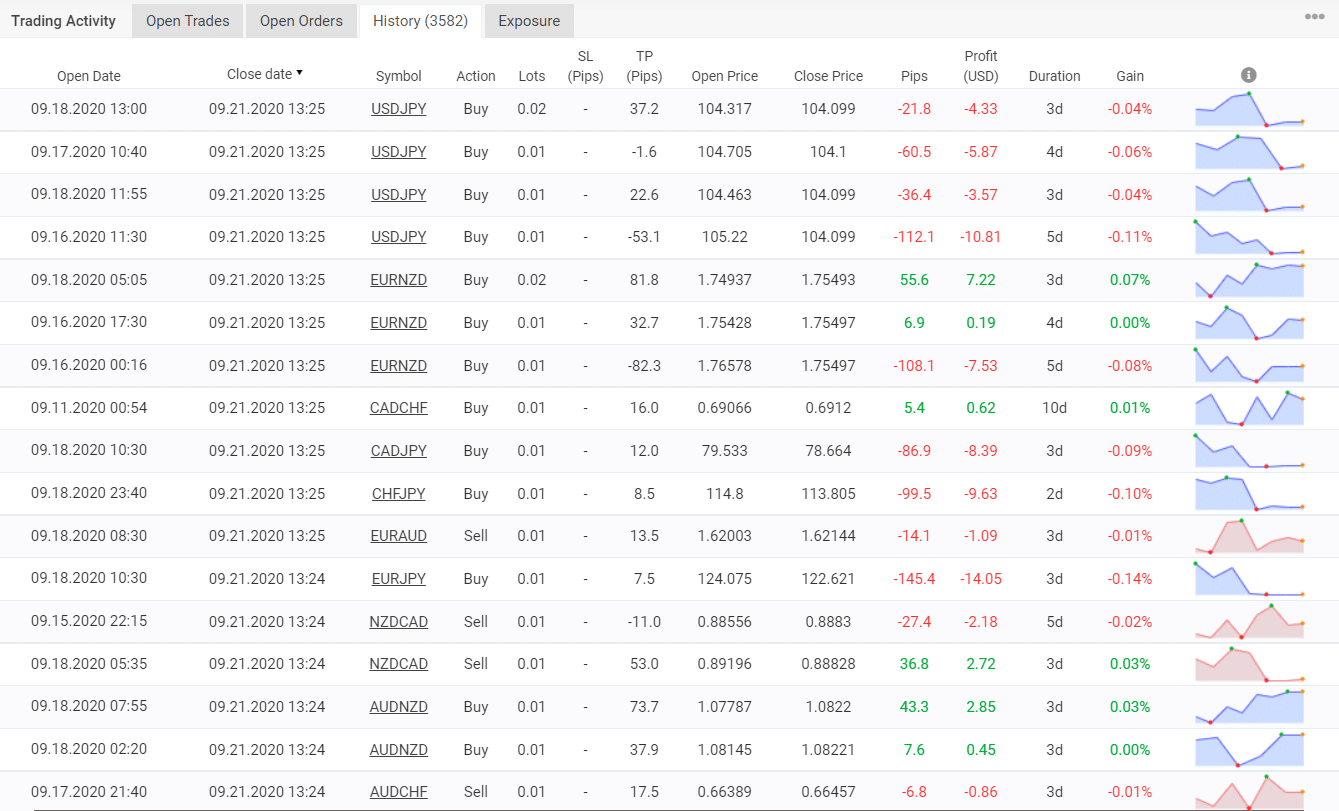 From the trading history, we can see that the EA has lost most of the trades that were last conducted through this account. It trades with a lot size of 0.01-0.02, generating small profits from each trade. We can see that it usually holds the orders for 3-10 days.
What are the risks with Trade Explorer?
Trade Explorer follows a risky strategy that enhances the drawdown. We don't know the details of the trading strategy and there is very little information on the parent company.
Worth noting!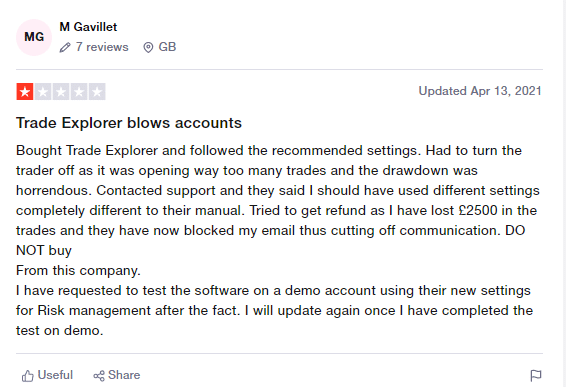 There are few reviews for this EA on the Trustpilot website. One of the users has claimed that the EA blew their account, even though they followed the recommended settings. 
What are the pros & cons of investing in Trade Explorer?
| | |
| --- | --- |
| Pros  | Cons |
| Verified trading statistics  | High drawdown |
| | Lack of strategy insight |
| | No information on parent company |
Trade Explorer Conclusion
Trade Explorer is an automated system that promises substantial profits but ends up enhancing the drawdown and blowing accounts. It has a steady win rate, but the heavy losses suffered during live trading cannot be ignored. Also, it suffers from a lack of transparency.