Velocity Finder Neural Trader promises to be a complete adaptabletool offering accurate signals. The vendor claims to have thousands of global users due to its recognized proficiency. Established by the WeTalkTrade company founded in 2009, this indicator is one of the FX trading products based on the best FX trading methods.
The company is located in Wilmington, Delaware, and customer support options include live chat and email. You can purchase the indicator for $450 which includes a lifetime license, customized SL and TP levels, instant alerts, free updates and full support. There is no money-back guarantee available, which makes us suspicious of the reliability of the system.
Key Features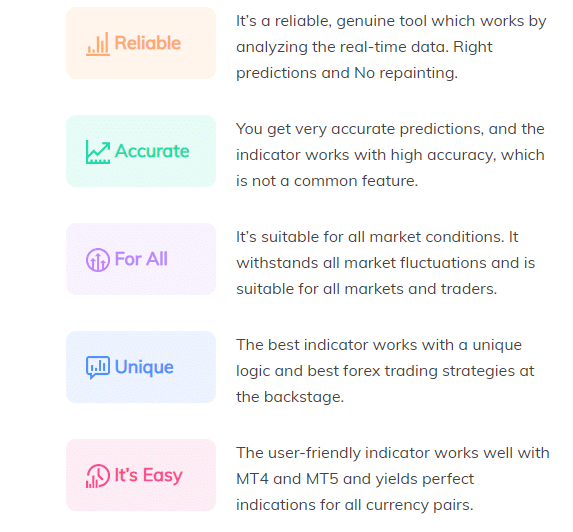 As per the vendor, the indicator is an authentic and dependable tool that analyses market information in real-time without any repainting. It can perform numerous complicated controls and ensure your task is easily accomplished. It is claimed to be an accessible tool, which you can use even without prior trading knowledge.
The predictions are guaranteed to be accurate and the vendor claims it will withstand all market changes due to its exclusive logic and the best approaches it uses. Other features include compatibility with MT4 and MT5 platforms. This trading tool works on all currency pairs.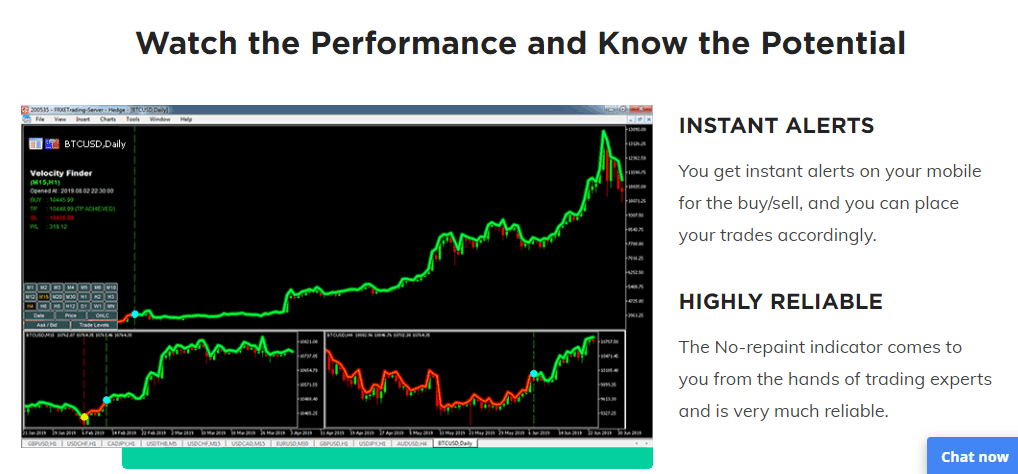 The vendor does not provide details on the timeframe to use, the minimal deposit needed, the leverage, and other details related to settings. As per the website info, this is a plug-and-play trading tool that can help beginner traders to learn the basic trading nuances before plunging into real account trading. This indicator is capable of dealing with a large amount of data so users are promised a stress-free experience.
Velocity Finder Neural Trader Trading Approach
While there is mention of the best approaches used by this system, the vendor does not divulge the strategy used. The lack of explanation raises a red flag, as the approach used is key to making profits in FX trading. Due to the absence of the explanation, we suspect that this is not a trustworthy indicator.
Backtesting Results
No backtesting results are present on the official site. Although the strategy tester reports are based on historical data and are not predictive of similar future performance, traders rely on such tests to find out about the performance and risks involved. The absence of backtests shows that this is not a reliable system.
Velocity Finder Neural Trader Live Trading Results

A few results for this indicator can be seen on the official site. But these are not verified results and do not provide important details about the system. We prefer results of trading verified by a reputed site like Myfxbook, FXBlue, etc. The results on such sites reveal plenty of info on the strategy and efficacy of the trading tool. By not providing verified results and backtests, the vendor reveals the lack of effectiveness of the system.
What are The Risks With Velocity Finder Neural Trader?
While the vendor furnishes location info and support options for users, there are many shortcomings we identified in this system that make it an unreliable system. These include:
Not divulging the trading approach used
Absence of strategy tester reports
No verified results
Worth Noting!
We found 36 reviews for the company. An overall rating of 3.2/5 is present. Here are a few of the responses from users:


From the above user testimonials, we can see that the indicators are not accurate and lead to big losses. Users warn that this service does not provide winning trades and say that it is a scam site you need to stay away from.
What are the Pros & Cons of Investing in Velocity Finder Neural Trader?
| | |
| --- | --- |
| Pros | Cons |
| Automated settings | Lack of description of the trading approach |
| No repaint system | Absence of backtests and verified trading results |
| | Expensive price |
From the pros and cons listed above, it is clear that the indicator does not provide adequate proof of its efficacy. The absence of a proven track record makes the system untrustworthy.
Velocity Finder Neural Trader Conclusion
Velocity Finder Neural Trader claims to be highly reliable with its matchless analysis and huge processing power. But our assessment of the trading approach and performance reveals that the system does not provide proof of its efficacy. The lack of vendor transparency concerning the approach and trading results denote this as an unreliable trading tool. Furthermore, the price is too expensive compared to other competitor systems in the market. With no money-back guarantee, we find that this is not a system we can rely upon.