The WaBi ecosystem connects brands and consumers, allowing for a smooth, fair, and discreet exchange of value and information. Consumers who participate in the ecosystem use many tools to inform their purchase decisions and incentivize with WaBi. Consumers redeem the tokens at a dedicated marketplace, where they may buy thousands of unique products sent to them from all over the world.
Participating brands use WaBi tokens to gain impressive statistics on consumer behavior, enabling them to make better marketing and strategic decisions. Furthermore, brands employ WaBi to incentivize consumers to contribute fresh data, allowing rapid hypothesis testing and iteration. In addition, WaBi effectively taps into corporate marketing budgets ($1.6–$1.9 trillion per year), making marketing more efficient for partner businesses.
This update will provide a quick overview of the WaBi Coin, its technical perspective, and future prospects. So strap in for a brief review.
What is the WaBi coin? WABI explained
WaBi is a blockchain-based free-floating crypto-token with a strictly limited supply and the possibility for exponential transaction growth. It is digital money that supports Walimai's anti-counterfeiting system, which is supported by sales of Walimai-protected products. WaBi allows customers all around the world to buy Walimai-protected products.
Walimai has created a technology that securely connects a physical item to its digital representation cheaply. It allows us to protect everyday consumer goods like milk powder, medicines, alcohol, and cosmetics both physically and digitally.
Walimai places anti-counterfeit labels on consumer items so that customers have a verifiable way of confirming that the item they wish to buy is exactly what it says it is and has not been tampered with. The WaBi token can then be used to purchase products. Walimai and WaBi are based in China, yet their international spread is impressive.
WABI: is it a good investment?
The WaBi team has created a marketplace where consumers may redeem tokens earned through various activities in the Wabi ecosystem. Thousands of products are currently shipped straight to consumers from Europe, Japan, Australia, and New Zealand, among other places.
The marketplace allows businesses and manufacturers to list their items and access China's one-billion-person market. Furthermore, the marketplace is outfitted with a full array of behavioral diagnostic tools, making it an ideal testing ground for firms looking to enter the market or considering new product launches. Therefore, Wabi coins may be a good investment because we can see some of their perks and potential benefits over time and technological advancements to safeguard them from counterfeiting.
However, the technical outlook for WABI/USDT isn't very optimistic. Wabi's price peaked in 2018, the year of the crypto bull market. On January 10, 2018, the highest rate was $5.86. The price began to rise at the end of December 2017 and reached its peak in less than two weeks. The price then gradually decreased till April 2018. The minor price climax occurred on May 2, when one WaBi coin cost $1.44.
The coin's price continued to trade significantly lower until March 2019. The two most recent price peaks occurred in March and April of 2019, with prices of $0.3 and $0.5, respectively. Ever since the WABI/USDT price started lingering in a narrow trading range of $0.5250-$0.1102. Currently, the WABI/USD coin has lost over 80% of its gains, and the downtrend continues to dominate the market.
What will the WaBi coin be worth in 2022?
With a live market cap of $19,961,232, the current CoinMarketCap ranking is №844. It has a maximum quantity of 100,000,000 WABI coins and a circulating circulation of 99,999,999 WABI coins. Looking at the technical side, WaBi doesn't seem to be a good long-term investment. However, traders can take advantage of oversold prices. In 2022, the price of Wabi is expected to drop to a minimum of $0.27. Throughout 2022, the Wabi price can reach a maximum of $0.31, with an average price of $0.28.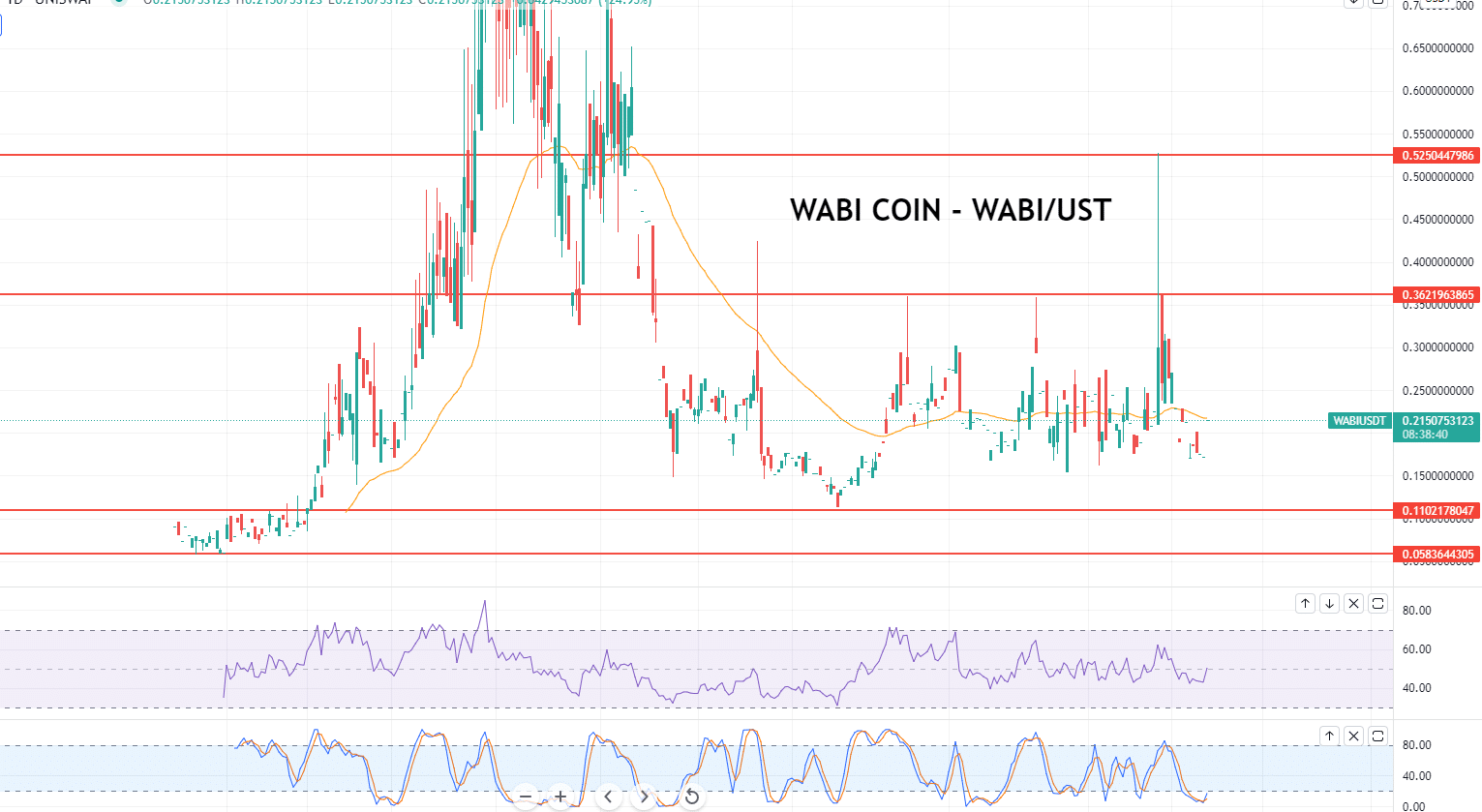 In 2022, the price of WaBi is expected to drop to a minimum of $0.27. Throughout 2022, the Wabi price can reach a maximum of $0.31, with an average price of $0.28.
WaBi price prediction for 2022
The WABI/USDT has entered the oversold zone, yet there's no sign of a bullish reversal. At the moment, it's holding at the $0.1665 level. A surge in selling pressure could trigger a further downtrend until the $0.1102 or $0.0583 mark.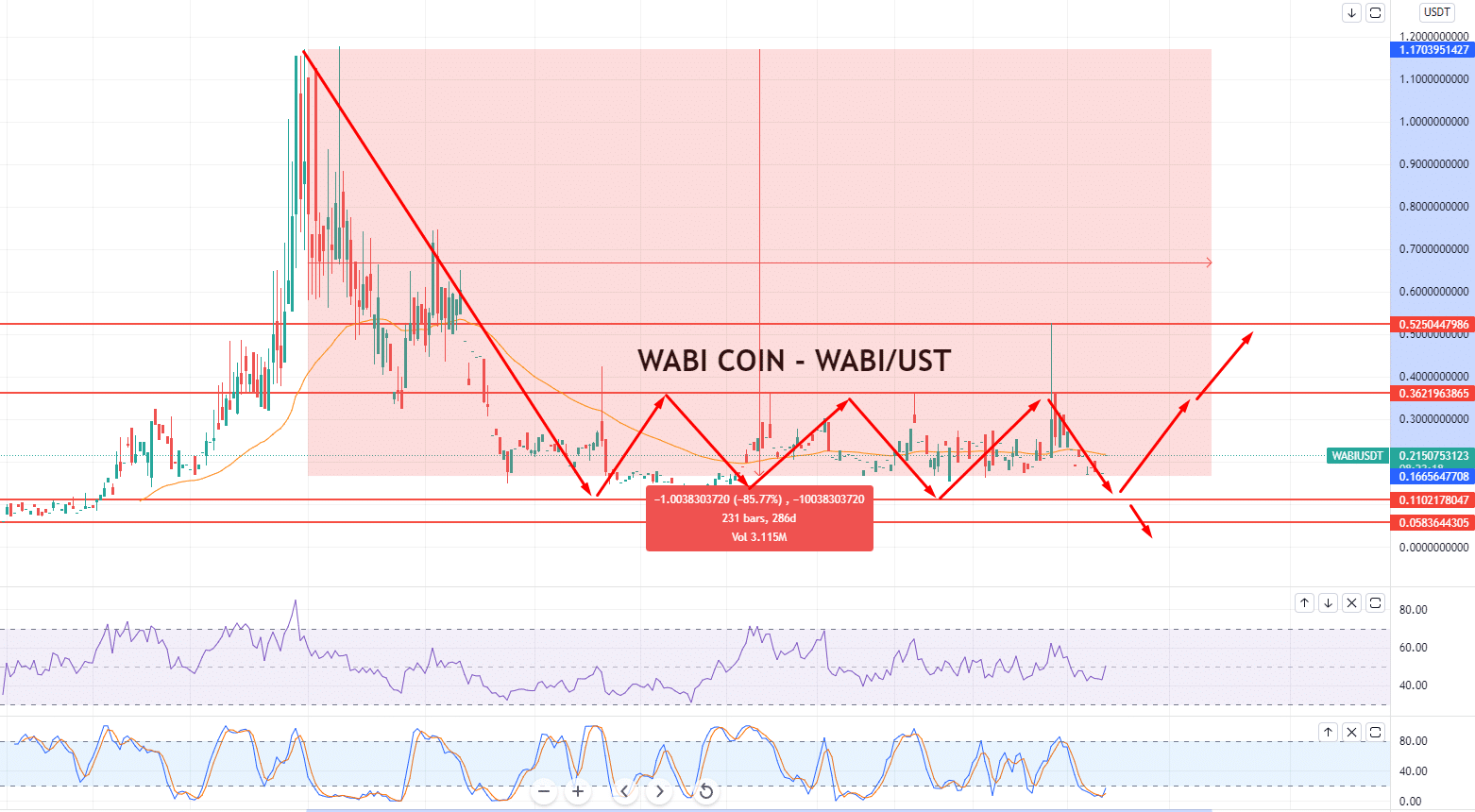 On the bullish side, the breakout of the $0.3620 triple top level could pave the way for an uptrend until $0.5250 or $0.6995. According to the forecast price and technical analysis, the price of Wabi is expected to reach a minimum of $0.39 in 2023. With an average selling price of $0.40, the WABI price can reach a maximum of $0.46. In 2024, the price of one Wabi is predicted to reach a minimum of $0.56. By 2024, the WABI price might reach a maximum of $0.68 with an average price of $0.58.
How to buy a WaBi coin?
If you're wondering where to buy Wabi, the top cryptocurrency exchanges for buying Wabi stock right now are Binance, Pionex, Bitglobal, Liquid, and CoinDCX.
If you are a newbie, follow these steps:
Create an account with a cryptocurrency exchange. Regardless of the options listed above, the first step is to sign up for Binance or another exchange that trades WaBi coins.
Purchase Bitcoin to exchange it for WaBi coins.
Use the exchange to convert Bitcoin into WaBi.