A cryptocurrency wallet is a software or program where people can store, transfer and trade their crypto coins. In cryptocurrency trading, the best part is that you can hold your asset without any physical place. Therefore, the reliability of a crypto wallet is a must to check before using it.
It requires a certain level of understanding on choosing any crypto wallet. Today we will talk about the world's biggest crypto wallet provider — Binance.
This article reviews the Binance wallet, every possible information such as convenience, safety, support, pricing, commissions, etc. We will show how you can register and use the Binance wallet. Additionally, we list alternative wallets and choosable factors of this wallet to traders and investors.
What is the Binance wallet?
Cryptocurrency wallets store public or private keys that need to complete transactions besides offering the functionality of signing and encrypting information. Besides storing private keys, wallets keep your crypto accessible and safe.
Binance is the most popular and safest crypto wallet that offers various features. It allows users to access cryptocurrency trading, holding and transferring opportunities with a lower fee. We are attaching a figure below that contains all the main available features of the Binance wallet.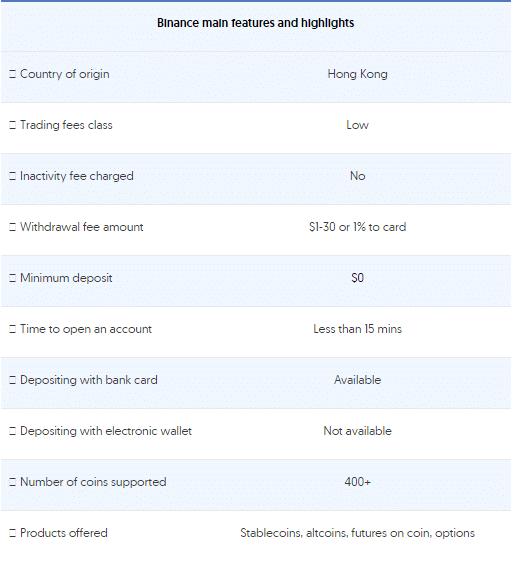 Pros and cons of Binance wallet
This crypto wallet involves both advantages and limitations. The top three pros and cons are as follows:
Top three pros
Instant and non-instant buy fees are low for Binance wallet in comparison to other wallets of similar types.
This crypto wallet has an extensive coin selection capability.
Numerous extra services are available in Binance wallet.
Top three cons
Binance wallet involves hiccups in account verification.
This crypto wallet is not available in the US region.
The corporate structure is non-transparent.
Binance wallet convenience
There are four types of crypto wallets available:
The Binance smart chain has millions of users around the globe. You can choose any of these wallets that suit your goals. Key points to consider choosing crypto wallets are custodianship, security, and interacting with smart contracts.
Binance Chain Wallet, MathWallet, and MetaMask are good options for browser extensions. Trust Wallet, MathWallet, SafePal, and MetaMask have Android and IOS versions for mobile platforms; you can connect every one of them with BSC.
Binance wallet pricing
Binance wallet has the lowest trading and non-trading fees than other wallets, such as Coinbase
and Kraken.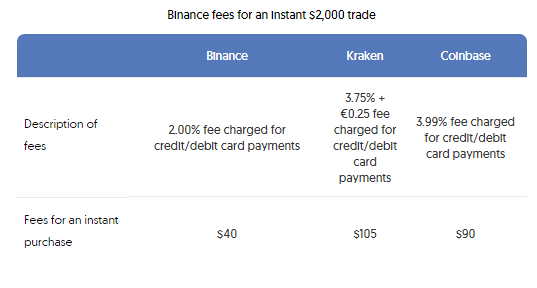 Both the instant and non-instant trading fees are low for Binance wallet.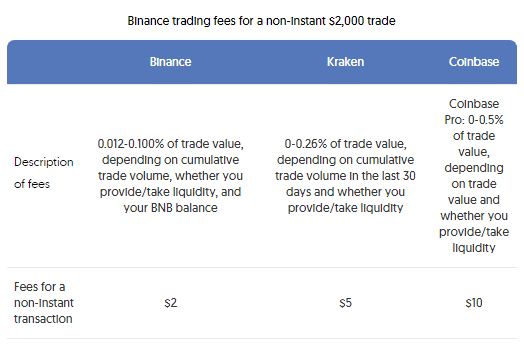 This wallet charges a 1.8% deposit fee when you are depositing from credit/debit cards.
Binance wallets also involve withdrawal fees; the amount depends on the medium of the withdrawal.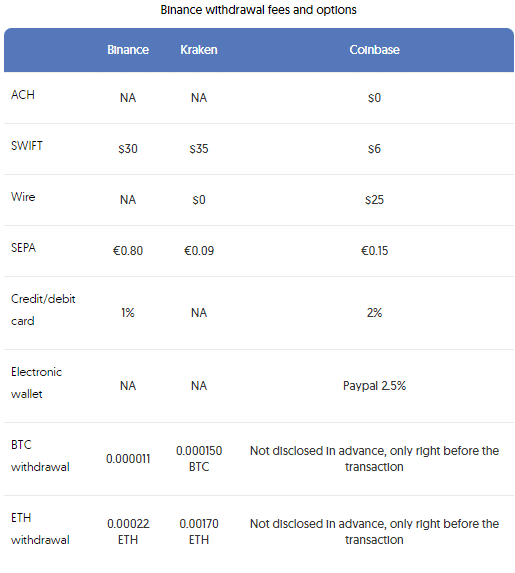 BSC doesn't charge any account management fees or inactivity fees.
Binance wallet support
About 33 wallets support Binance wallet. We are attaching a list of the top ten.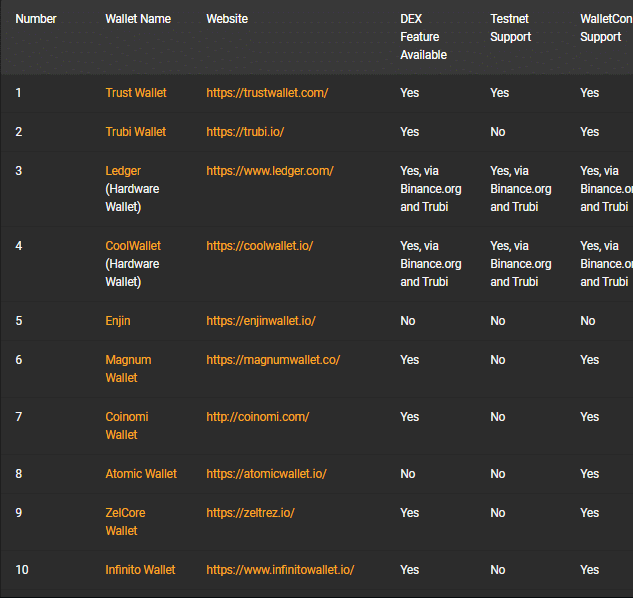 Many other popular wallets support BSC, such as Exodus, HooWallet, Zengo Wallet, Trezor, Frontier, etc.
Binance Chain Extension Wallet is a crypto wallet for Binance Smart Chain and Binance Chain. This platform allows you to receive and send funds to Binance Chain, Binance Smart Chain, and cross-chain transfers between both Binance blockchains.
Binance wallet safety
You can consider the Binance wallet as a safe payment method as it offers the highest security standard features to its users. This wallet ensures safety by implementing prime security features for cryptocurrency wallets, such as offline storage facilities to protect user funds and two-factor authentications (2FA).
Offline storage of the Binance wallets enables fund protection of the users from hackers, and the 2FA feature verifies the user while any transactions or activity occurs at the wallets.
Binance wallet commissions
The Binance wallet charges $15 at every US wire transfer. 3% to 4.5% and 0.02% to 0.10% for debit card purchases trading and purchase fees. This wallet offers competitive withdrawals fees, with no deposit fees or 100% free deposits and no minimum deposit amount. The Binance wallet declared a zero maker fee promotion recently that will apply from next Dec 2021.
How to use the Binance wallet?
It's quite an easy process to start using the Binance wallet. You can start by following these simple steps below.
Step one: registration
You have to register at the wallet from the Binance website, Binance Desktop App, or Binance App by using your phone number or email.
Step two: verification
You have to complete ID verification to enable deposit options of fiat currencies and withdrawal limits unlock. This part includes uploading ID documentation and selfie/portrait, which takes only a few minutes to complete.
Step three: deposit
In this step, you have to deposit in your Binance wallet.
Step four: buy crypto
Depending on the region, you can deposit 50+ fiat currencies, debit/credit cards, or P2P methods. Then use the fund to buy crypto.
Step five: explore Binance products
Once you purchase crypto in your wallet, it's time to choose the offering products and make profits.
How to register?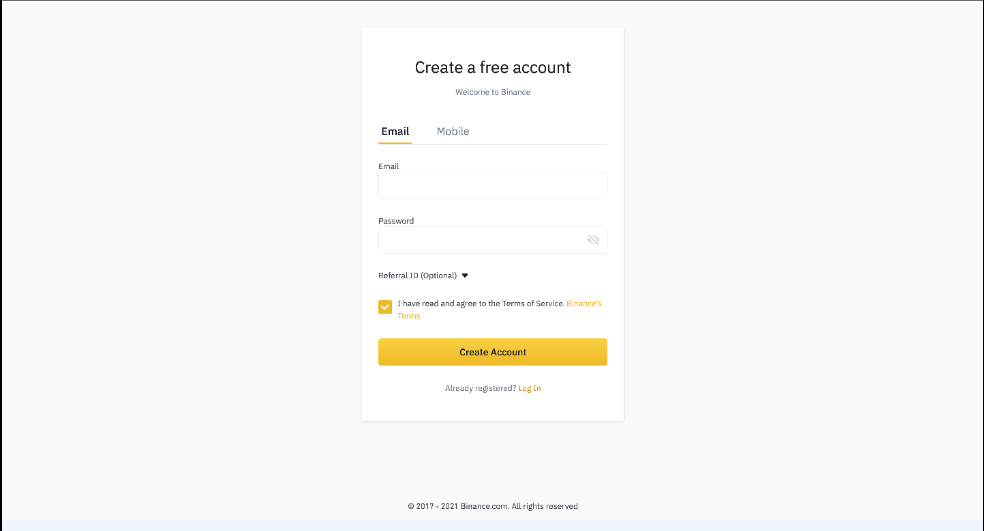 Steps for account opening are:
Go to binance.com
Click on "Register"
Enter your email address and put a password
Solve a simple puzzle and go for next, then BSC will send simple code through email
Verify by the simple code from your email
You're all set.
What do we like?
Transaction fees are low.
Most coins are available for exchange/trading, including most majors such as BTC, ADA, ETH, DOGE, BCC, etc.
The 2-way authentication using google-authenticator and a good customer service team.
What we don't like?
Have to convert in BTC or Binance coins for transactions.
Need to buy Bitcoins or Binance first to start trading.
Users suffer vast losses on delisted coins that need to take extra care to solve this issue.
Binance wallet alternatives
The alternative best wallets of Binance wallet are Ledger wallet, Trezor wallet, Trust wallet, etc.
Should traders/investors choose Binance wallet?
Binance chain wallet is an excellent option to choose any crypto wallet as it offers various fine features. It's a good option, especially for those who already have a Binance account.
Features include low trading fees, many wallets to support, various platforms wallet versions, increasing demand, 50+ fiat currency deposit options, 2FA verification, etc. make this wallet attractive for traders and investors.
Final thoughts
Finally, we made a complete review of the Binance wallet in this article. Now you can choose, or there are alternative options; you can also select any of them. You can choose the best one by doing this. We suggest doing some basic research on the wallets or checking reviews before deciding.