Wall Street Forex Robot is a robot for scalping some profits. FXAutomater is a well-known developer in the FX market. They provide us with trading results, backtests, and a detailed product presentation. If we need support, we can contact them via email. Pricing looks acceptable for many and there are discounts and additional robots added from time to time. The vendor provides us with a 60-day refund policy. 
In this Wall Street Forex review, we will have a closer look at this trading system. Here we'll analyze all the weak and strong sides of this EA. 
Key Features
FXAutomater wrote a presentation that explains features, settings, and provides details about strategies:
Wall Street Forex Robot can work for us fully automatically on the terminal. 
The robot can be used on MT4. 
We are allowed to use the system on any broker. 
The system has to work with low spreads. 
The types of accounts we should work on are Standard, Mini, and Micro.
The advisor works on 4 and 5 digits brokers.
We know that the robot works under NFA regulation. 
Get started with WallStreet Forex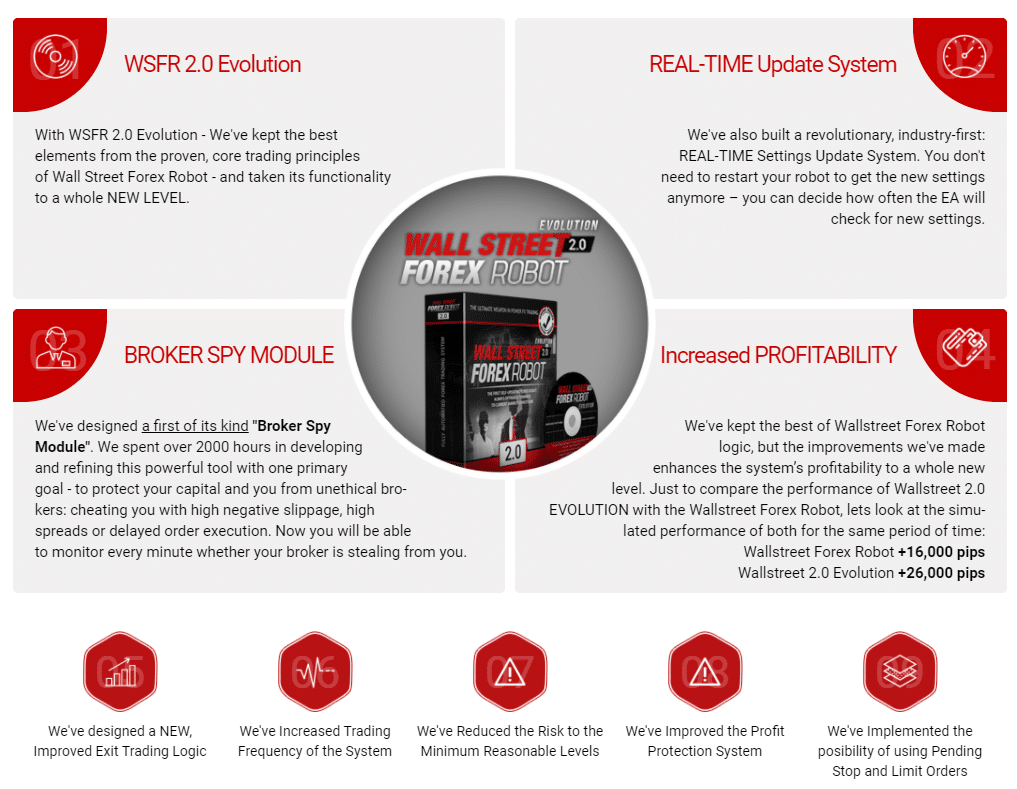 The system is featured by a Broker Spy Module. It prevents fraudulent actions on the broker side. 
The robot updates itself during work. 
The last update was to version 2.0 approximately half a year or a year ago. 
There's an exit trading logic feature that allows the system to quit the market. 
The robot trades quite frequently. 
It sets Pending Stop and Limit orders to catch a market move. 
An average profit is 10-15 pips.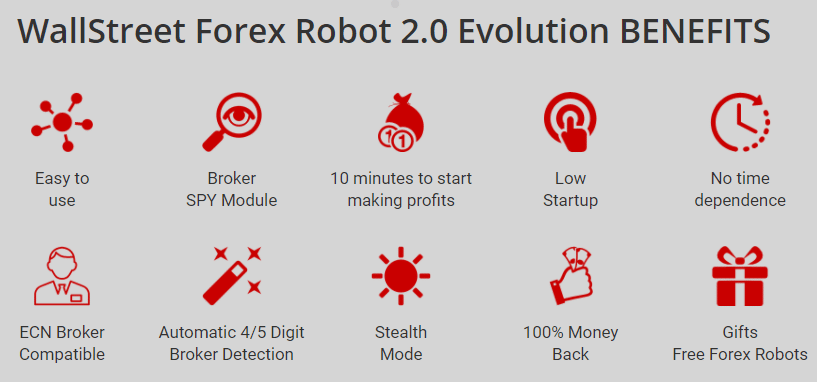 The installation process takes 10 minutes. 
The developers offer us the package that's featured by some free advisors. 

The developers provide us with a $80 discount.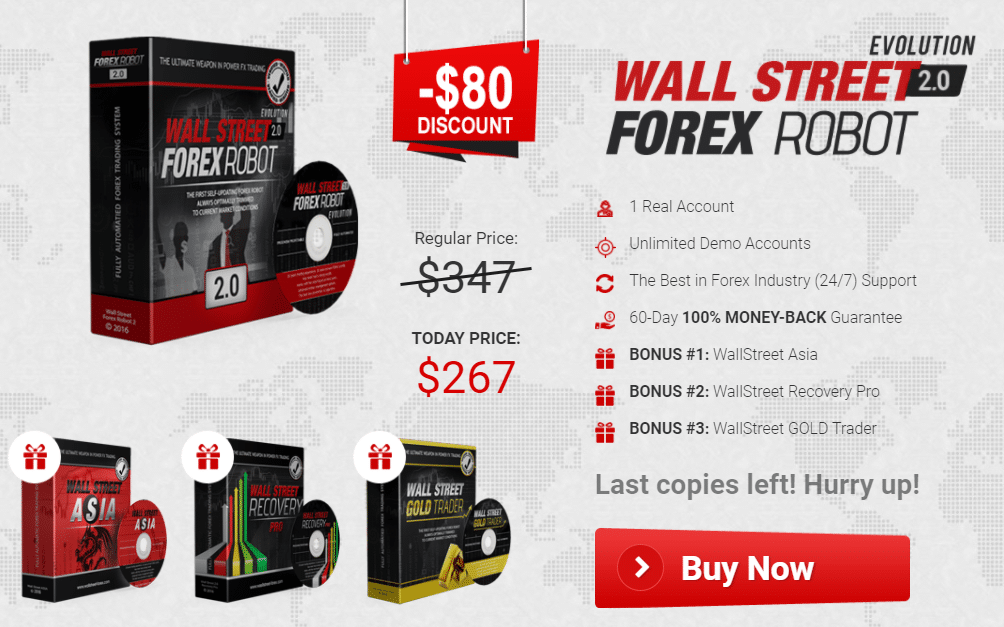 The price for the pack is $267 instead of $347. The package includes a license for real account trading, an unlimited number of demo account licenses, 24/7 support, and a 60-day refund policy. Paying $267 we also receive three advisors: WS Asia, Recovery Pro, and Gold Trader advisors for free.
Wall Street Forex Robot Trading Approach
The robot scalps 10-15 pips profits from the market. 
It trades the following cross pairs USD/CHF, GBP/USD, NZD/USD, USD/CAD, EUR/USD, USD/JPY, and AUD/USD.
Backtesting Results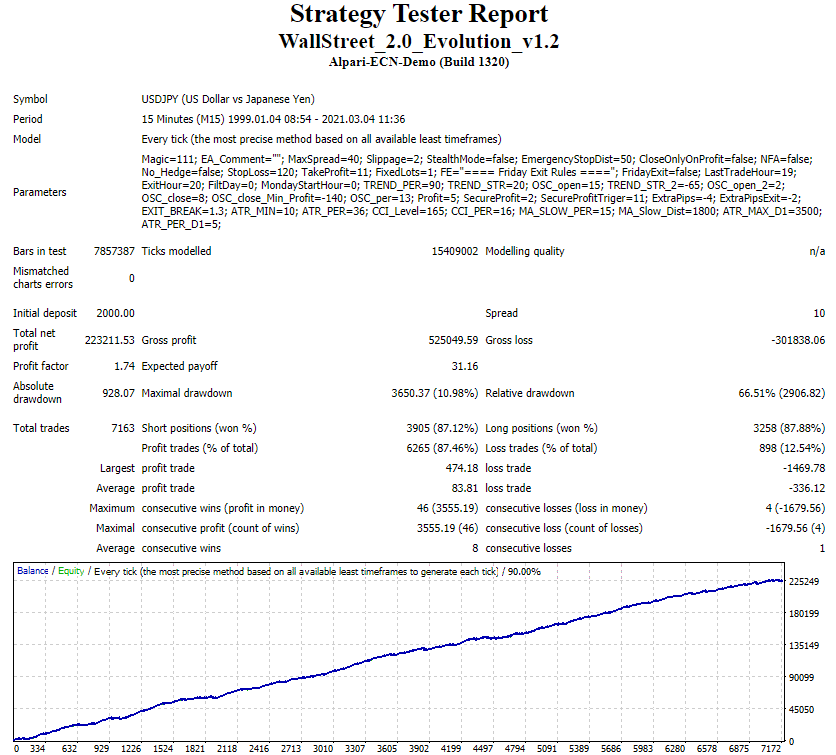 We have some backtest reports. This one is about testing USDJPY on the M15 time frame. The data period was from 1999 to 2021. The maximum drawdown was $3650 (10.98%). An initial deposit was $2000, so it has become $223,211 of the total profit. The profit factor was 1.74. Wall Street Forex Robot has traded 7163 orders with an 87% win rate in both directions. 
Wall Street Forex Robot Live Trading Results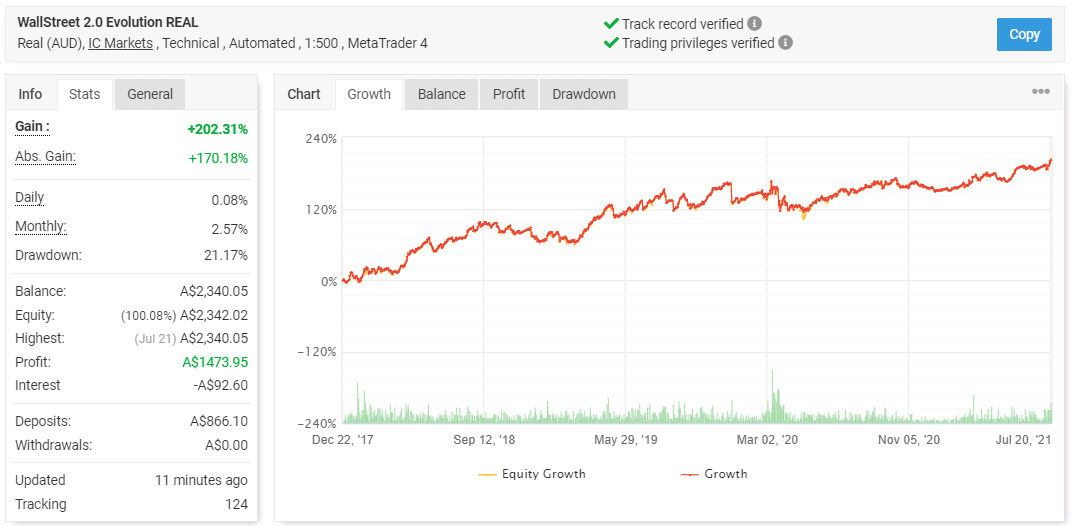 We have a real account under robot management on IC Markets. The system works with 1:500 leverage on the MT4 terminal. The account has a verified track record. It was created on December 22, 2017, and deposited at 866.10 AUD. Since then, the absolute gain has become +202.31%. An average monthly gain is +2.57%. The maximum drawdown is 21.17%. 

The system has closed 3165 orders with 9720 pips. An average win is 14.41 pips when an average loss is -39.79 pips. The win rate is 79% for longs (1226/1539) and 78% for shorts (1277/1626). An average trade length is 4 hours 49 minutes. The profit factor is 1.14. 

The system works with six common pairs and Gold with Silver. GBPUSD is the most traded symbol – 1663 orders with $825.00.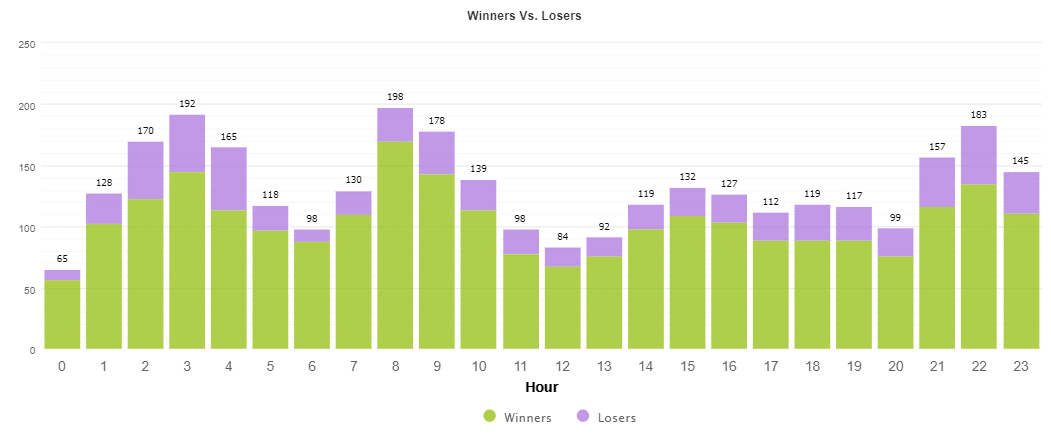 The advisor focuses on trading opening hours of Asian and European trading sessions and the end of the American session.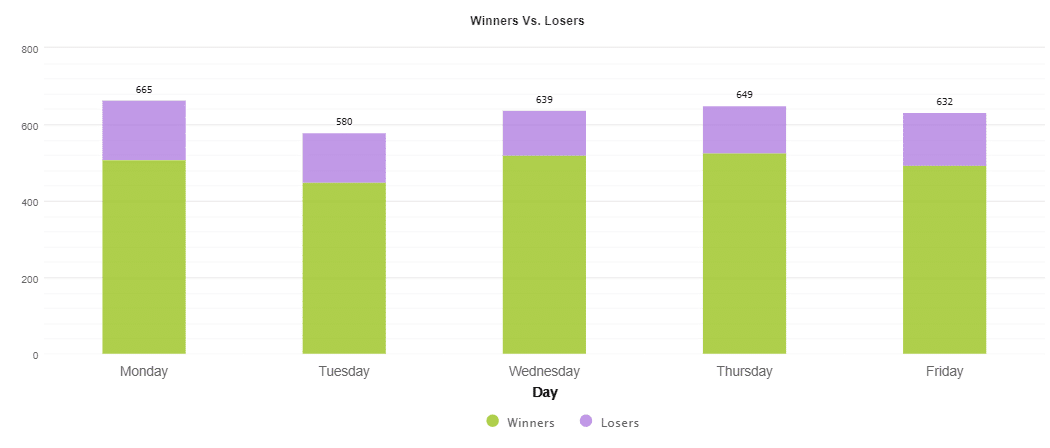 The advisor executes orders equally during a week. 

It has been running the account with medium risks. There's a 20.64 chance to lose 10% of the account.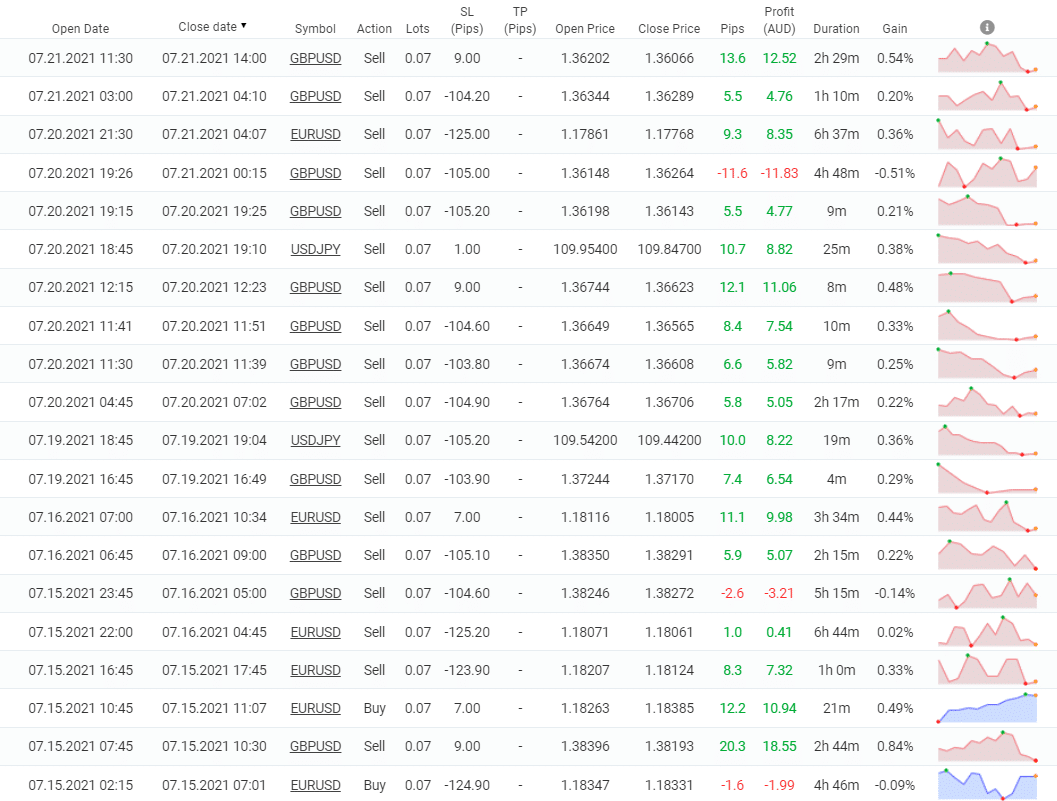 It looks like the developer decided to hide TP levels from a broker.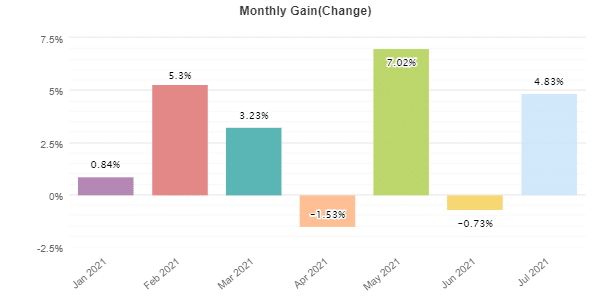 The monthly profits vary depending on the month. 
What Are The Risks With Wall Street Forex Robot?
The robot is a scalping-based trading solution. It means the system is so sensitive to spreads and execution speed. It's impossible to be profitable without  VPS and ECN. 
Worth Noting!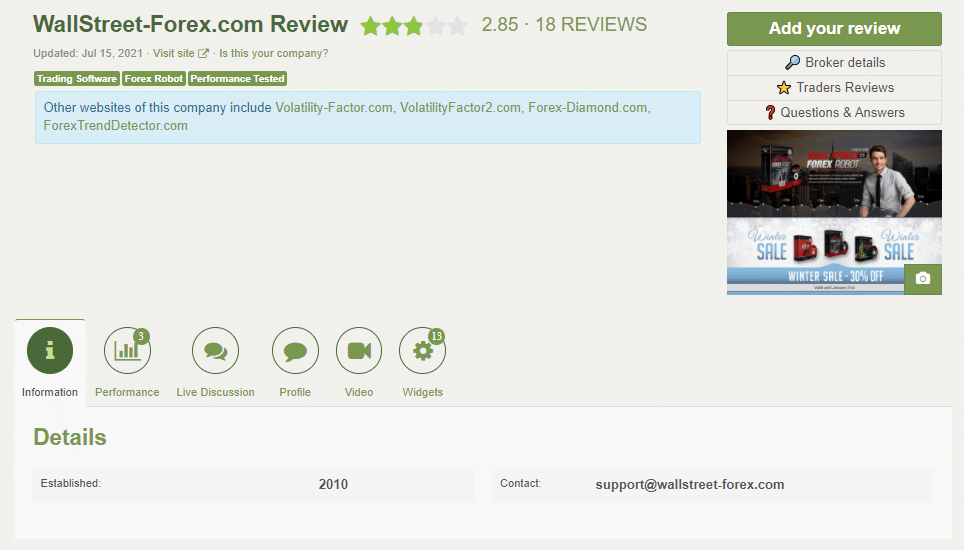 Wall Street Forex Robot has its own page on Forex Peace Army. There were 19 reviews posted that formed a 2.85 rate.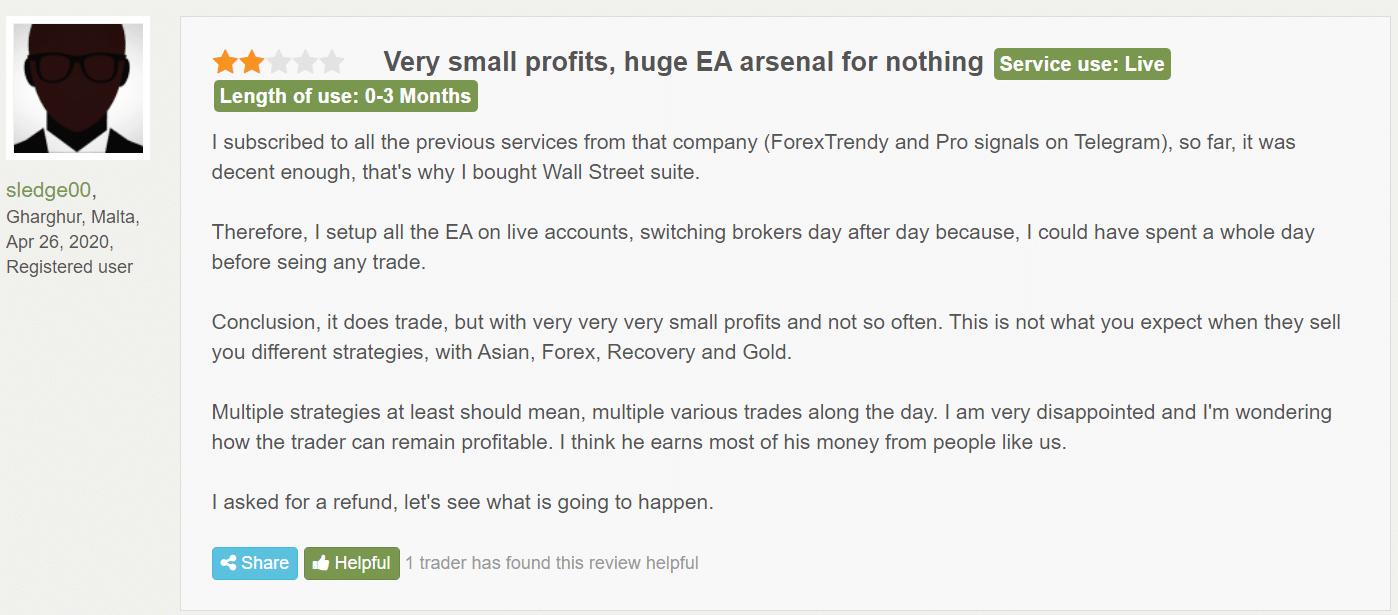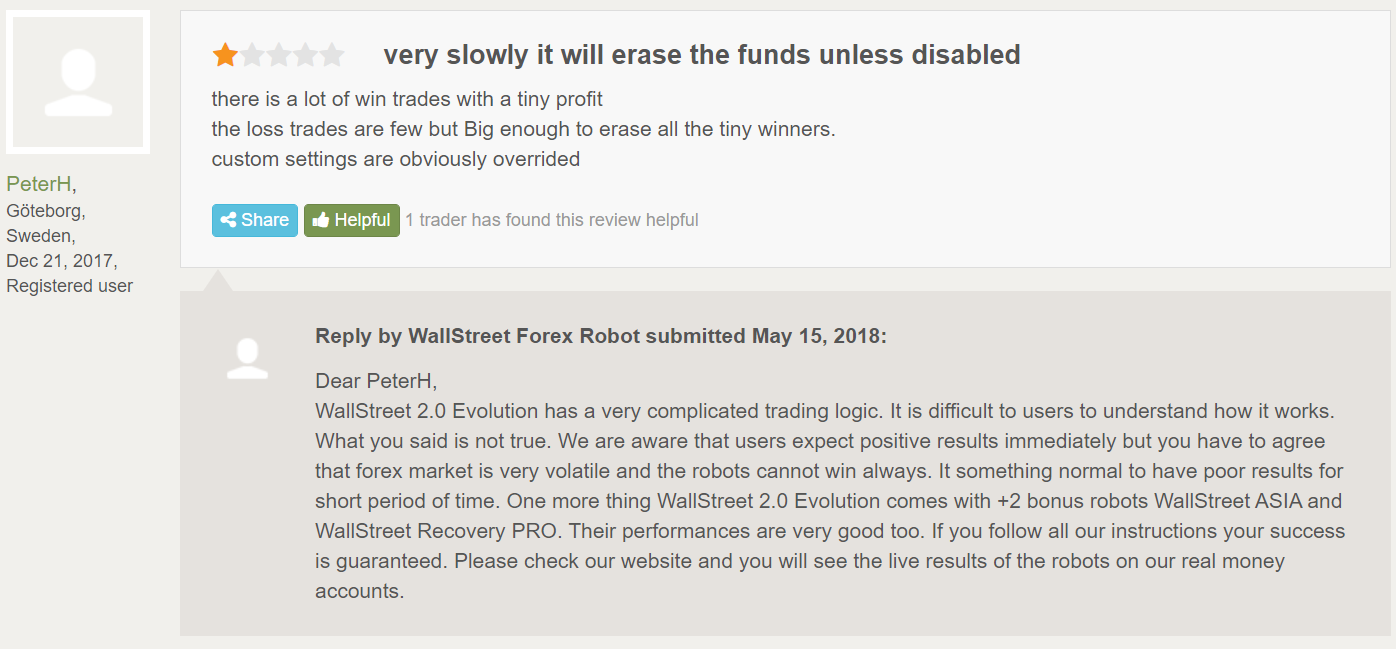 There are many negative pieces of feedback because people couldn't meet the parameters of the requirements for the system to be profitable. 
What are the Pros & Cons of Investing in Wall Street Forex Robot?
| | |
| --- | --- |
| Pros | Cons |
| Well-known robot designer | No risk advice given |
| Strategy explanations provided | The robot traded completely unpredictable  |
| Backtest reports provided | The profitability varies so much |
| Real-account trading results shared | Many negative testimonials published on Forex Peace Army  |
| Money-back guarantee supported |   |
| Some free robots in the package |   |
Get started with WallStreet Forex
Wall Street Forex Robot Conclusion
Wall Street Forex Robot is an FXAutomater's advisor that scalps profits from the market. The presentation includes explanations, backtest, and trading results. Alas, trading results don't match backtests. The robot can easily close every second month with losses or little profits.