Let's start by defining the Walton coin. Waltonchain is a platform that merges blockchain technology with the Internet of Things (IoT) via Radio Frequency Identification (RFID) technology. Waltonchain aspires to be a fully traceable business environment that allows total data sharing and increased transparency. The Waltonchain, which promises to help manage supply chains, is built using RFID and blockchain technologies.
This update will briefly discuss the Waltonchain, its technical outlook, and prospects. So buckle up for a quick review.
What is the Waltonchain? WTC explained
The platform enables users to manage, trace, trade, and pay for goods using this crypto while also having complete access to product information via RFID chips. It is a platform that aims to manage supply chains by combining radio-frequency identification (RFID) and blockchain technology.
The Walton platform aims to decentralize the Internet of Things (IOT) sector and is named after Charlie Walton, the creator of RFID. Transparency, integrity, traceability, and monitoring of commodities in circulation are all enhanced when WaltonChain is used in supply chain management.
Waltonchain was founded in late 2017, but its founder, Xu Fangcheng, has worked on it since 2015. The name comes from Charlie Walton, the inventor of RFID (radio-frequency identification) technology. In addition, WALTON is an acronym for Wisdom Alters Label, Trade, Organization, and Network.
WTC, the principal currency of the Walton ecosystem, has a total maximum supply of 100 million coins, with a current circulating supply of roughly 25 million coins. This is around one-third of the overall maximum supply of 70 million coins, with the remaining 30 million coins mined and distributed over the next few years.
Waltoncoin: is it a good investment?
WTC, in our opinion, isn't a good investment. The lack of creativity and technology, a genuine community (excluding speculators and hype-chasing masses), and the inexperienced team behind the initiative could be the reasons.
Waltonchain does not appear to have a promising future. It's only worth buying as a short-term investment with a solid exit strategy. Waltonchain is not a long-term investment. It lacks the first-mover advantage, offers no distinctive value proposition, and is backed by a shaky team and a limited community. All of this works against WTC's long-term success and price increase.
According to our in-depth technical analysis, the WTC/USDT is expected to reach a minimum of $0.97 in 2021. With an average trading price of $1.07, the WTC price can reach a maximum level of $1.10.
What will Waltoncoin be worth in 2022?
This coin has demonstrated a rising trend over the last four months. The price fluctuated between a min. average price of $0.80 and a max. average price of $0.87 in the previous 90 days, resulting in a 90-day price variation of around 27.45 percent. According to the most recent data, Waltonchain's trade volume has grown in four months. As a result, the trading volume significantly impacts the price. The WTC/USDT has increased by 50.35 percent in the last four months, with a high average price of around $0.50 and a low average price of around $0.49.
In 2022, the price of WTC is expected to reach a minimum of $1.51. Throughout 2022, the Waltonchain price might reach a maximum of $1.78, with an average price of $1.55.
Waltoncoin price prediction for 2022
CoinMarketCap currently ranks #490, with a current market cap of $83,051,537. It has a total circulating supply of 100,000,000 WTC coins and a circulating supply of 78,354,602 WTC coins. The WTC/USDT is likely to exhibit an uptrend as the RSI and Stoch RSI are both holding above 50, indicating a bullish bias in the market. Wanton's price is expected to show a slight uptrend and reach an immediate resistance level of $1.9087. A spike in demand can trigger an uptrend until $2.43 or $2.90.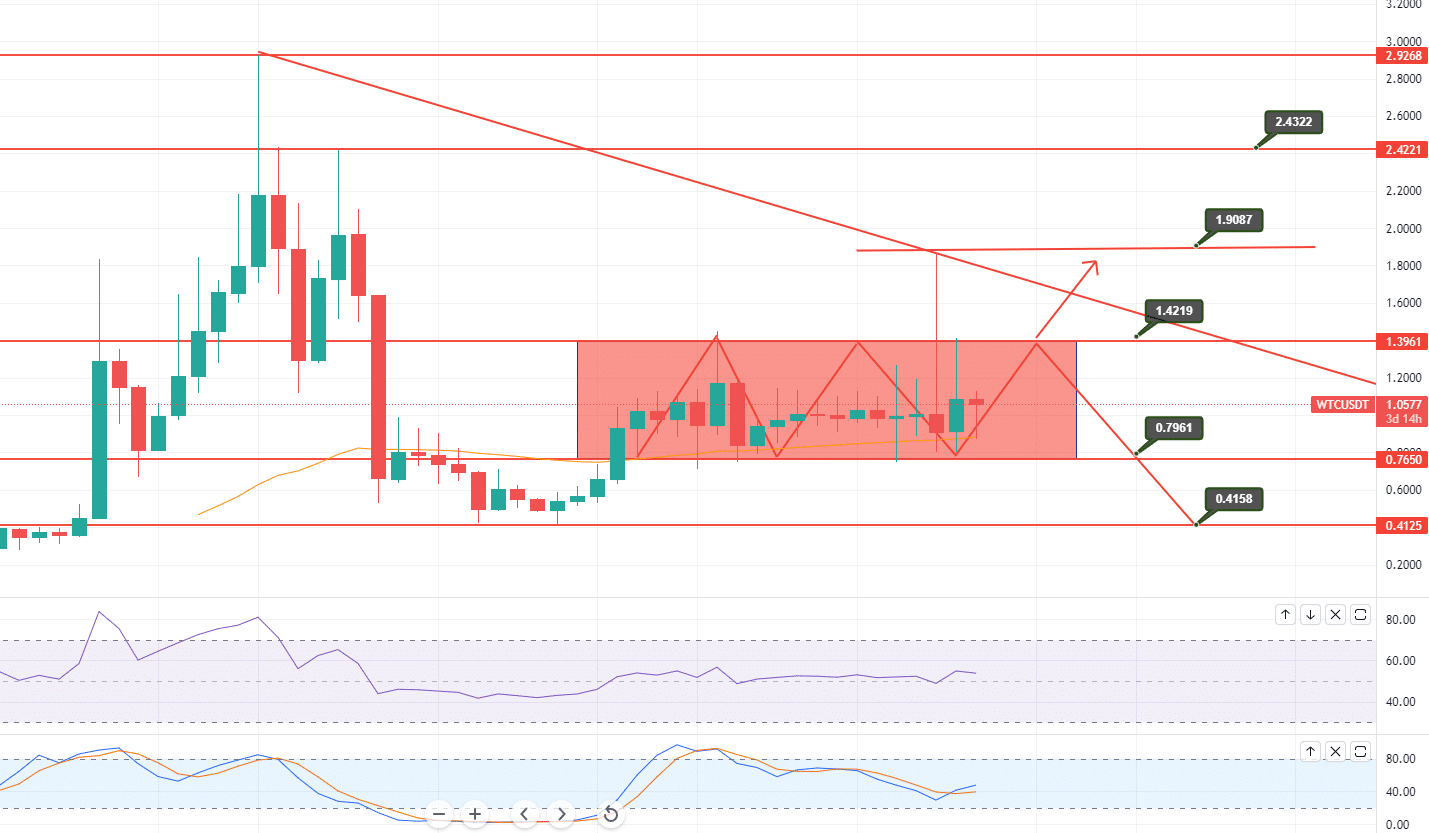 Whereas, in the coming five years, its price is forecasted to reach its lowest point of $4.67, with a maximum of $5.50 and an average price of $4.80.
How to buy a Waltoncoin?
If you're curious where and how to buy this coin, the top crypto exchanges for trading Waltonchain coins right now are Binance, OKEx, Huobi Global, KuCoin, and HitBTC.
If you are a newbie, follow these steps:
Choose any of the exchanges. Once ready, sign up for an account and validate it. To verify your account, fill out the account opening e-form and upload your ID and proof of address.
Buy Bitcoin to exchange it for WTC.
Use the exchange to convert BTC into WTC.