XXL Forex Real Profit invites you to earn money online through automated trading. The system is said to be ready for market conditions and easy to use. You only need to purchase, install it, and begin trading.
There's no information on the website that reveals who the vendor of this product is. Neither are we introduced to the development team or their profiles. So, we don't know the kind of people we are dealing with or if they are qualified for the job or not.
The vendor does not include the pricing details of the EA. Therefore, we don't know how much it costs or even if it has a money-back guarantee offer.
Key features
XXL Forex Real Profit is a fully automated system that works on standard, mini, micro, and ECN accounts. It watches the markets for you 24 hours and does not work with risky strategies like grid or martingale. For best results, the XM broker is recommended.
XXL Forex Real Profit trading approach
The devs don't provide much insight into the strategy this system uses. They just say that the EA works with many inner indicators to assess the market. Price action, support and resistance, and trend strategies, among others, are implemented. A strong money management system is present as well. The robot mainly trades the GBPUSD, EURUSD, and AUDUSD currency pairs.
Backtesting results
Backtesting results are missing. This is unfortunate. Backtesting is a brilliant way to ascertain if a trading approach has the potential to work efficiently in the future. Since the test wasn't done in this case, traders can hardly predict how the system will work for them in the long term.
XXL Forex Real Profit live trading results

XXL Forex Real Profit began running this account on FXBlue in November 2021 with a deposit of $750. Sadly, the EA has made a loss of -$33.36, reducing the account balance to $716.64.

To date, the total return rate is -4.6%. This is bad. It means that the robot's trading activities have reduced the value of this account significantly in just a month. On average, the EA has been making a loss of -0.9% weekly and -3.6% monthly. About 1.1 trades are executed daily. The GBPUSD currency pair is the most utilized instrument.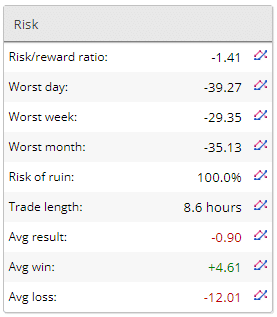 The risk/reward ratio is -1.41. This shows us that the robot makes a loss of -$1.41 for every $1 risked. This is not economical. Eventually, the account will be unable to withstand the losses and blow up. No wonder 100% risk of ruin is recorded. The average loss (-$12.01) is way higher than the average win ($4.61). These results further underline the EA's high losing streak.

The losses made were much higher than the gains.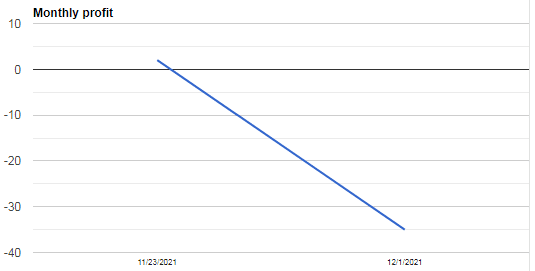 The system only made a small profit when the account was opened in November. After that, it incurred losses continuously until the beginning of December.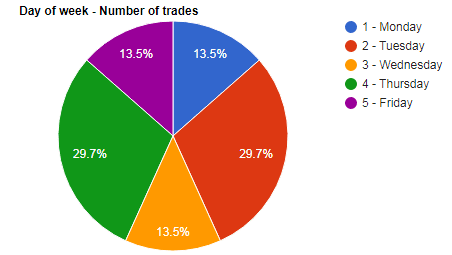 The EA trades from Monday to Friday, but its activities increase on Tuesday and Thursday.
What are the risks with XXL Forex Real Profit?
XXL Forex Real Profit is a risky trader going by the results it has produced on FXBlue. Its strategy is ineffective as it hardly identifies profitable trading opportunities. This comes at a great cost as the EA ends up making more losses compared to wins. If this trend persists, then the account won't be here for long.
Worth noting!
The robot has a single customer review on FPA. This testimonial is negative and was made in 2018. Since then, no other customer has commented on the robot. In any case, this trader warns others to watch out for XXL Forex Real Profit because it is a scam. It doesn't use any specific strategy and tends to amass lots despite the account balance. Although the robot can make big profits, it also makes losses which can wipe out all the gains.

What are the pros and cons of investing in XXL Real Profit?
| | |
| --- | --- |
| Pros | Cons |
| Fully automated | Zero vendor transparency |
| Easy to use | High losing streak |
| | Unfavorable risk/reward ratio |
| | Short trading history |
XXL Forex Real Profit Conclusion
XXL Forex Real Profit is fully automated and hence doesn't require much attention from you. It will watch the market for you 24 hours after you install and activate it. Though the robot has been trading in the market for only a month, the results generated are very poor. As such, it is more likely to end up with losses than wins during trading. This can, in turn, reduce the worth of a trading account fast.