Zenith is a Forex expert advisor is a manual learning EA that was launched on 29th March 2021. According to the vendor, it is based on an efficient algorithm, but since it is a new robot, we are naturally a bit skeptical about its live performance.
You can purchase this EA on the MQL5 website where the vendor has explained in brief what the system is about and how it operates. We have a list of input parameters, links to live signals, and a screenshot showing the backtesting results. The presentation is not very detailed, and the vendor has not elaborated too much on the features, which is a bit disappointing.
This robot is a product from Olena Skrynnik, an American trader who has developed systems like HumbleBee, DemoTradeFields, MiniTradeFields, and CoinTradefields. All of these products have low ratings on MQL5, which tells us that the developer doesn't have a great reputation. There is very little information available on this person, and they have not shared any contact information, which indicates a lack of vendor transparency.
Key features
Zenith is available at the price of $99. There is a free demo version of the software you can use for testing, but no refund policy exists. You can use it on pairs like GBP/USD, AUD/USD, USD/CAD, EUR/USD, and USD/CHF. The vendor recommends using it on H1 charts.
There is no mention of the minimum deposit amount, but for the live trading account, the initial deposit is $5000. The EA starts trading from 12 PM on Mondays and it is compatible with all types of trading accounts.
Zenith trading approach
Zenith follows a low-frequency trading approach and avoids using scalping techniques. However, it has grid parameters, so you can open a grid of orders simultaneously if you wish. It works on the basis of the ABC algorithm that simulates the foraging nature of honey bees.
In a bee colony, there are different roles assigned to the bees and this helps them complete tasks in an efficient manner. Similarly, this algorithm has different components that check the chart patterns, analyze the graphs to point out problems, train the network on the received data, and categorize the patterns.
Backtesting results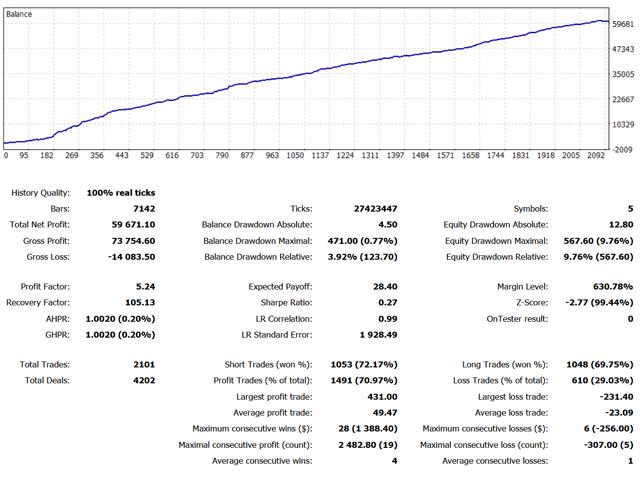 Here we have the results for a backtest carried out with 100% real tick data. The EA placed 2101 trades during the testing period, winning 70.97% of them and generating a total profit of $59671.10. There were 28 maximum consecutive wins and 6 maximum consecutive losses for this backtest, with the profit factor being 5.24.
Zenith live trading results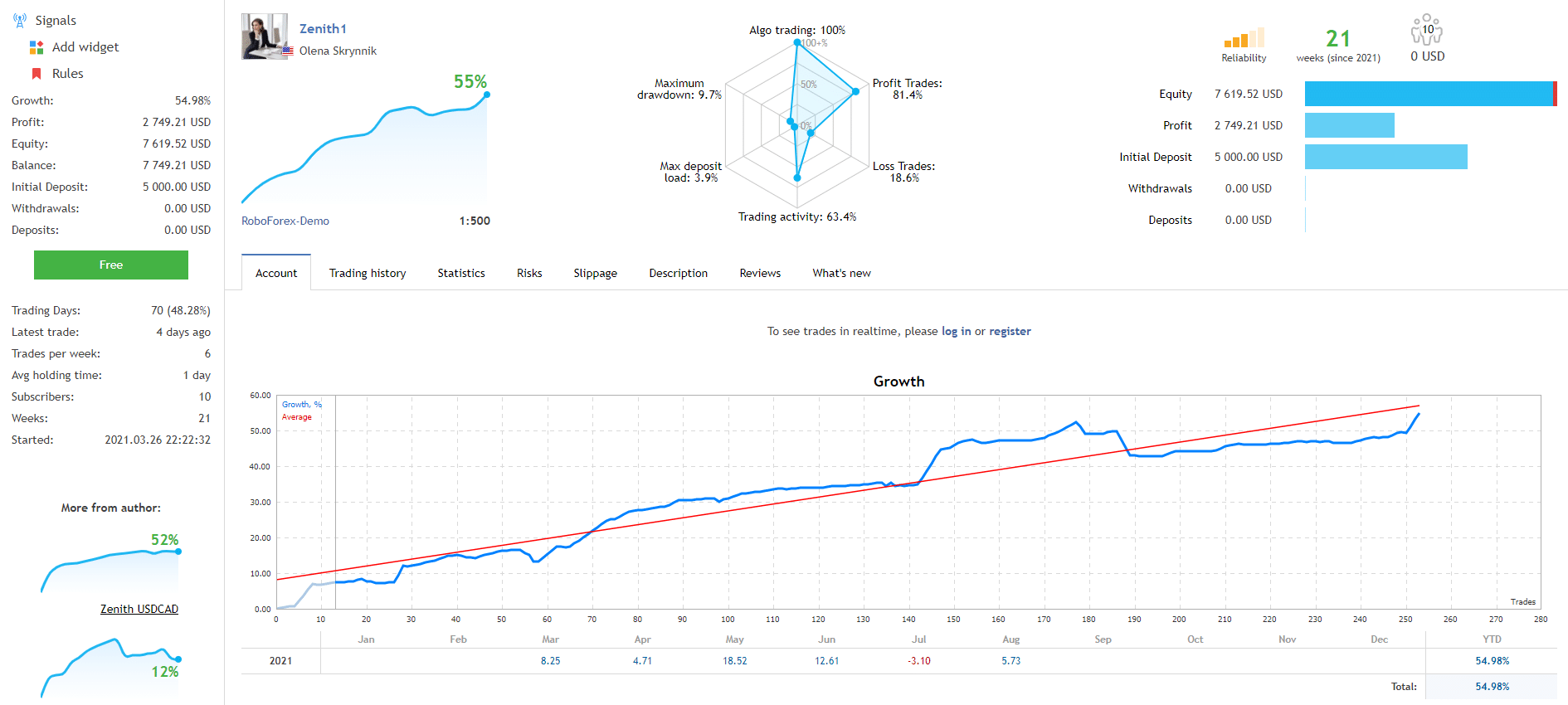 Zenith doesn't have a verified live trading account on websites like Myfxbook, FXBlue, and FXStat. This account has a short trading history of 70 days, which makes it difficult for us to gauge its profitability. To date, Zenith has placed 253 trades through this account, winning 206 out of them, which means it has a profitability of 81.42%. The total profit generated through this account is $2749.21.
What are the risks with Zenith?
Zenith is definitely not a reliable trading system. Firstly, it is sold by a vendor we know virtually nothing about. They don't offer a money-back guarantee for this EA and fail to share the verified live trading statistics. In the absence of verified statistics, it is not possible to determine how the system would perform in a real-time trading scenario.
Worth noting!
There is no dedicated customer service team for this expert advisor. If you require assistance, you need to get in touch with the vendor directly through the MQL5 website.

We were unable to find any reviews for this robot on trusted third-party websites. This hardly comes as a surprise, since it is an unproven EA that was launched only recently. On MQL5, there are some user reviews in multiple languages. Of course, we cannot go by these, since the vendor could easily have manipulated them.
What are the pros and cons of investing in Zenith?
| | |
| --- | --- |
| Pros | Cons |
| Available at an affordable price | Lack of vendor transparency |
| | No money-back guarantee |
| | Verified trading statistics not available |
As you can see, this EA has too many shortcomings for us to ignore. It offers no special features, so it makes no sense to spend money on it.
Zenith Conclusion
Zenith is not a robot you should waste your money on. There is no verified record of the robot generating profits in the live market, and the vendor has no reputation whatsoever. Hence, it's best to stay away from it.