Advanced Hedge is a robot that is compatible with multiple currency pairs. The MT4 version of the EA was released on June 5, 2021, while the MT5 version was launched on May 26, 2021. 
You can currently purchase the EA for $199 only. This makes it a cheaper option when compared to other EAs on the market. The vendor has stated that there are only three copies out of 10 left at this price, after which it will be raised to $249. Although there is a free demo version available for download, the vendor does not have a money-back guarantee policy.
On the official website, the developer has shared the links to live signals and briefly described how the system works. Next, we have some setup instructions and a few screenshots showing the trade setups. On the MQL5 product page, you can also find some reviews from users.
The developer, Ho Tuan Thang, is a resident of Vietnam. He is a developer and programmer of automated trading software since 2008. This person has an official website called advancedautotrading.com, as well as a Telegram group where you can get in touch with him. That being said, there is very little background information on the developer.
Key features 
The pairs supported by this system include EUR/USD, GBP/USD, BTC/USD, and XAU/USD. It is recommended that you load the EA on M15 charts. The minimum deposit required for the EA is $300. You can sign up with any broker since this is not a broker-sensitive system. Also, it is not sensitive to factors like spread and slippage. 
Advanced Hedge trading approach 
This is a robot that works with the hedging strategy. It is fully automated with a loss-recovery mechanism. However, the developer has not clearly explained how it manages to recover losses. Instead of making entries with the help of indicators, the robot uses pure math-based logic. 
Backtesting results 
The developer has not shared the backtesting results for this EA. As such, we don't know whether it can generate profits for several years at a stretch. This makes it impossible for us to compare the historical and live performances of the system.
Advanced Hedge live trading results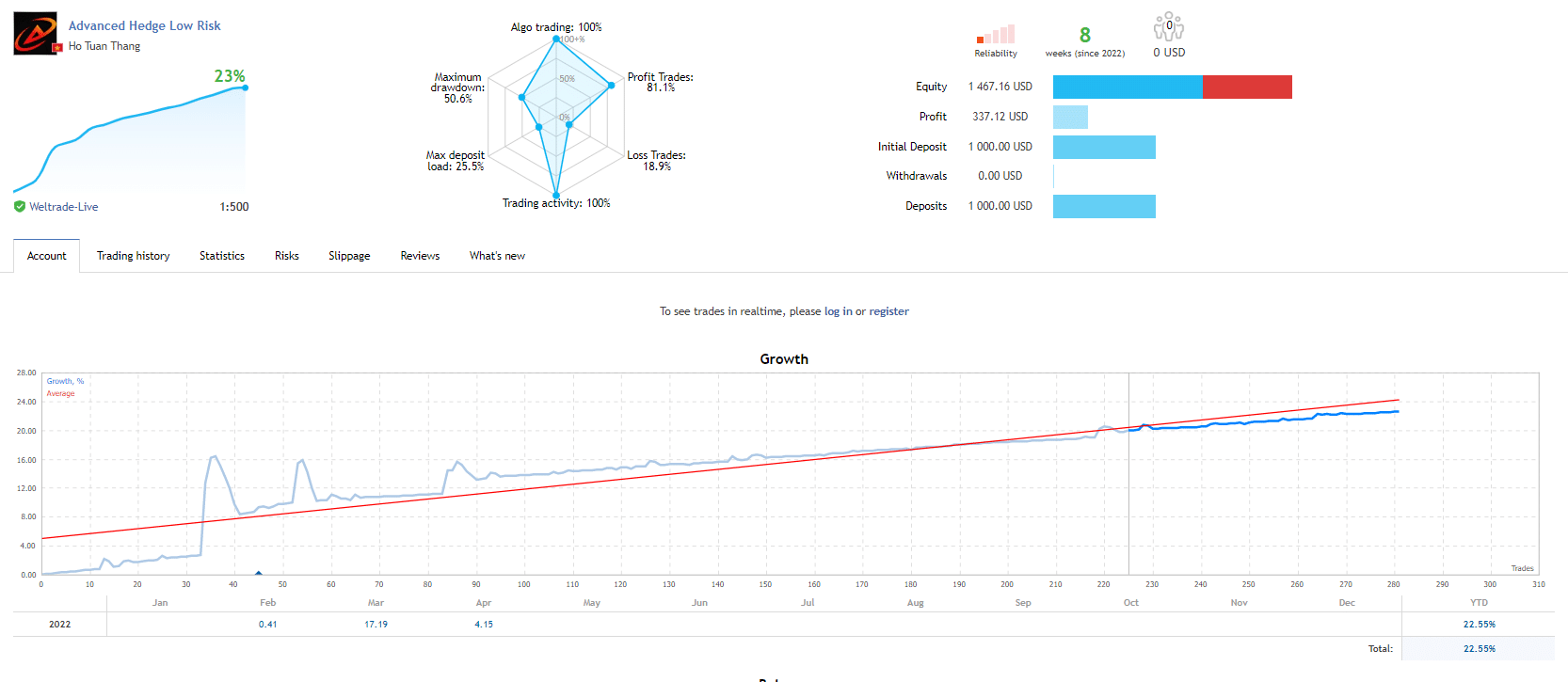 At this moment, there are no verified live trading accounts for this EA on websites like Myfxbook, FXBlue, and FXStat. Here we have a low-risk trading account on MQL5 that was launched on April 6, 2022. Since the account has not been active for too long, it is difficult to accurately gauge the profitability by analyzing the results.
To date, the EA has placed 281 trades through this account, winning 81.13% of them and generating a total profit of $337.12. Apart from the high win rate, the account also has an impressive profit factor of 2.01. The maximum drawdown is incredibly high at 50.6%, and this tells us that the robot is prone to suffering heavy losses. 
At this moment the growth rate for the account is 22.55%. It should be noted that the account has a very low-reliability score on MQL5. There have been 26 maximum consecutive wins and 5 maximum consecutive losses so far.
What are the risks with Advanced Hedge?
First of all, the EA is sold by a person we have very little information on. They don't have a money-back guarantee policy, which means you won't get any of your investment back, even if the robot fails to generate profits for you. The major risk with this system is the absence of verified trading statistics. Without them, there is no way to tell whether the system is capable of generating steady profits in the live market. Also, the high drawdown indicates a high risk of ruin.
Worth noting!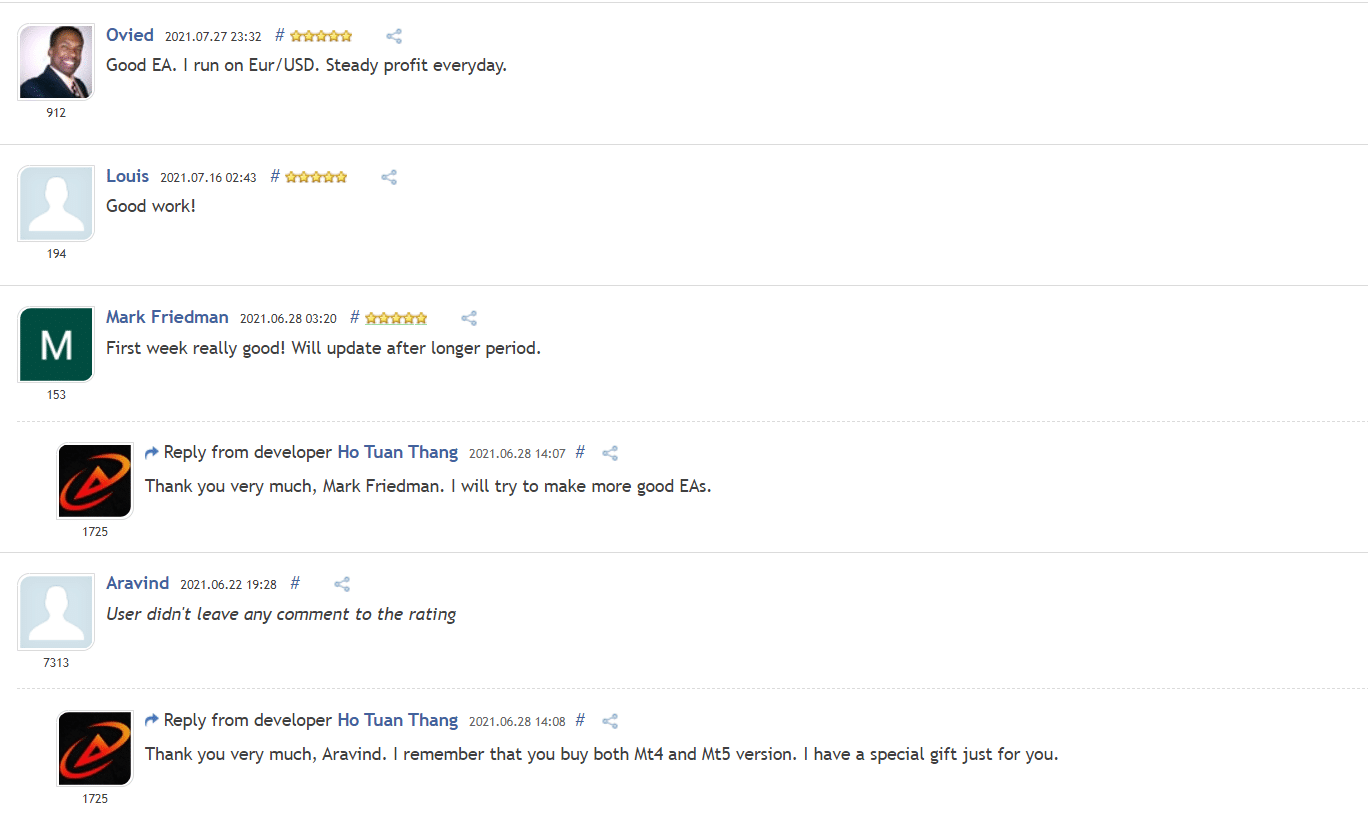 At this moment, there are no reviews for the EA on websites like Trustpilot, Forex Peace Army, Quora, and Myfxbook. While there are a few reviews on MQL5, we cannot consider them authentic.
What are the pros & cons of investing in Advanced Hedge?
| | |
| --- | --- |
| Pros  | Cons  |
| | No verified trading results  |
| | |
| | Lack of vendor transparency |
As you can see, this system has too many shortcomings.
Advanced Hedge Conclusion
Advanced Hedge doesn't have a verified track record of winning profits in the live market. It is available at an affordable price, but there is no refund policy. The vendor has not shared the backtesting results, so we have zero idea about the historical performance of this automated trading system.