Botsfolio is a crypto trading bot that allows traders to diversify their investments into short and long-term strategies. It employs a variety of long and short-term strategies to meet investors' needs. The robot trades 24 hours a day, 7 days a week, and uses API credentials to connect to several exchanges such as Binance, Coinbase, and OKX. Traders can access the site by signing up for a subscription plan based on the value of their portfolio. This review contains all of the necessary information about this algorithm for you to determine if it can meet your requirements.
Automated trading at Botsfolio: how does it work?
Based on your financial goals and risk tolerance, Botsfolio will automatically divide your net investment into a combination of long and short-term strategies. It analyzes the market 24/7 for favorable conditions and operates independently with no need to create any trading strategies or set up any trading bots.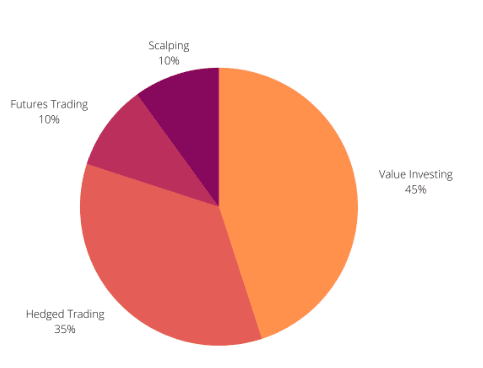 Botsfolio bot features
The key features of trading with Botsfolio include:
It performs 24/7 automatic trading on autopilot.

Botsfolio automatically deploys trading strategies based on market conditions.

Traders can start trading and configure your bots with zero knowledge.

You can track your robot and its trading activities from the dashboard.
Botsfolio trading strategy: futures trading 
At Botsfolio, the bots are able to execute value investing, hedge, fixed income, and futures strategies. Leveraged positions are used in all of the trades.
Scalping numerous times a day for modest gains

Price movements in swing trading

Trading with the help of moving averages and trends

Steps to follow to trade with Botsfolio
Botsfolio does not require users to configure the strategies or bots. You can start trading with Botsfolio in these steps:
Create a new account and purchase a plan

Choose the number of funds you want to invest

Link crypto exchange to the bot with API keys
Botsfolio fees & account minimum requirements
There is a 15% performance fee charged quarterly on profits and a basic amount each year for providing the cloud service. The website does not mention the minimum deposit requirement.

Exchanges compatibility
Botsfolio provides trading services on the following exchanges:
Binance

OKx

Coinbase Pro

Coins supported
The platform lacks a section that provides information about the supported trading pairs. 
Botsfolio performance 
According to the website, there are past performance records of Botsfolio with a +7.95% return on investment (ROI) each month. The monthly performance charts show a few metrics such as long or short, entry/exit price, for only one trading pair i.e., ETH/USDT. All the trades are in a profits however, these results cannot be verified making it suspicious.

How to withdraw your funds with Botsfolio?
Botsfolio cannot transfer or withdraw your crypto. Traders can only access them from their respective exchanges.
Is it a costly crypto trading tool?
The pricing plans are average for the available features. Each subscription depends on portfolio value and there is no free trial or demo account. The package starts from $4.75 for a basic account value between $1k-$3k and the premium costs $19 per month with a portfolio value of $50k-100k. 

Botsfolio security and safety
The platform states that Botsfolio has no control over withdrawals and deposits and only trades from your exchange. It lacks proper security measures because there is no information about encryptions and two-factor authentication. 
Botsfolio regulation and legitimacy
Botsfolio does not have any licenses from authentic authorities which could confirm the regulation of the platform. It is not featured on any reputable financial website and lacks important features like backtesting and paper trading. Trading results are only available to subscribers.
Botsfolio team members
The team members behind Botsfolio are unknown, as there is no information about the developers on its official website. It only mentions KribX Inc, USA in the contact us section. The lack of vendor transparency or company backgrounds raises serious concerns about the platform's legitimacy and reliability.
Is Botsfolio customer support good?
Customer support at Botsfolio is not up to the mark as they only assist clients through email and the Telegram channel. There is no live chat, contact form, or phone number.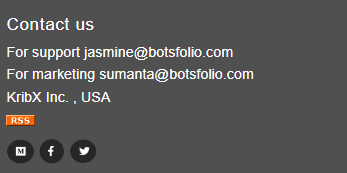 User experience
A trusted platform TrustPilot shows 28 customer reviews with a rating of 4/5. One of the clients comments that traders should be careful about using the platform because the support is not good and asks for $60 as fees.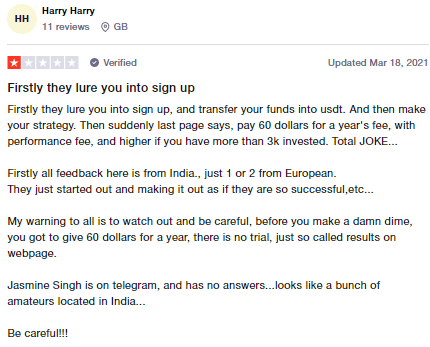 Is choosing Botsfolio the right choice for you?
Traders should do their research before investing their valuable funds with any trading robot. Botsfolio has simple and basic features and limited support for only three cryptocurrency exchanges. The platform recommends that users should invest at their own risk because past performance does not guarantee future results.
Botsfolio overview
The main aspect of trading with Botsfolio, that makes it unique from other trading bots is that the strategies and bot work independently without requiring any customization and configurations. 
Best For:

Newbies

Pros:

The platform provides the past performance of the bots

It has risk management intelligence

Cons:

Lack of vendor transparency

No backtesting support or paper trading

Charges a fee of 15% on profits

It executes a limited number of trading strategies
Botsfolio Crypto Bot Conclusion
Botsfolio has no backtesting support where you can test their products on historical data. There is also no paper available at the moment. It shows a lack of vendor transparency and company background or vision. There are a limited number of customer reviews on Trustpilot.