Einsteinium (EMC2) is a cryptocurrency created by the community that uses blockchain technology to acquire capital for scientific research. This is achieved by imposing a mining tax that generates a puddle of funds to honor worthy candidates.
This update will briefly describe the EMC2 token, its technical outlook, and future potential. So buckle up for a quick rundown.
What is the Einsteinium coin? EMC2 explained
Einsteinium is well-known crypto that uses blockchain technology to aid in scientific research. Einsteinium is a P2P (peer-to-peer) and POW (proof-of-work) cryptocurrency. It was created to provide funding for forward-thinking scientific, technological, and blockchain projects. In essence, it is equivalent to a charity organization built on Bitcoin.
Einsteinium was formed in 2014. The Einsteinium Foundation was established as a non-profit corporation in Montreal, Canada, making it the first blockchain-based non-profit organization. However, the founding members left the project soon after, leaving it ungoverned until the current board of directors took over in the summer of 2016.
The Einsteinium Foundation will receive a mandatory 2.5 percent payment from mined blocks, and the community will vote on which scientific program will be funded. By bringing crowdsourcing into the process, the Einsteinium Foundation seeks to raise awareness for various programs and concerns. According to reports, the organization has awarded 16 million EMC2 coins to science projects.
EMC2 is a Scrypt coin that uses the Kimoto gravity well to democratize the mining process, resulting in a 50% decrease in block size and a block period of 60 seconds. EMC2 coin wallets are available for Windows, Mac, and Android.
Einsteinium (EMC2) coin: is it a good investment?
This coin is handy and mineable; when you consider contributing to various life-saving science initiatives, holding onto EMC2 and working on their platforms sounds quite appealing. However, the EMC2 isn't able to recover, and its prices are taking a deep dive, having plunged from $3.42 (all-time high) to $0.30, losing more than 95% so far.
Since EMC2 is presently trading in an oversold zone and is very close to retesting a double bottom pattern at $0.023, this could be a rewarding investment in the short run. Please keep in mind that any investment has some risk. So, invest in what you can achieve before drawing any judgments, and undertake as much research as possible.
In terms of value, Einsteinium has a lot of room to grow. However, EMC2's value is expected to rise in the future. According to certain experts and business analysts, Einsteinium could reach a peak price of $1.11 by 2030.
What will the Einsteinium (EMC2) coin be worth in 2022?
With a live market cap of $6,624,866, the current CoinMarketCap ranking is №1189. It has 222,212,852 EMC2 coins in circulation and a maximum supply of 245,465,283 EMC2 coins. EMC2 doesn't seem to be a good long-term investment, looking at the technical side. The coin has lost over 95% since December 2017.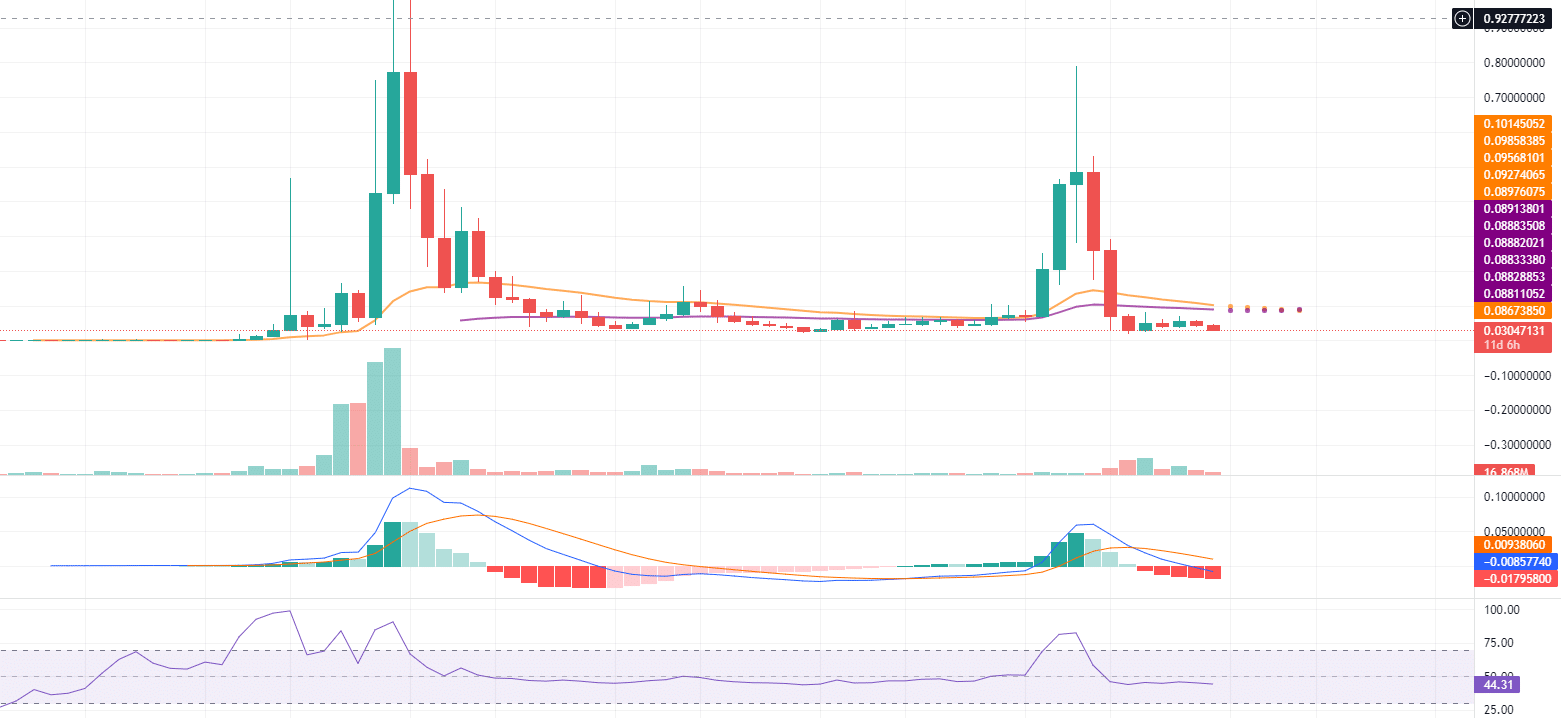 According to EMC2 technical analysis, the price of Einsteinium is expected to reach a minimum of $0.021 or even lower to $0.006 in 2022. With an average selling price of $0.034, the EMC2 price can reach a maximum of $0.055 per coin.
Einsteinium (EMC2) price prediction for 2022
Einsteinium is trading sharply bearish at $0.030, having formed a series of selling candles on the weekly timeframe. EMC2 is heading lower towards $0.021, an immediate support level extended by a double bottom pattern.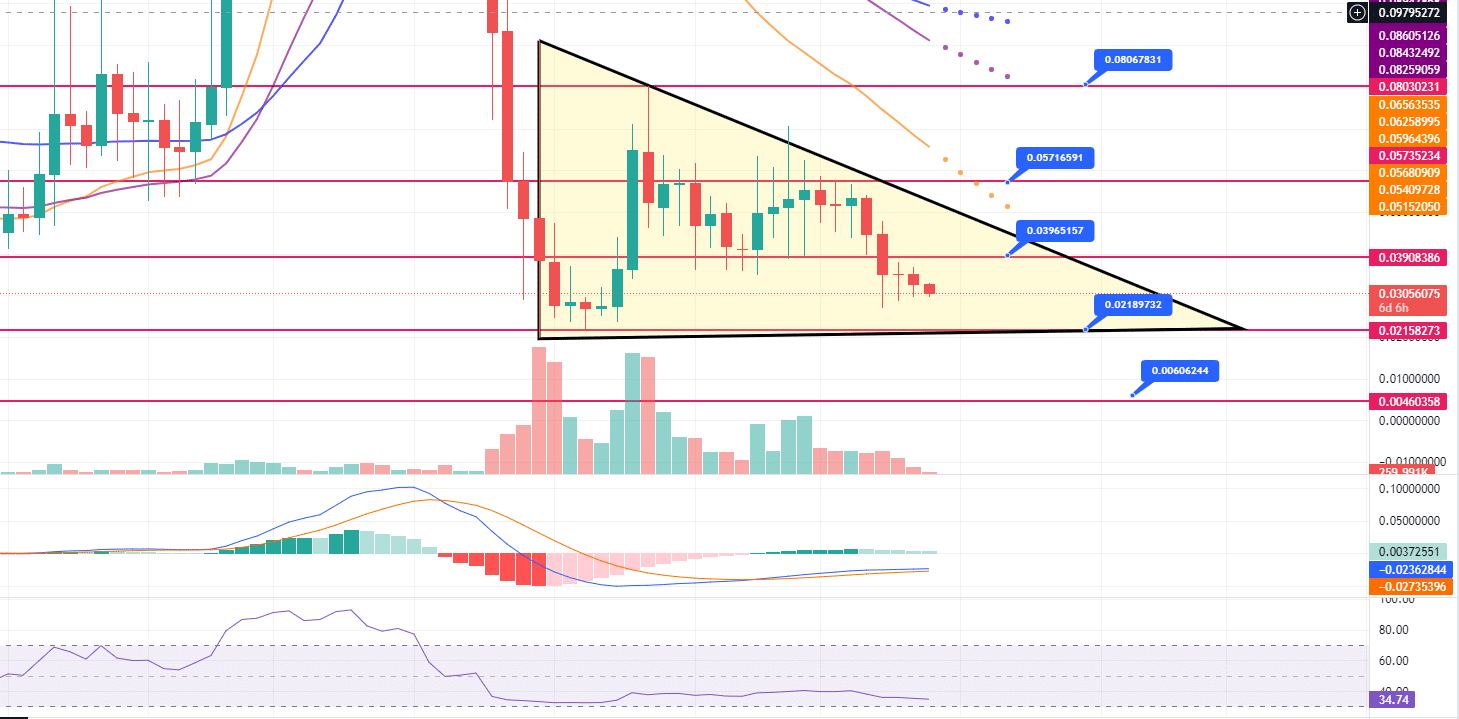 Increased selling pressure could trigger a downtrend until the $0.0046 support zone. However, the closing of candles above the $0.021 level can start an uptrend until the $0.035 and $0.050 mark in 2022.
How to buy an Einsteinium coin?
On the following exchanges, you can buy or sell EMC2 coins for fiat or other cryptocurrencies: Bittrex, CoinSpot, BCEX Global, atomicDEX.
Open an account with a cryptocurrency exchange. Regardless of the options stated above, the first step is to sign up with any exchange that trades EMC2 tokens.
Purchase Bitcoin to exchange it for EMC2 coins.
Use the exchange to convert Bitcoin into EMC2.