Ethereum (ETH) is the second-largest cryptocurrency by market volume that is very potential for showing intense buying pressure in Q3 of 2021. Therefore, you can make a huge profit by buying this instrument from any dip.
Cryptocurrencies are emerging markets where investors can make a considerable gain with a minimum risk, which is not possible from the traditional financial market. On the other hand, investment in the crypto market requires a lot of attention, making it unique. It is not like buying a crypto asset from a random place and holding it for gain. The profitability in the crypto market depends on the asset's functionality, user-friendliness, and security.
Based on these, ETH has the potential to show massive growth in 2021. But, first, let's see the detailed Q3 forecast of Ethereum in the below section.
Key features of Ethereum
Before getting to the chart analysis, we should understand the essential criteria of ETH that make it unique among other cryptocurrencies.
Ethereum is an open-source blockchain with the functionality of a smart contract.
Here Ether is the native currency of the Ethereum network, which is the second-largest cryptocurrency in the world by market capitalization.
After making a transaction through the crypto blockchain network, miners verify it.
Once the verification is done, the receiver gets the money to their wallet.
In this proof of network, Etherum is 3X faster than Bitcoin. Therefore, people can send money by the Ethereum network more quickly, which signifies that this crypto coin has more user-friendliness than BTC.
On the other hand, the Ethereum blockchain has an open-source network where institutions can create an API. These features allow buyers and sellers to make transactions through their websites, where ETH will play a key role.
Ethereum's dominance on DeFi projects
Decentralized finance or DeFi has a higher possibility to grow in the future where people can make a transaction without any central authority.
Ethereum is a programmable blockchain where people can quickly implement the network in their decentralized projects. Since the beginning of 2021, many organizations have used the Ethereum network to integrate their DeFi projects, a positive sign for Ether.
According to the state of DApps, almost 80% of DeFi projects use the Ethereum network, and the number of users is increasing day by day.
Ethereum's dominance on NFTs projects
NFTs are non-fungible tokens where people can buy or own any digital asset that is not transferable to others.
Therefore, if you buy a gaming character, you will be the only owner of it. Information regarding loyalty and ownership is visible on the public blockchain; everyone can access it.
In the NFTs project, most of the instruments use the Ethereum network. Therefore, any boost in the NFTs market will directly affect the Ethereum price because people will buy their assets through the Ethereum network, where Ether will be prioritized as a payment method.
Ethereum 2.0 launch
Ethereum 2.0 may launch in 2021 that will bring a significant improvement to the Ethereum network. According to the latest news, ETH 2.0 would be more secure and faster than the current Ethereum network.
The launch of ETH 2.0 would be the significant price driver for Ether, and Ether's price may outperform Bitcoin due to this implementation.
Ethereum price forecast for Q3 2021
Among these developments, is there any possibility that Ethereum's price will surge in Q3? The overall crypto market experienced an all-time high as soon as 2021 started, but the momentum changed after the negative vibe came from Elon Musk and Beijing.
Tesla CEO Elon Musk eliminated Bitcoin as a payment method to Tesla. As a result, people started to sell their investments. However, the main move comes as soon as Beijing banned financial institutes for crypto exchanges. Moreover, the newly appointed Security Exchanges Commission Chair Gary Gensler said that there should be more consumer protection in the crypto market.
The overall sentiment pushed Bitcoin down to $30,000. So following it, other cryptocurrencies began to fall. So Ethereum's price moved down from $4300 to $1758, leading to more than 50% loss.
We all know that any financial instrument with a lower value and higher potential is a good investment opportunity. Is Etherum potential for the future? Of course! The DeFi projects, NFTs, all that we have seen in the above sections are a sign that Ethereum has a strong position in the crypto market, compared to its key competitor, Bitcoin.
Based on this, if you want to HODL, you can buy Ethereum and hold it for years. But, the best approach is to invest based on technical analysis as it shows the exact buying and exit points that help to manage trades.
Ethereum technical analysis for Q3 2021
This crypto coin started in 2021 with a bullish momentum that halted in the middle of May. However, the bullish pressure was so intense that it held the price above the $2000 level. Therefore, in Q3, the $2000 level will work as a significant price director, and any sign of a stable market above this level would be a good buying point.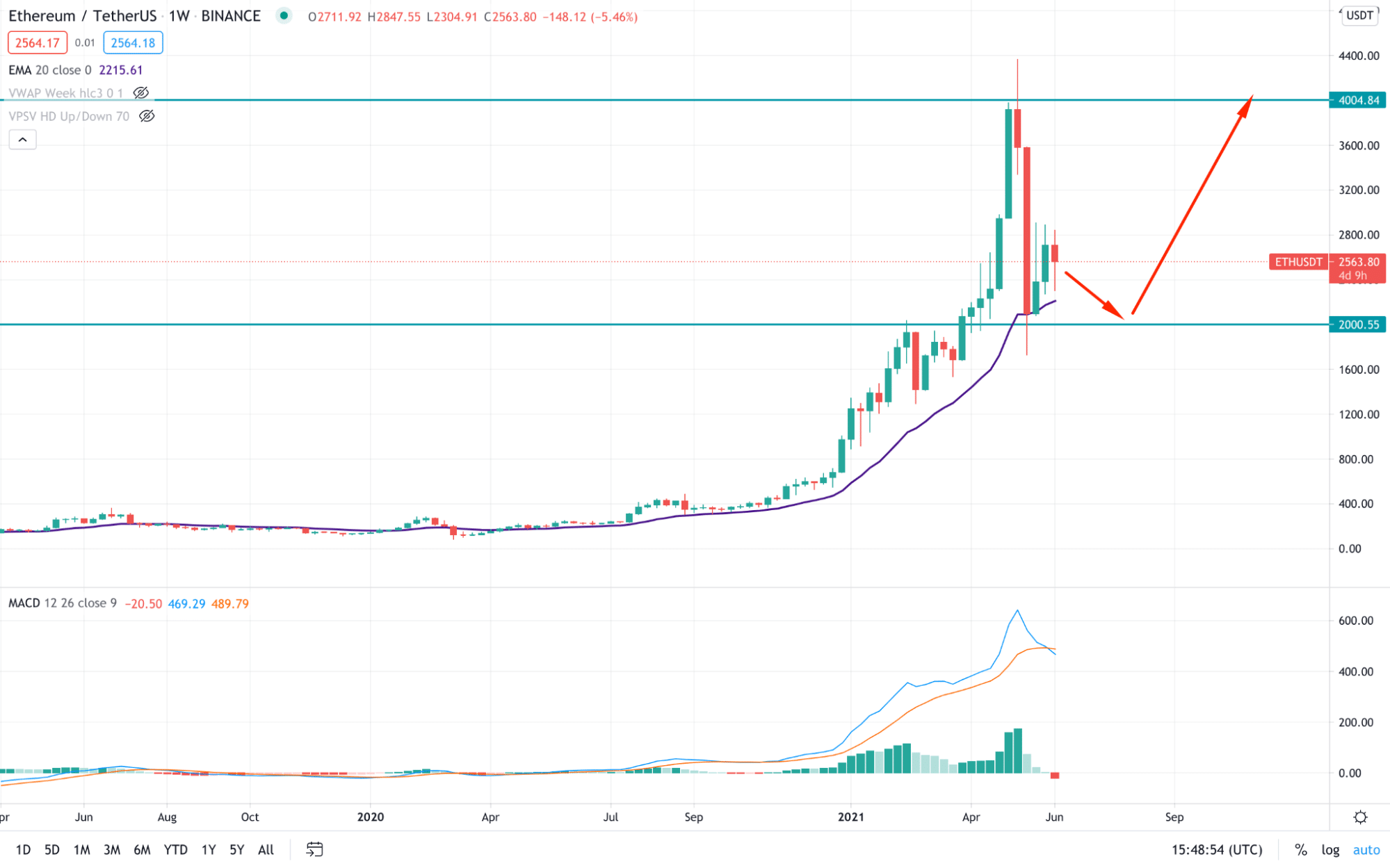 In the above image, we can see the weekly ETH/USDT, where it crashed to the $2000 level but immediately recovered the loss and remained above the $2000 level for more than two weeks. Moreover, the dynamic 20 EMA is providing support to the price.
In this market context, any bearish rejection from the dynamic 20 EMA would be a buying opportunity for ETH in Q3.
Conversely, a decisive break below the $2000 level may influence the price to consolidate where new buying points will set after making swing points.
Final thought: is Ethereum a buy?
Based on the technical analysis, this crypto coin has a higher possibility of moving up in the coming quarters, where $2000 will work as a significant price driver.
However, the overall crypto market is uncertain where any negative news might make a significant loss. Therefore, investors should remain cautious while making any investment in this sector. Investors should avoid injecting money from borrowing or selling assets. Instead, it is wise to invest gradually where the amount should be what you would like to lose.