Forex Flex EA is an expert advisor that works on both MT4 and MT5 platforms. As per vendor claims, this system is always updated with the latest settings for the present market scenarios. It is a FIFO and NFA compatible system using 12 different strategies.
On the official website, the vendor has highlighted the main features and then proceeded to share several authentic trading accounts displaying real-time results. We also have the pricing details, an FAQ section, and a contact form.
There is no information on the website regarding the parent company, which is not a good sign. Reliable vendors are always transparent, and they share background information like year of foundation, service history, etc. The total lack of vendor transparency makes this service hard to trust.
Key Features
The vendor recommends using this EA for trading in pairs like NZD/USD, EUR/GBP, EUR/JPY, AUD/USD, EUR/USD, USD/CHF, USD/CAD, USD/JPY, and GBP/USD. The minimum deposits for nano, micro, and standard accounts are $10, $100, and $1000, respectively. It is sold for $399.96 which we think is an exorbitant price.
To scan the market scenario, six virtual trades are placed by the system for each currency pair. If you wish to conduct trades more frequently, you can lower this number. However, this will also make the entry points less accurate.
When the money management setting is on, your lot sizes are adjusted automatically based on your account balance. The robot also has a news filter that lets you avoid news events that may drastically impact the price of currencies.
Instead of using pip-based take profit, Forex Flex EA uses an equity trailing take profit where all the trades are placed in distinct baskets. The take profit is activated once a certain percentage is reached by the basket. You can customize the EA to avoid trading during particular sessions.
Forex Flex EA Trading Approach
On the official website, the vendor mentions that the robot uses 12 unique strategies. However, there is no explanation provided for these strategies, so we have no idea what they are. The absence of strategy insight comes as a disappointment because it makes it harder for us to assess the system's profitability.
Backtesting Results

Backtesting results for the EA have been provided in an odd format and it prevents us from seeing some of the vital performance factors like profitability, profit factor, initial deposit, etc. These results cannot be considered genuine.
Forex Flex EA Live Trading Results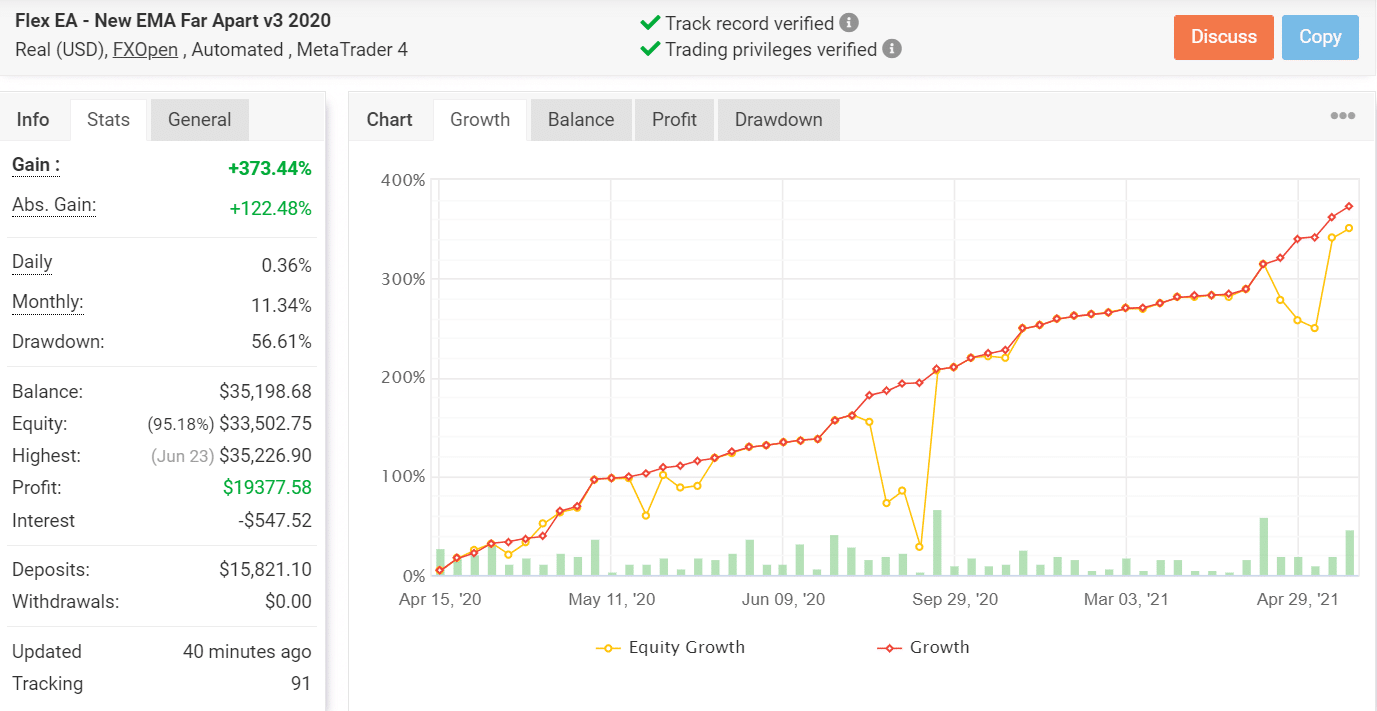 Here we have a Myfxbook account showing the real-time trading results for Forex Flex EA. To date, the robot has conducted 329 trades through this account, winning 227 out of them with a win rate of 69%. Currently, the total profit generated through this account stands at $19377.58, while the daily and monthly gains are 0.36% and 11.34%, respectively.
The most alarming thing about this trading account is the extremely high drawdown of 56.61%. This is an unacceptable drawdown level that indicates a high risk of suffering losses while using this EA. The profit factor for this account is 3.94.
What Are The Risks With Forex Flex EA?
Forex Flex EA is definitely not a safe trading system. It is sold by a company we know nothing about, so there is no guarantee that the developers have the required expertise to build an efficient EA. Moreover, it exhibits a high drawdown, which means you can lose large portions of your account while trading with it.
Worth Noting!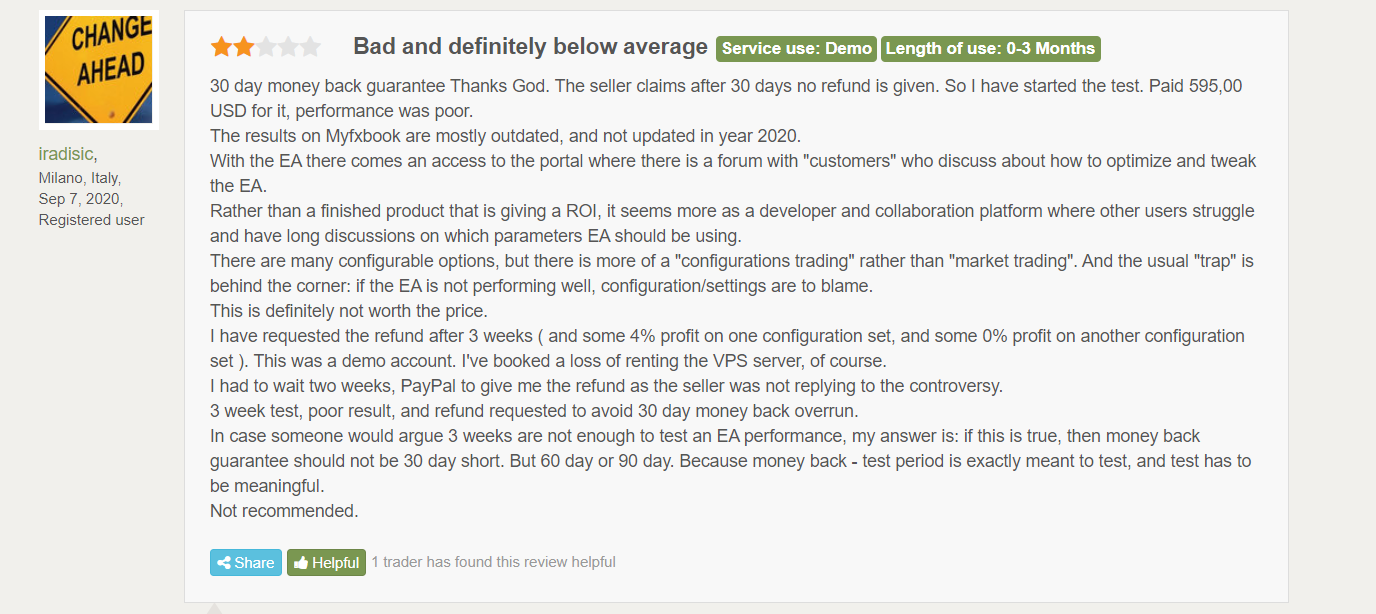 On the FPA website, we have some customer reviews on this EA. One user has mentioned that the robot is overly dependent on the settings. Furthermore, they have claimed that the vendor did not respond to their request for a refund. It seems that the team behind this EA is extremely unprofessional and they do not treat their customers well.
What are the Pros & Cons of Investing in Forex Flex EA?
| | |
| --- | --- |
| Pros | Cons |
| Verified live trading results | High drawdown |
| | Lack of strategy insight |
| | Lack of vendor transparency |
As you can see, there are several downsides to this EA. Apart from the ones mentioned, there is also the high price tag to be considered.
Forex Flex EA Conclusion
We advise you to stay away from Forex Flex EA because it is an overpriced and unreliable system. It seems to be following a risky trading strategy and the live trading statistics are not too impressive. You should consider investing in a robot that is sold by a reputable company.