Forex Real Profit EA has been in the market for more than a decade now. The devs claim that they have designed the system to make long term profits with minimal risks. Therefore, it can give you more lucrative wins than losses in the long run. We have established that these promises are mere lies.
The author of Forex Real Profit EA is anonymous. There is no information whatsoever about the company or the team involved. We are interested in the identities of the developers and the qualifications they possess so that we can at least trust them and have some confidence in their system.
Forex Real Profit EA is being sold at $199/year. With this license, you can only use the robot on one live trading account and unlimited demo accounts. You will be charged a one-time fee of $99 for every extra live trading account you order. The company offers a 30-day money-back guarantee. However, there are no refunds for additional accounts.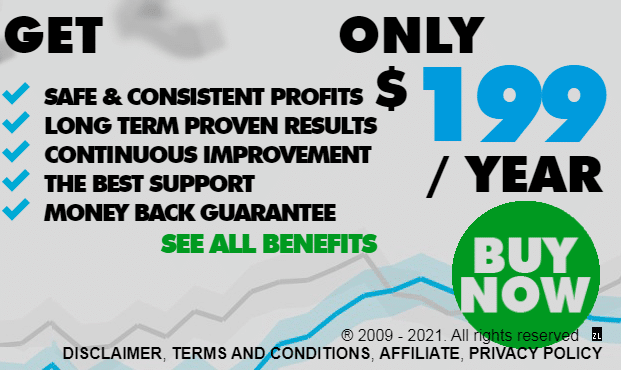 Key features
The features of this robot are indicated below:
The currency pairs supported are EURUSD and GBPUSD.
Operates with any broker, but ECN is highly recommended.
Dynamic stop losses and take profits are used.
High impact news filter is present.
No grid, martingale, or recovery modes are used.
Money management is available.
The recommended minimum trading amount is $1000.
Forex Real Profit EA trading approach
As per the vendor, the software applies 6 distinct trading approaches; 2 for scalping on the Asian session, 1 for scalping on the trend throughout the day, and 3 breakout strategies all day long. While we appreciate this information, we would like to know more about how each method works and why the devs decided to incorporate them in their product.
Backtesting results
The vendor has shared the robot's backtest results. The data below doesn't portray the performance of the EA in good light. We have a profit factor of 1.25, which demonstrates the low profitability rate of the system. Then we have poor win rates for short positions — 60.59% and long positions — 57.47%. Furthermore, the strategy used resulted in more losses than wins. This was brought to light by the average loss trade (-$16965.66), which was higher than the average profit trade of $15965.09. The only good news was that the drawdown level was not high (11.54%).
According to the data, the EA generated more than 24 million in profits within 18 years, specifically from 2003 to 2021. It means that the robot brought in approximately 1.3 million yearly. We doubt if similar results can be achieved in the real market.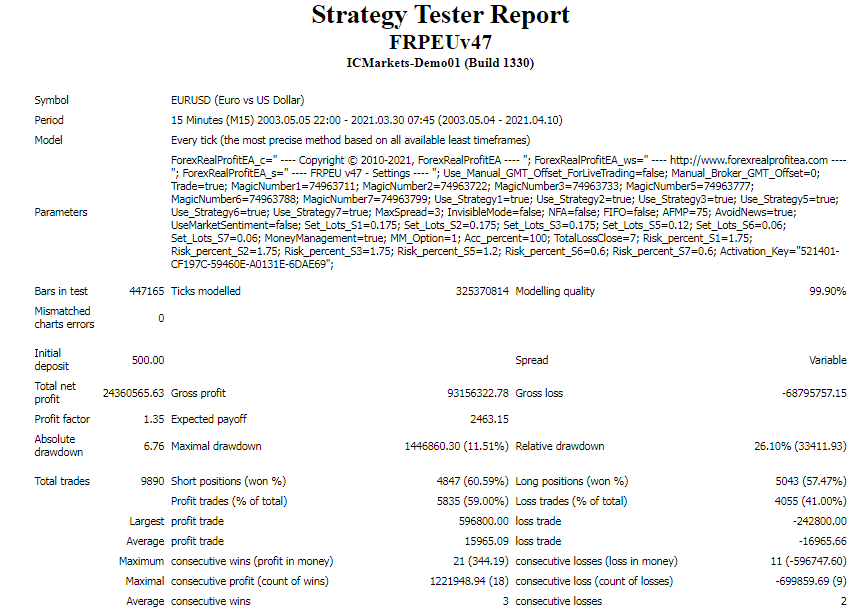 Forex Real Profit EA live trading results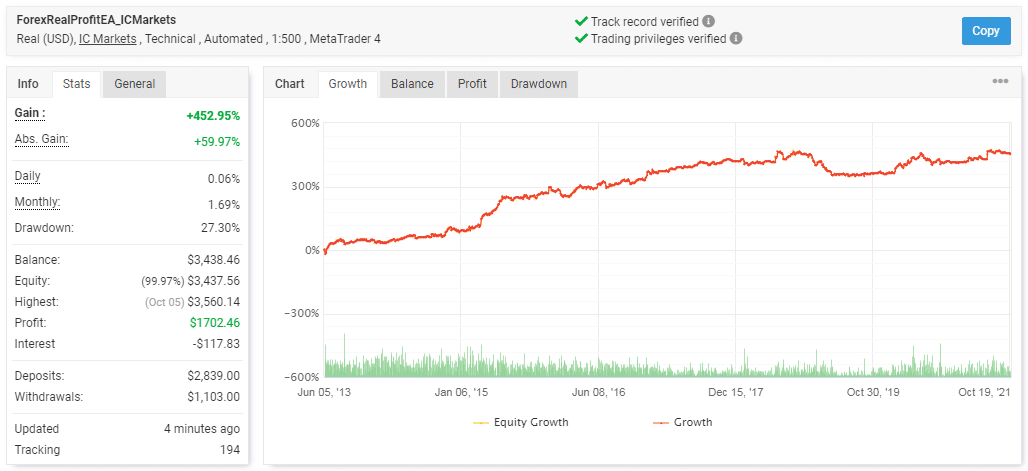 This real USD account was activated on June 5, 2013. Since then, it has been generating profits at very slow rates as shown by daily and monthly gains of 0.06% and 1.69%, respectively. This is in contrast to the testing period where it made insane earnings. From a deposit of $2839, only a return of $1702.46 has been made to date. This represents an absolute gain of 59.97%. The drawdown rate is 27.30%, and quite high.

The trades completed are 7903. The profit factor (1.17) is smaller than the one seen in the testing results. The win rates for long and short positions are 65% and 63%, respectively. These results are not impressive at all.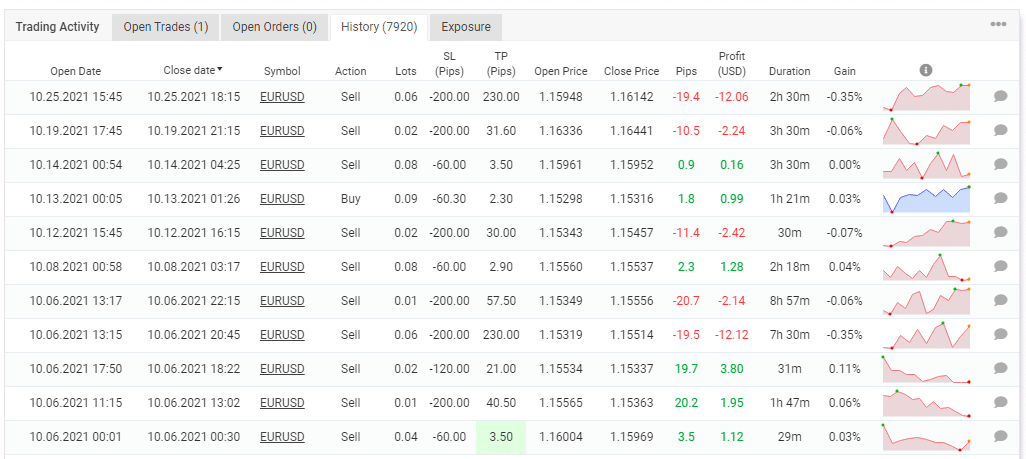 The EA traded within short timeframes using different lot sizes. The profits made were small.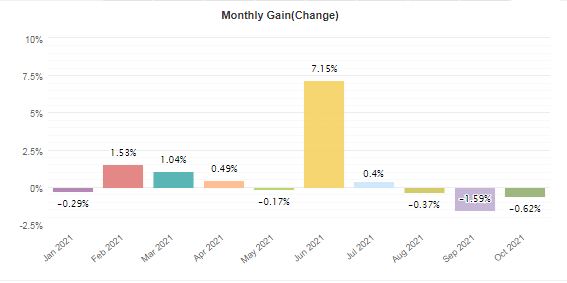 The monthly performance of this system since January has been pitiful. A majority of the trades recorded less than 3% profits. Some months ended up with losses.
What are the risks with Forex Real Profit EA?
Forex Real Profit EA is not a reliable trading system. This is because it has several weaknesses, which we have listed below:
Low return rate.
High losing streak.
Poor risk/reward ratio.
Worth noting!
We found one customer review on FPA, and this trader has given the company a 3-star. The client confessed that the EA wasn't profitable for him.

What are the pros and cons of investing in Forex Real Profit EA?
| | |
| --- | --- |
| Pros | Cons |
| Live trading results are available | Vendor transparency is lacking |
| Backtest results are present | Poor win rates |
| | Small profits made |
Forex Real Profit EA Conclusion
We advise you to avoid this product at all costs. This is because it will frustrate your trading efforts in Forex. It doesn't bring in any substantial profits. The rate at which the system makes losses is also high and troublesome. The poor risk reward ratio of 27:1 means that the robot will take about 27 months to recover the losses already made. So, it is basically a liability.