FX Profit Pips is a firm that focuses on creating and sharing signals for traders, investors, and institutional clients. The presentation doesn't answer all our questions. The developers claim that there are "Live Forex Signals & Commodities Signals with over 80-90% accuracy." So, we are here to figure out if it's possible to make some profits with them.
Key features
Let's talk about available features we can discuss:
The developers provide us with the best possible trading ideas.
We can copy-trade the signals without a problem.
"Forex technical trading experts give everything such as Market analysis, Forex currency pair review, options trading, Swing Trading, Trading Capital, Commodities, indices, cryptocurrency traders, daily market insights."
The devs provide us with streams where they mentor us about market conditions, statements, and strategies.
This can help us to become a more professional trader.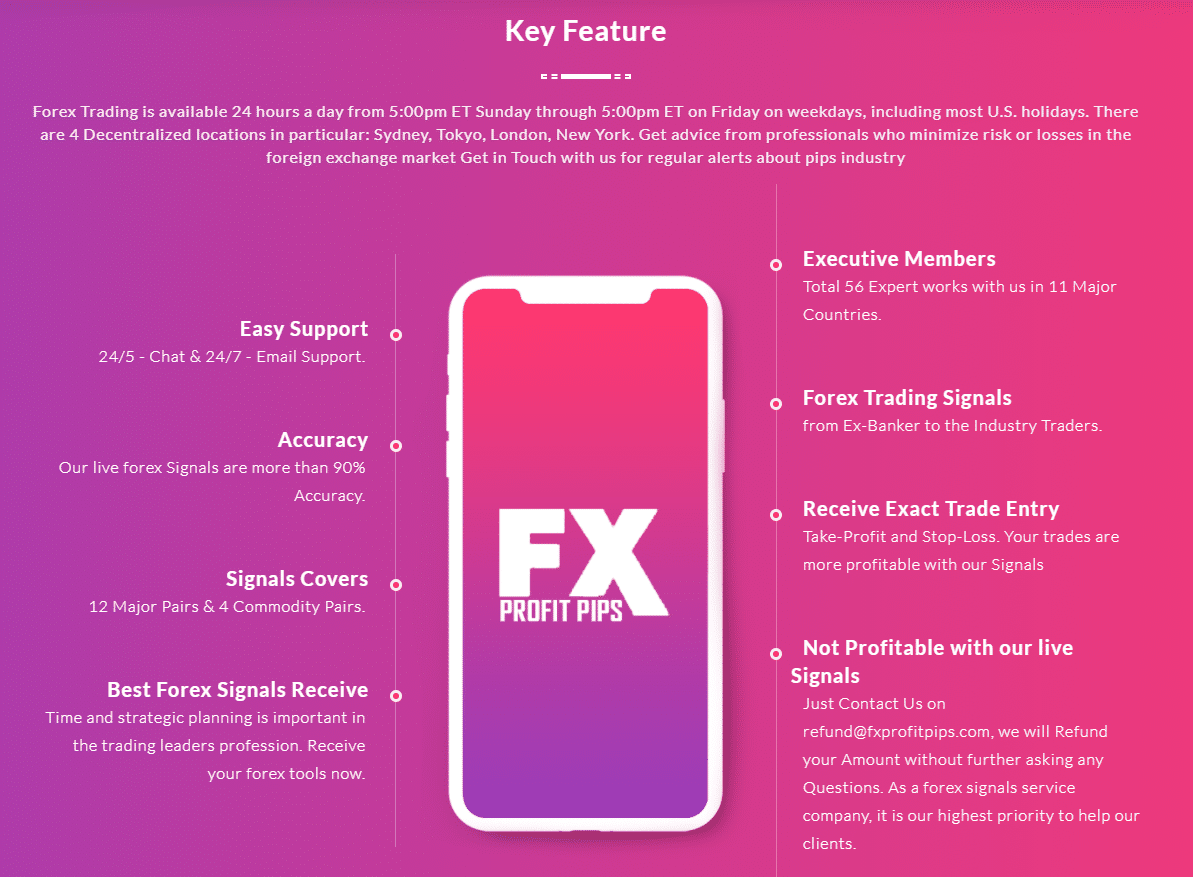 We can expect to get 24/5 support via a chat and 24/7 email support.
The expected accuracy is up to 90%.
The devs provide us with signals for 12 currency pairs and 4 commodities.
Their team unites 56 members from countries around the world. Most of them are ex-bank traders and analysts.
The signals are delivered, including Entry Point, Take Profit, and Stop Loss.
If the signals aren't profitable, we can rely on a refund policy.
Following advice is a must.
We have to choose a good broker to trade with.
The risk can be customized by us.
The presentation tries to convince us that the service is used by thousands of investors.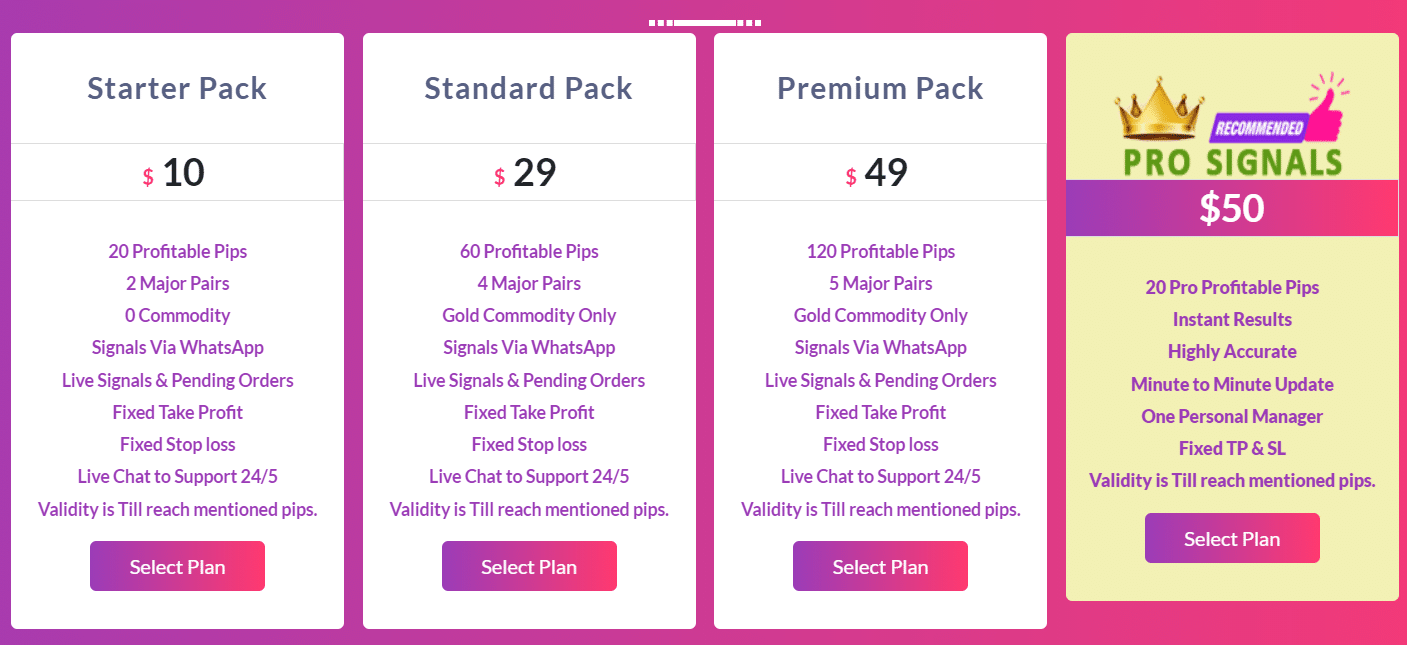 The presentation includes options of renting the system for profitable pips closed. We have four packages included in the offer. The starter pack allows gaining 20 pips for $10. The standard pack allows obtaining 60 pips for $29. The premium pack costs $49 for 130 pips. The pro signals cost $50 for 20 pips. They include the following features: instant results, highly accurate, minute-to-minute updates, and a personal manager.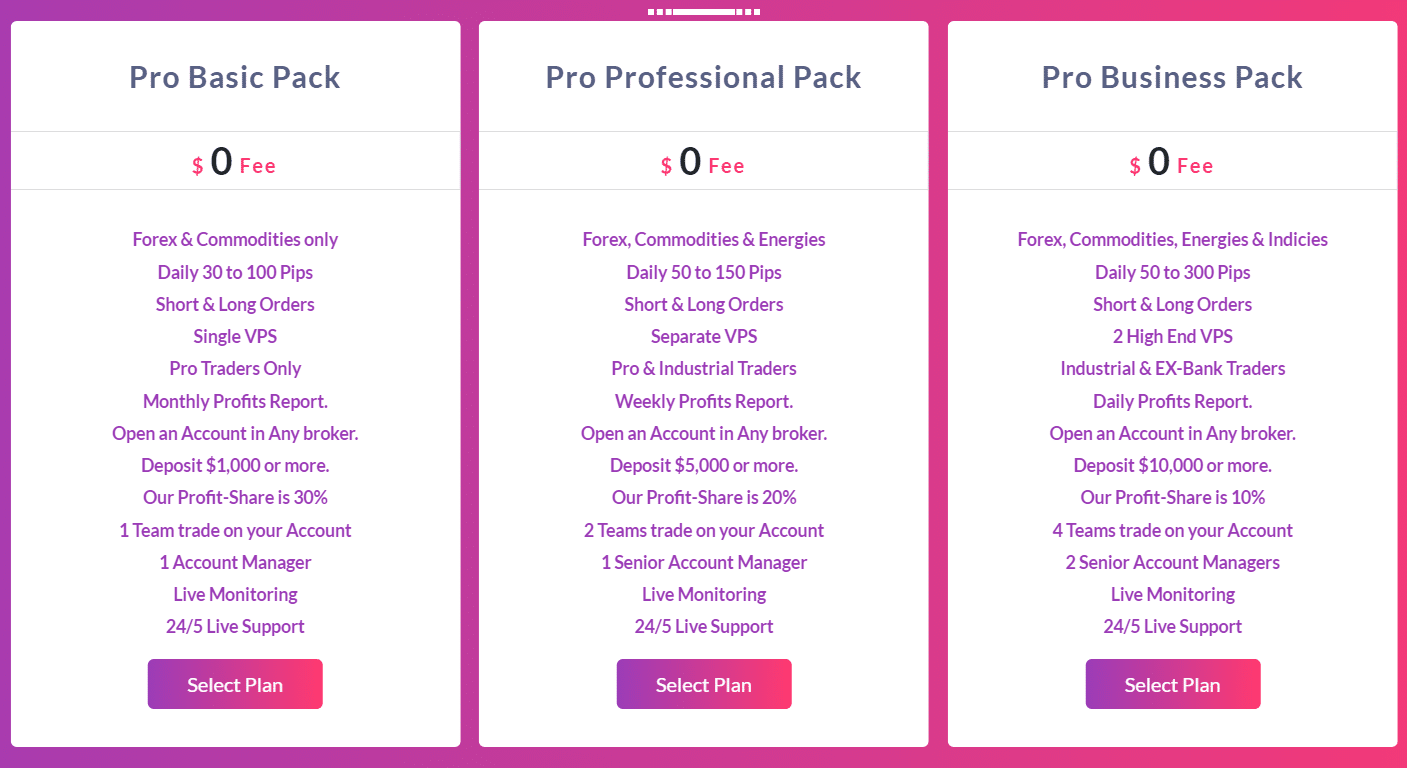 The devs provide us with a copy-trading service either. The pro basic pack allows gaining 30-100 pips daily. The account should have $1000. There's one account manager. The commissions are 30% of profits. The professional pack includes 50-150 daily pips. There are two teams trading on the account. The account should have $5000 or higher. The commission is 20%. The pro-business pack includes 50-300 pips. There are two high-end VPS and four teams trading on the account. We have to run an account with $10000 on it. The commission is 10%.
FX Profit Pips trading approach
We don't know details about the strategies behind the service.
It works with sixteen pairs in total.
The time frames aren't revealed.
Backtesting results
The presentation doesn't include backtest reports at all. It's a significant con because we have no idea how the system worked on the past data and what broker was chosen.
FX Profit Pips live trading results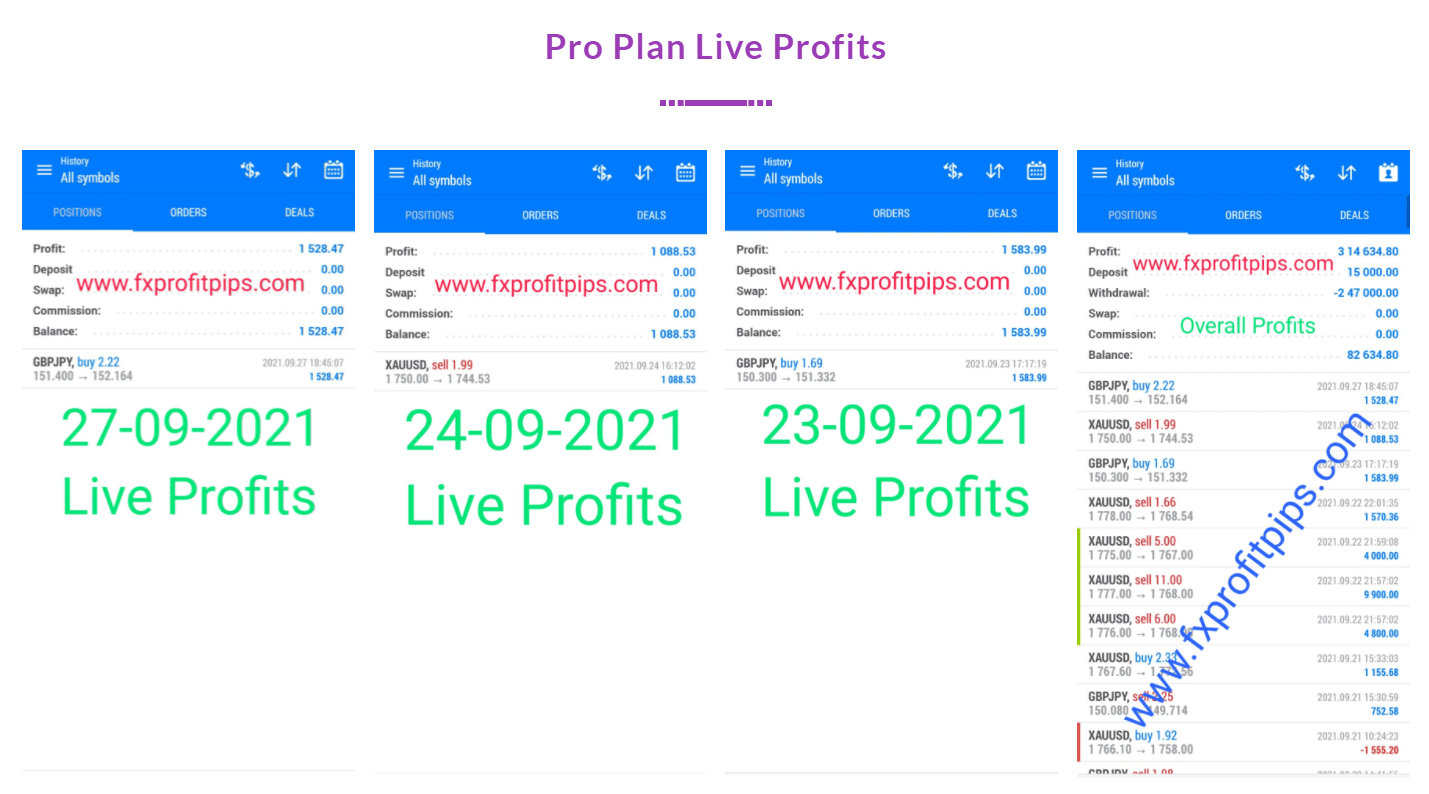 We cannot trust blindly that for a week the robot has lost a single order only.

The developers share a spreadsheet that has some random numbers that cannot be verified in any possible way. Everything we have to do is to decide if we want to trust these numbers blindly or decline them. We know that devs know that we want to see trading results verified by Myfxbook first of all. We would see win rate, monthly gain, drawdowns, profit factor, and many other options.
What are the risks with FX Profit Pips?
The risks are insanely high. We have no proof that the service provides truly profitable signals. We have only numbers, but not backtests or verified trading results.
Worth noting!


The presentation has some testimonials published. They look fake. The main reason is because there are no mentions about pips gained or something like this that bothers traders much.
What are the pros & cons of investing in FX Profit Pips?
| | |
| --- | --- |
| Pros | Cons |
| Copy-trading options available | No team revealed |
| | No risk advice given |
| | No backtest reports provided |
| | No trading results shared |
| | No refund policy applied |
FX Profit Pips Conclusion
FX Profit Pips is a company that provides signals and copy-trading services for clients. The presentation looks poor. We have no backtest reports or trading results shown. It's hard to understand if signals are profitable.