Happy MartiGrid is a fully-automated Forex robot that promises the best stability and profits. It is compatible with different operating systems and account types. This FX EA is a product from the Happy Forex team, based in Germany.
The presentation on the official website is not very detailed. After providing a short description for the EA, the vendor has highlighted the minimum requirements and features. There are multiple links for live trading accounts and backtesting results. Here, you can also find the pricing details and the special offer.
We know very little about the history and background of Happy Forex. There is no official contact information. All we have is a contact form and the link to the Facebook handle of the company. Other products from this team include Happy Galaxy, Happy Power, Happy Neuron, and Happy Breakout.
Key features
You can get dual licenses for this Forex EA in exchange for 299 Euros. For 5 licenses, you need to pay 499 Euros. Both of these plans will get you the Happy Forex Full Pack containing 10 additional EAs, free of charge. The vendor offers a 30% discount on the license price and there is a 30-days money-back guarantee as well.
Happy MartiGrid trades in pairs like AUD/NZD, EUR/JPY, EUR/USD, NZD/USD, and USD/JPY. It is compatible with Linux, Mac OS, and Windows operating systems. You can run this EA using the MT4 platform. It is suitable for micro, mini, and standard accounts. The minimum deposit for this EA is $3000. For its live trading account, the robot uses 1:500 leverage.
Happy MartiGrid trading approach
This Forex EA uses a martingale/grid strategy involving technical indicators and a news filter. It has dynamic step and profit settings. Now, the martingale/grid combo is extremely risky and difficult to pull off for beginners. If the market turns unfavorable, it can lead to huge losses. This is why experts always advise against using this trading scheme.
Backtesting results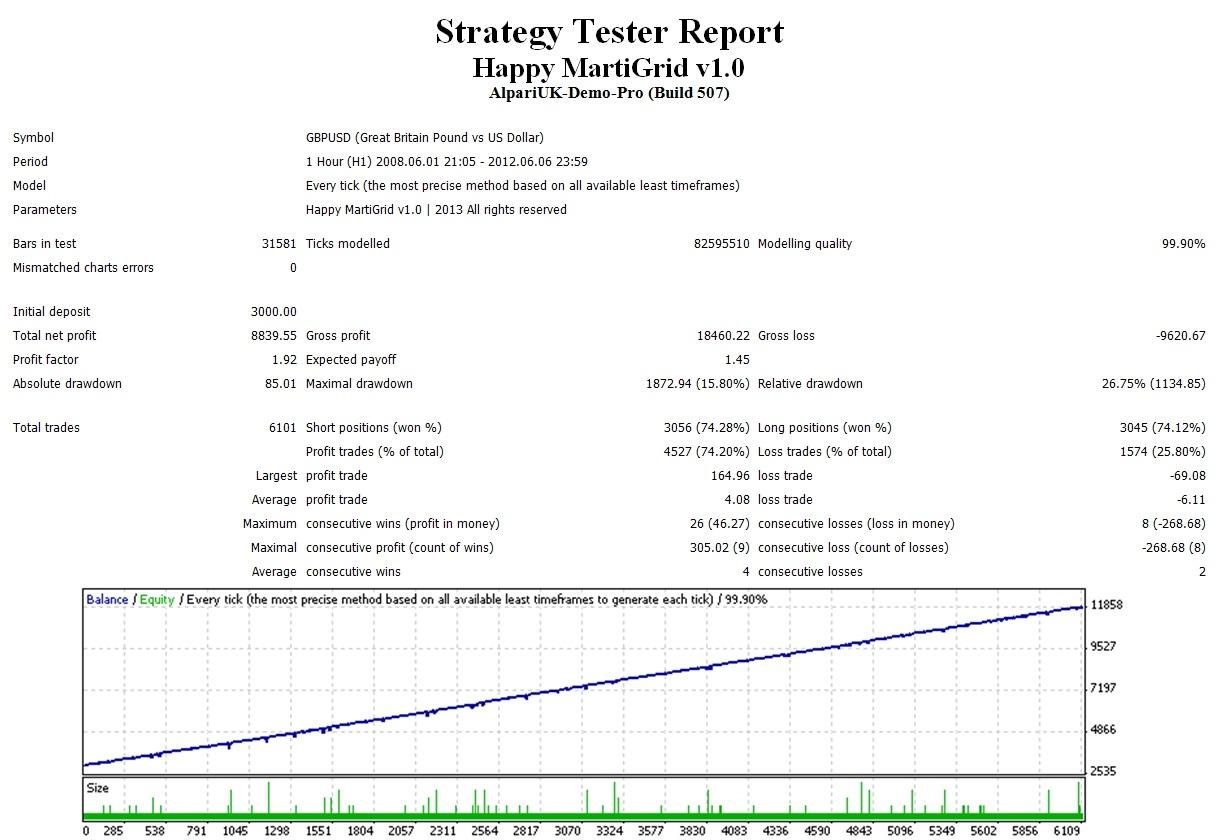 This backtest was conducted using an every tick model, from 2008 to 2012. The EA placed 6101 trades during the testing period, managing to win 74.20% of them. It generated a total profit of $8839.55 and had a profit factor of 1.92.
The relative drawdown for this backtest was a bit high at 26.75%. This is indicative of a risky strategy that leaves the trader open to substantial losses. There were 26 maximum consecutive wins and 8 maximum consecutive losses.
Happy MartiGrid live trading results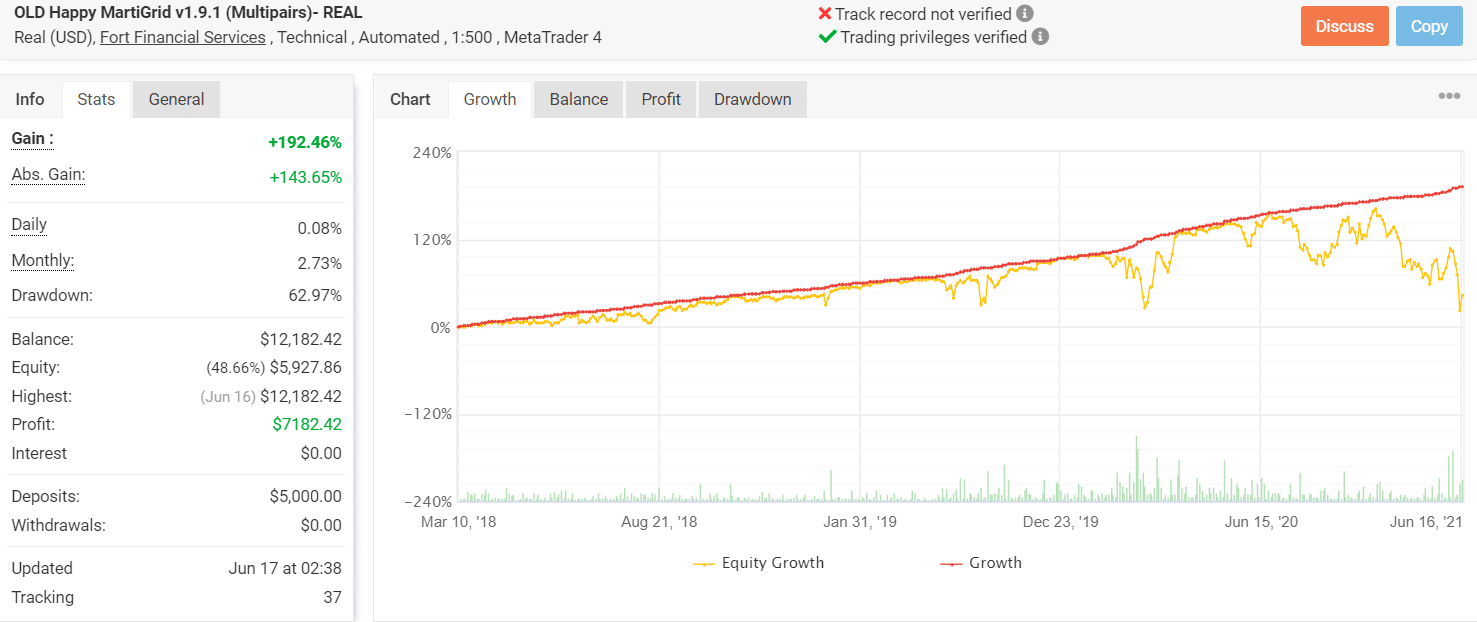 This is a live trading account on Myfxbook that was launched on March 10, 2018. As you can see, the owner has not updated the account since June 17, 2021. Thus, we have no way to determine whether the system is suitable for the current market conditions.
At 62.97%, the drawdown is much higher compared to the backtest. The account has a win rate of 76% and the total profit is $7182.42. Currently, the daily and monthly gains are 0.08% and 2.735 respectively, while the profit factor is 2.31.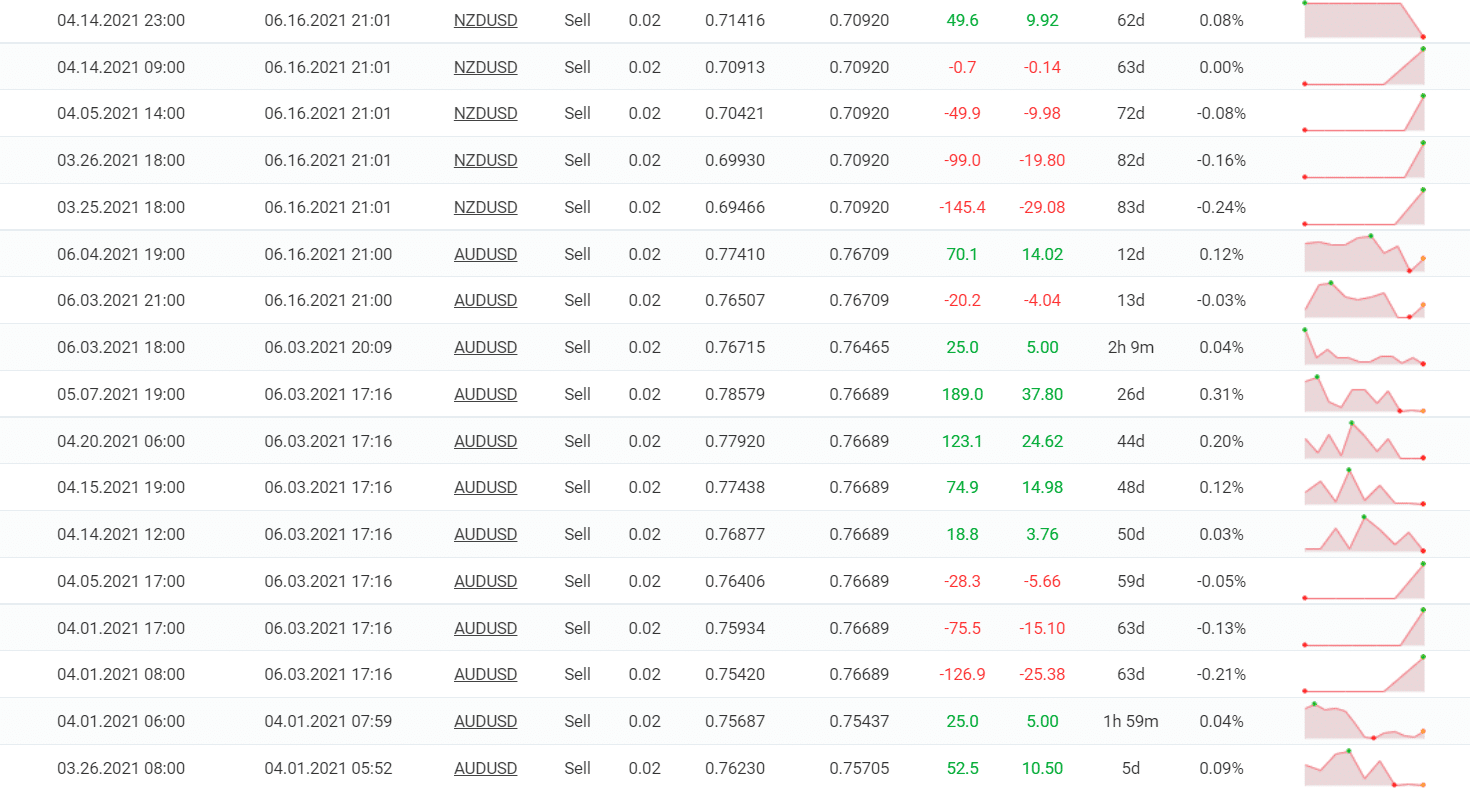 That the robot follows a risky strategy is very obvious from the trading results. It occasionally suffers consecutive losses and thus we cannot consider it reliable.
What are the risks with Happy MartiGrid?
Happy MartiGrid is an unreliable robot, primarily because of its risky martingale/grid combo strategy. The trading results tell us that this trading scheme leads to heavy losses. Also, there is a clear lack of vendor transparency.
Worth noting!
We were unable to find any reviews for this Forex EA on third-party websites. Thus, we can assume that not many traders have used this system for live trading.
What are the pros & cons of Investing in Happy MartiGrid
| | |
| --- | --- |
| Pros | Cons |
| Verified trading statistics | Risky martingale/grid strategy |
| | Lack of vendor transparency |
| | No customer reviews |
Due to the risky strategy and the lack of information about the parent company, we cannot deem this robot reliable. With no user reviews, it is impossible to tell whether traders have had a decent experience with it.
Happy MartiGrid Conclusion
Happy MartiGrid is an expert advisor you should avoid at all costs. It trades with a strategy having a high risk of ruin. There are no unique features in this system that can help you gain an edge over the market. The live statistics show us how dismally this performs in the live market.