Komodo Coin is privacy-focused decentralized crypto that promises safer, faster, and easier to use thanks to its ecosystem. It is said to combine Bitcoin's security and Zcash's anonymity.
The coin was established in 2016, and its market cap of more than $116 million (as of July 7, 2021). It operates on the premise of deferred proof of work. Continue reading to learn more about the KMD crypto price and where to buy this coin.
Let's briefly review the Komodo coin, its technical outlook, and future possibilities.
What is the Komodo coin? KMD explained
This privacy-focused decentralized crypto was released in September 2016 by the same developer (jl777) as BitcoinDark (BTCD).
The Komodo platform, the underlying program, is built on several remarkable features and elements, such as transaction confidentiality and security, transparency, next-generation UXTO Smart Contracts, boundless scalability, Bitcoin-level security, multi-chain sync, seamless blockchain interoperability, decentralized exchange with atomic swaps. Moreover, tools and services for securing or launching your independent blockchain or crypto offering.
Komodo is the second generation of a blockchain. It began as a fork of the privacy coin Zcash, a fork of Bitcoin. As a result of these advancements, Komodo's native crypto, KMD, now provides transparent, anonymous, private, and fungible transactions.
Komodo (KMD) coin: is it a good investment?
Future potential growth is influenced by several elements, including announcements, new technology solutions developed by KMD initiatives, the crypto ecosystem in general, legal status, and so on. According to professional KMD forecasts, all signals point to a significant price increase. However, the coin price is projected to rise in the next five years if Komodo can attract new customers.
Finally, investors should be aware that the Komodo platform is on the verge of becoming a success. KMD is a global network that supports blockchain technology and has no transaction fees. Because of all of these features, it has a significant advantage over non-digital competitors. The coin price is expected to climb over the next five years, according to KMD coin projections.
What will the Komodo coin be worth in 2022?
CoinMarketCap currently ranks #459, with a live market cap of $83,063,123 USD. It has a total circulating quantity of 200,000,000 KMD coins and a circulating supply of 129,676,225 KMD coins. According to the Komodo price projection, the KMD is anticipated to cross an average price level of $0.68 in 2022.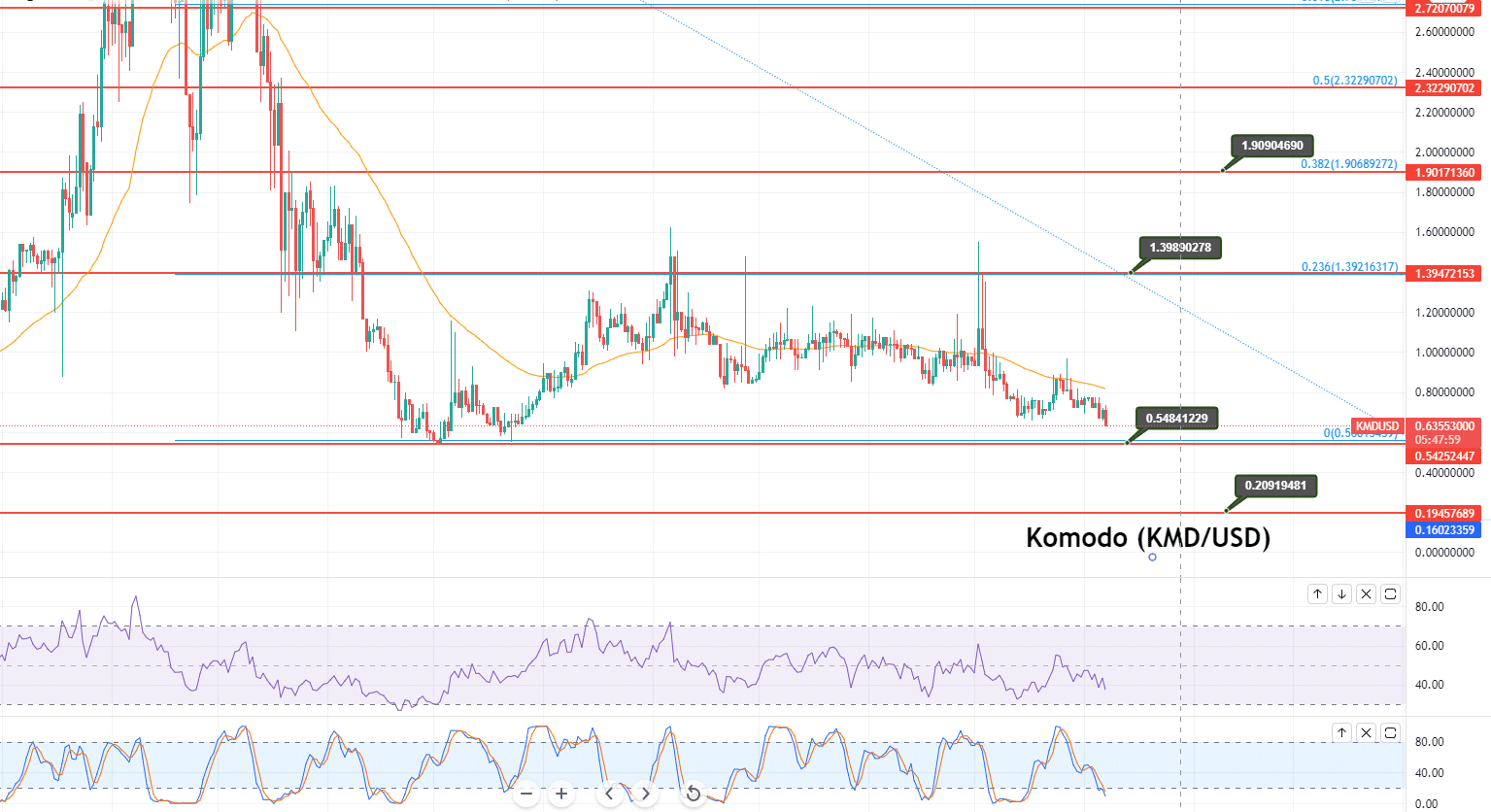 Due to the large community, KMD will be considered the superior choice, and the Komodo price is anticipated to reach new highs. Price variations are difficult to predict, especially when the market is extremely volatile than they have ever been. However, the price of Komodo in 2022 will be close to $0.93 or $1.39.
Komodo price prediction for 2022
Komodo is currently trading at a bearish $0.63 per coin. The KMD has tested and been rejected below the $1.39 resistance level in the weekly time frame. This specific resistance level is being extended by a Fibonacci retracement level of 23.6%. A spike in demand can expose KMD prices towards the 1.3947 or 1.9220 resistance levels.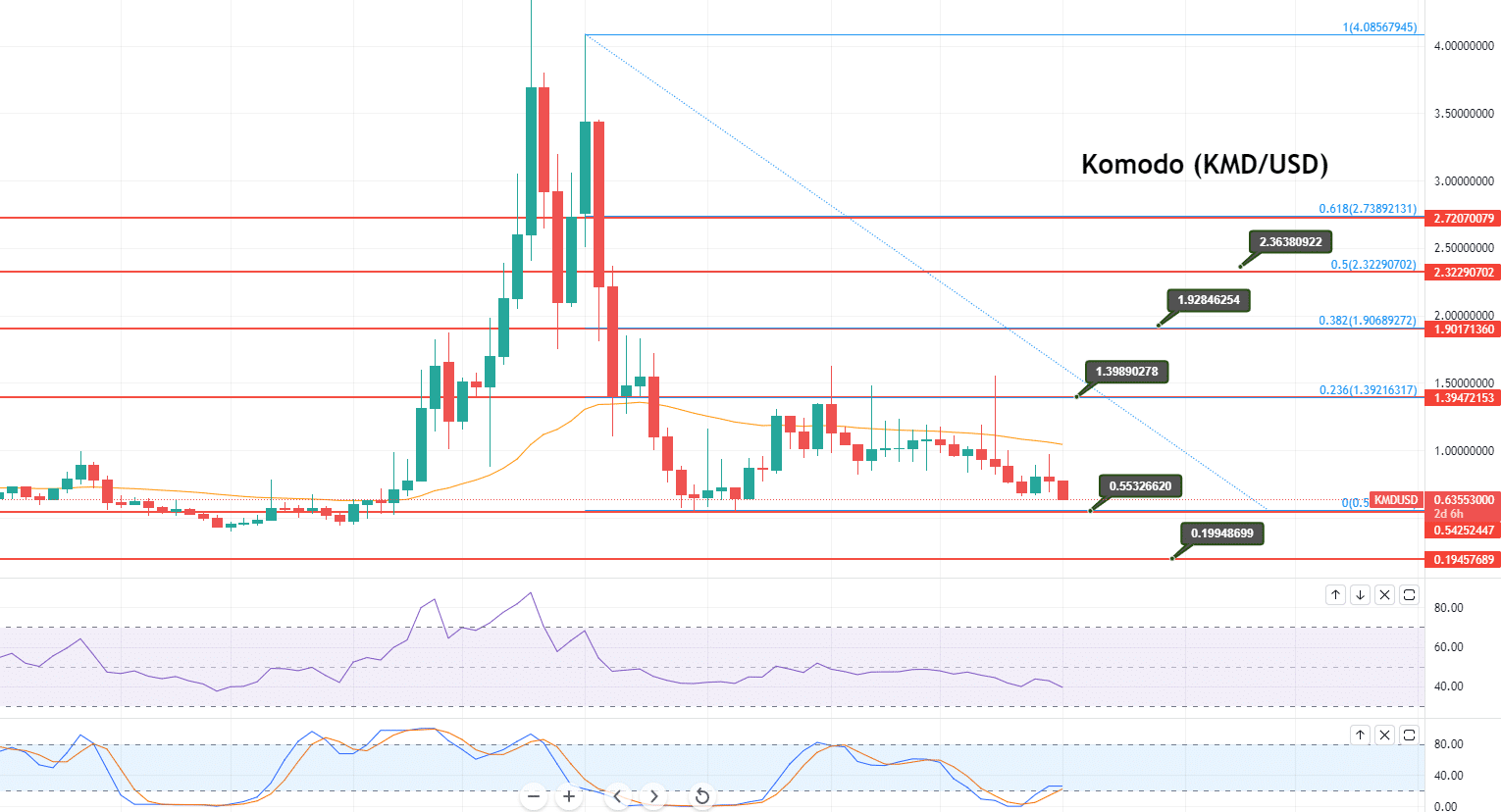 Technical indicators such as RSI and Stochastic RSI support a selling trend. The breakout of 0.5679 could expose the KMD price towards the $0.2091 level. As a result, the PPT price prediction appears to be bearish, and rising selling pressure is likely to push the KMD price down to 0.5679 or 0.2090.
How to buy a Komodo coin?
If you're wondering where to buy Komodo right now, the leading crypto exchanges for buying Komodo are Binance, Huobi Global, KuCoin, HitBTC, and Pionex.
If you are a beginner, take the following steps:
Open an account with a crypto exchange. Regardless of the options stated above, the first step is to sign up for Binance or any exchange that trades Komodo tokens.
Purchase Bitcoin to exchange it for Komodo coins.
Use the exchange to convert BTC into KMD.