Stratis is a blockchain-as-a-service platform that provides various products and services to businesses. It includes the ability to establish private sidechains, run full nodes, develop and deploy smart contracts, initial coin offering exchanges, and a proof-of-identity application. In addition, the company offers BTC wallets and blockchain consulting assistance.
This update will provide a quick overview of the Stratis coin, its technical perspective, and prospects. So strap in for a brief review.
What is the Stratis coin? STRAT explained
It is a Blockchain-as-a-Service (BaaS) platform designed to let financial institutions take the edge of blockchain technology. Stratis encourages businesses to build custom blockchain applications with the functionality they need, simplifying the development process and shortening their time to complete blockchain projects.
Stratis operates its blockchain-powered by a native token, STRAX, which is used to purchase and operate services such as smart contract execution, payment for sidechains, and staking as collateral to operate a Masternode — a node on the network that provides a specific needed service.
Thanks to the revolutionary elements of the Blockchain system, companies can employ Stratis to accomplish growth in their endeavors or deliver a perfect service to their users. Stratis wants to make development easier for businesses by allowing them to create apps using blockchain infrastructure that is tailored to their needs. STRAT also develops projects that help to expand the reach of blockchain technology.
Stratis: is it a good investment?
This coin doesn't seem to be an excellent investment considering the fundamental and technical outlook. Why? Well, it competes fiercely with other comparable crypto projects, does not stand out with its technology and originality, lacks a genuine community (excluding speculators and the hype-chasing mob), and the team behind the project is unproven.
This could be because the project's technology and originality do not stand out, it lacks a genuine community, and the team behind it is unproven.
Please keep in mind that all investments involve some level of risk. In other words, the value of Stratis may rise as a result of the scarcity that tends to drive price hikes.
What will the Stratis coin be worth in 2022?
With a live market cap of $179,893,470, the current CoinMarketCap ranking is №314. The circulating supply is 131,885,289 STRAX coins, and the maximum amount is unknown. Stratis doesn't seem to be an excellent long-term investment, looking at the technical side. The coin has lost over 95% since Jan 2018, having plunged from $24.25 (an all-time high) to $1.44.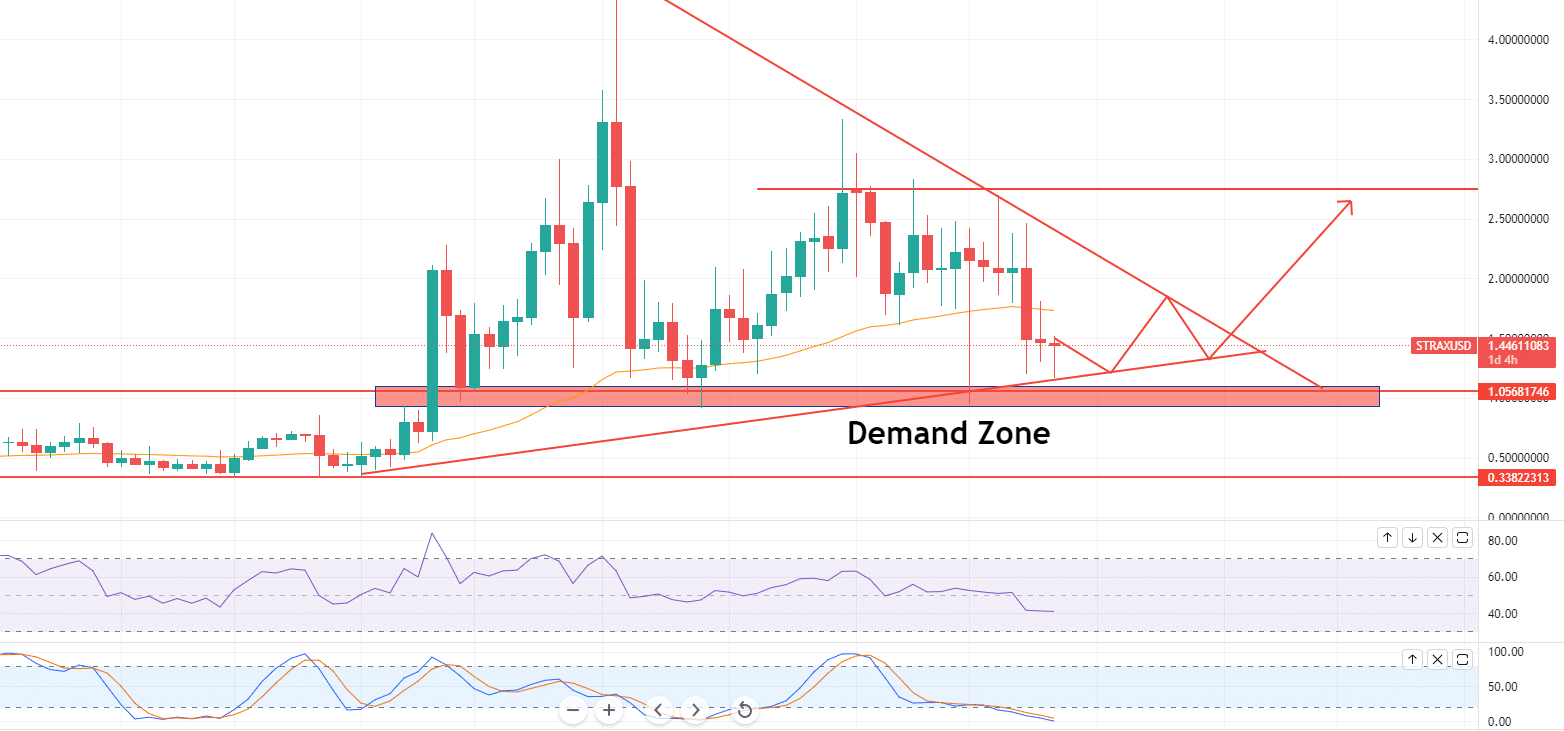 The year 2022, however, appears to be slightly better. Based on the chart above, we can see that the price may rise above $2 in some months, with occasional corrections. However, a 2x boost in return is possible for STRAX short-term investors.
Stratis price prediction for 2022
Stratis is trading sharply bearish at $1.4480. On the weekly time frame, the STRAT has retested the double bottom support patten at $1.1650. However, the coin failed to slice through the support zone. Therefore, the Stratis price prediction looks pretty bearish.
STRAT has formed a Doji candle followed by a solid bearish candle, which indicates a weakness in selling pressure and the odds of a bullish reversal. In addition, a spike in buying pressure above $1.1650 could initiate an uptrend in STRAT.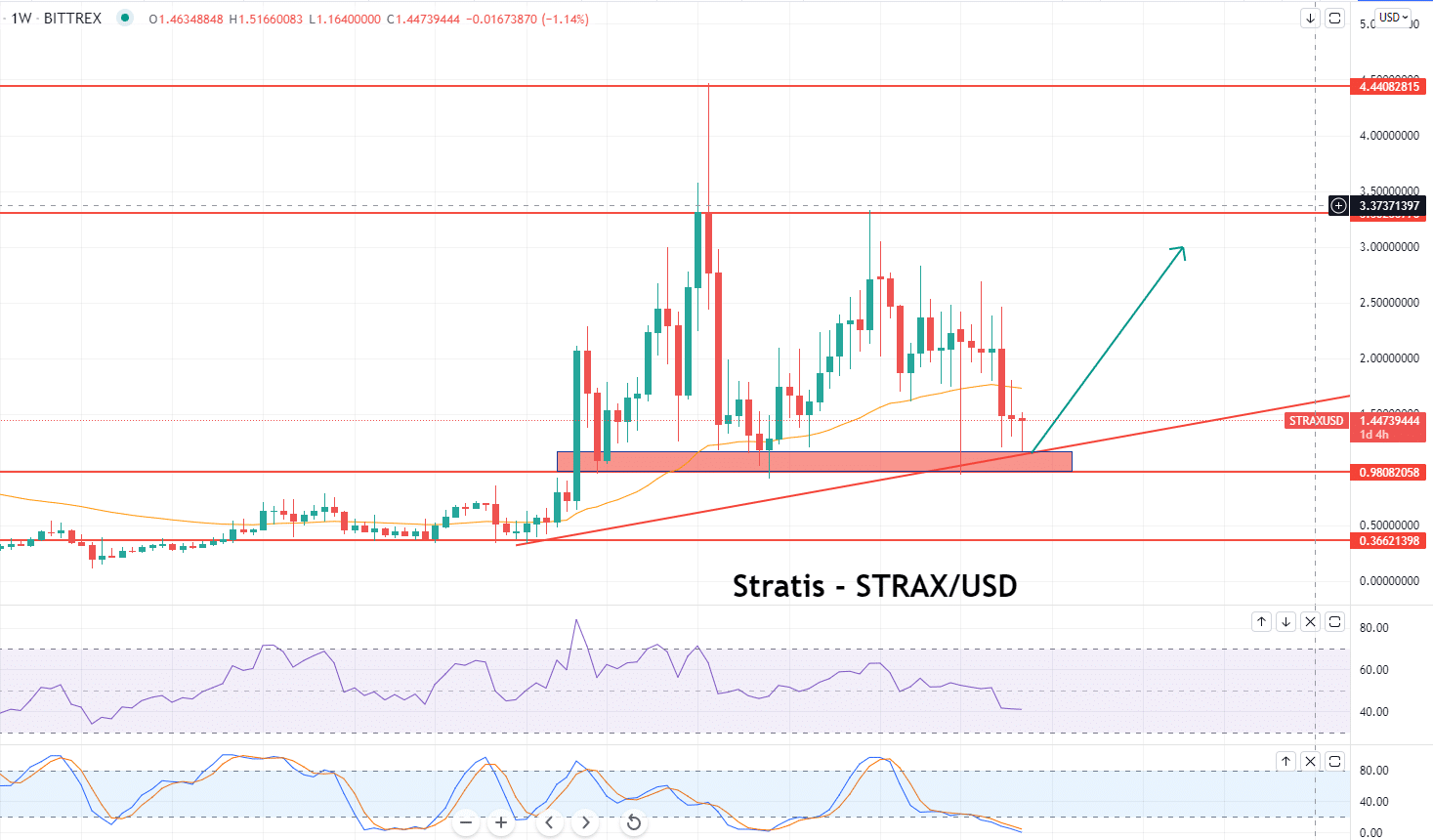 On the bullish side, the coin could surge to $2.50 or $2.75 through 2022. Whereas an upward breakout of $2.75 exposes the coin towards $3.30. Alternatively, a break below 1.1650 can trigger a downtrend until $0.6465 or $0.3660.
How to buy a Stratis coin?
If you're wondering where to buy Stratis, the top cryptocurrency exchanges for trading Stratis stock right now are Binance, Upbit, Gate.io, Uniswap (V3), and DigiFinex.
If you are a newbie, follow these steps:
Open an account with a crypto exchange. Regardless of the options stated above, the first step is to join up for Binance or any exchange that trades Stratis tokens.
Purchase BTC to exchange it for Stratis coins.
Use the exchange to convert BTC into Stratis.