If you are an enthusiast about the future of technology, you might know that people are entering a world where social interaction online will be changed. Metaverse is the virtual 3D world where people interact with their virtual avatar. On the other hand, cryptocurrency is the future of the monetary system where decentralized technology provides a backup with solid ground.
One of the best ways to invest in the financial market is to find sectors with strong potentiality in terms of technical and fundamental analysis. As the Metaverse has solid fundamental ground, investing in such crypto projects is more likely to provide a decent profit in the future. The following section will discuss top crypto projects that you should include in your watchlist now.
Top Metaverse crypto projects to invest in 2022
Let's see the list of top crypto projects before going one by one:
Decentraland (MANA)

The Sandbox (SAND)

Axie Infinity (AXS)

Theta Network (THETA)

Chromia (CHR)

Vulcan Forged (PYR)

SushiSwap (SUSHI)

Ontology (ONT)

WAX (WAXP)

 Enjin Coin (ENJIN)
Decentraland (MANA)
Market cap: $6,093,810,415
Circulating supply: 1,832,141,398 MANA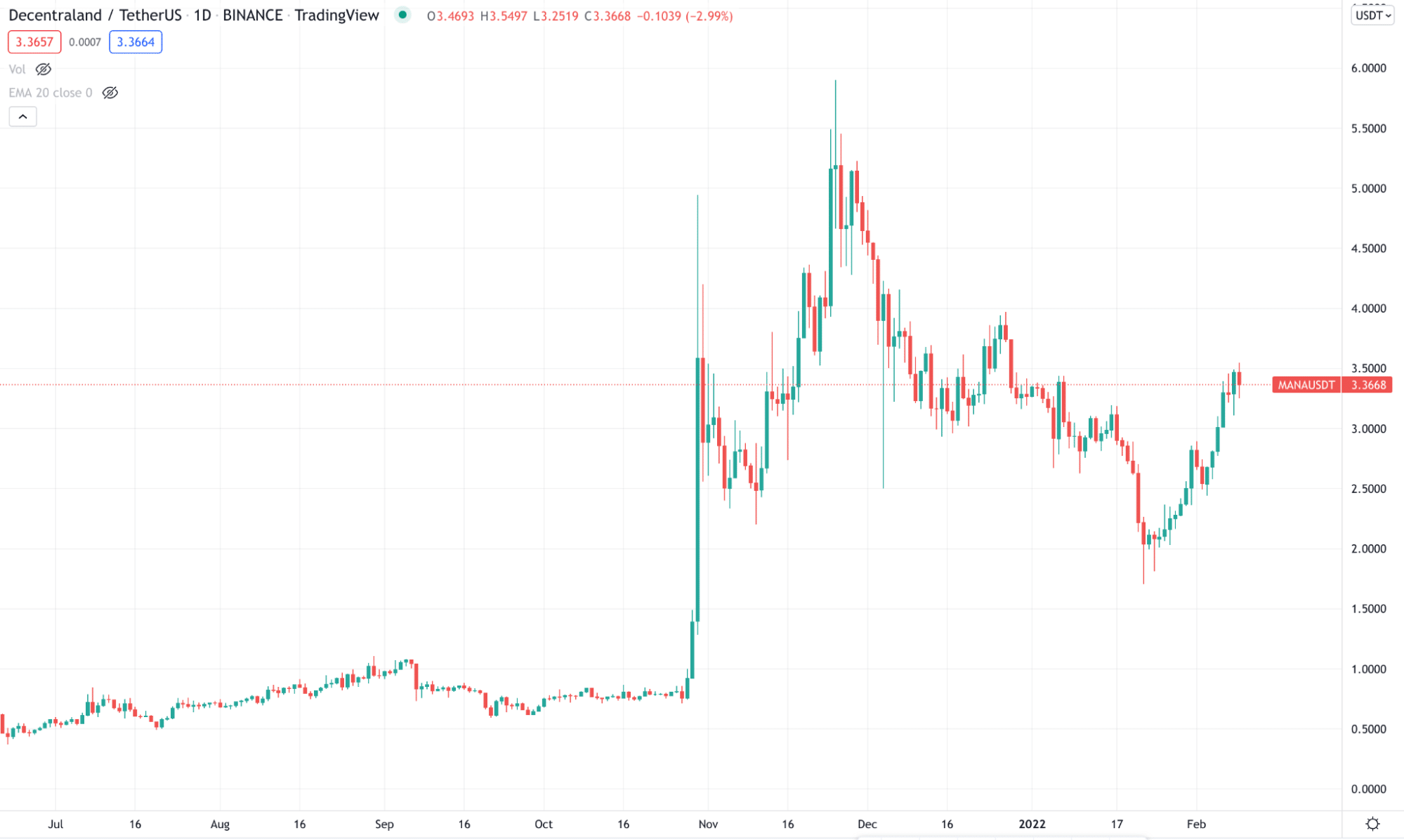 What is Decentraland (MANA)?
MANA offers a virtual reality platform strongly connected with Metaverse. This platform uses the Ethereum blockchain to create, operate and monetize its contents and apps. 
It launched in 2017 with a $24 million initial coin offering (ICO) that became open to the public in 2019. Users have to consider MANA as the native token of this platform to buy, sell or interact with other people.
How does Decentraland (MANA) work?
​​Decentraland (MANA) is a virtual reality platform using the Ethereum blockchain where the main aim of users is to purchase plots and lands where they can navigate and build their assets.
This platform is perfect for content creators, businesses, and individuals as a source of artistic medium, business opportunity, and entertainment. There are almost 90,601 individual parcels of land, represented by the ERC-721 token with 16m x 16m dimension.
The Sandbox (SAND)
Market cap: $4,792,703,299
Circulating supply: 1.04B SAND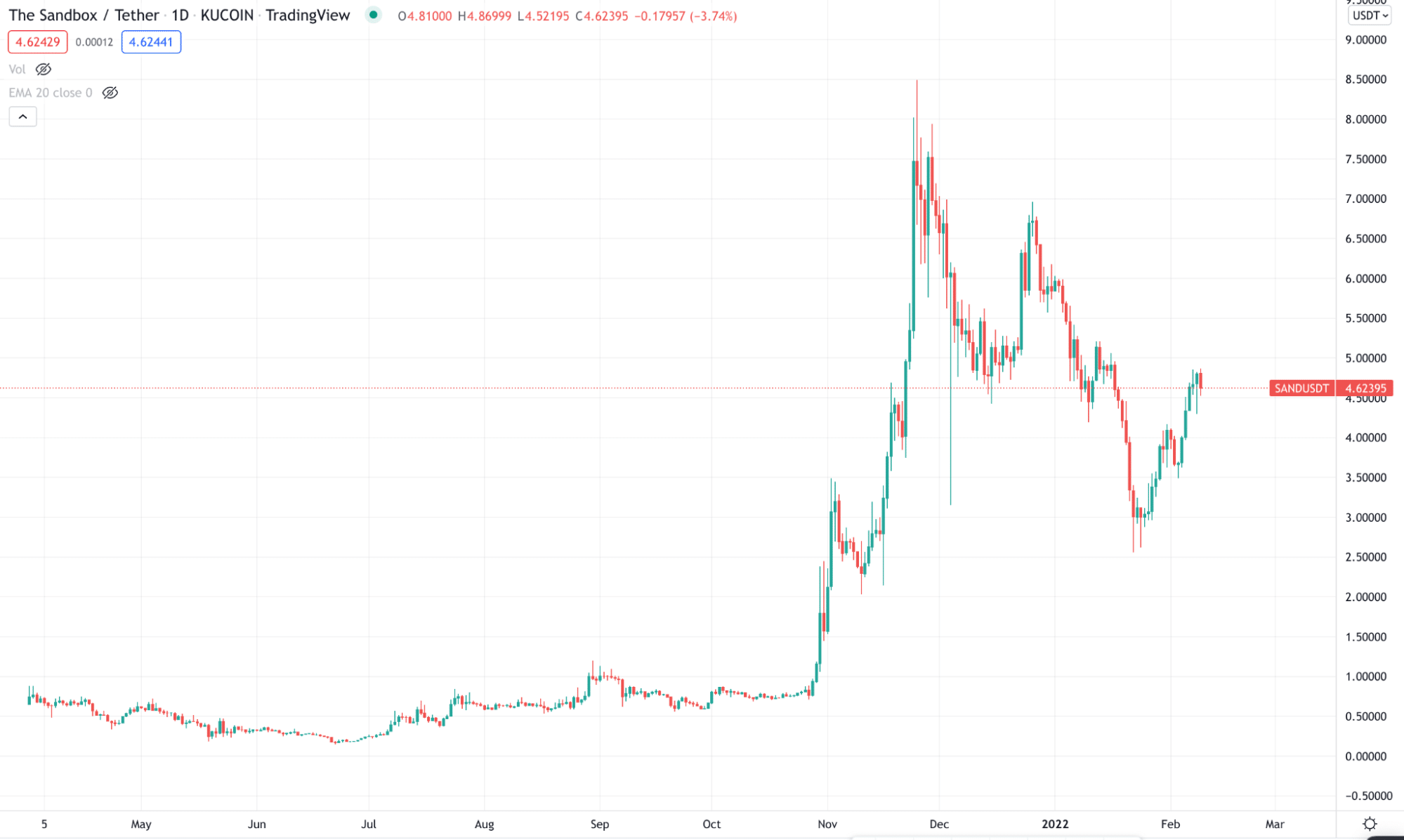 What is The Sandbox (SAND)?
SAND offers a blockchain-based virtual world where users can buy/sell, mint or exchange their digital assets. This platform uses the combination of the decentralized autonomous organization (DAO) and non-fungible tokens as their main weapon to build a thriving gaming community. 
How does the Sandbox (SAND) work?
According to the Sandbox whitepaper, the main mission of the platform is to introduce the gaming industry to the blockchain world. As a result, they focus on facilitating an earning opportunity while playing. Therefore, both gamers and game creators will benefit from the platform simultaneously. Users have to use the SAND is a native token of the platform that will be used to make any transaction through the platform.
Axie Infinity (AXS)
Market cap: $3,909,383,341
Circulating supply: 60,907,500.00 AXS
What is Axie Infinity (AXS)?
Axie Infinity offers a trade and battle gaming opportunity owned and operated by the users of this platform. This gaming platform was inspired by a popular game like Tamagotchi and Pokemon, where gamers can play, breed and battle token-based creatures, Axies.
How does Axie Infinity (AXS) work?
Users can take Axies in various forms. More than 500 body parts are available, including birds, bugs, plants, and many more. These are categorized into different categories: rare, legendary, and ultra-rare. People can combine those body parts and make them variable and rare.
Moreover, Axie Infinity has its mating hub where players can find matches to breed their Axies to produce rare offspring. AXS token-holders will be able to stake their tokens to earn rewards besides voting power in the system.
SushiSwap (SUSHI)
Market cap: $588,495,361
Circulating supply: 127,244,443 SUSHI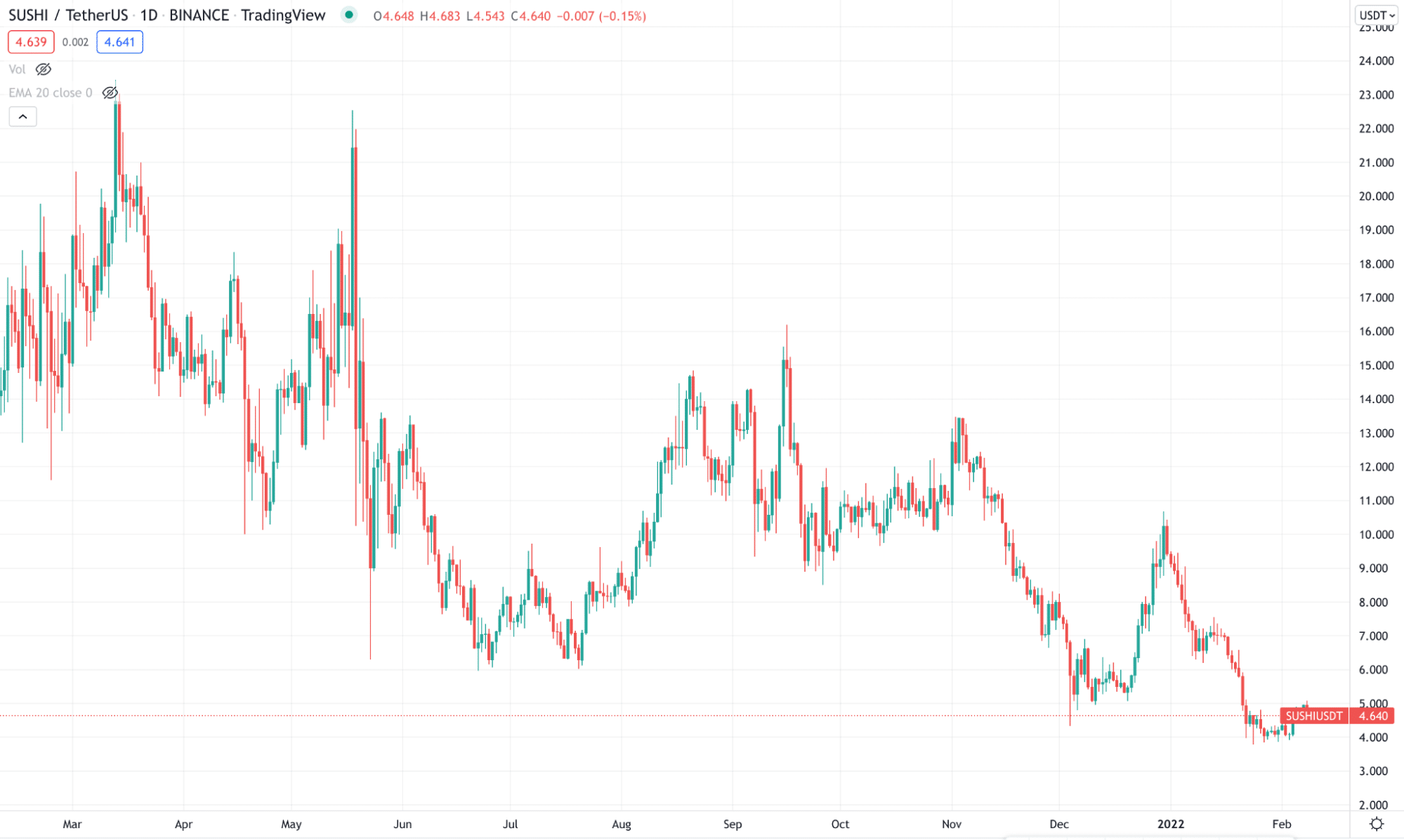 What is SushiSwap (SUSHI)?
It is a perfect example of an automated market maker model that has become famous among crypto investors and users. It is a decentralized exchange using the smart contract where people can create markets using any crypto token.
This platform was a fork of the UniSwap that became famous due to the massive explosion of the decentralized finance (DeFi) sectors with associated DeFi tokens.
How does the SushiSwap (SUSHI) work?
The primary aim of the SushiSwap platform is to diversify the AMM market and add features that were not previously available on the UniSwap platform.
DeFi traders and associated entities are the primary users of this platform. It eliminates creating the order book entirely to avoid problems like liquidity issues available on the decentralized exchange.
Enjin Coin (ENJIN)
Market сap: $1,769,502,386
Circulating supply: 854,696,206 ENJ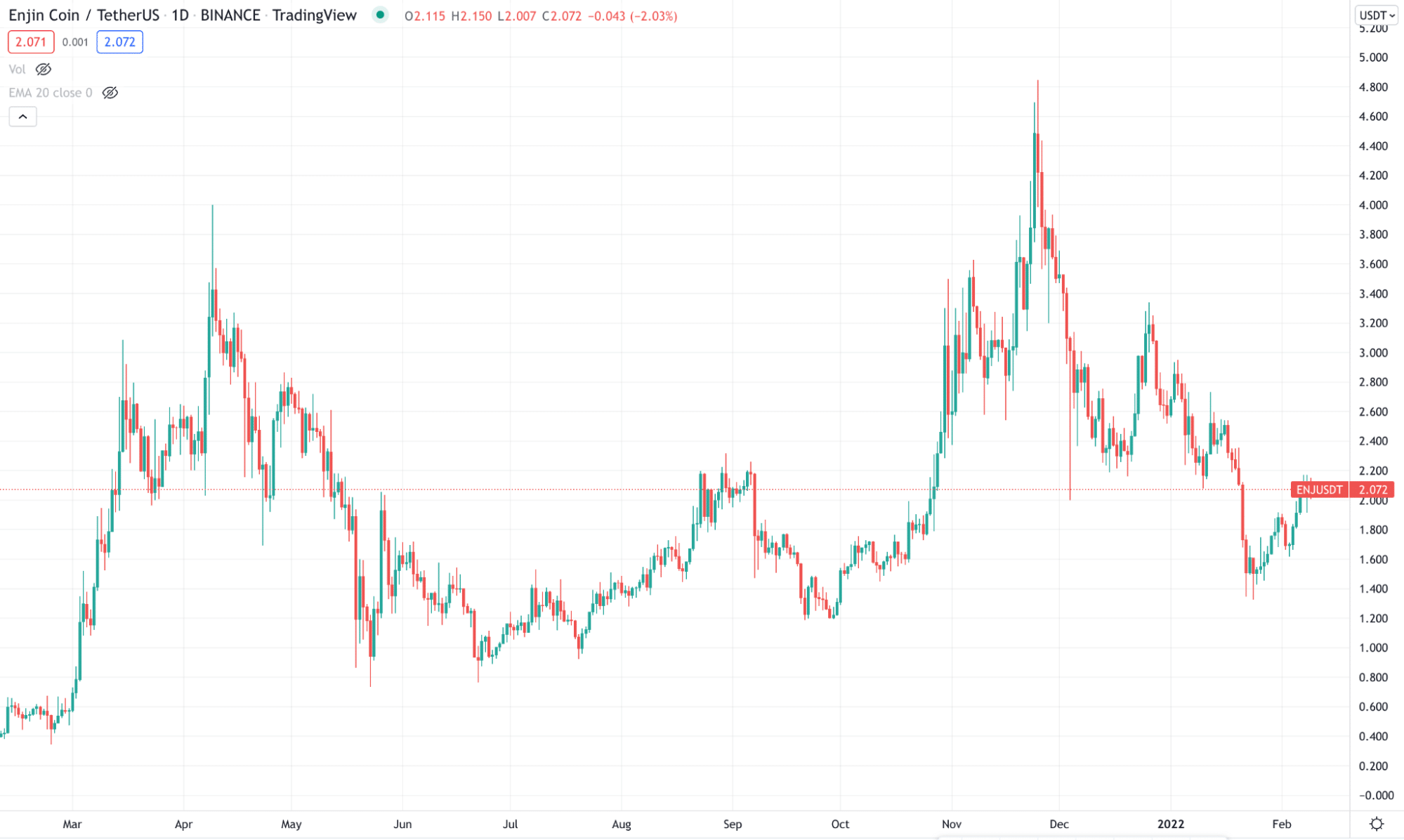 What is Enjin Coin (ENJIN)?
This coin provides by a company that provides an interconnected ecosystem in the blockchain-based gaming sector. The flagship offering of the platform is Enjin Network, a social gaming program where people can create websites and clans to store their virtual things. It was announced to develop in July 2018 and finally implemented through the Ethereum main net in 2018.
How does the Enjin Coin (ENJIN) work?
The primary aim of the Enjin platform is to provide tokenized in-game items that are available to buy, sell and exchange through the Ethereum blockchain. The native token of the platform is ENJIN, an ERC-20 token, and users have to use this instrument in their trading activities through the network.
Pros & cons
| | |
| --- | --- |
| Pros | Cons |
| The attractive feature of Metaverse is that it allows people to enjoy virtual life with their friends and families. | Technology has become a source of entertainment where no physical activities are involved. |
| Metaverse is the advanced version of the current social media platform that has become famous where investment opportunity is very potent. | Investors should have a piece of explicit knowledge about technical analysis before buying any Metaverse coin. |
| It is easy to collaborate Metaverse with NFTs and cryptocurrencies. | Metaverse coins are sources of diversifying the portfolio. However, it is not the ultimate solution for your financial problem. |
Final thoughts
The above section explains top Metaverse crypto projects to buy now. If you are interested in building an investment portfolio with cryptocurrencies, you can include these coins in your portfolio. Make sure to measure the risk management per coin before jumping with the money. The crypto market is very volatile, where special attention to trade management is mandatory.