Solana offers an ecosystem using the proof of history and proof of state consensus where the programmable blockchain feature is the key component. Therefore, DApps developers consider this ecosystem a reliable and cost-efficient way that allows more than 300 Solana projects to exist. 
Scalability and safety are core features of the Solana system, where it can run up to 50,000 transactions per second that is scalable to 710,000 tps. Moreover, the Solana ecosystem has a lower cost of $0.00025 per transaction, which is worth considering as a potential investment opportunity.
The decentralized finance space has been expanding its position since 2020, where the Solana ecosystem is one of the major platforms to support the DApp space. If you are keen to benefit from this lucrative opportunity, the following section is for you. Here we will discuss the top Solana (SOL) projects that may grow any time in 2022.
Top Solana crypto projects to invest in 2022
There have been more than 300 Solana projects till now, and it is not easy to find the most suitable one. Why not read our picks to make your path to success shorter.
Serum (SRM)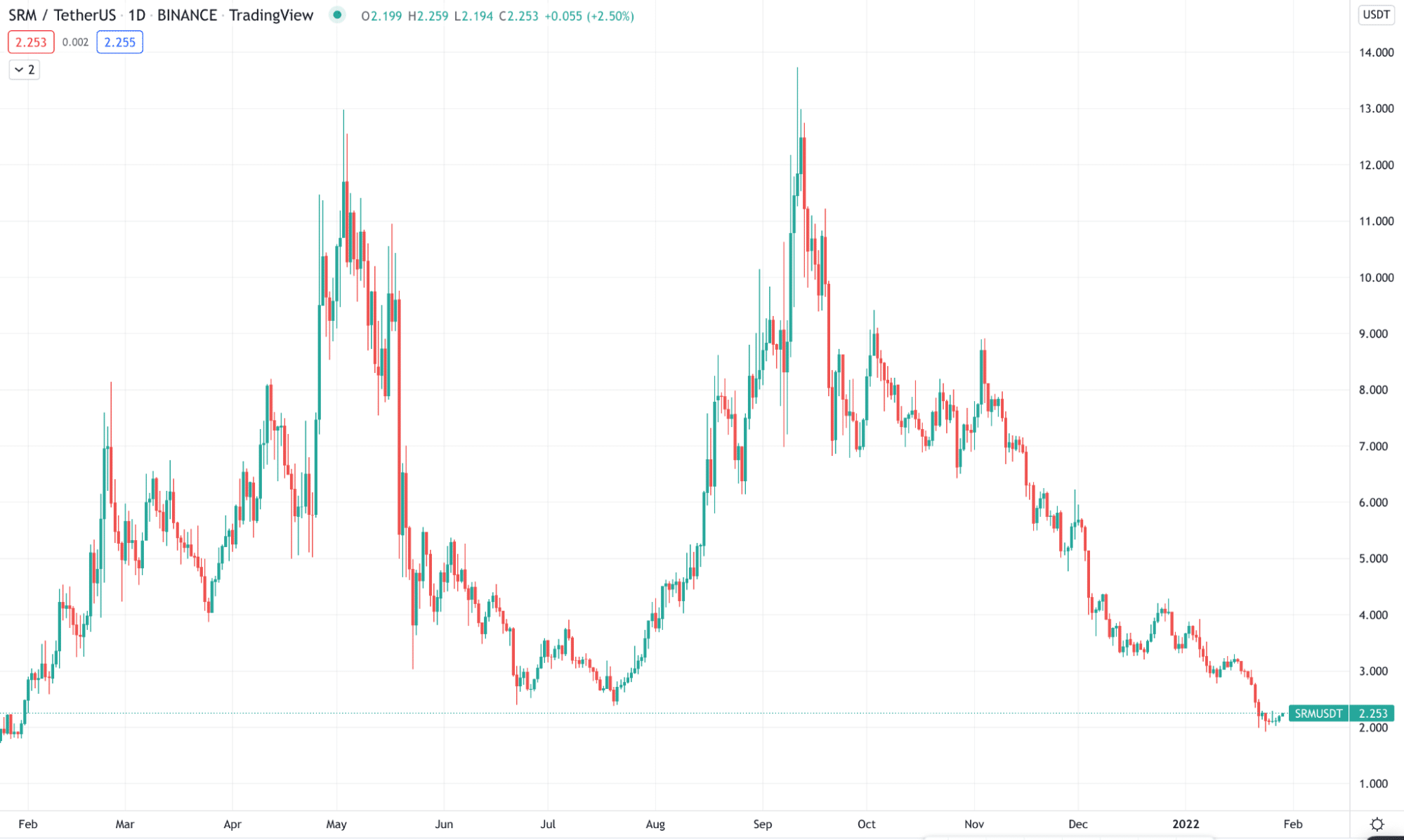 In the SRM/USDT price, we can see that the price surged two times in 2021, where the previous high was broken at the second half of the year. It is a sign of a huge buyer's interest where the current correction at the bottom indicates a discounted price for bulls.
What is Serum (SRM)?
Serum offers a decentralized noncustodial exchange with a lower fee and higher speed. Alameda Research and its partners created this exchange to run an on-chain limit order book. Besides, this platform can offer cross-chain asset swaps with trading opportunities on stable coins.
How does Serum work?
The Serum project aims to provide a trustless, decentralized exchange where SRM token holders handle the governance.
It can solve the following issues of the decentralized network:
Higher transaction cost

Slow transaction speed

Centralization

Liquidity segmentation
By investing in SRM, you can take part in the following sections:
Protocol fees payment

Voting rights to grant

Award discount
Mango (MNGO)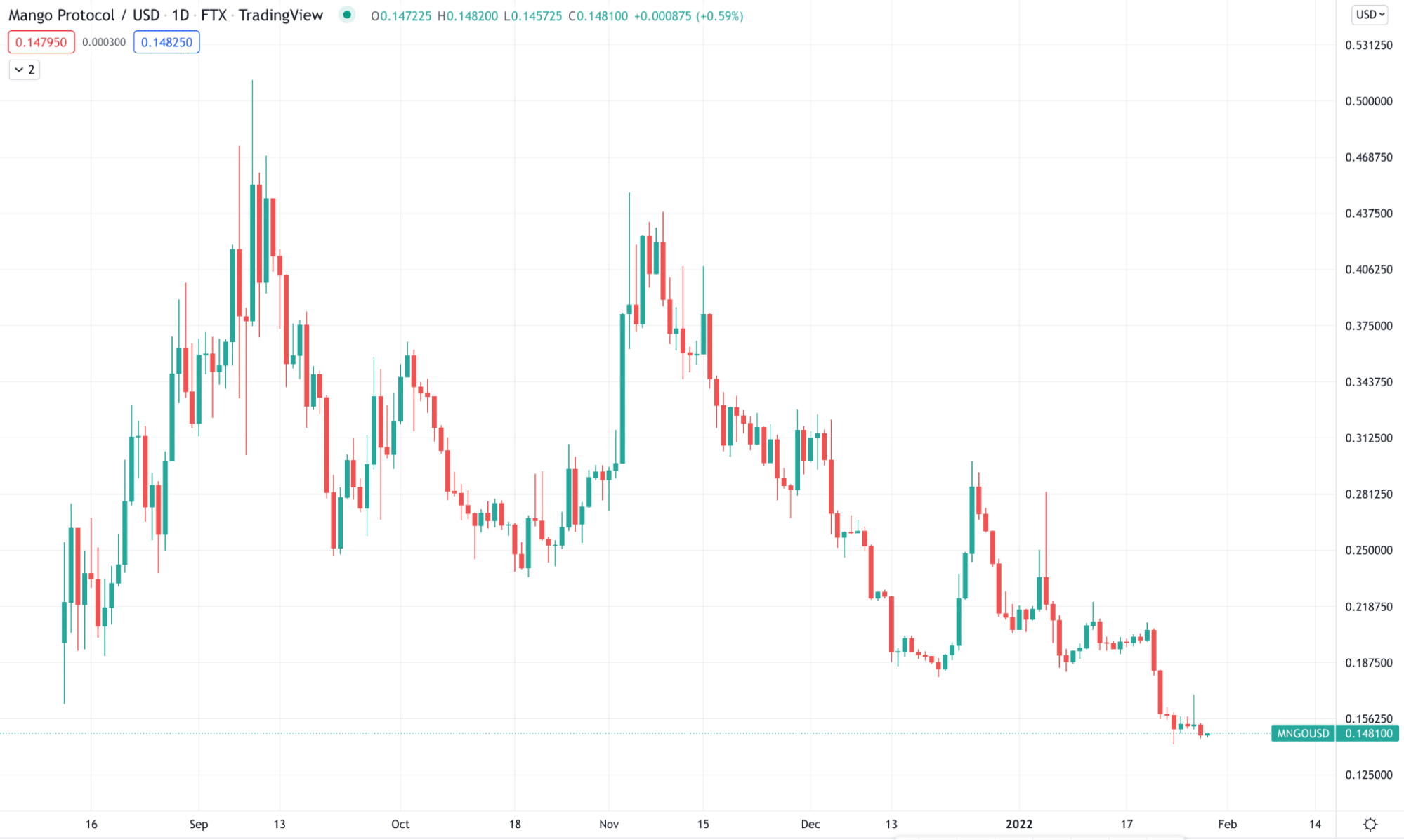 MNGO showed an amazing profit since its launch to most of the platforms but failed to breach the initial bullish pressure. The price started 2022 with a discount that might be a lucrative opportunity for the bull.
What is Mango?
Mango offers a platform for DeFi derivatives that runs through the Solana network. It operates through the Serum's full on-chain perpetual order book with a cross-collateralization and open leverage facilities. In this blockchain, investors can lend, buy, sell and trade with lower trading fees.
How does Mango work?
The Mango project aims to increase the usability and liquidity of centralized networks and pair them with permissionless DeFi features. Mango traders can earn interest on their deposits and activities. The governance token of this project is MNGO which allows people to vote for the governance structure changes.
Orca (ORCA)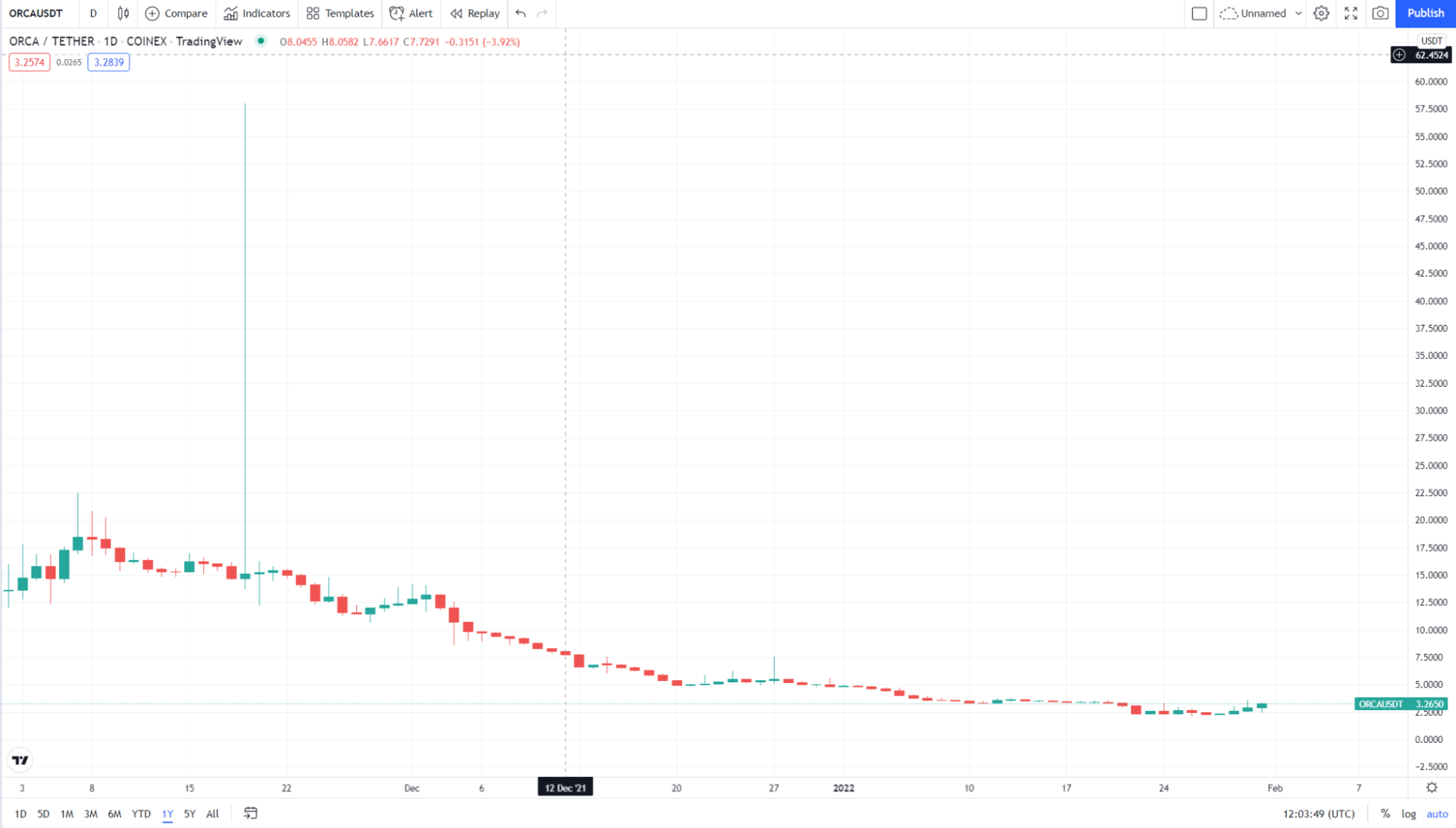 ORCA showed corrective pressure since its first launch for trading, but its corrective momentum shows no strong buyers activity. Therefore, in 2022, investing in this token would allow you to remain at the top of the gainers.
What is Orca?
ORCA offers a decentralized exchange on an automated market maker model with its liquidity pool. As a result, traders can exchange cryptos using the ORCA token, while project supporters can create their liquidity pool.
How does Orca work?
Orca took the inherent benefit of the Solana network by utilizing it completely. In this exchange, the first trade will happen within one second, where the gas fees are at around $0.00002. Moreover, it provides 0.3% of the trading fee to the LP.
4. Star Atlas (ATLAS)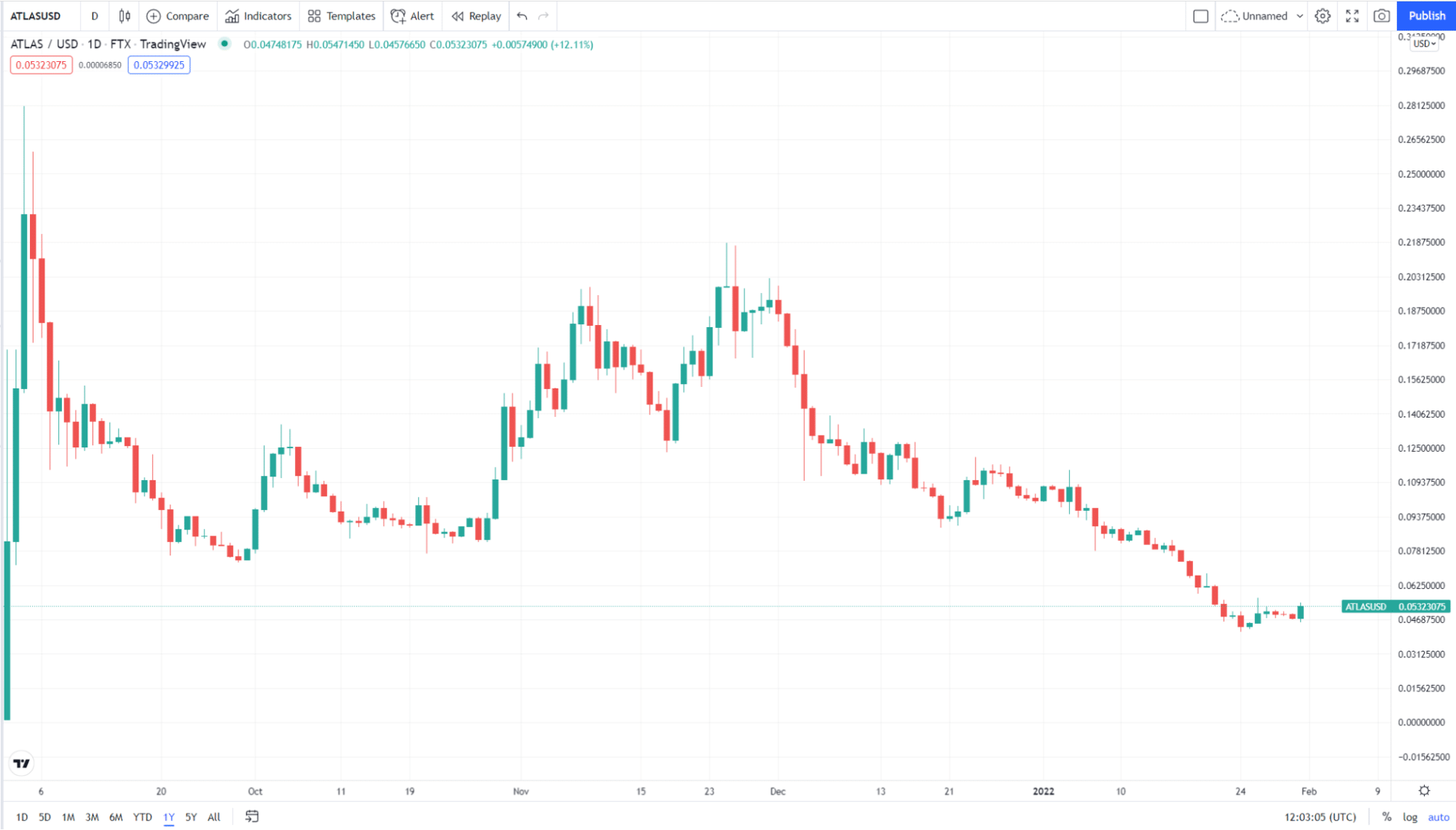 ATLAS price provided a 180% profit since its launch and moved to the negative territory. Now the price is below the launching level where a strong reason is needed to buy. 
What is Atlas?
Star Atlas is a blockchain-based multiplayer game that builds the Solana ecosystem. This project aims to build a Metaverse where people can enjoy the freedom of an open economy besides earning ATLAS tokens.
How does Star Atlas work?
The Star Atlas provides a universe of opportunities where gamers can grab ATLAS and NFTs as rewards. The unique feature of this multiplayer game is that it is built on a blockchain network that will ensure your achievement that you truly own.
Still, this game is in the early stages and it needs some time to see the surge from the Metaverse of the game.
5. Hubble Protocol (HBB)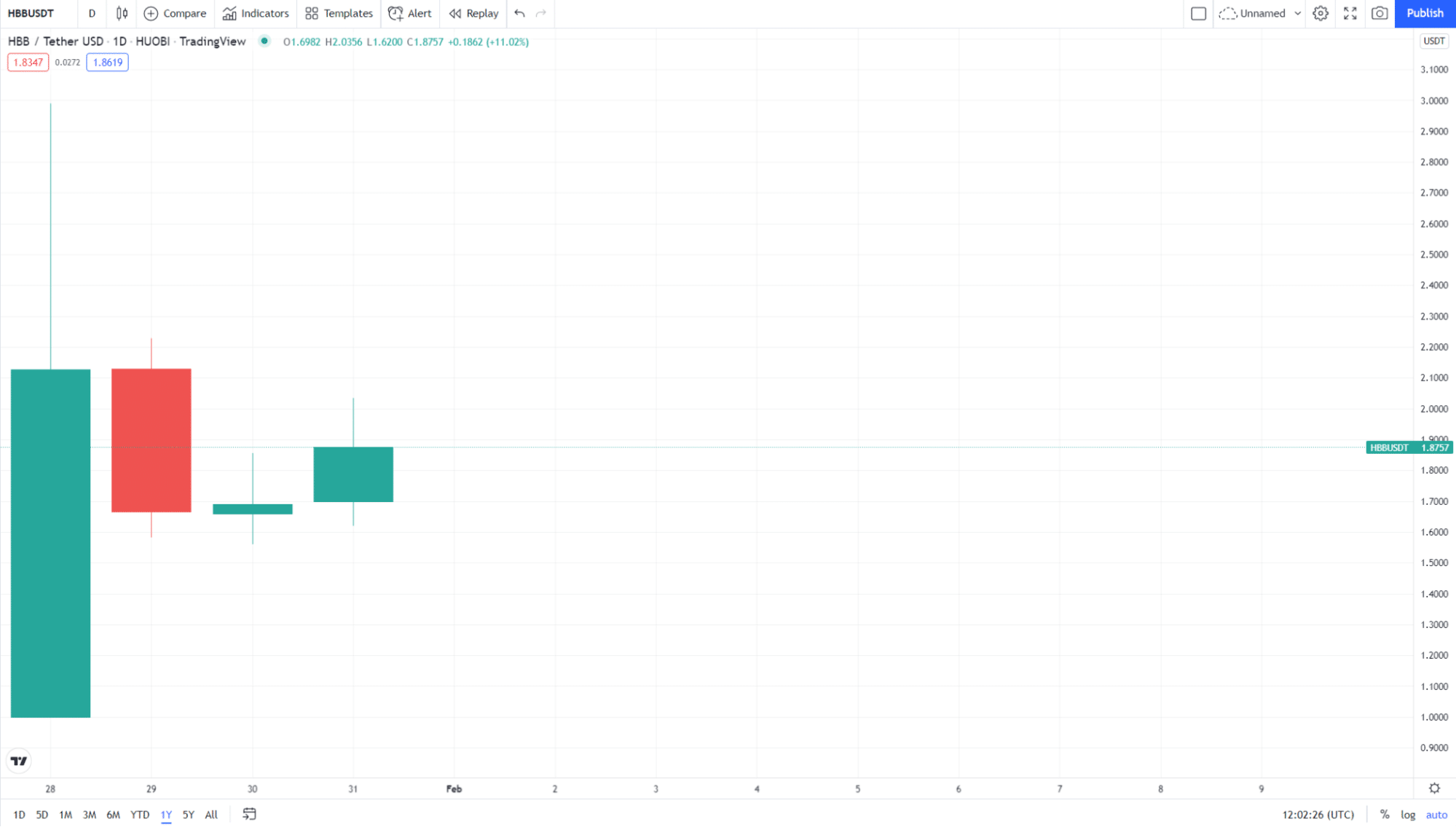 HBB is comparatively new to the other four tokens; that's why enough price history is not available. However, investors should focus on its core business structure before investing.
What is Hubble Protocol?
It is a DeFi project built on the Solana ecosystem. It is currently in phase 1 development where Hubble is a DeFi protocol to mint USDH against a vast number of assets.
How does Hubble Protocol work?
In the Hubble Protocol, you can perform the following activities:
You can borrow USDH with no interest as long as you wish to

Invest multiple coins like

SOL

, ETH, BTC, and others to Mint USDH

Opportunities of earning protocol rewards, and many more.
Pros & cons
| | |
| --- | --- |
| Pros | Cons |
| Transaction speed and fees are user-friendly in the Solana network. | There is no way to mine the SOL. |
| Solana ecosystem offers a high level of scalability that is not available in the Ethereum network. | Solana involves a higher setup cost of $5000. |
| Solana has a strong presence in the DeFi and NFTs sector. | Ethereum 2.0 is a common threat to projects like Solana. |
Final thoughts
Solana ecosystem has become a desirable platform in the decentralized finance sector. However, it is still a small part of the broader crypto market where asset prices remain volatile. Therefore, investing in Solana projects needs a clear knowledge of the risk and uncertainty of the crypto field.