If you are a blockchain lover and interested in next-generation technology, you would know what NFTs are.
The significance of the cryptocurrency market is that it runs through the blockchain system. In the crypto blockchain, people can send cryptocurrencies from their wallets as a peer-to-peer transaction. Therefore, every trading asset in the crypto blockchain is fungible, which means it is transferable to other people.
What will happen if you want to keep a digital asset that has an antique value?
Such assets are available in the physical market only. There is no way to say that you have a digital asset and are an owner. Therefore no one can claim this as an owner, and there is no way to transfer it from one place to another.
The concept of such tokens brought the digital asset purchasing program with loyalties. However, it is a new era of blockchain technology that may provide strength to the crypto market. In the following section, we will see everything a trader should know about the NFTs market.
What are non-fungible tokens?
NFTs or non-fungible tokens are digital assets that are not fungible. Does it make sense? Let's see.
NFTs are unique digital assets under blockchain technology that are not transferable like the traditional cryptocurrency. Unlike cryptocurrency, it is not any specific asset; rather, it can be a piece of art, tweet, or even any event's memorabilia.
They were introduced many years ago but gained mass attention after adopting the blockchain in 2020. According to the recent report from BNP Paribas, the NFTs trading volume in the USA reached $250.85 million in 2022, 300% higher than $62.86 million in 2019.1
Let's have a look at an example of NFTs:
Digital content
Domain names
Gaming items
Physical items
Investments and collateral
Bitcoin is fungible, which means you can exchange 1 Bitcoin with an equivalent US Dollar. Moreover, you can send the BTC to another wallet, and the receiver will receive the same BTC that you will send. Like this, all crypto coins are fungible.
On the other hand, NFTs are not fungible, and their ownership is shown in the public ledger through the Ethereum blockchain so that everyone can see who is the owner of the particular asset.
Let's have a look at the price chart of Theta Token, which is a famous NFT.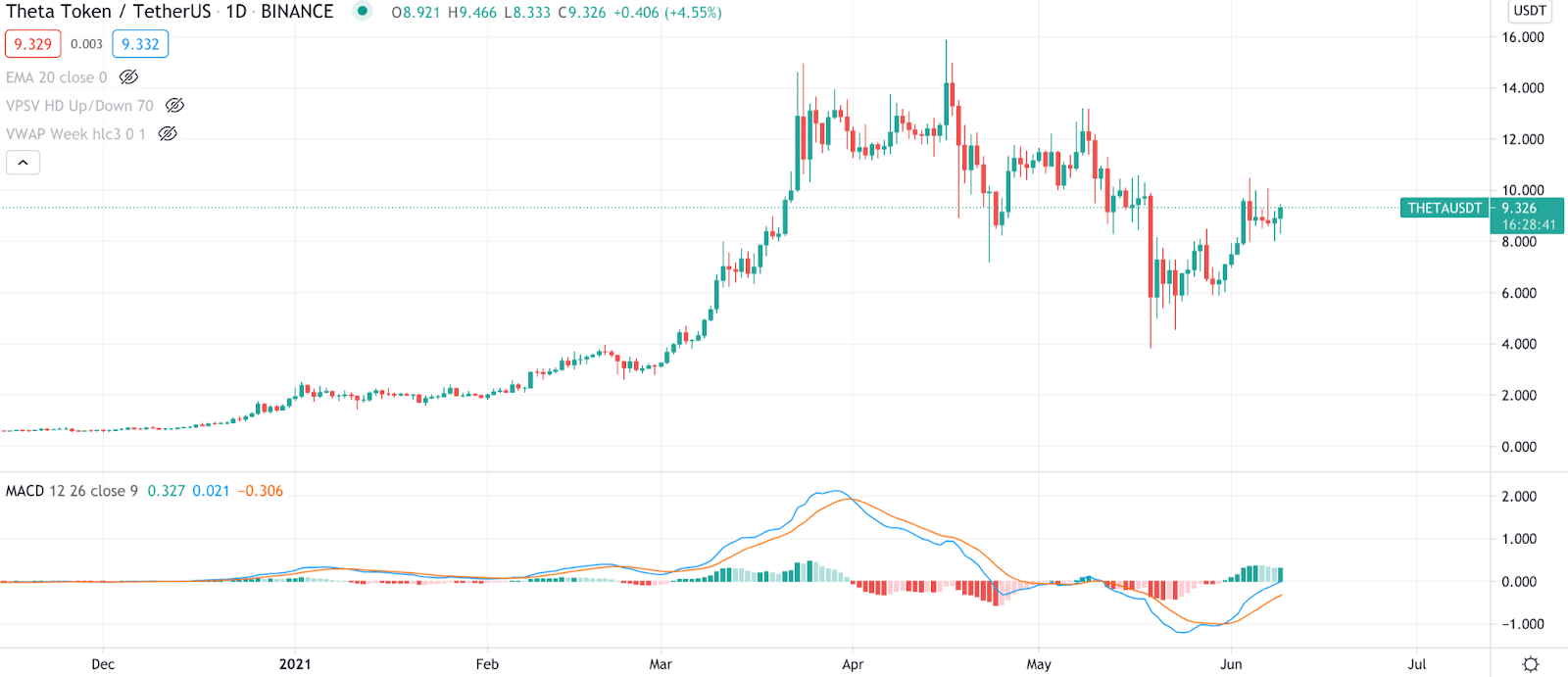 Top uses of NFTs
In the above section, we have seen how NFTs work, but the core question is "Why will people buy NFTs"? Does it have any value or benefit? Let's see.
Maximizing creators earnings
Digital content is the most effective realm of NFTs in the present world; it is often impossible to hold content's ownership.
Usually, when artists try to sell their content, they post ads to different websites that take a massive charge for every sale. Moreover, the content's ownership should transfer to the website that sells.
On the other hand, using the NFTs, a content creator can directly sell his content to another person with a transfer of ownership. In that case, everyone can see the price and the owner's info through the public blockchain ledger.
It is widespread online where another person can copy every content. If you claim it on regulating authority, they will take action, but the regulation does not apply to every country in the world.
If you google, you can easily find the image of the Mona Lisa, but can you claim yourself as the owner of the picture? No. Therefore, any creator who sells their content through NFTs can earn loyalties, a historical movement for digital content sales.
People are eager to have gaming content, character, etc., as they have an antique value. Therefore, you can buy your favorite gaming characters, and everyone can spot you as an owner of the content. Decentraland, a virtual reality game where you can buy and sell your gaming items through NFTs.
How are NFTs connected to cryptocurrencies?
Cryptocurrencies are digital assets that work in a peer-to-peer transfer through a blockchain network. Here every transaction is verified by miners, and there is no intervention of financial institutes.
On the other hand, NFTs are run through the Blockchain network, but no one can transfer them like currencies. Instead, it has an antique value as its information is shown in the public ledger. If you own the first Twitter post, people worldwide can see it as your asset through the blockchain network.
Despite the differences between cryptocurrencies and NFTs, they are closely connected. Let's see why:
Every transaction history and ownership information is publicly available on the Ethereum blockchain. Therefore, it is effortless to identify the owner of an asset.
After finding the owner, it is almost impossible to change any information by manipulating data.
Transfer of ownership is applicable on NFTs market where transactions happen through cryptocurrencies.
All processes occur through the Ethereum blockchain. Therefore, the NFTs value depends on Ethereum.
Can NFT boost the crypto market?
Of course, NFTs can boost the crypto market, and events should boost the crypto market. But why?
Most of the content in the NFTs market has antique value, and buyers may have to pay millions of dollars per content, depending on its value. Most of these transactions happen through cryptocurrencies. Moreover, the NFTs market runs through the Ethereum network, where the native cryptocurrency is Ether.
It is highly possible that people will come and join the NFTs market in the next few days, and they will transfer their money through Ether. As a result, Ether's price will move up besides Bitcoin.
However, people can buy such tokens through other cryptocurrencies, while the mass adoption of NFTs will affect the overall crypto.
Final thoughts
After the above discussion, we can say that the NFTs market has a solid logic to boom in the future. Since its inception, the market has already shown some remarkable gain. On the other hand, blockchain technology works as a powerful tool behind the technology that will provide support and safety regarding ownership.