Wild Side robot comes with both backtesting and live results to verify the application on historical and forward tests. The robot works on USDCAD, EURCAD, EURCHF, EURUSD, USDCHF, EURAUD, AUDUSD, GBPUSD, and CHFJPY on an ECN account with a low ping. Our review will discuss all the important elements of the system and decide whether you should try it or not.
Pricing
The robot is available for $189. Traders can also rent it for 1 and 3 months for $69 and $129 respectively. There is no money-back guarantee.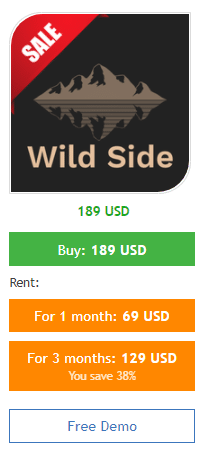 Vendor transparency
Marat Biburin is the author of the product who resides in Russia. He has a total rating of 4.9 for 48 reviews. The developer has two products published on the MQL 5 marketplace and has a total of 66 subscribers for his signals. He has no experience of the markets.
Key features
The Wild Side has the following key features:
It works best with ECN brokers that have low spread
It requires little to no latency and a VPS to function properly
It does not use grid and martingale strategies
It requires a minimum of $50 to trade
It has a dynamic and fixed lot size function
The robot requires a minimum leverage of 1:50 to work properly. It does not need a news filter.
Wild Side trading approach
The robot does not use risky strategies such as grid and martingale as mentioned before. It trades on multiple currency pairs. To get further information on the strategy we used the history on Myfxbook. From there it is obvious that the expert tries to use a scalping approach as the take profit is only a few pips. It has a high stop loss value of nearly 100 pips which can be detrimental. The average trade duration is one hour and 37 minutes.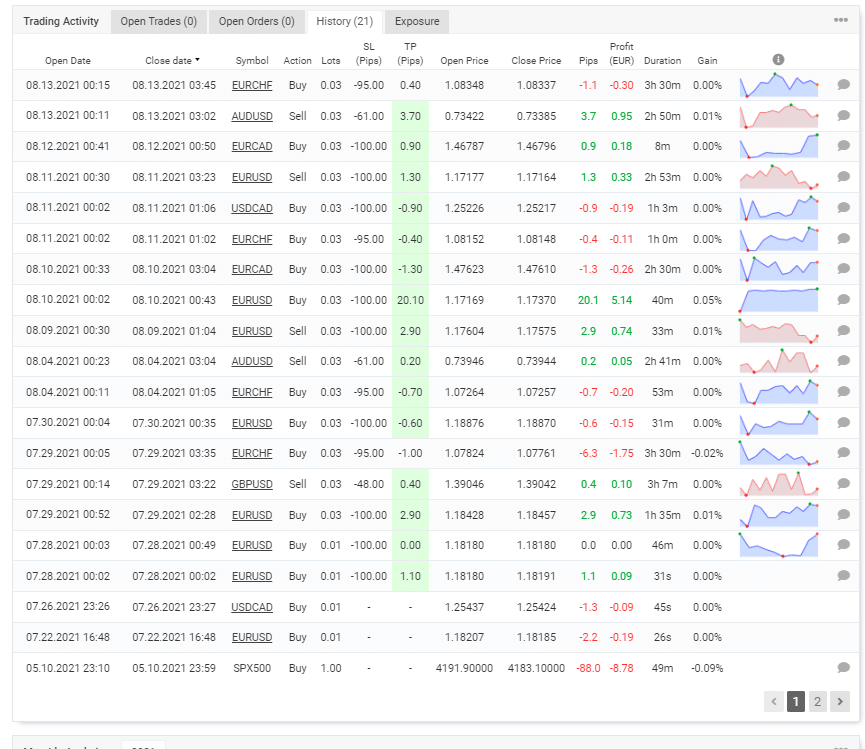 Backtesting results
Backtesting results are available for different currency pairs. For our analysis, we use the one for EURUSD and a 5-minute time frame. It trades from 2003.05.05 till 2021.05.07. For the duration, the robot had a maximum drawdown of 7.55% and turned an initial deposit of $1000 into $9068. It had a winning rate of 79.14% with a profit factor of 2.02. The average profitable trades were $4.56, while the losing deals were -$8.59. There were a total of 4985 trades. executed. There is no detailed statement, and the results are only available through images which is a poor approach.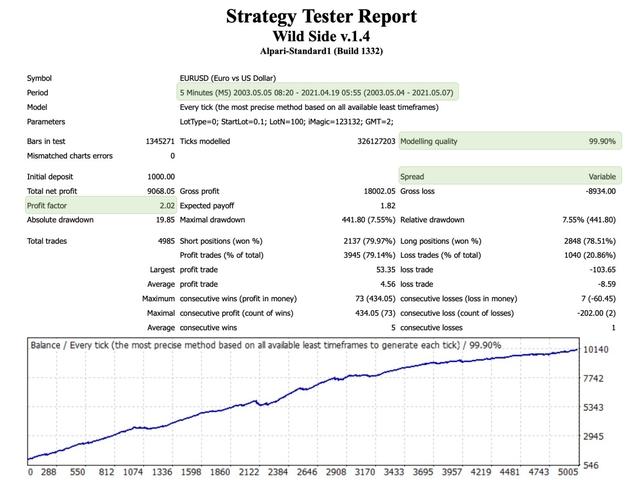 Wild Side live trading results
Live trading results are available on Myfxbook, which show performance from April 17, 2021, till the current date. The robot has had an average monthly gain of 0.01%, with a drawdown of 0.10%. There were 20 trades in total, with 1.49 lots traded. It traded with a winning rate of 50% with a profit factor of 0.69. The best trade was 5.14 Euros, while the worst one was -8.78 Euros. It is important to know that the results are on a demo account.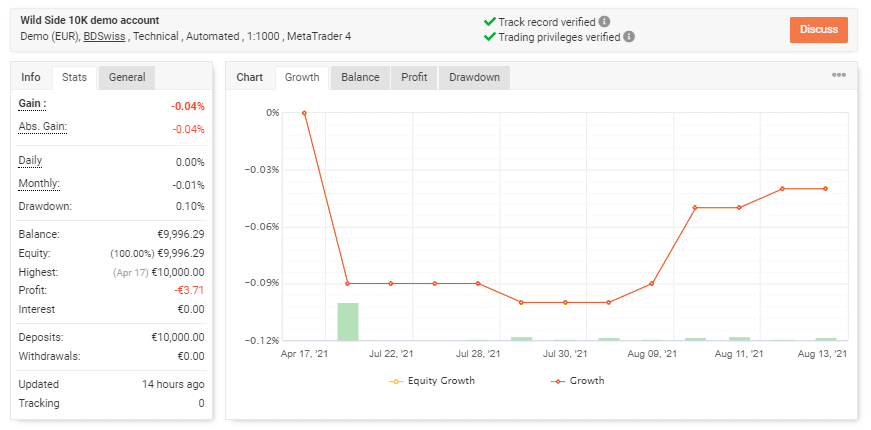 What are the risks with Wild Side?
We can observe the following risks while trading with Wild Side:
Trading records on Myfxbook are on a demo account that does not respect real market conditions
The robot uses a high stop loss and small take profit which results in a poor risk/reward ratio
There are no detailed statements with backtesting results
Worth noting!
Customer support is only available through the MQL 5 marketplace where you can contact the developer directly. He does not share his phone and other contact lines which means that if he leaves the marketplace there is no way to contact him afterward.
What are the pros and cons of investing in Wild Side?
| | |
| --- | --- |
| Pros | Cons |
| Available at the reputable MQL 5 marketplace | The developer does not share the strategy properly |
| | Performance tracking is available on a demo account. |
| | The developer provides little transparency on his trading experience |
Wilde Side Robot Conclusion
Wild Side robot does not have satisfactory results on Myfxbook which shows a meaningless gain. The performance on the live account will be even worse as we take slippages and market liquidity into account.