Cardano (ADA) is a promising investment opportunity based on its potentiality and strength. This blockchain platform is built on a proof-of-stake consensus protocol where miners can verify transactions without significant energy costs. As per many analysts, Cardano can surge to $7 or even $10 after 2021.
Cryptocurrencies are potential investments that can provide a decent return within a short time. However, as an emerging market, there is a risk of losing more money in this field. In addition, if an investor doesn't know the details of any crypto asset, he should not come into this market. Based on our findings, ADA is a promising investment, but investors should have a clear idea before investing in this crypto asset.
Is ADA a reliable investment for 2021? First, let's look at what you should know about this coin before investing in it.
Basics of Cardano
Cardano is a blockchain network built on proof-of-stake consensus protocol. In this process, the transaction validation can be done without any significant energy loss.
Developers use the Haskell programming language in Cardano to enable evidence-based development for unparalleled security and stability. In addition, this platform is faster and more secure than the traditional Bitcoin network, providing reliability to investors.
The native token of this blockchain network is ADA, which came from 19th-century mathematician ADA Lovelace.
Basics of crypto investment
The cryptocurrency market is new compared to the traditional stock market or the FX market. Therefore, investors are scared of this market and think that it might vanish at any time.
On the other hand, the unique feature of blockchain technology provides an opportunity where investors can keep themselves in the first place when it booms. But the question is whether the crypto market will boom after 2021 or not.
When you transfer money in the traditional financial system, it moves from your bank to the sender's bank account. Here banks will verify the transaction, and the money will be in the bank account as well. Therefore, there is no way to make a transfer without the involvement of a bank or other financial institutes.
But, on the other hand, all of your money is in your wallet in decentralized finance, and no one can track it or know how much money you own. This unique feature is enough to say that blockchain technology is the future of the economy.
However, before investing, you should have strong knowledge about price analysis. So let's see why Cardano can surge in 2021.
Cardano forecast for 2021
The best approach for investing is identifying the price direction from the fundamental aspect and finding a reliable entry-point based on technical analysis.
In the following section, we will see both so that you can get the ultimate investment guide.
ADA fundamental analysis
The crucial time for Cardano traders is the arrival of the Guguen Era and the Alonso Hard Fork. This event might work as a significant price changer for ADA in market capitalization, ROI, and rank.
On the other hand, Ethereum is famous by investors as it represents layer one and supports layer 2 scaling solution. At the same time, Cardano has two layers of itself, followed by a long period of academic research. Therefore, ADA is more promising than Ethereum, and the recent price is meager at near $1.00.
Cardano developers tested the Alanzo Blue testament and their technology in mid-June and found it compelling as expected. Despite the development, the price growth remained slow. Therefore, investors may need some important news that can create a boost to the price. They can consider Cardano to pull out of staking pools at any time without any penalty.
Overall, it is an attractive investment where investors have a possibility of getting 20% ROI on average. In 2020, ADA provided a 440% ROI against the US Dollar and 375% against BTC. Therefore, it is an attractive investment opportunity for traders based on the fundamental events and past performance.
ADA technical analysis
As a new and emerging instrument, ADA does not have a long history. However, if we analyze the price from 2020 to mid-2021, we can see that the price squeezes within a symmetrical triangle, indicating a possible sharp movement after a breakout.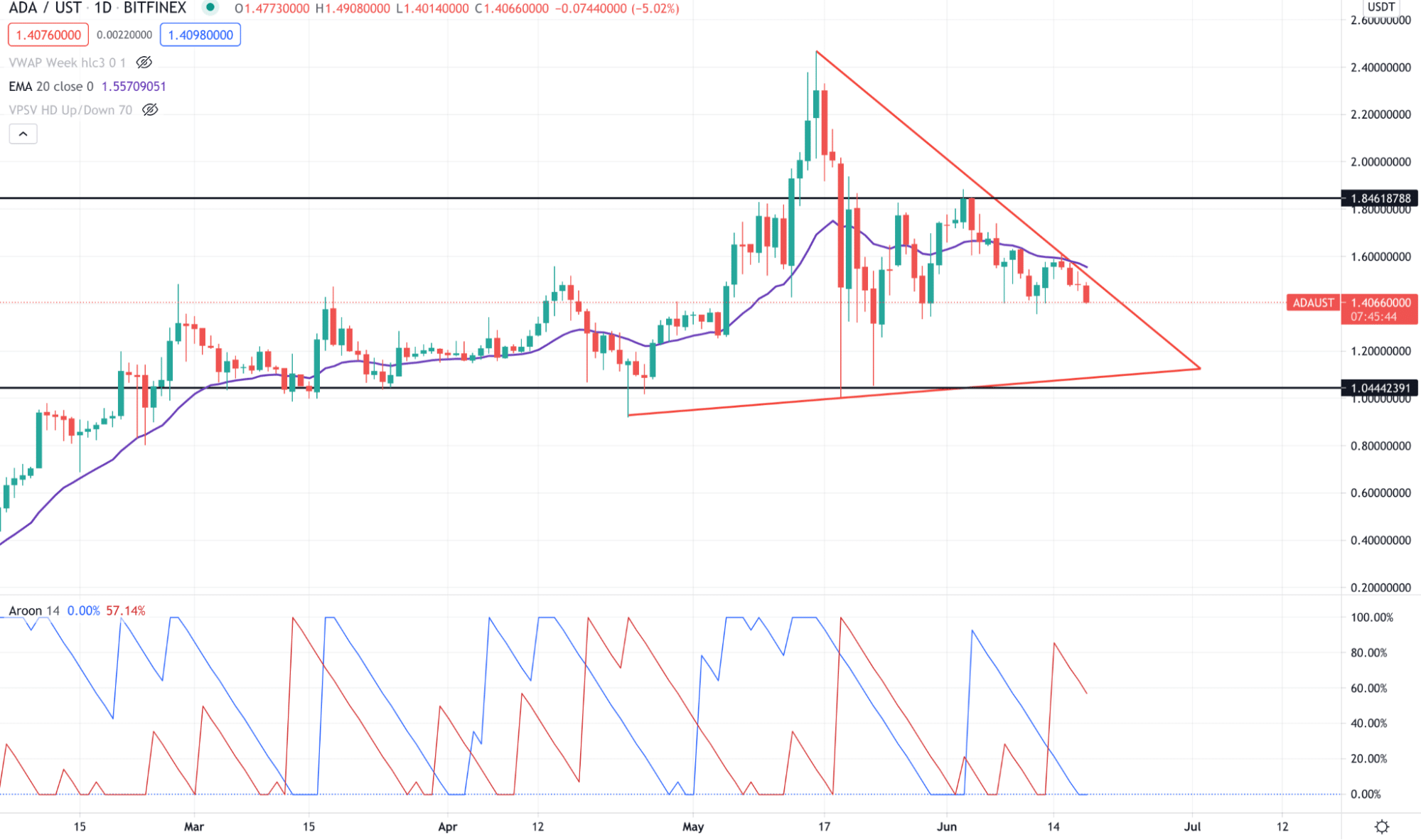 In the above image, we can see the daily chart of ADA/USDT where the price moves within a triangle breakout. Therefore, as long as the price is trading within the range, the primary price target for 2021 would be the 1.04 support level. Moreover, any break of this level would take the price lower towards 0.60 support level.
Besides, Cardano has a solid fundamental background that can catch mass investors' attention. Therefore, any breakout above the 1.86 resistance level would be significant for buyers.
After 2021, if investors have found a robust bearish rejection from the 1.04 support level after the current bearish correction, they can buy and HODL, where the primary target would be $7.00 per ADA. Moreover, another approach is to add positions when the price will breach the 1.86 resistance level with a bullish daily candle close.
Risk management in the crypto market
If you have read the above section, you would know how significant Cardano is for future price growth. However, while making an investment decision, traders should be aware of the risks associated with the instrument.
The only risk that a trader can control is the risk associated with the instrument. Here the best approach is to use an appropriate money management system. For example, you can diversify the portfolio and include ADA into it rather than putting all investments in Cardano.
However, another risk that a trader cannot minimize is the risk of the overall cryptocurrency market. The crypto market is very volatile, and any uncertainty can cause a dramatic fall in the price. In that case, investors should keep a close eye on fundamental aspects of the overall market.