Ardor (ARDR) is a well-known Blockchain-as-a-Service (BaaS) provider, offering a public blockchain platform that gives users access to NXT and all of the benefits of blockchain technology. It also provides a robust and highly customizable blockchain ecosystem for businesses. The Ardor network is a one-of-a-kind blockchain project that promises to reduce the cost of crypto production by combining energy efficiency and security.
Ardor's innovative structure brings innovation to the world of multi-blockchain platforms, intending to provide corporations with BaaS. The Ardor parent chain comprises the network security and processing chains, while the transactional chains are made up of the child chains. Users do not need to own any parent chain coins to use the platform because the child chains have their coinage.
 Let's take a closer look at this project to see if it's worth your time.
What is the Ardor coin? ARDR explained
Ardor is a public blockchain platform that will enable people to use NXT's blockchain technology via child chains. A child chain, which is a 'light' blockchain that can be customized to some extent, is intended to allow for easy self-deployment of your blockchain.
NXT claims that users will no longer have to "worry" about security because that is now managed by the main chain (Ardor). The first child chain on the Ardor platform will be Ignis, for which a crowd sale is currently underway.
Ardor's brief history
Ardor's coin, first released to the market in 2016, had a significant surge in attention in early 2018. Ardor reached an all-time high price of $2.55 per coin on January 13, 2018. Ardor's price has dropped by more than 88 percent since then. Still, it has recently experienced a resurgence in investor interest, with the price of ARDR rising from around $0.08 per coin in January 2021 to more than $0.43 per coin in April. In contrast, January 2022 closing was at $0.18.
What is Ardor's favorite feature? 
Using an account-based system, a person can have accounts that can only receive money and can't spend money.

Ardor has to stake rewards because it is a proof-of-stake (PoS) blockchain, and users can rent their forging power to form forging pools, like mining pools in proof-of-work (PoW) blockchains.

Ardor offers an alias system that can translate addresses into human-readable ones and use the network as a DNS or a cloud to store user-defined data. 

It is a native DEX and an automated matchmaking engine.

Its additional privacy through a coin shuffling feature.

Lightweight smart contracts require only the nodes participating in the transaction to handle a smart contract call rather than all nodes on the network.
Ardor coin (ARDR): is it a good investment?
Ardor is a miniature project, making it a riskier investment than popular cryptocurrencies like Bitcoin (BTC) or Ethereum (ETH). But Ardor could be an excellent addition to your portfolio if you're willing to take on more risk. While Ardor has advantages over PoW blockchains, PiS blockchains like Solana and Binance Smart Chain offer comparable fees and transactions per second.
Many people believe that all three platforms, Ardor, NXT, and Ignis, are suitable investments, especially if the market continues to grow and develop. Ardor is one of the most sophisticated blockchain-based technologies available.
The most exciting aspect for any investor is that Ardor is unlike almost any other cryptocurrency on the market right now, as most other cryptocurrencies are based on ETH or BTC. If you believe that diversifying your portfolio is the best way to reduce risk, then the ARDR cryptocurrency should be on your radar.
Before making any investment decisions, be sure you do your homework.
What will the Ardor coin (ARDR) be worth in 2022?
With a live market cap of $222,659,964, the current CoinMarketCap ranking is №256. It has a circulating supply of 98,999,495 ARDR coins and a max. supply of 998,999,495 ARDR coins. The Ardor's fundamentals outlook is optimistic, suggesting chances of an upswing in ARDR/USDT.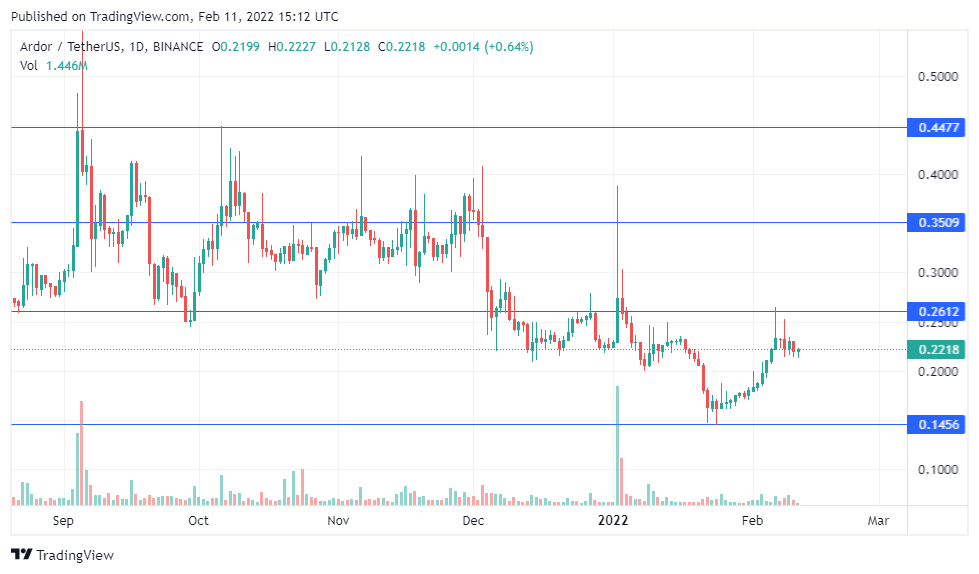 According to the Ardor projection price and technical analysis, ARDR is gaining support at $0.14, and closing of candles above this has the potential to drive an uptrend in ARDR/USDT; therefore, the ARDR/USDT price can reach $0.40 or even $0.60 by the end of 2022.
Ardor coin (ARDR) price prediction for 2022
On the weekly time frame, the ARDR/USDT has formed a bullish engulfing candle supporting an uptrend. Therefore, closing candles above the support level of $0.1507 can drive an uptrend. According to our in-depth technical study of previous ARDR price data, the price of Ardor is expected to reach a minimum of $0.30 in 2022.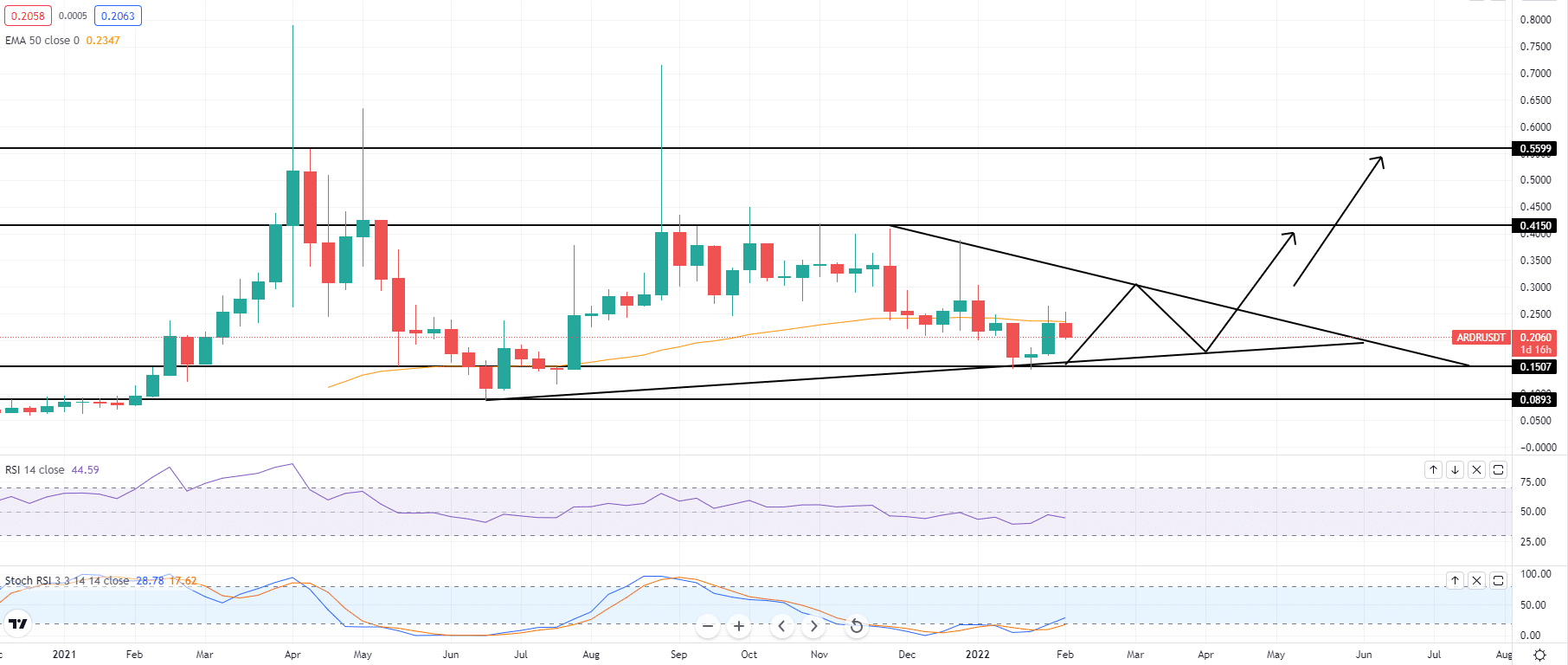 The RSI is oversold; therefore, the odds of bulls entering the market remain high. On the higher side, a $0.36 resistance mark breakout can lead ARDR/USDT towards $0.41 and even towards $0.55.
How to buy an Ardor coin?
If you're wondering where to buy Ardor, the top cryptocurrency exchanges for trading in Ardor stock right now are Binance, OKX, Mandala Exchange, Huobi Global, and HitBTC.
If you are a beginner, take the following steps:
Create an account with a cryptocurrency exchange. Whatever option you choose, the first step is to sign up for HitBTC or any other platform that trades Aeron.
Purchase BTC to exchange it for Ardor coins.
Use the exchange to convert BTC into Ardor.