The commodity market is involved in the primary economic sector of the world economy. It has become so popular nowadays with the availability of technology and trading options. Traders and investors across the globe find the commodity market as a place of opportunity and hope.
There are several types of commodities available in the marketplace. However, it requires having some skills to become a commodity trader. This article includes the definition of a commodity trader and the commodities that are available to trade. It is a complete guideline to become a commodity trader by completing this article.
Who is a commodity trader?
It is a firm or individual that focuses on trading raw commodities such as oil, metals, agricultural products, etc. It also includes the industries that involve in buying and selling raw materials for their production. Trading commodities can occur in different ways nowadays, such as traditional and futures trading contracts. Traditionally, it involves buying and selling physical products like cocoa, crops, fossil oil, gold, silver, aluminum, etc.
On the other hand, trading futures contracts involves speculation in asset prices rather than owning the actual assets. Although CFD trading in commodities or future contacts involves risk, it became popular among investors daily. It doesn't involve preserving, carrying, etc., issues that you can find on traditional trading. CFD traders focus on the asset price movement more than underlying assets. Anyway, both types of traders are commodity traders, either traditional way or CFD trading commodity.
What skills does a commodities trader need?
Most of all they need to be smarter than average traders to make constant profits from the commodity market. It doesn't require rocket science to be a profitable commodity trader. Moreover, you need to follow some basic skills, like analytical and the ability to make decisions, problem-solving skills, etc.
Being a commodity trader is not an ordinary job; you need to achieve a unique skill set. That includes process-oriented thinking, self-awareness, patience, discipline, emotional stability, independence and responsibility, confidence, etc.
How to become a commodities trader?
This part includes the rules or step-by-step procedures to become a commodity trader.
Rule 1. Open a live spread betting or CFD trading account
Firstly, you need to open a live spread betting or CFD trading account with any broker that allows you to trade commodities. Check on the reviews and compare broker information to choose the best broker. Keep note that good commodity brokers provide analysis, education services, low-cost trading, and 24/7 support to their clients.
Moreover, check on deposit-withdraw methods and reviews about brokers before starting to trade with the broker. Then sign up or open an account on that target broker and submit documents to verify your trading account. Then deposit capital to your trading account to start trading commodities.
Rule 2. Research to find the suitable commodities for you
There are several types of commodities available in the marketplace to trade. Select commodities that have high volumes cause high volume commodities are potential and deliver good profits to traders. It is always better to choose popular commodities than others. Try to avoid selecting unpredictable commodities for trading. Additionally, choosing popular items will enable you to have sufficient information to research.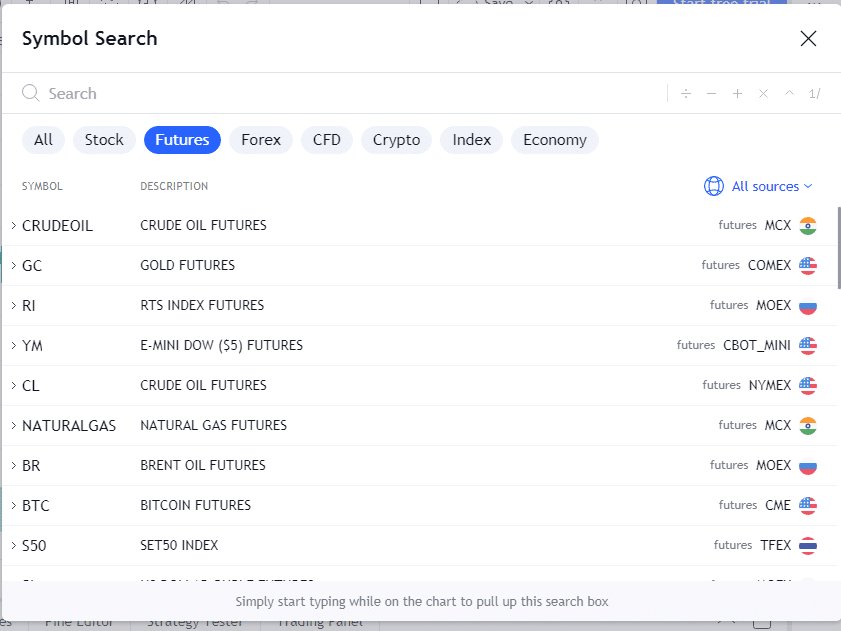 Some best commodities to trade are platinum, wheat, neutral gas, soybean, gold, aluminum, silver, oil, etc. Gold and oil are trendy among all commodities.
Rule 3. Decide if you want to buy or sell
When you choose the right commodity, it's time to analyze that commodity to find entry positions. Check the potentiality of the commodity technically and fundamentally. Moreover, discover the sentiment of the market participants of that target commodity before executing any trading position. Then decide to buy or sell the commodity.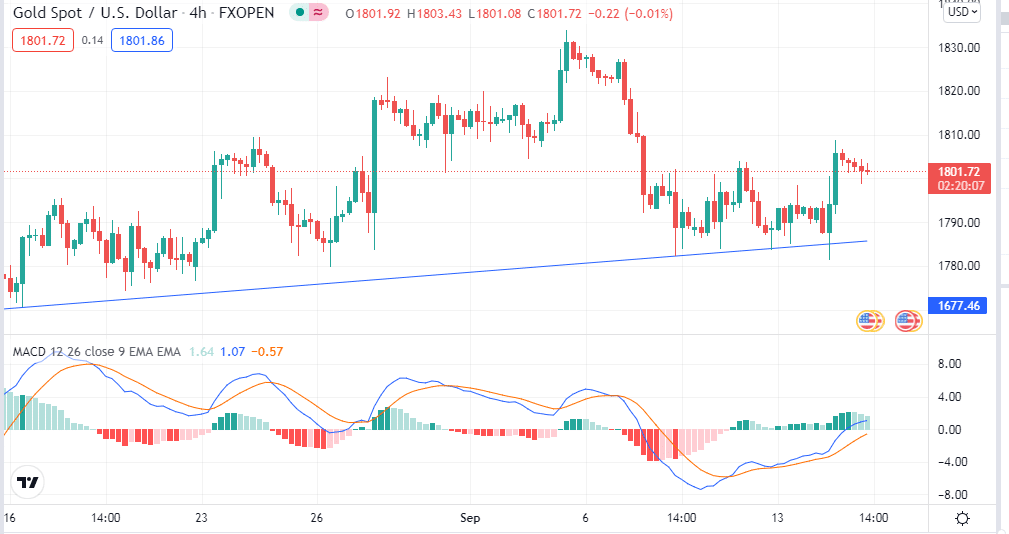 We do our simple homework in XAU/USD or gold vs. the United States, one of the most popular commodities among traders around the globe. We use MACD to generate trade ideas and technical tool trendlines. The trendline shows that the gold is on an uptrend and rejecting to go more downside. MACD confirms that XAU/USD is recovering, and buyers may track the price control.
Rule 4. Control your risk
Control your risk at trading. Place stop loss to secure your order. Trading commodities involves risk as price movement depends on the supply-demand of the particular commodity. Observe the risk ratio of the order and must check the risk factors of the commodity you wish to trade. You only take entries that have high potentiality. Analyze the asset carefully and adequately, check your target commodity's risk factors before opening any entry position on that commodity.
Rule 5. Determine your position size
The lot size is another essential factor while you are trading commodities. Check the margin information and trading cost before making any entry position. Remember, which pays you more also involves more risk than the average. Calculate your lot size according to your capital. Never take the risk of more than 2% capital when you execute trading positions. Risking more than you can afford is an unwise decision. That may drive you to lose capital and emotional trading.
Rule 6. Place the trade
In this step, you already know which commodity you have to trade and which type of order you will take on that particular commodity. Moreover, you already have calculations of lot size, risk-ratio factors, margin, and so on. It is time to place your trade. Place trading positions entirely according to your analysis, such as lot size, buy or sell, stop loss, take profit, etc.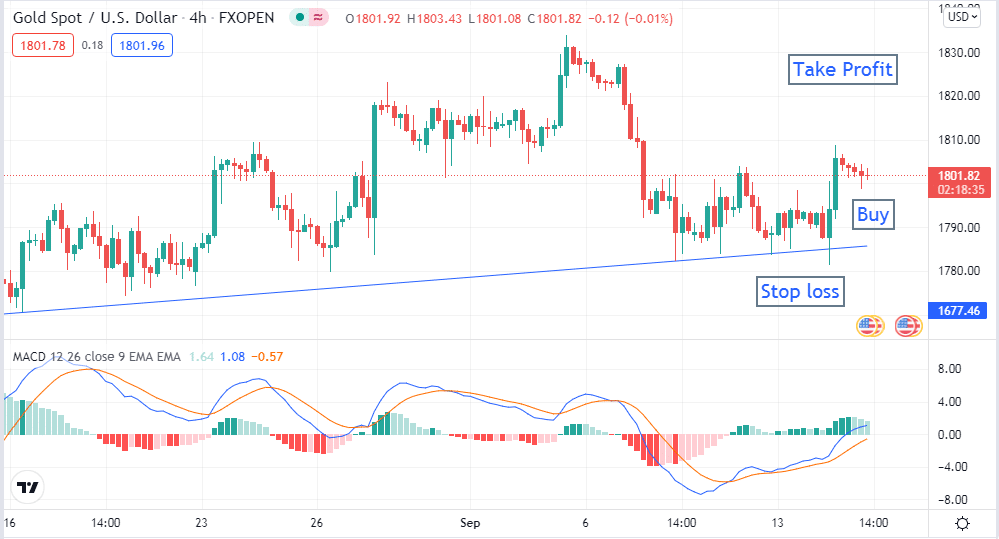 We are placing a buy order here at the XAU/USD and putting a stop loss below the trendline and the recent swing low. Our take profit will be above near the current resistance level. This order has a 1:2 risk ratio.
Rule 7. Monitor your position and close your trade
Now it is all set. Wait until the price touches your take profit or stop loss and close automatically. Otherwise, you can manually close your position. By following this procedure, your very first order on a commodity is done. As a part of trade management, you can change your lot size, shift your stop loss, take profit, etc.
Final thought
Finally, now you know all the rules that a commodity trader should know before starting trading commodities. Commodity trading has become easier than it was before. Now you can get all the resources and tools that you need to perform excellent trades in the commodity market. However, you cannot be a successful commodity trader overnight. You need to practice, obey rules and gather more experience to get your goal of becoming a successful commodity trader.