The Enigma is trading around $0.071755, having a trading volume of $332,307. It has a circulating supply of 13,895,818 ENG coins, and the maximum supply is unknown.
Although everyone is familiar with Bitcoin and Ethereum, few people know the Enigma coin. It is a decentralized data marketplace protocol that is based on innovative technologies. ENG is developing and expanding timely. It ensures the privacy of data while executing data calculations.
If you're looking for Enigma price forecasts for 2021, 2022, 2023, 2024, or 2025 and want to know where Enigma (ENG) prices are likely to go in the coming future, go no further. We'll look at Enigma's (ENG) previous prices and see what we expect from its potential price movements.
What is the Enigma coin? ENG explained
Enigma is an off-chain network that is entirely private. Data must be encrypted before being shared with nodes on the network. Its off-chain layer ensures data privacy while being shared between Enigma's nodes on the web. That's why they utilize secret contracts, in which data references are only available on the public ledger to prove storage. But data is kept private and split up on an off-chain network.
Enigma was developed by a group of researchers and graduates from the Massachusetts Institute of Technology. It consists of MIT Sloan fellows and experienced software engineers and MIT lab and MIT Sloan fellows.
Guy Zyskind, the CEO and co-founder of ENG, has extensive experience in software development and holds an M.S. from MIT. Can Kisagun, the project's CPO and other co-founders, is a graduate of MIT's Sloan School of Management. Besides that, the team includes many different people and several notable investors, including Floodgate, Flybridge Capital Partners, Digital Currency Group, and MIT.
Enigma: is it a good investment?
The technical outlook of the ENG/USD pair suggests a downward trend, and it looks like the ENG will not be an excellent money-making investment, especially in the short run. The ENG/USD coin is holding below the series of 60, 100, and 200 exponential moving average lines (EMAs). All of these EMAs suggest a strong selling trend in Enigma.
We would not recommend investing in the Enigma to short-term investors and propose looking into other projects to develop a portfolio instead. However, long-term investors will add this coin to their portfolio.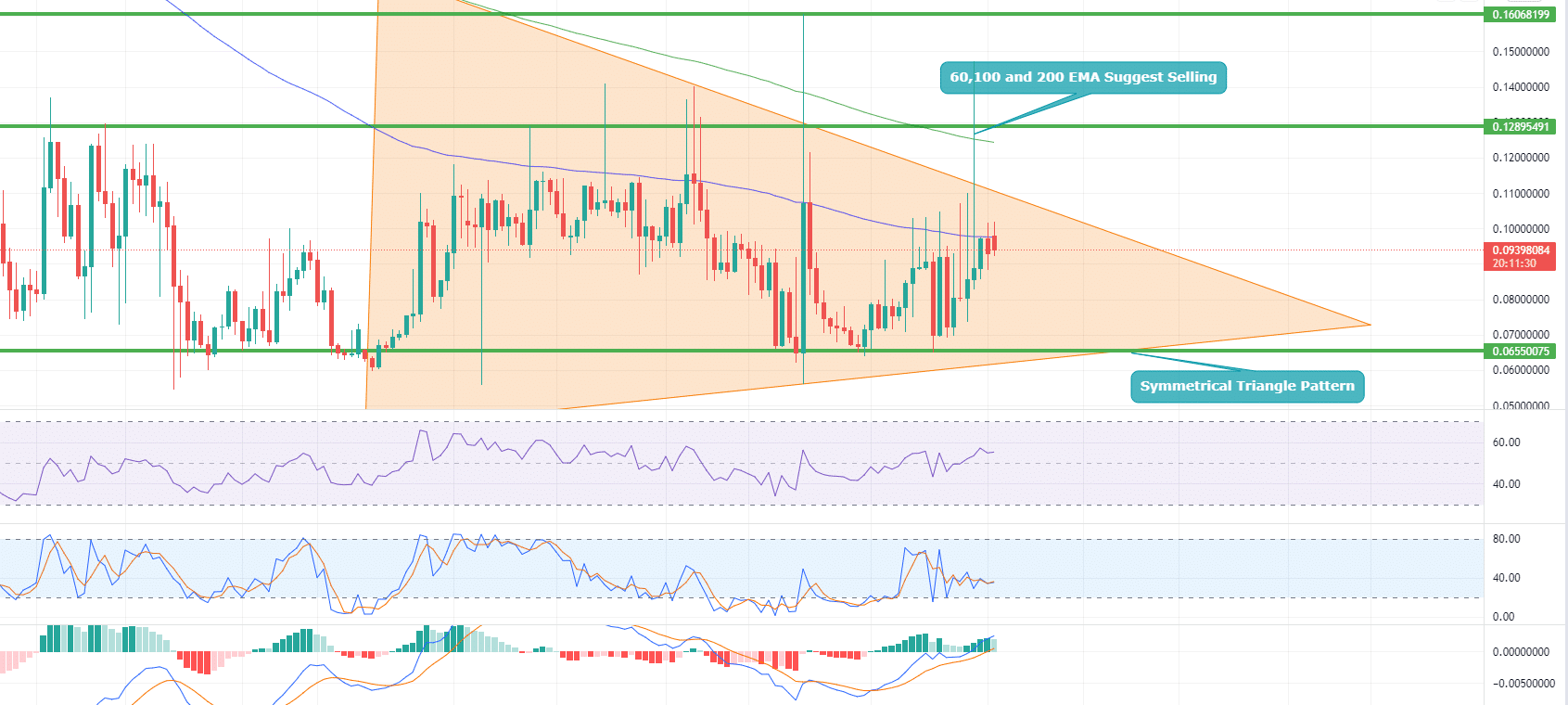 Will the Enigma coin price hit 1 USD in 2022?
In one year, the price of one Enigma (ENG) could rise to $0.14243, nearly doubling from the current price. Further on the higher side, the ENG/USD coin will likely find an immediate resistance at a 23.6% Fibonacci retracement level of $0.25045.
In 2020, Enigma (ENG) might reach a high of $0.5200 or $0.5863 levels which are being extended by 50% and 61.8% Fibonacci retracement levels, respectively. However, it will be challenging for Enigma coins to test $1 in 2022 unless some new fundamentals support it.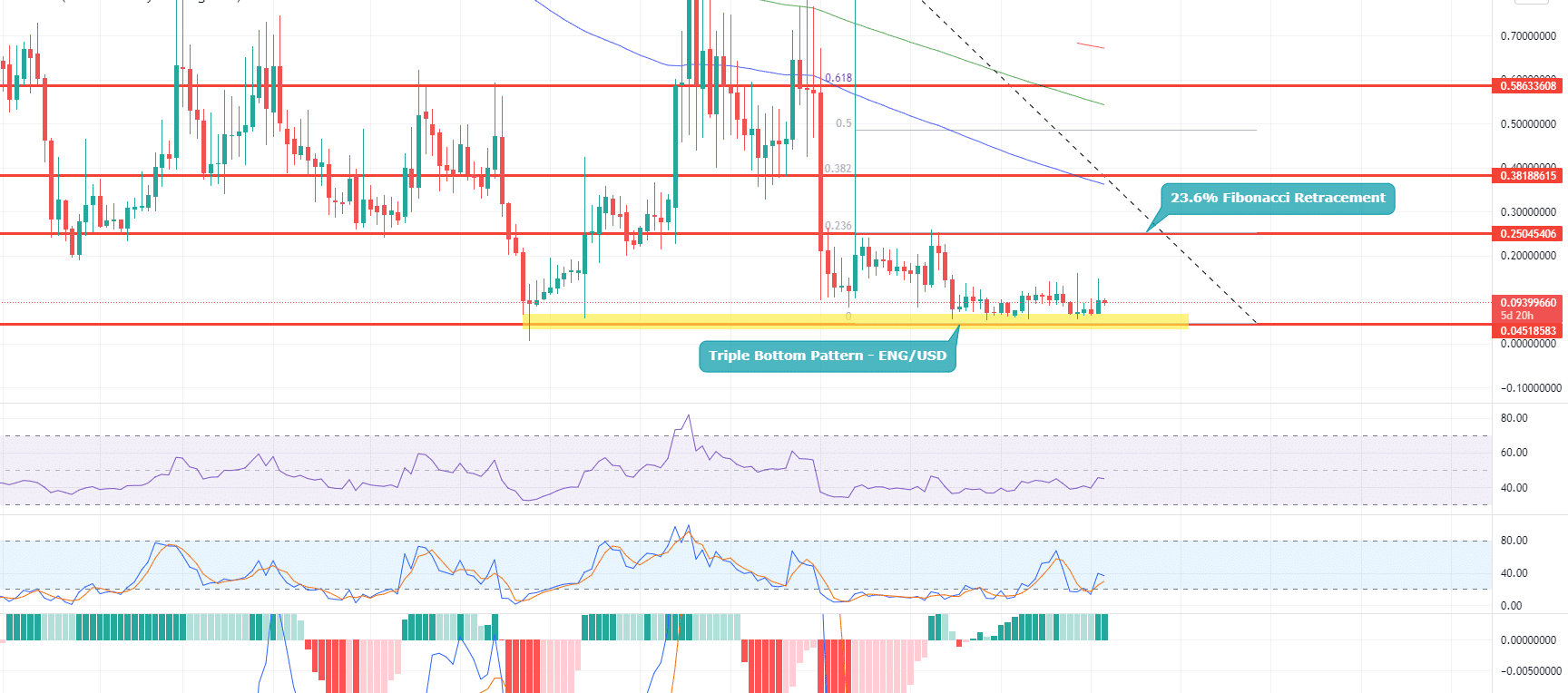 Enigma price prediction for 2022
As per the Enigma price prediction and technical analysis, the ENG price is forecasted to surpass an average price point of $0.10 in 2021. The Enigma minimum price value is anticipated to reach $0.0100 by the end of 2022.
The ENG/USD coin forms a series of Doji and shooting star candles above the $0.04518 level on a weekly chart. This support level is extended by a triple bottom pattern, which we see on the weekly time frame and above. These patterns demonstrate indecision among investors. Typically, it happens when investors are waiting for a solid fundamental to be released or there's no hot news at all.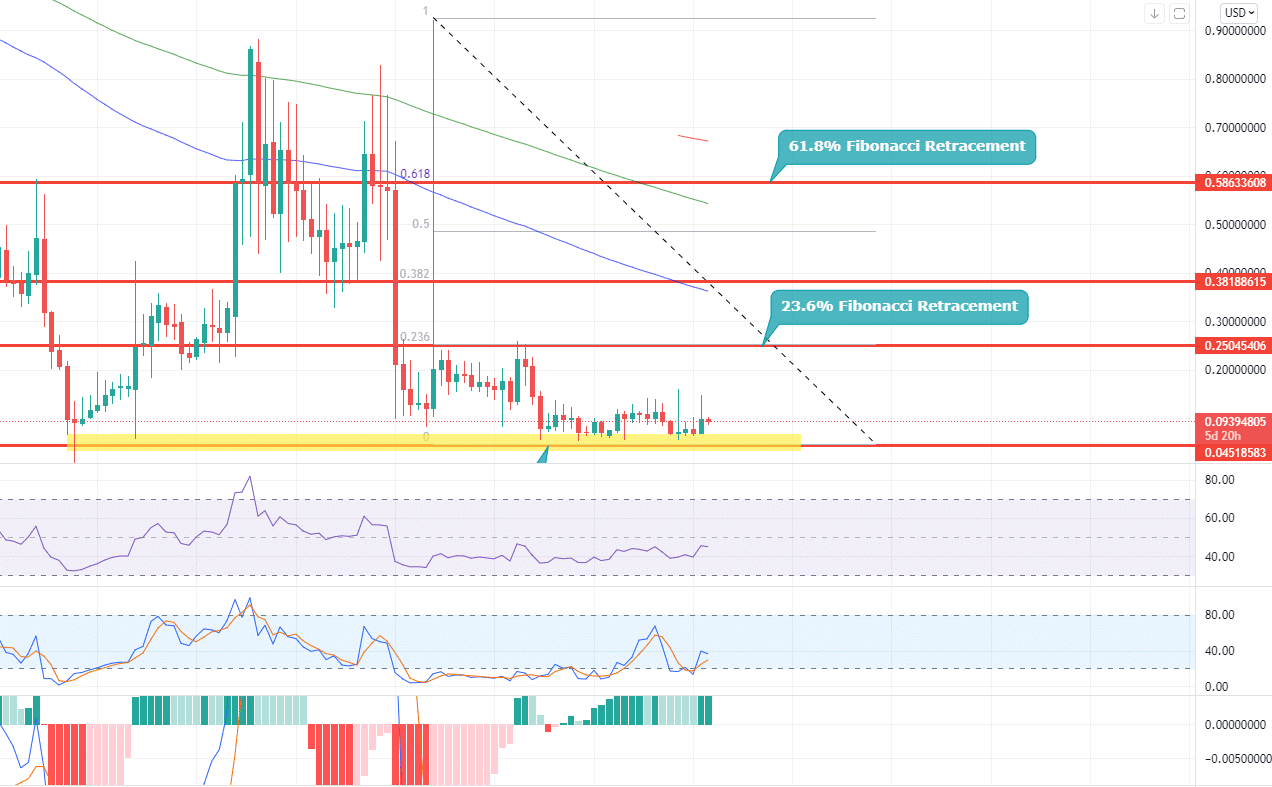 Technically, the bearish breakout of the $0.04518 level is likely to extend the bearish trend until $0.0100. In contrast, a bullish break through the $0.1010 resistance level exposes the ENG/USD to a 23.6% Fibonacci retracement level of $0.25045. Further, on the higher side, a breakout of the 23.6% Fibo level exposes the coin towards $0.5200 and $0.5863 levels, which are extended by 50% and 61.8% Fibonacci retracement levels, respectively.
Forecast: 2025 Enigma coin price prediction
According to Enigma's price prediction and technical analysis, the ENG/USD pair is predicted to surge above the 60 day weekly EMA at the $0.3818 level. Further, above this, the next target is likely to be $0.5500. It is being extended by 61.8% of the Fibonacci level and the 100-day EMA line. The minimum price value of $0.44 is expected by the end of the year 2025. Furthermore, ENG has the potential to reach a maximum price of $0.55.
How to buy an Enigma coin?
Enigma coins are available on many exchanges now. However, you can buy Bitcoin on Binance and then purchase Enigma. If you are a newbie, follow these steps:
Create an account with exchanges like Binance, Kraken, or Coinbase. Regardless of the choices mentioned above, the first step is to register with Binance or any other exchange that offers Enigma coins. Such as Coinbase, BitDegree, etc.
Purchase Bitcoin to trade it into Enigma.
Use the Binance, Kraken, or Coinbase exchange to trade Bitcoin for Enigma.