Stablecoins are digital assets, usually cryptocurrencies, that have a stable value. As a result, while major cryptos show a strong up or downside movement, stablecoins remain unchanged against the US Dollar. However, making a profit from stable coins is hard due to the minor price change, but you can benefit from stability by avoiding other losses. 
Today's lesson will show the nuts and bolts of stablecoin with a list of profitable coins that may provide a great investment opportunity in 2022.
Top stablecoins to invest in 2022
Before proceeding further, let's have a look at the list of stablecoins that are the potential to make profits in 2022:
Binance USD (BUSD)

TerraUSD (UST)

USD Coin (USDC)
Dai (DAI)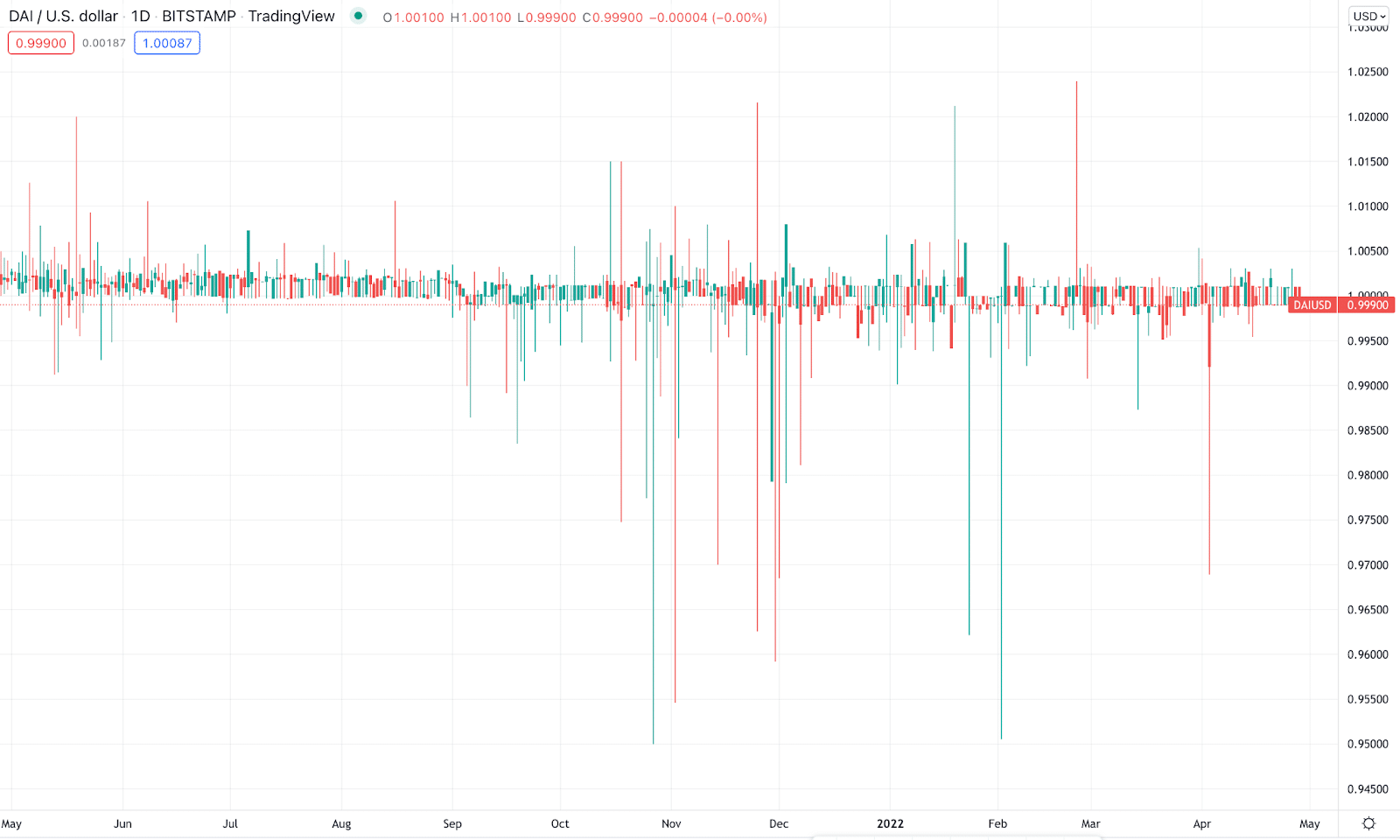 What is Dai?
It is stablecoin, created by Maker DAO, an Ethereum-based protocol. US Dollar backs the total number of DAI tokens. Users can easily Pegg it with other crypto tokens like USD coin and Ether. Investors should have a clear concept about Single Collateral DAI and Multi-Collateral DAI, where SAI does not allow investors to make money from HODLing the asset. 
DAI is not created from mining like Bitcoin not; it is minted by a private company. Instead, new DAI tokens are minted by users by using the Maker DAO protocol. Currently, almost 9 billion DAI tokens are available in the market with a stable value of $1 per coin.
How much could you earn for 1 year?
If we see the price chart for the last year, we would see no significant change there. However, the main of stablecoins is to keep your investment safe from unexpected market volatility, where the stable $1 value per coin could save a lot of money for traders.
Tether (USDT)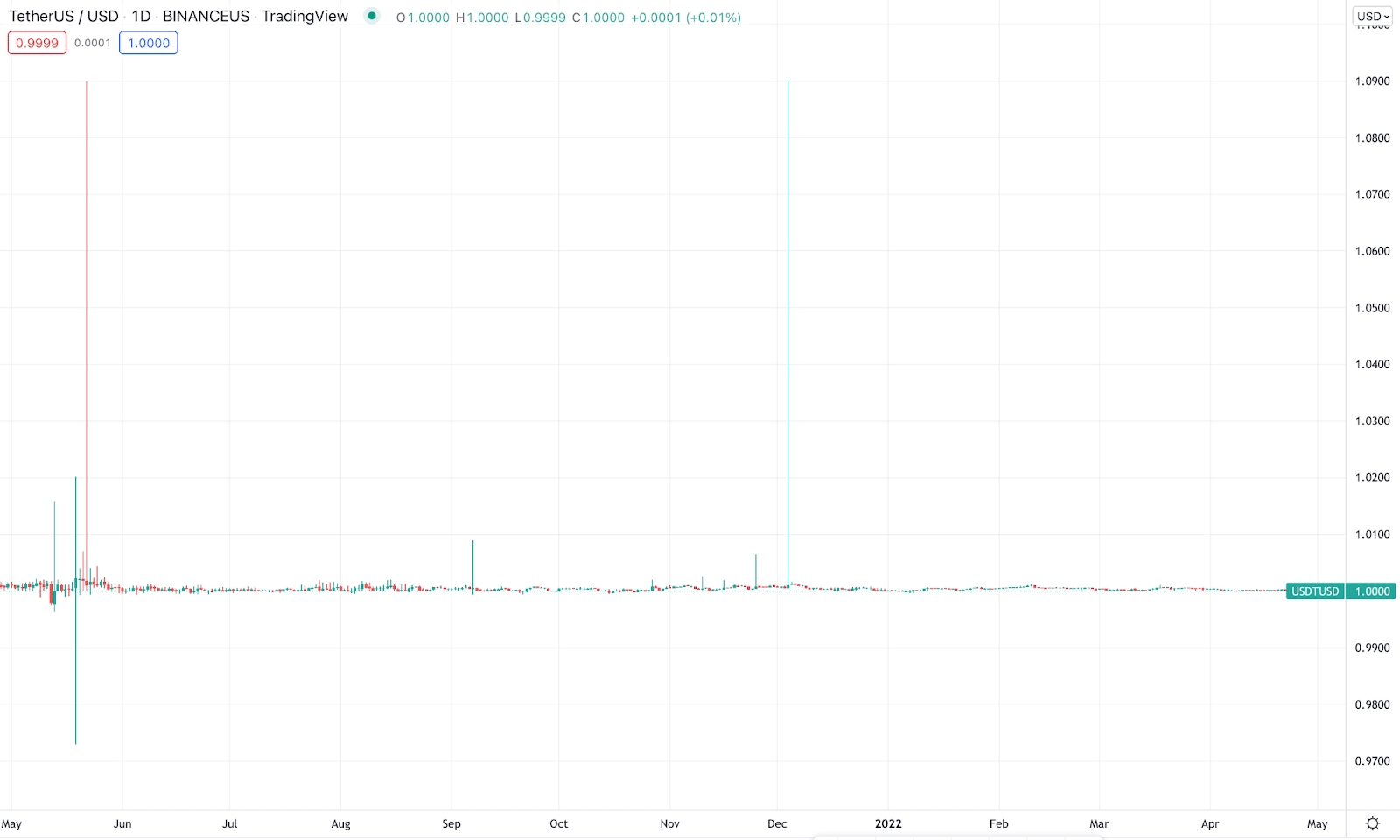 What is Tether (USDT)?
It a crypto with a stable value that mirrors the US Dollar's price. A Hong-Kong based company named Tether issued this token in July 2014. It used the Bitcoin blockchain in its inception through the Omni platform and was renamed USTether. 
The main aim of this crypto token is to make a bridge between cryptocurrencies' volatile nature with stable US dollars. As a result, investors can easily make payments through any third party immediately by keeping the value stable with the US Dollar. For investors, using USDT would be a way to use it as an inflation hedge. Any investment in the bank might provide a 0.06% while stablecoin yields offer 3% to 20% profit on a yearly basis. 
How much could you earn for 1 year?
Like DAI, USDT is also a stablecoin where its price barely faced a change in the last 1 year. Therefore, your investment in the USDT spot account might remain unchanged but investing in USD yields could provide between 2% to 20% yearly gain.
Binance USD (BUSD)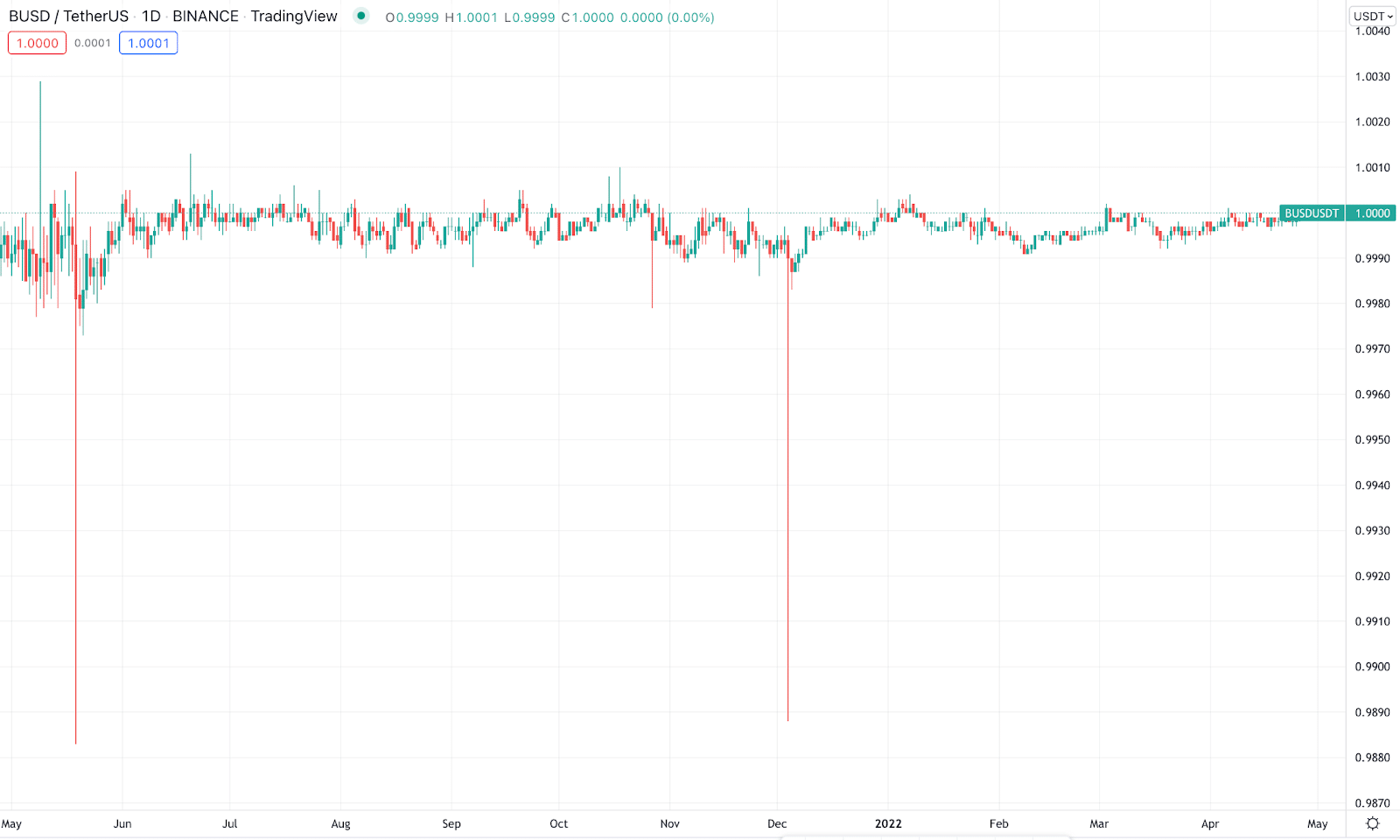 What is Binance USD (BUSD)?
Binance USD (BUSD) is a stablecoin, backed by the US Dollar. The most important facto about this token is the New York State Department of Financial Services. Therefore, if you are a US citizen, you can easily use this token to enter the crypto market by eliminating the effect of volatility. 
Binance USD was created with the partnership of Binance, a crypto exchange, and Paxos, a blockchain infrastructure platform. The main of this stable coin is to make transactions in the crypto market faster than ever with an instant opportunity to convert the asset to fiats.
How much could you earn for 1 year?
Like other stablecoins, the value of BUSD remained unchanged equivalent to the US Dollar. Therefore, your investment in USDT would remain unchanged during the year but you could have made a 2% to 20% gain from yield farming and staking. 
Terra USD (UST)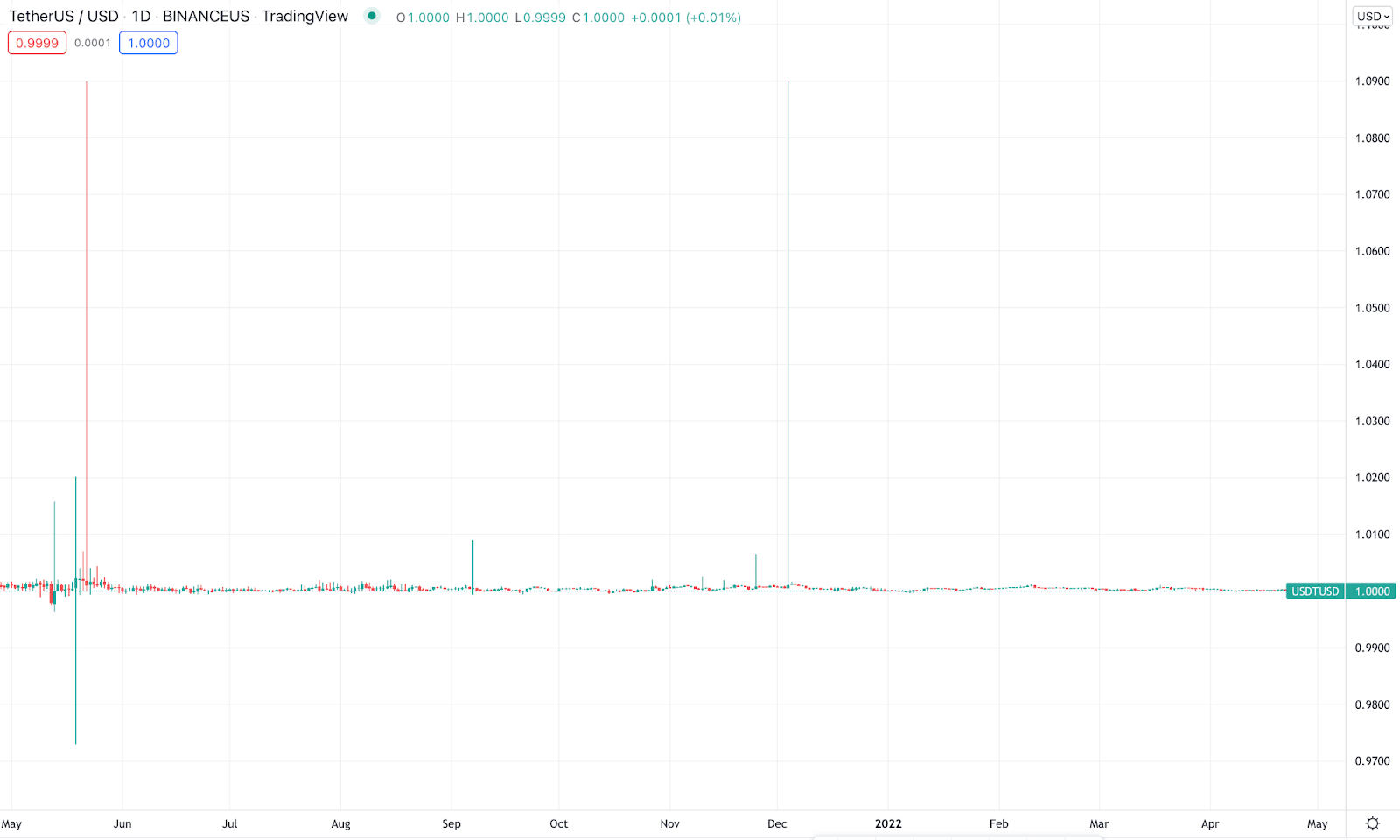 What is TerraUSD (UST)?
It is another US dollar-backed stablecoin where the main of the token is to provide price stability and growth. The protocol of this network runs with its own native cryptocurrency, Terra, but by linking UST with LUNA, investors can exchange their cryptocurrency instantly for stablecoin or fiat. According to some prominent analysts. TerraUSD is a bit riskier than USDT and BUSD, but its strong market cap of $18 billion indicates a strong position in the broader crypto market.
How much could you earn for 1 year?
As it is a stablecoin UST spot price remained unchanged for the last one year. Therefore, holding this asset might save your money from being affected by crypto volatility. 
USD Coin (USDC)
USD Coin 1-year price
What is USD Coin (USDC)?
Since the beginning, USDC has been used by many businesses and applicators under several blockchain networks. It is backed by stablecoin, founded by Coinbase Global, and crypto mining company Bitman Technologies Inc. It was released in September 2018 and reached a market cap of nearly $50 billion. 
How much could you earn for 1 year?
USDC value was not changed during the year, but it allows investors to make money from yield farming and staking.
Pros & cons
| | |
| --- | --- |
| Pros | Cons |
| Stablecoin allows for saving investment from the extreme volatility of the crypto market. | Holding a stablecoin in the spot wallet will not provide any profit. |
| Investing in stablecoin works as an inflation hedge. | The volatility in the crypto market often provides profit, which does not apply to stablecoin. |
| It is easy to convert stablecoins to crypto or fiat. | Yield farming and staking in stablecoins are less profitable than large-cap cryptocurrencies. |
Final thoughts
Finally, we are at the final stage of today's lesson, where we have seen the list of top five stablecoins and how profitable they were in the last year. Investing in cryptocurrencies always has some risks that a trader cannot ignore. Success in crypto trading depends on utilizing your funds by keeping the risk as low as possible. Therefore, if you are keen to make a stable outcome from the crypto market, use your fund in the best way.