Many people think that the profitability of crypto trading depends on how famous the underlying asset is, which is not correct. There are many cryptocurrencies, particularly altcoins, that are very profitable, even more than Bitcoin.
The best approach in crypto trading is to expand the trading portfolio by adding altcoins to reduce the market risk at a minimum level. However, it is not easy to find an altcoin that has strong potential. Nevertheless, if you struggle to find a perfect altcoin for you, there is good news.
The following section will see the list of the top ten most profitable crypto's trading below one cent.
What are altcoins?
Altcoin or alternative coin is a term that represents all cryptocurrencies except Bitcoin. Keeping the name as altcoin is to indicate alternative coins to BTC and fiat currencies.
After Bitcoin, the first altcoin was launched in 2011, and with time, there are thousands of them. Primarily, altcoins were used to be an improvement of BTC in transaction speed and energy efficiency. Moreover, developers started making more altcoins to fulfill their purposes, depending on the goal and development.
Bitcoin has the maximum market share in the crypto market, but thousands of other pairs are available to trade due to the rise of altcoins. Therefore, investors should understand how they work and focus on benefiting from investing in other cryptocurrencies.
Can you imagine having 19,000% profit from an investment within 3-5 years? Probably not!
Let's see how an altcoin that was traded under one cent provided such profits.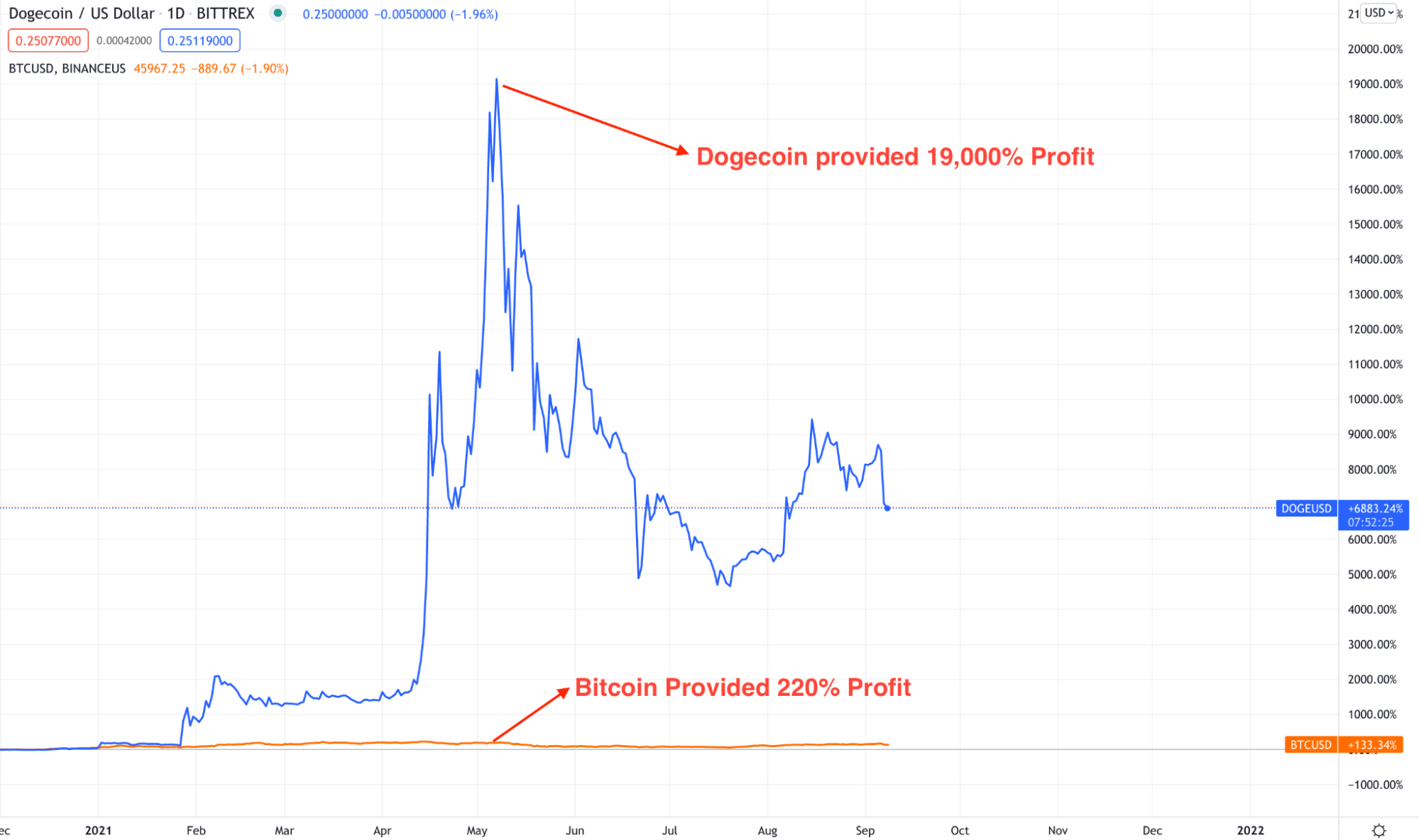 As per the above image, we can see the massive return on investment provided by Dogecoin. For example, if you invested $1 in Dogecoin three years ago, you would own $19,000 in the mid of 2021.
Dent
Current market price: $0.005199
Market cap: $514,759,998
Mobile communication is a complex industry. Dent is a digital mobile data operator that can transmit enormous data from the internet, SMS, and phone. Moreover, Dent is trying to tokenize the system through blockchain technology.
Currently, Dent is working with more than 200 telecommunication companies with more than 26 million users. They have created a blockchain-based marketplace where Dent users can buy their desired packages for calling, eSim, or purchasing Dent tokens.

HOLO
Current market price: $0.01026
Market cap: $1,767,122,425
Holo is a crypto that provides decentralized apps through the Holochain network that does not require blockchain involvement. The main aim of Holo is to make a connection between the internet and apps built on the Holo network. Moreover, it provides a marketplace and ecosystem where accessing DApps is very easy for Holo users.

SafeMoon
Current market price: $0.000001887
Market cap: $1,105,108,952
SafeMoon is a DeFi project that consists of three functions: reflection, LP acquisition, and burn. It uses a system where liquidity generates automatically, intending to develop non-fungible tokens (NFTs) and several crypto apps.
As SafeMoon is closely used in the NFT marketplace, users can create their cryptocurrencies through this platform. As a result, it earned popularity from people and got listed in several exchanges.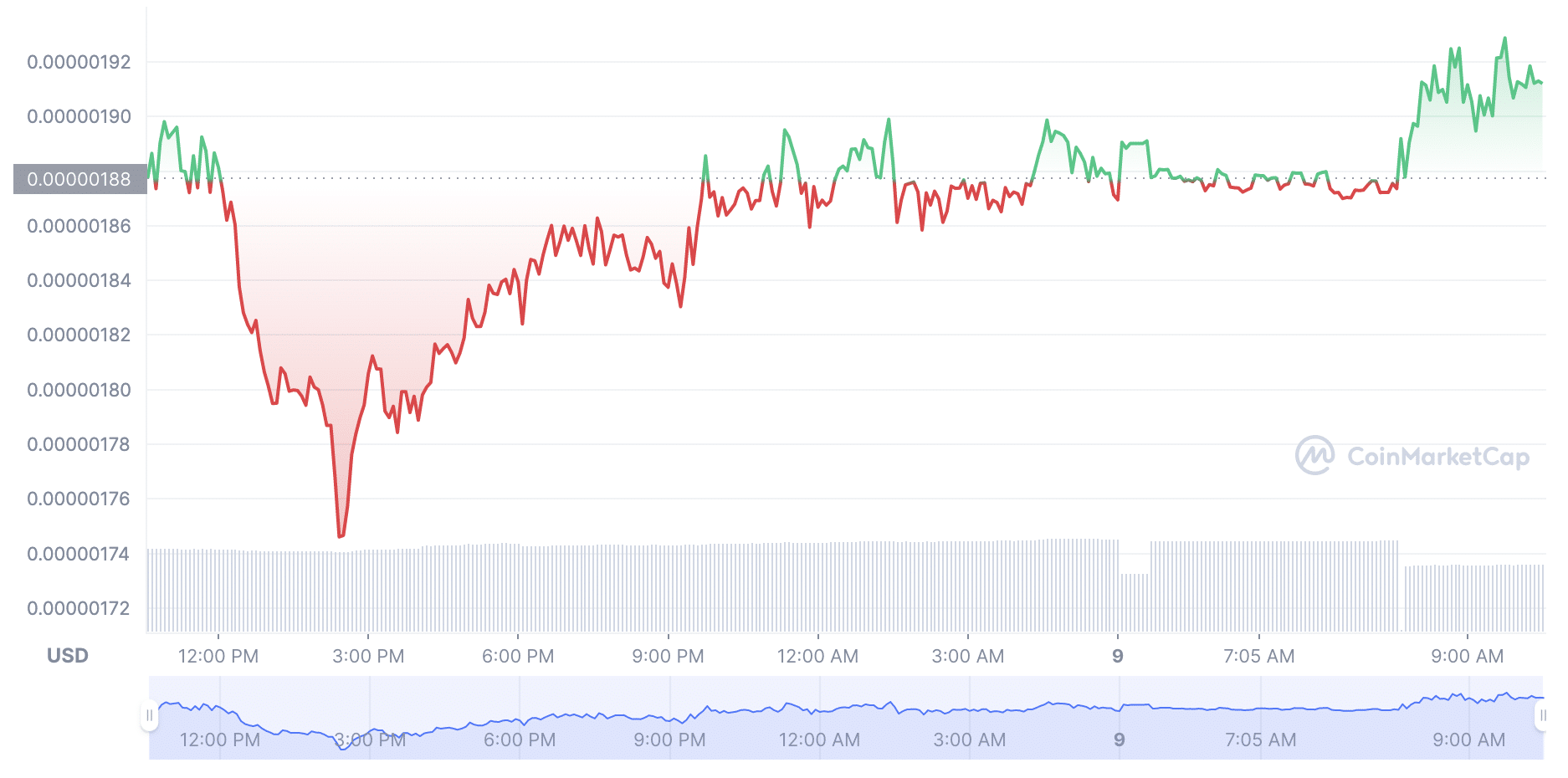 IOTX
Current market price: $0.06433
Market cap: $613,736,907
IOTX is an open-source project that started operation in 2017 to empower open economics for people and automated systems. The IOTX team consists of more than 40 scientists and experts to create an EVM-based blockchain. Moreover, the team has created infrastructure on Ethereum, BSC, and Heco. Right now, there are thousands of people using these services.

Shiba Inu
Current market price: $0.000007021
Market cap: $2,752,638,005
Shiba Inu was created as a meme coin. Then, people started to consider it a Dogecoin killer that moved to the top 20 cryptocurrencies from no value.
Shiba Inu was incepted in the mid of 2020, and it suddenly became familiar among crypto investors as several tweets regarding it came from the tech personalities. Despite the Dogecoins mining system on Scrypt mining, Shiba Inu used an Ethereum based counterpart.
So if you have missed the Dogecoin from its $0.0002 to $0.75 surge, Shiba Inu might be another option for you.

BTT
Current market price: $2,752,638,005
Market cap: $2,678,566,245
BitTorrent (BTT) is the world's biggest file-sharing platform with a distributed network. This platform has acquired more than a billion people together to share their files with others.
Therefore, this penny cryptocurrency has achieved the position of being within the top 50 coins, according to the Coinmarketcap ratings. Furthermore, BTT tokens are the backbone of the BitTorrent file-sharing system, where BTT holders can have higher speed facilities and earn this coin by sharing files.

WINkLink
Current market price: $0.0005250
Market cap: $412,344,174.33
WINkLink puts the real world to the blockchain industry by providing an improved and reliable number, events, payment system, etc. The WINk team acquired justlink.io and put a strong position in the TRON system. WIN is the TRC-20 token, based on TRON on the WINK oracle network. Currently, this crypto coin is listed on several exchanges like BitBTC, Binance, KuCoin, etc.

ECOMI
Current market price: $0.003673
Market cap: $607,327,284
ECOMI is a tech company from an Asian country that created a digital collectible marketplace with social network services. The core component of this element is the ECOMI collect ecosystem and storage wallet. This token works as a utility to trade non-fungible tokens through the VeVe network. Moreover, this network ensures the ownership of assets.

Siacoin
Current market price: $0.01918
Market cap: $936,397,483
Siacoin is a blockchain-based utility token that works as a trustworthy and secure cloud storage service. In this system, the agreement and transaction happen through an intelligent contract where Siacom works as a medium of exchange. The project aims to hold a strong position in the interest storage problem.

Nervos Network
Current market price: $0.0169
Market cap: $472,235,933
The Nervos network is a blockchain technology with several protocols. The Nervos CKB is the first layer that allows cryptocurrencies to store with the maximum security and having scaling like Bitcoin through layer 2. Furthermore, it aims to capture the total network value through its "store of value" crypto-economic design and native token, the CKByte.

Final thought
We have mentioned the top ten cryptocurrencies that are trading under one cent. Besides these, there are many other coins that you can find by yourself and make your trading portfolio fruitful. Anyways, make sure to follow trading systems with solid risk management rules.