Let's start by defining Skale Network. It is a layer of security and execution that connects Ethereum networks. It allows developers to design apps more quickly and function better in a particular domain. It is a decentralized blockchain network comprising thousands of storage chains, sidechains, and other subchains.
All of these are linked to the Ethereum Public mainnet. It establishes an execution layer in high-performance chains to expedite the fulfillment of activities based on on-chain escrows.
What is the Skale coin? SKL explained
SKL is an Ethereum token that supports Skale. This network presents itself as 'an Ethereum-compatible network with a leaderless consensus built to function on an unbounded set of individual nodes.' Skale nodes give resources to several decentralized elastic blockchains. The SKL token permits the bearer to contribute as a network validator, stake as a delegator, or utilize a portion of the network's resources as a developer.
Founders of Skale Network
Jack O'Holleran and Stan Kladko, who have extensive expertise in the software sector, formed Skale Network. O'Holleran, Skale's co-founder and CEO, is a technology entrepreneur who specializes in blockchain and decentralized systems. He is still a strategic advisor at Aktana, the health sciences firm he co-founded in 2008.
O'Holleran started his career as an account executive at Good Technology, according to his LinkedIn page. He served there for two years and moved to Motorola's business development and product planning group. Before co-founding Skale, Kladko spent several years pursuing a Ph.D. in physics and working as a technology executive in San Francisco's Silicon Valley for 16 years.
He has also co-founded several other businesses, including Galactic Exchange and Cloudera.
Skale: is it a good investment?
Skale should benefit from the Ethereum blockchain upgrade, which promises cheaper transaction costs, faster procedures, and more scale. Furthermore, the improvement will drastically reduce Ethereum's electricity consumption, making it a greener technology. Many large investors consider the environmental impact when making investment decisions. As a result, SKL may experience more interest from institutional investors.
On the flip side, the circulating price is one of the major concerns that can weigh on the SKL price. Out of 7 billion coins, 2.11 billion SKL are in circulation, and that's only 30% of the max supply. It means 70% of SKL coins are yet to enter the market. It's a simple law of supply and demand. Increased supply will be weighing on SKL prices, and SKL may struggle to gain bullish momentum.
We would not advise short-term investors to invest in Skale and instead suggest looking at other companies to build a portfolio. Long-term investors, on the other hand, can add this coin to their portfolios after full-fledged research.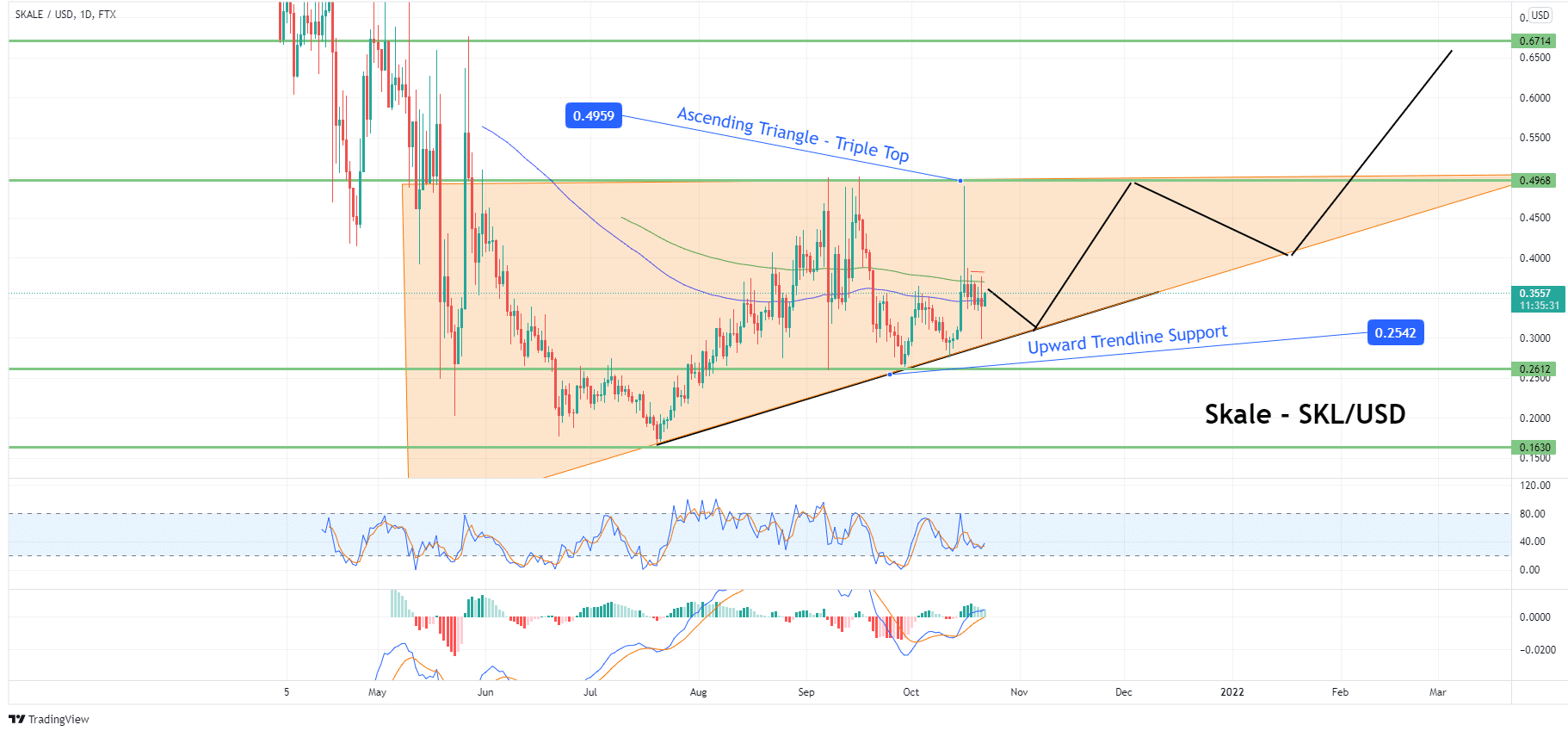 Will the Skale coin price hit 1 USD in 2022?
According to the Skale prediction price and technical analysis, the SKL price is predicted to cross an average price point of $0.73 in 2022. Moreover, the minimum price value is expected to reach $0.70 by the end of the current year, along with $0.86 to be the maximum price. However, it will be challenging for the Skale coin to test $1 in 2022 unless some new fundamentals support it.
Skale price prediction for 2022
The oversold Skale coin has bounced off above the support level of $0.2612 level on the weekly time frame. So far, the pair has completed a 38.2% Fibonacci retracement at the $0.4240 level. However, the SKL/USD pair is struggling to break above the $0.4240 resistance level. As you can see on the chart above, the pair spiked until $0.4894 but reversed back to close below the $0.4240 resistance level.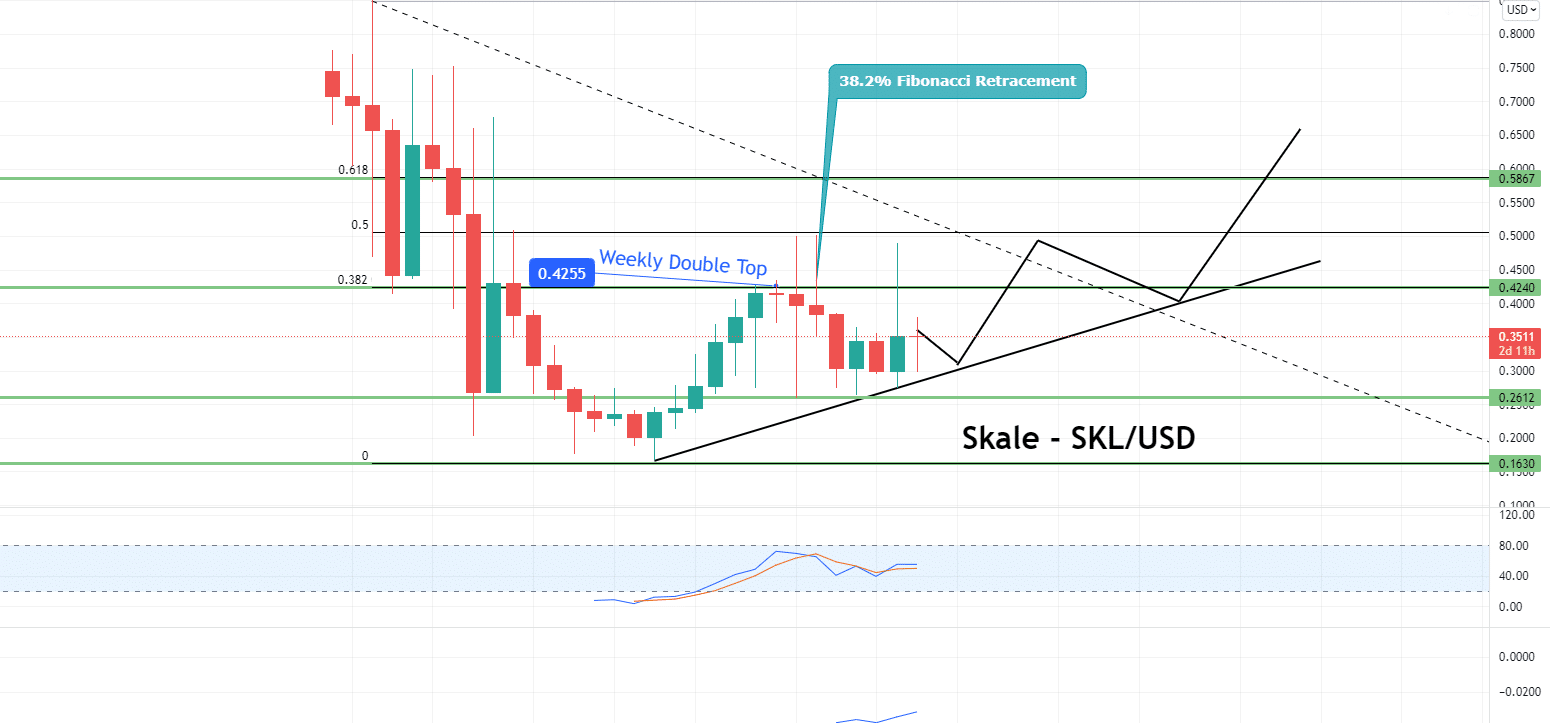 The SKL/USD is gaining support at the 0.2612 level, which is being extended by an upward trendline. Technically, the bearish breakout of the $0.2612 support level could drive a sharp selling trend in the SKL/USD pair until $0.1630.
Since the RSI and Stochastic are held in a buying zone, and a series of 60, 100, and 300 exponential moving averages support a buying trend, the pair may exhibit a slightly bullish trend until $0.5867. Well, this level is being extended by 61.8% of the Fibonacci retracement.
Forecast: 2025 Skale coin price prediction
The technical outlook for the SKL/USD is bearish as the pair has dropped from the $0.8506 level to the $0.1630 level. However, the SKL/USD pair has initiated a bullish reversal, and now it's trading at $0.3551. The pair is forming a series of Doji and shooting star candles, suggesting indecision among investors.
On the daily time frame, the SKL/USD has formed an ascending triangle pattern that supports it at the $0.2542 level.
The bulls can take an entry up there. With a breakout of the $0.8500 all-time high, the pair is likely to head towards $1.2700. Thus, it marks a 161.8% Fibonacci extension. Further, on the higher side, the next target is likely to be $1.9698, which marks a 261.8% Fibonacci extension.
How to buy a Skale coin?
If you're wondering where to buy Skale Network, the top exchanges for trading in Skale Network right now are Binance, Huobi Global, OKEx, Mandala Exchange, and FTX.
If you are a newbie, follow these steps:
Create an account with exchanges like Binance, Kraken, or Coinbase. Regardless of the choices mentioned above, the first step is to register with Binance or any other exchange that offers Skale coins.
Purchase Bitcoin to exchange it for Skale coin.
Use the exchange to convert Bitcoin into Skale.