A crypto wallet is a must-have to make frequent transactions or store crypto assets. Several types of wallets are available with various functionalities and capabilities. Trezor wallets are widespread and one of the best choices.
However, it requires a complete review before selecting any wallet to know the capability and functionality.
Besides its top three advantages and disadvantages, let's learn all the basic features of the Trazor wallet, such as safety, pricing, commission, support, etc.
What is the Trezor wallet?
It is the first hardware wallet for Bitcoin. It is a small physical device that is key-sized and connects through USB cables. The launching period of this physical crypto wallet is 2013, and the foundation was in 2014.
The first physical wallet offered cold storage that is sufficiently secure besides having compatibility with hot wallets. It doesn't support any mobile app to operate.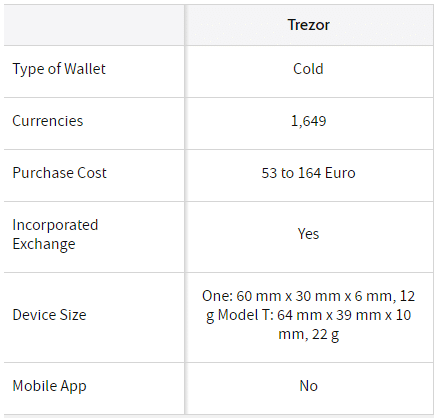 You can store or make transactions of 1,649 crypto assets such as coins and tokens that include altcoins such as Bitcoin (BTC), Stellar (XLM), Polkadot (DOT), and Ethereum (ETH).
Note that the Trezor wallet doesn't support some assets such as Binance Chain (BNB), Tezos (XTZ), Cardano (ADA), Monero (XMR), Ocean Token (OCEAN), Celo (CELO), etc.
Pros and cons of Trezor wallet
Top three pros
Supports an enormous number of (1600+) crypto assets.
The top-notch security and regular firmware updates.
Provides good backup and recovery options.
Top three cons
Price of the wallet.
To send digital currency, the user needs to connect the wallet to the computer and enter a pin every time, which is not the best way.
It is a less user-friendly hardware wallet in comparison to other wallets of similar types.
Trezor wallet convenience
You can consider it as a convenient hardware wallet for users. Connecting the Trezor wallet with the device will provide the most secure environment for the crypto wallet to use.
This hardware crypto wallet remains one step ahead of other similar wallets as it offers maximum convenience and security. When you want to buy digital coins, connect the Trezor device and go to the 'buy' tab of the Trezor Suite. You can use fiat currencies to purchase crypto, and all occur in an intuitive and safe interface of the Trezor environment.
Trezor wallet pricing
You need to buy the wallet if you decide to use it. We suggest purchasing it from the Trezor official site. There are several variations in the wallet type to match users' needs.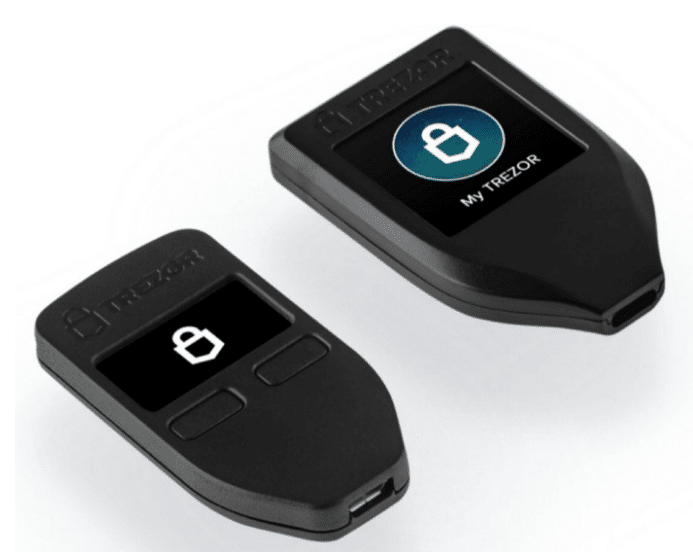 Trezor T is the newer and updated version. The Trezor one costs 53 euro, and the Trezor model T costs 164 euro. The price may vary for various regions, purchasing medium or retail points.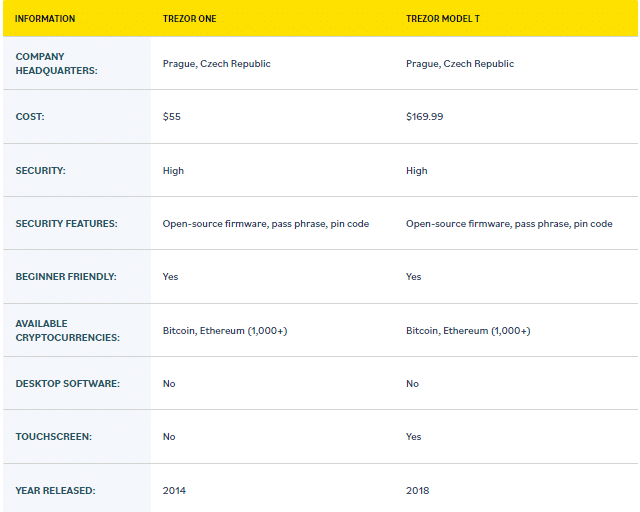 It includes the latest features such as supporting more cryptos, an SD card slot, built-in mobile connectivity, and a new RGB color touch screen. Through the touchscreen of the Trezor T model, you can quickly enter the recovery phase.
Trezor wallet support
It supports various crypto assets such as digital currencies, coins, and crypto tokens as a multi-currency wallet.
This hardware wallet supports more than 1400+ crypto coins and 1000+ crypto tokens.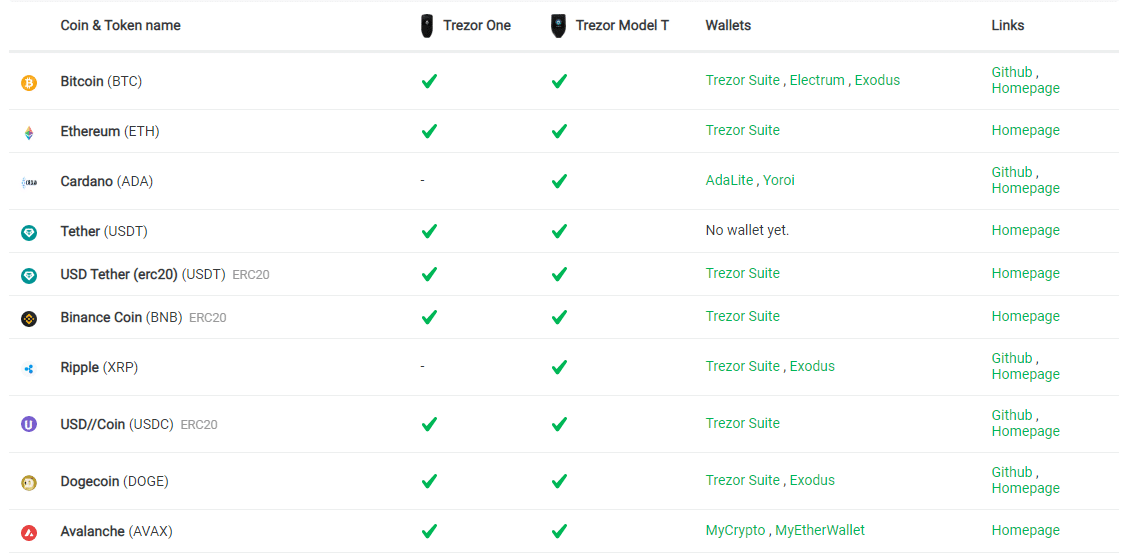 You can always check on updates about supporting assets on the Trezor official website. Although this popular hardware wallet has compatible features to operate with Linux, MAC OS, Windows, IOS, and Android, we found several mixed customer reviews and complaints about customer service.
Trezor wallet safety
The first question people usually ask is, "What if my computer is infected and I connected my Trezor wallet?" This is an excellent question, so let me explain it in more detail.
Imagine a computer mouse that you use to control an on-screen cursor. If there is a virus on the computer, can it affect the mouse? No! Although the mouse can interact with the Internet (since it allows you to click on different websites), it cannot be controlled by viruses or malware.
The Trezor wallet also works. The wallet has a so-called "Restricted USB connection," which means that your cryptocurrency is entirely safe even if the computer device is infected.
It can be your secure vault to store digital assets. It involves various latest standard security features such as:
You need to note down the 24-word recovery phrase as a recovery option.
It enables open-source code, which is available for public audit and scrutiny.
The bootloader of this hardware wallet constantly verifies signatures and can erase the device memory for attempts to operate with invalid signatures.
You can add extra words for the recovery phase.
Don't allow operation without any PIN authentication.
Trezor wallet commissions
It doesn't involve any transfer fees. It always depends on how many coins you are sending and where the destination is. In fact, outside your Trezor wallet, there are always transfer costs where you may send it.
How to use the Trezor wallet?
To send cryptocurrencies through this wallet, follow these steps below:
Step one
Open the dashboard of the Trezor wallet on your computer.
Step two
Select the coin you would like to send from the list of drop-down on the left side.
Step three
Click "send" at the top of the page.
Step four
Enter the receiver address and set the amount, then click "send."
To receive payments, follow here:
Click on the 'receive' tab, then copy the wallet address.
Share that wallet address with your sender.
Once the sender sends payment, that will reflect on your account.
How to register your Trezor wallet?
Connect the wallet through a USB.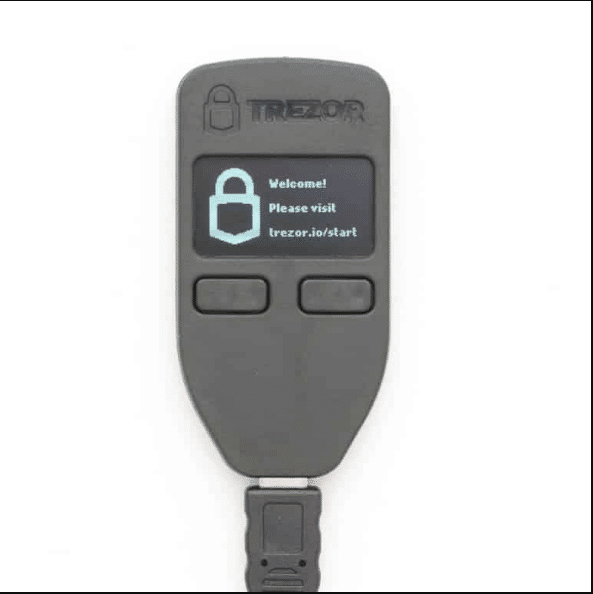 Install the latest firmware. You can download it directly to your device or use a chrome extension.

Click on the 'create' button and set a 24-word recovery phrase.
Name your Trezor and then set a PIN to keep your wallet safe. You need to enter the PIN twice to ensure that it is not a mistake.
Then go to the 'receive' tab, click 'show full address' to see your Trazer wallet address. Copy that address and use it for receiving funds from any exchange or other wallets.
Trezor wallet alternatives
You may seek other alternative wallets so that you can compare them with the Trezor wallet. Our research found that the best alternative wallets are the Binance wallet, Ledger wallet, Trust wallet, KeepKey wallet, etc.
Should investors/traders choose a Trezor wallet?
It is an excellent option as a crypto wallet to choose from. It would be the safest crypto wallets for new traders, crypto enthusiasts, and those with a plentiful amount of varying crypto coins.
Final thought
If you've read this Trezor review, you should have a perfect understanding of what it is, what it does, and how it differs from traditional wallets.
You should also be familiar with the security features that set it apart from other types of wallets. Even if your Trezor gets stolen, you can still get your funds back if you have recorded and securely stored your 24-word recovery phrase.
It is not worth buying if you only hold a tiny amount of coins, as you probably now know. However, if you have a large investment, then buying it is worth considering.