Earning money online needs close attention to portfolio diversification where crypto projects under 1 cent have a strong influence. One of the biggest benefits of cryptocurrencies under 1 cent is their low price, where the HODLing time and floating loss will be mean compared to crypto giants like Ethereum or Bitcoin.
On the other hand, the biggest challenge in finding a suitable crypto project under 1 cent is its potential. True success relies on what the project offers and its future price direction based on technical and fundamental analysis. You cannot trust a crypto asset by looking at social media hype or platform listing.
The following section will cover the best under 1 cent crypto projects that you should include in your trading portfolio. 
Top under 1 cent crypto to invest in 2022
Before going further, let's see a short glimpse of crypto tokens trading with a value lower than 1 cent:
Holo (HOT)

Shiba Inu (SHIB)

Dent (DENT)

Safemoon (SAFEMOON)

Chilliz (CHZ)
Holo (HOT)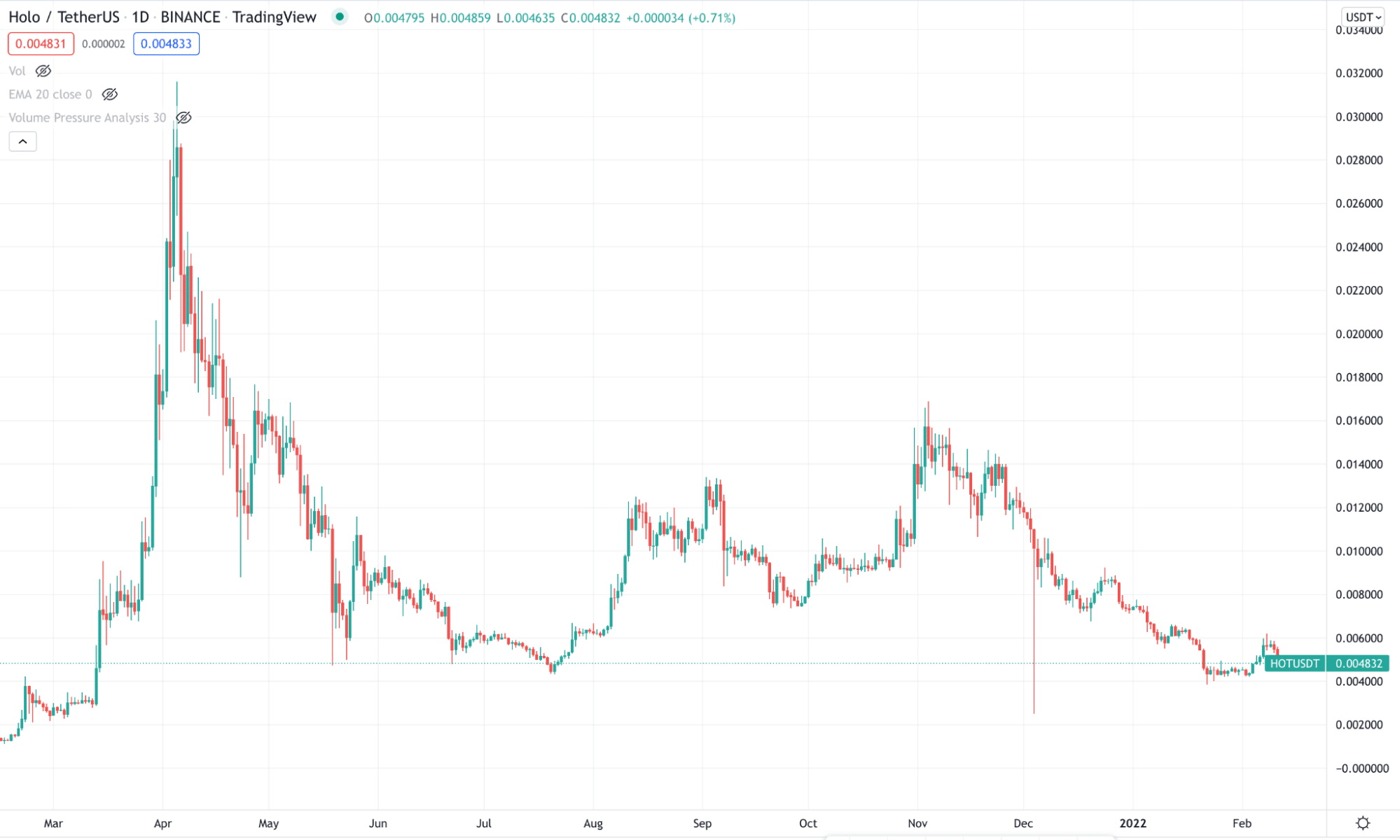 What is HOT?
Holo (HOT) is a peer-to-peer distributed platform that can host decentralized apps built on the Holochain network. This platform is unlike other decentralized systems that do not need the use of the blockchain. The primary of the Holo project is to create a bridge between the internet and Holochain apps and build an ecosystem.
How does HOT work?
The Holo network works as a protocol where HOLO is the native token actively tested and works as a payment system to hosts and its service. This project was minted in an ERC-20 token redeemable for the HoloFuel launch. The price surge in HOLO came from Elon Musks' concern regarding the global energy usage from crypto mining, where the Holochain is a solid alternative solution.
Shiba Inu (SHIB)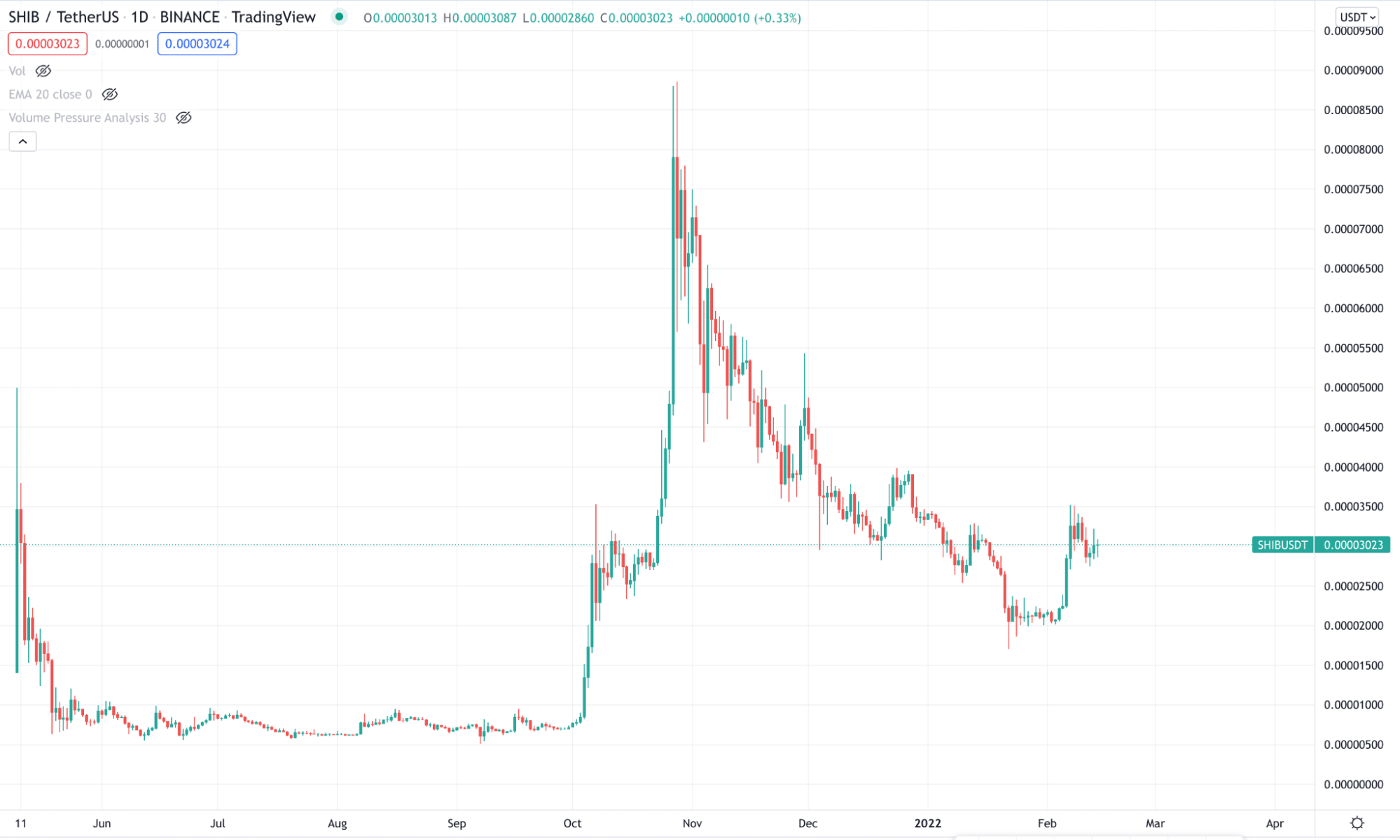 What is SHIB?
Shiba Inu appeared as a Dogecoin killer and listened on its own ShibSwap, a decentralized exchange. This particular crypto coin was developed anonymously in August 2020. It gained popularity as a meme coin among investors to counter tweets from Elon Musk about Dogecoin.
On the other hand, the particular coin has become famous due to its presence in NFTs and decentralized exchange. In 2021, Shiba Inu provided a considerable gain of more than 1400%, and the extensive correction after the price surge is a sign that investors are building orders that might explode in 2022.
How does SHIB work?
Shiba Inu's success came with massive users interest in this token that allowed many top-tiered cryptocurrency exchanges to add this coin. On 17 September 2021, Coinbase, the largest crypto exchange in the US, added this token to their platform, pushing the Shiba Inu price up by nearly 40%.
Dent (DENT)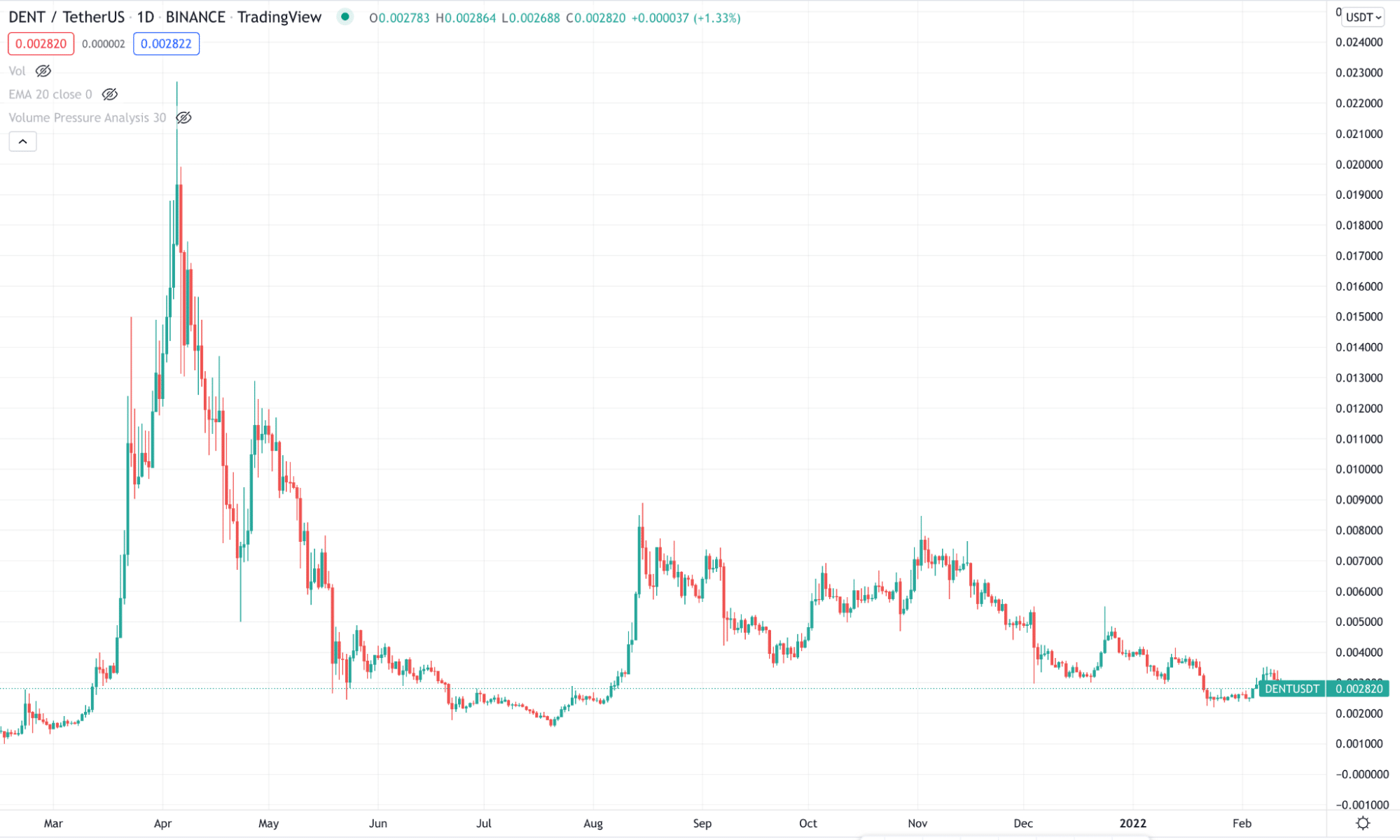 What is DENT?
Dent was launched in 2017 as a revolutionary mobile operator that offers eSIM, data plan and roaming free experience. The company claims itself as a powerful tool to blockchain technology that can create data liberalization for mobile data.
Dent has a strong position in building a clear roadmap. It may expand the service to new markets where more than 25 million mobile devices have already got Dent service. 
How does DENT work?
DENT is the native token for the Dent network that has users from more than 140 countries. This project currently has a strong collaboration with business giant Samsung blockchain, Ethereum Alliance, and Telecom Infrastructure.
Safemoon (SAFEMOON)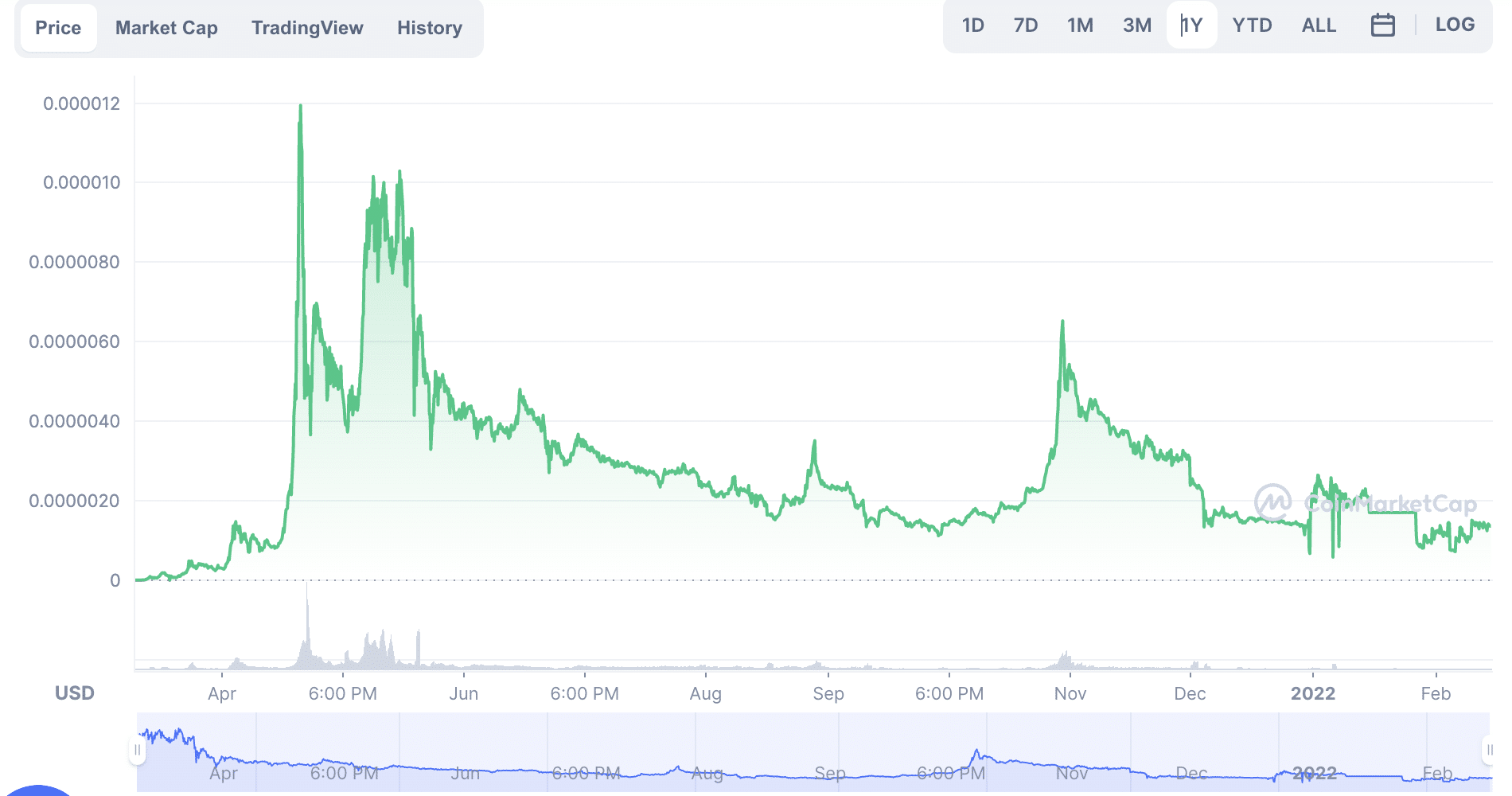 What is SAFEMOON?
Safemoon is a popular cryptocurrency under Binance Chain tokens that works as a taxation mechanic. The Safemoon protocol combines RFI tokenomics with an auto liquidity generation facility. As per the Safemoon protocol, SAFEMOON holders will benefit based on their holdings. According to the Safemoon website, they plan to step into the non-fungible token (NFTs) exchange besides having charity and educational apps.
How does SAFEMOON work?
Once an investor sells SAFEMOON, it will take a 10% fee to distribute to the liquidity pool. Therefore, buying these projects has a strong possibility of experiencing a price surge where the risk of having no clear benefit is visible.
Chilliz (CHZ)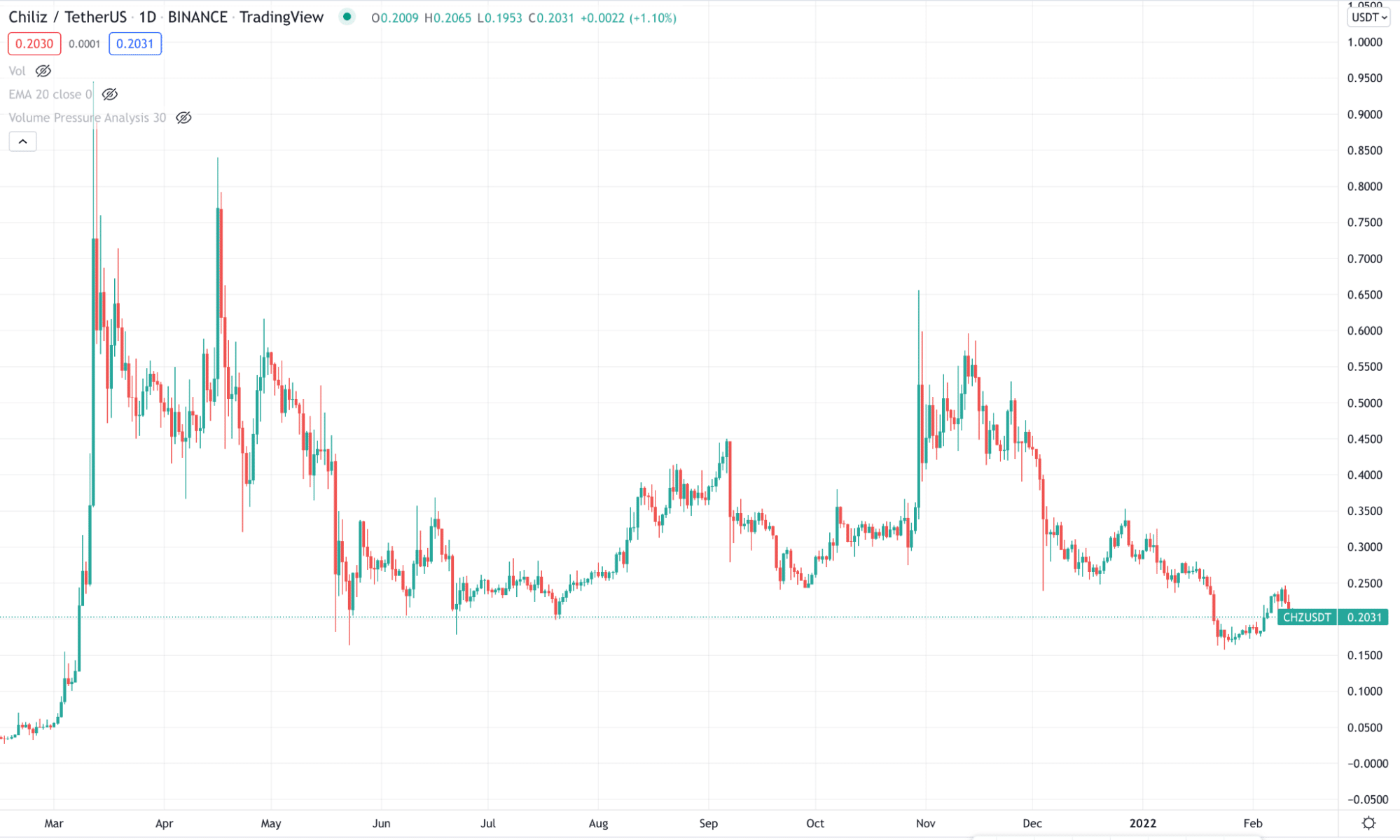 What is CHZ?
Chilliz offers a blockchain network that came from tokens and crowd management teams where the decision-making authority remains towards users. These team fans can use CHZ to buy merchandise and get rewards. It has a strong presence in multiple sectors like NFTs and gaming.
How does CHZ work?
Many sporting organizations that use this blockchain technology are offered an initial FTO based on a first-come, first-serve basis. In that case, the CHZ token works as a native token to purchase those fan tokens.
Initially, CHZ was launched as an ERC-20 token, but developers added the BEP-20 compatibility. Now CHZ is available on the TRC-20 token under the Tron blockchain. Although this particular crypto token passed the 1 cent barrier, the current price action seems bearish where it may visit under 1 cent area again, indicating a buying opportunity.
Pros & cons of crypto tokens under 1 cent
| | |
| --- | --- |
| Pros | Cons |
| They have substantial room for providing profits that are impossible in large-cap cryptos. | Not all tokens are trustworthy, as there is a history of scam projects that might cost you a lot. |
| Some of them has strong projects that should explode in the future. | High risky projects that need close attention to risk management. |
| The price we see in the crypto chart came from a long path by overcoming the 1 cent barrier. | Traders need strong attention to technical and fundamental analysis before investing money into any crypto project. |
Final thoughts
We have seen the list of under 1 cent cryptos that may explode in the future. Although these projects have a strong position on their own, investors should understand their reliability by doing extensive research before jumping with real money.